Definition
What is PEZA?
The Philippine Economic Zone Authority (PEZA) is an agency that assists foreign entities in facilitating businesses within the PEZA Special Economic Zones. Created in 1995 under the Republic Act 7916 or the Special Economic Zone Act, PEZA is often seen as beneficial to the business process outsourcing (BPO) sector.
To avail of the agency's incentives, an enterprise must register with PEZA and locate its operations in one of the PEZA zones, buildings, or IT Parks. As of November 30, 2017, the agency has over 370 economic zones across the country.
Benefits of PEZA-registered companies
Registered enterprises may avail of incentives such as income tax holidays (ITH) of up to six years, a special tax rate of 5% of gross income after ITH, tax-free and duty-free importation of machinery equipment, and exemption from expanded withholding tax.
They also qualify for simplified import-export procedures, Special Non-Immigrant Visa with Multiple Entry Privileges, and extended visa assistance to non-resident foreign nationals and their spouses and dependents.
Outsource Accelerator provides you with the best PEZA-registered outsourcing companies in the Philippines, where you can save up to 70% on staffing costs.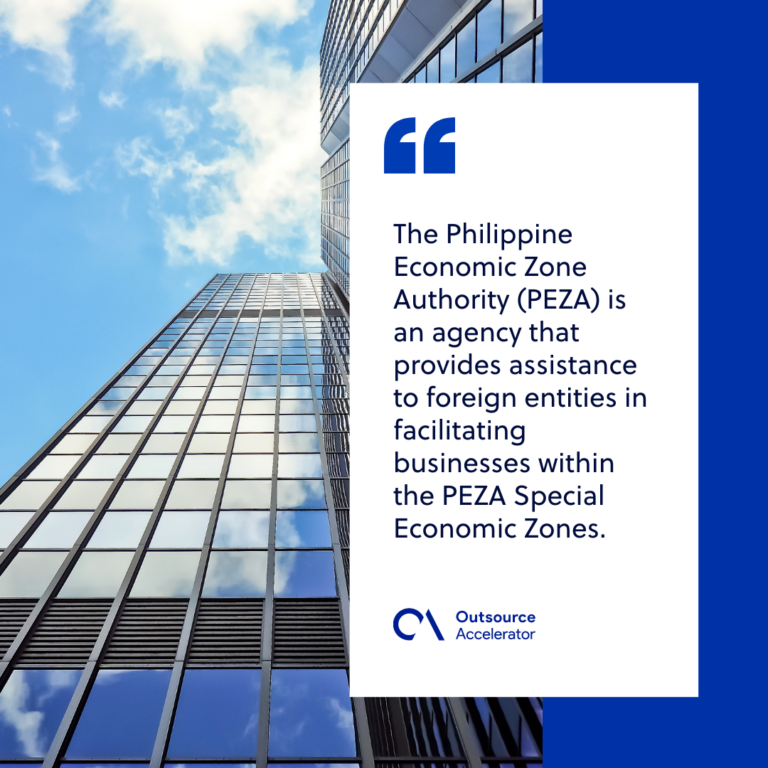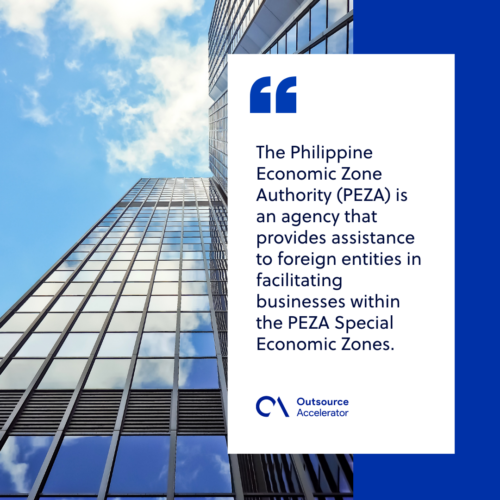 What is the objective of the establishment of PEZA?
PEZA is a Philippine government agency tasked to promote investments in the export-oriented manufacturing industry in the Philippines. The Philippine Economic Zone Authority assists investors in registering and organizing their business operations in the country, as well as provides corporate income tax incentives.
By supporting rural development, PEZA seeks to encourage rural development, enhance national economic activity, and generate more revenue outside of Metro Manila.
What are the responsibilities of PEZA?
One of PEZA's responsibilities is to create broad policies for the creation and management of every economic zone development, industrial estates, export processing zones, and free trade zones in the country.
In addition, they examine proposals for the development of ecozones based on the criteria established under Section 6 (Criteria for the Establishment of Other Ecozones) and recommend the creation of other zones to the President.
PEZA also oversees and regulates the establishment, operation, and maintenance of utilities, other services, and infrastructures in the ecozone and establishes just and competitive rates and charges.
Further, PEZA issues rules and regulations to carry out the provisions of this Act in terms of its powers and functions and exercising such powers and functions as provided for in this Act, as well as submitting yearly reports to the President and Congress.
How does PEZA contribute to the Philippines' economy?
PEZA generates the majority of the country's export revenue. IT/BPOs, Tourism, and Medical Tourism firms account for 84 % of the country's export revenue growth.
Manufacturing, conductors, semiconductors, processing, refining, and assembly firms listed in PEZA ecozones, on the other hand, account for 64 % of the country's export revenue.
In addition, over seven million Filipinos are employed directly and indirectly by PEZA's registered industries and companies.
Ecozones also serve as platforms for new technology transfer and innovation. Ecozone-hosting local government units (LGUs) benefit from the presence of ecozones, which improves their income categorization to a higher level than if ecozones were not present in some regions.
Ecozones help to advance social progress by reducing poverty and crime in the country.