5 administrative services you can delegate to a trusted BPO provider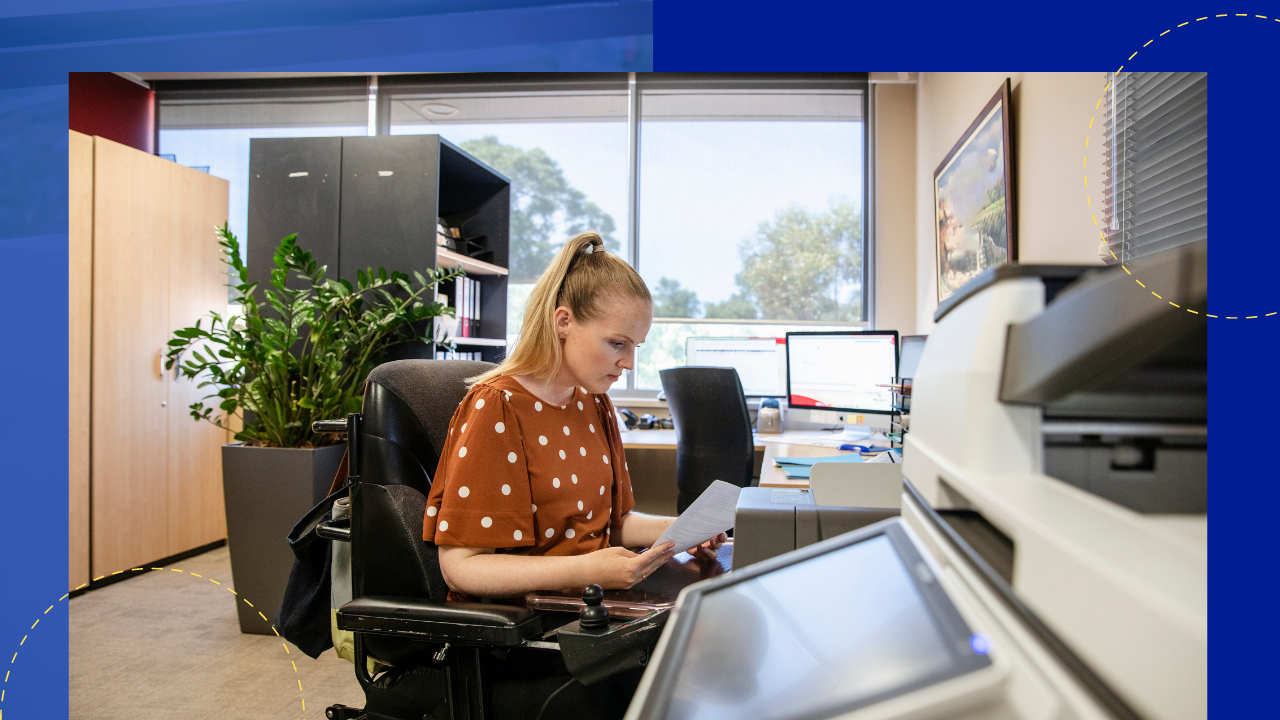 Administrative services are crucial in the day-to-day operation of an organization. However, they can also take too much time to finish, while business leaders often forget to perform core tasks as a consequence.
Fortunately, businesses today can work with a third-party service provider to get their administrative workloads done. With their help, in-house teams can devote their time to finishing high-value tasks within the company.
BPO overview
Business Process Outsourcing (BPO) is the practice of hiring another company to perform non-core tasks that are essential for your business operations. 
Outsourcing eliminates monotonous tasks in your company. Because you have an extra pair of helping hands, your in-house team can shift their focus to doing core tasks for your business.
Oftentimes, organizations find outsourcing a more efficient option than recruiting new employees or creating a whole department to handle various business processes. 
With their expertise, they can help speed up the completion of tasks and enhance the efficiency of your business in performing different workloads for your company.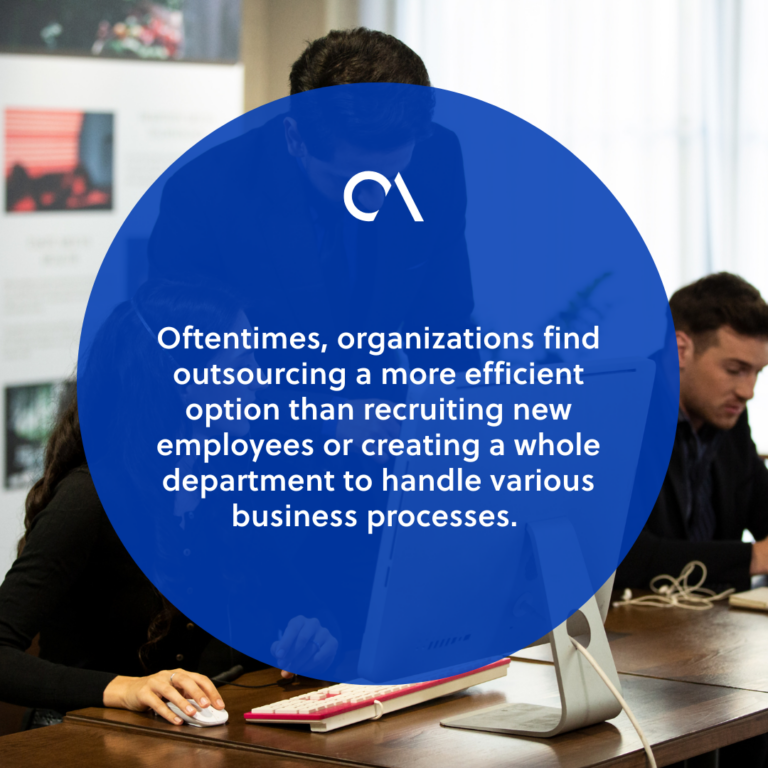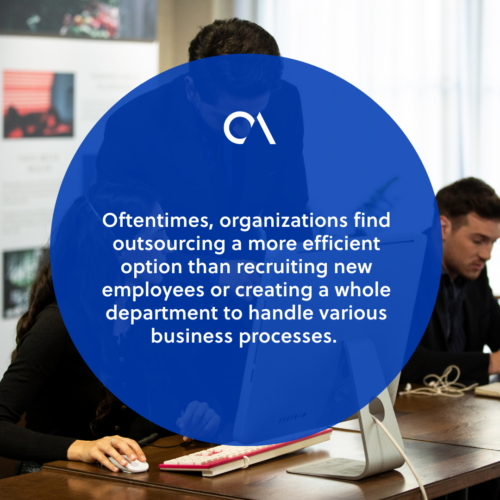 How outsourcing administrative services works
Outsourcing administrative services involve hiring a third-party provider to perform various administrative tasks for your organization. 
This includes accounting, payroll, bookkeeping, human resources, legal services, office management, and executive assistant services. 
Administration outsourcing services is a growing industry. Statisa's latest report reveals that the administration outsourcing market is expected to grow at an annual growth rate of 5.29% by 2027.
Outsourcing administrative services is a popular way to cut costs and increase employee productivity. It can help you free up your internal resources so they can focus on other projects or tasks. 
Moreover, this reduces the time your employees need to spend on mundane tasks. Your management team can focus on its core competencies while leaving the administrative functions to professionals.
5 administrative services that you can outsource
Administrative tasks are one of the main driving forces behind a business. Outsourcing them allows your local teams to focus on revenue-generating works that can affect your company's bottom line.
Partnering with an outsourced admin support team can help your organization perform tasks such as the following.
Customer support
As your business becomes more popular, your customer reach also grows. With an increasing number of clients comes an increasing number of inquiries, concerns, or complaints raised to your support team.
An outsourced customer support team can professionally handle your audience's concerns with ease and patience. They can also work on establishing and nurturing stronger relationships with your clientele.
There are BPO providers that offer 24/7 customer care to give timely resolutions to client queries which can then boost your brand's customer experience.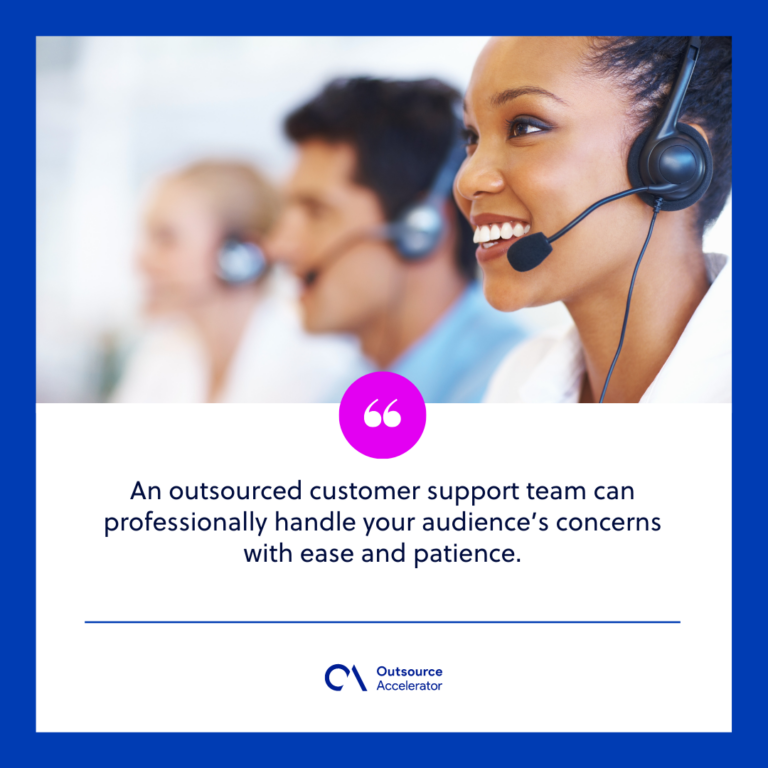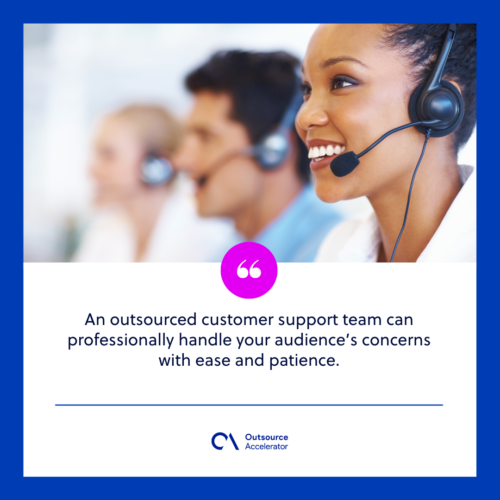 Bookkeeping 
Bookkeeping is an important administrative service that helps organize the finances of your company. Businesses find that this task is best outsourced because hiring an expert bookkeeper locally can take time and be expensive.
Working with an outsourcing provider for bookkeeping services ensures that you have skilled and competent professionals on your team. They can definitely help monitor your finances while you work on growing your business.
Data entry
As businesses are slowly moving their operations digitally, accurate and organized data is also becoming the key to your development. However, data entry jobs can be repetitive and time-consuming. 
An outsourced data entry team can arrange your company information with minimal errors, while you focus on your business' main tasks and offerings. Hiring a BPO firm can help you get data management and processing services from experienced professionals in the industry. 
Email management
You can save a lot of time when you hire an outsourced administrative service team to help with your email management. This would mean that your in-house employees do not have to spend hours every day sorting, reading, and answering emails.
An outsourced email management staff can organize your inbox into different categories. By outsourcing email management tasks, you will never lose track of an important email or feel compelled to delete messages to clear your inbox.
Market research
Most organizations nowadays prefer to outsource data collection to a market research company for their skills and experience in the field. They have a knowledge base that allows them to ask the best questions to ask and utilize best practices for research.
An offshore administrative services team with market research expertise can make the data and feedback collection more credible. There is a low risk of bias, ensuring the legitimacy of the further prompting the participants to take the research process more seriously.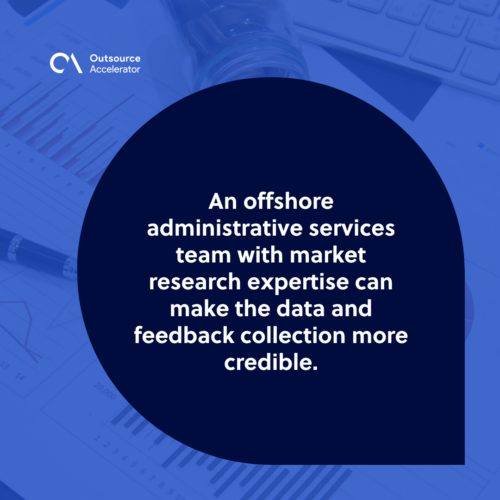 Explore outsourcing with MVP Asia Pacific
With so many BPO providers that are offering their admin services these days, it is important to find the right one for your company. You can explore more of the outsourcing process with the help of MVP Asia Pacific.
MVP offers assistance in a variety of areas including customer service & data entry, marketing & graphic design, software & web development, and architecture & drafting, among others.
Their team of highly skilled staff can assist you with day-to-day administrative functions in your business, improving your focus on core tasks and enhancing the quality of your output. 
MVP's goal is to build a relationship between your company and your clients through their exceptional service. So visit MVP Asia Pacific's website now and hire them for your company.