Outsourcing administrative assistant to help you get the job done
Last updated: October 7, 2021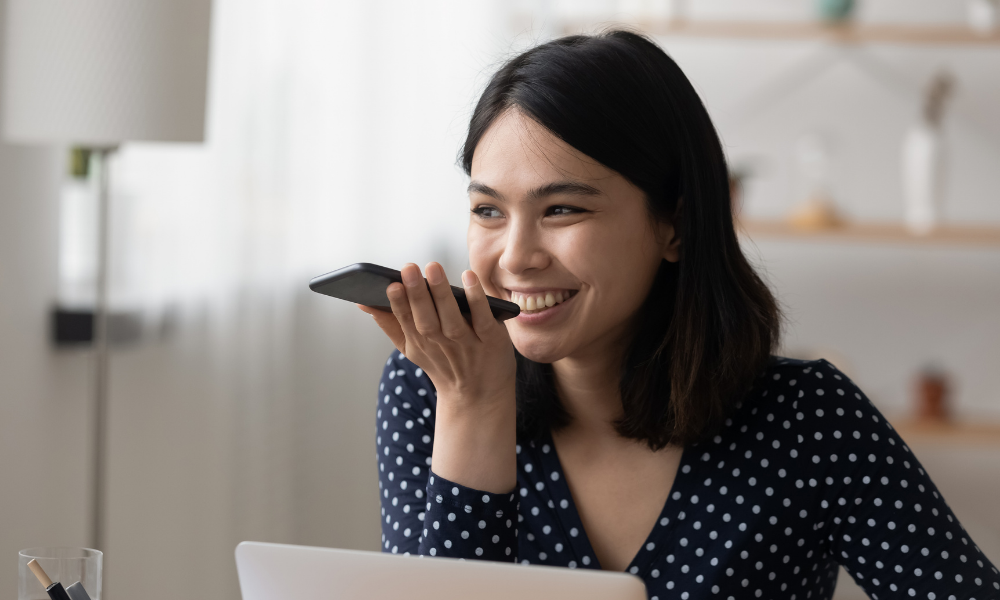 The evolution of technology has come a long way. The internet has helped growing businesses streamline their daily operations effectively. 
But startups and small businesses sometimes lack the capacity or resources to run their day-to-day operations smoothly and efficiently. Business leaders and other staff members tend to wear too many hats to keep up with the tasks during the day. 
By hiring a remote administrative assistant, a company can fill in gaps within the workforce and be fully functional.  
What is a virtual administrative assistant?
A virtual administrative assistant or a Virtual Assistant (VA) handles specific job roles of regular admin staff. The only difference is, a VA is someone that is working remotely. 
Traditionally, virtual administrative assistants are independent contractors. As the demand for remote administrative assistants continuously increases, outsourcing firms also offer VAs for specific services.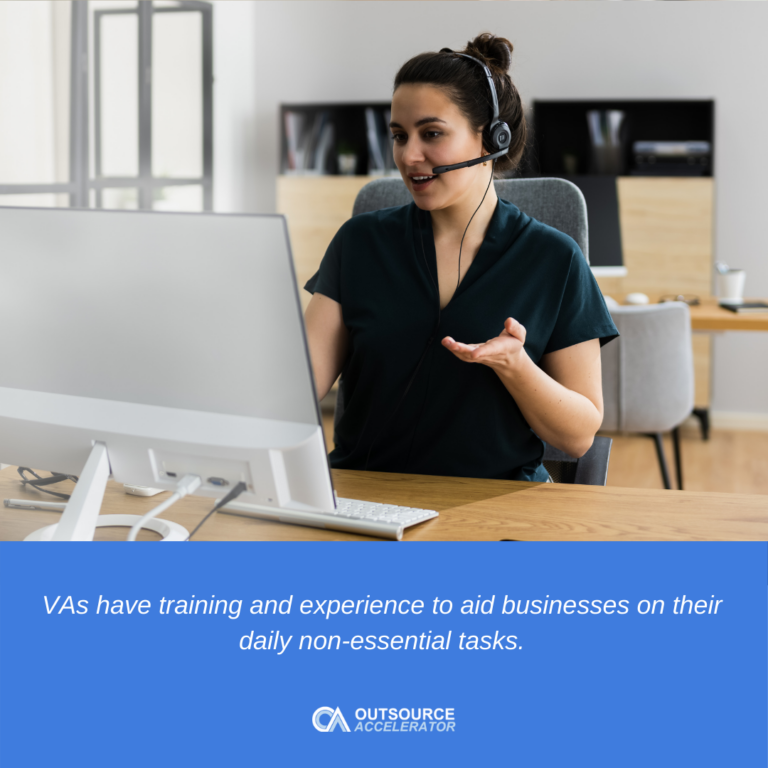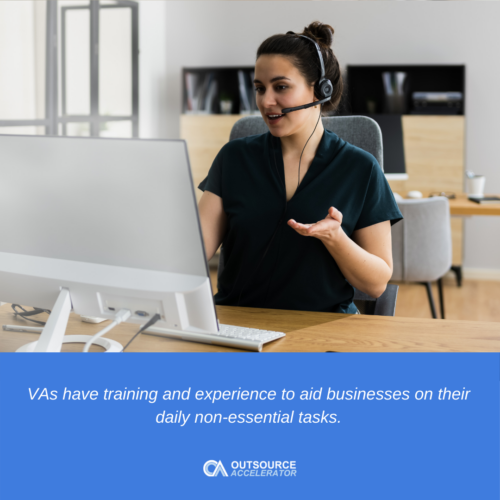 Roles of an administrative assistant
Remote administrative assistants have training and experience to aid businesses on their daily non-essential tasks. These specific mundane tasks include: 
Taking phone calls
Virtual assistants take incoming calls or place phone calls on behalf of their clients. They help screen their client's calls and allow them to work with fewer distractions.  
Daily remote office tasks
Virtual assistants manage repetitive daily tasks such as organizing calendars, maintaining and updating files, answering emails, and more. Some remote admin assistants may also perform accounting roles like bookkeeping, payroll, and prepare invoices. 
Appointment scheduling and travel arrangements
Besides calendar management, virtual assistants can also schedule and follow-up client meetings. More so, they book appointments and take charge of their clients' travel arrangements. 
Customer service
Outsourced administrative assistants can also perform customer service functions like customer support. Some virtual assistants are also experienced in handling customer complaints, answering inquiries, and more instead of hiring in-house. 
VAs these days perform a broad range of tasks according to their clients' needs. Other VA roles may include social media management, email management & filtering, creating reports, and more. 
When should you outsource an administrative assistant?
Outsourcing administrative assistants undoubtedly helps growing businesses in a lot of ways. However, it can be overwhelming when some organizations find themselves needing to outsource this role.
Leading BPO firm MVP Asia Pacific can guide you in searching for admin and virtual assistants that could fit in your company's operations.
Outsourcing a virtual assistant is very useful when:  
Loss of productivity
As a business grows, so do the volumes of tasks and responsibilities. It explains why larger companies have several administrative employees within the organization. The lack of skilled staff can majorly affect an organization's daily productivity. 
A recent study shows that remote employees are more productive than in-house employees. It eliminates the need for daily commute. Remote work allows employees to be more in control of their time, making them more productive.
Lack of financial capacity to hire new employees
It is pretty understandable for startups and small businesses to lack enough financial resources to hire new employees. In-house employees usually tend to get overworked, leading to burnout. 
Outsourcing virtual assistants is a significant step in the right direction. It does not only help expand an organization's capacity, but it is also a viable way to save on costs. 
For non-core routine tasks
Routine tasks take away a lot of valuable time within the organization. Remote admin assistants allow business leaders and in-house staff to focus on more essential tasks. They also give the entire in-house team more room to plan out their next steps in improving their overall business.  
Why you need to outsource administrative assistants
Now that we have explained what administrative assistants are and when's the perfect time to outsource, allow us to describe the "whys." Hiring virtual assistants is necessary because: 
Boost your productivity
Remote admin assistants help organizations to get work done effectively, at a much faster pace. VAs today are more equipped and skilled to cover a broader range of tasks. Therefore, giving growing companies more time to focus on their business core.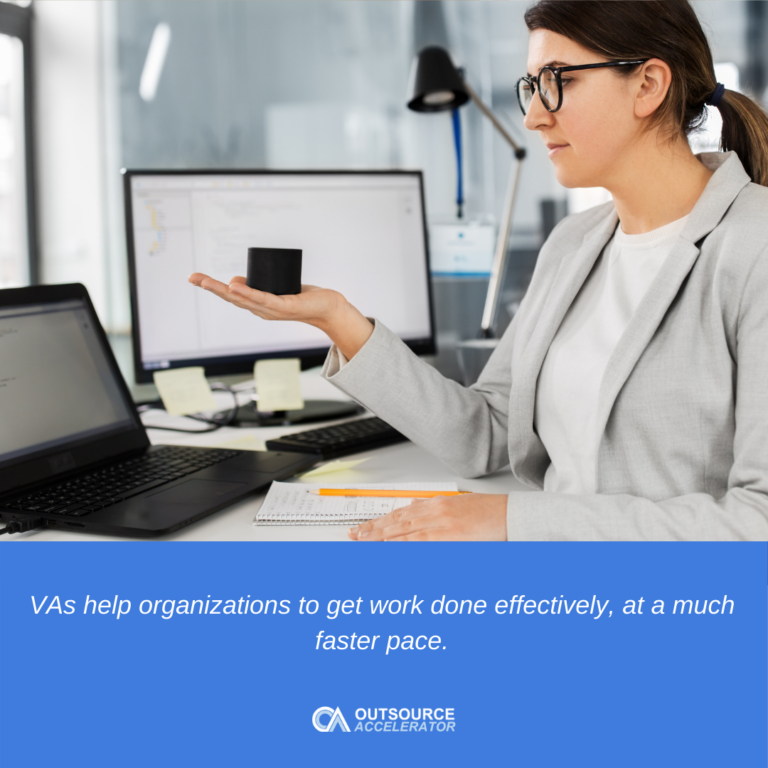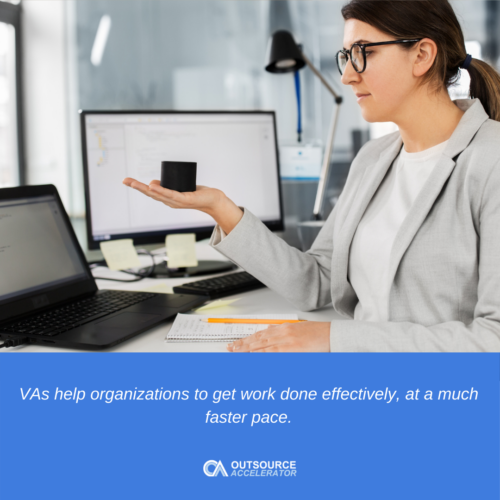 Flexibility
Virtual assistants work on flexible schedules, especially when hiring a remote admin assistant in a different time zone. It allows businesses to operate over extended hours, or complete a specific task, before the clients' working day starts. 
24/7 Customer support
When hiring VAs from a different country, clients can use time zone differences to their advantage. Through outsourcing VAs, it allows them to perform customer support over extended periods. 
Achieve work-life balance
Having a reliable remote administrative assistant helps a growing company to achieve a balance in life. VAs do not just give organizations more time to work. It also gives them more time off of work. 
Outsourcing virtual assistants help companies to reduce their overhead costs. What's more, VAs do not require training, office space, and other resources needed for the job.