Top 25 healthcare outsourcing companies in the Philippines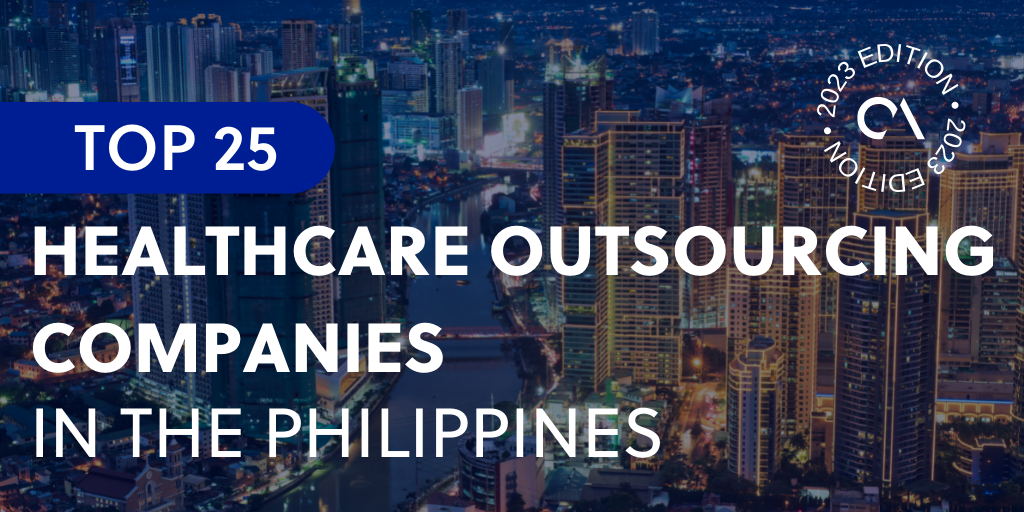 The global outsourcing sector is continuously expanding. Over the decades, outsourcing companies have extended their services, making them more relevant than ever. 
Traditionally, this practice was created for manufacturing purposes alone. Today, outsourcing caters to every industry across the globe. Business process outsourcing (BPO) serves as an aid for businesses to keep their daily operations up and running.  
The healthcare industry is one of the busiest sectors, and the demand for healthcare services even increased in recent years. That said, healthcare is among the industries that greatly benefit from outsourcing. 
In this article, we have outlined the top 25 healthcare companies that can be found in the Philippines. We also included a quick overview of the entire healthcare outsourcing industry and the highlights of the current healthcare BPO services in the country.  
Top 25 healthcare BPO companies in the Philippines 
Outsourcing in the healthcare industry
Outsourcing in healthcare enables healthcare establishments to get the full benefit out of their resources while cutting majorly on costs. 
The growing demand for healthcare outsourcing, especially in the US, is mainly due to the surge of costs of healthcare services. Healthcare facilities, no matter what size, are still required to offer high-quality patient care services even with budget constraints. 
As a result, healthcare providers acquire fewer benefits in terms of their amenities. This serves as a major impediment for medical professionals to be able to provide quality services to their patients. Not to mention, medical workers usually are tied up on loads of tasks to be completed daily. 
Healthcare professionals turn to outsourcing as a response to these shortcomings. A study conducted in 2019 showed that the global healthcare outsourcing market is foreseen to reach $449.6 billion by 2023.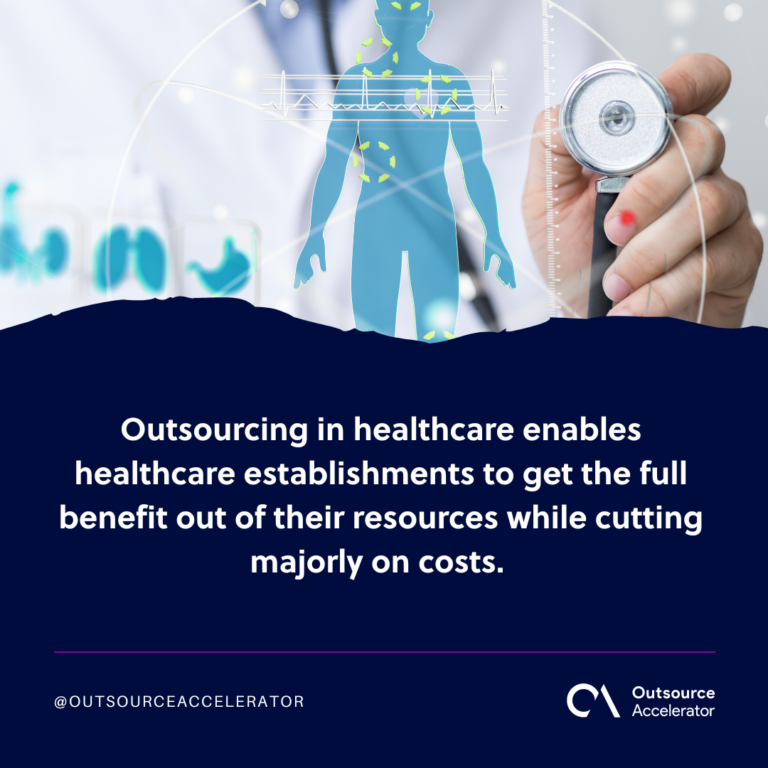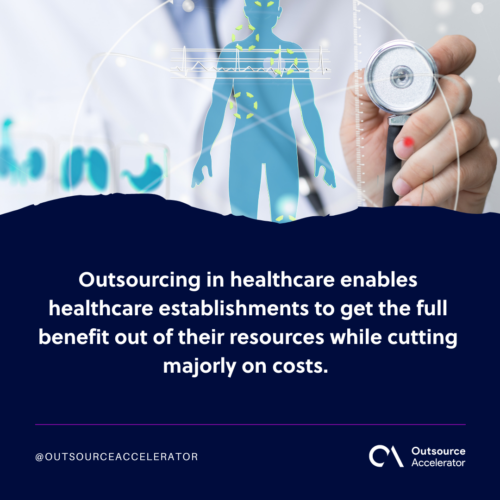 Advantages of outsourcing healthcare functions
The main advantage of outsourcing is that healthcare businesses can devote their time and effort to their core tasks by delegating non-essential activities. It also allows healthcare companies to focus on budgetary control and capital investment planning.
Here are other advantages of outsourcing healthcare:
When done correctly, healthcare outsourcing can help providers address the most difficult cases they encounter today. 

It can boost operational efficiencies and productivity to help you achieve your goals with less hassle. 

It can also assist in providing better customer service and patient experience.

Outsourcing can lead to significant savings by lowering administrative costs and improving the efficiency of your processes.

Healthcare outsourcing companies are equipped with cutting-edge technology. 
Commonly outsourced healthcare services 
The healthcare outsourcing industry offers a wide variety of job functions, including:
Data entry

Medical claims processing

Medical billing

Medical transcription & electronic medical records

Revenue cycle management (RCM) 
Other BPO companies also offer end-to-end management services for non-clinical functions such as:
Customer service and support

Digital marketing 

Financial management 

IT support

Data analytics

Software development 
Overall, outsourcing in healthcare allows medical professionals to save money, time, resources, and office space. 
Healthcare BPO sector in the Philippines
Business process outsourcing (BPO) has been the leading industry in the Philippines for several years now. One of the rising trends in BPO services in the country today is healthcare outsourcing. 
The healthcare outsourcing market in the Philippines is primarily divided into three components: provider services, payer services, and pharmaceutical services. 
Provider services cover RCM, coding, finance and accounts, and transcription, while payer services include insurance claims management and billing. Pharmaceutical services, meanwhile, mainly involve research and development outsourcing. 
These are all functions outside of medical professionals' core duties. While they are still crucial to daily operations, outsourcing these duties helps medical workers focus on patient care.
Healthcare BPO agents in the Philippines
Usually, BPO agents employed in this type of outsourcing sector have proficient medical knowledge.
They have undergone a series of extensive training, especially in medical coding. These agents also have a strong cultural affinity and grasp of western healthcare. 
Besides being heavily influenced by western culture and being fluent in the English language, Filipinos also have a rich nursing talent pool. 
The Healthcare Information Management Association of the Philippines (HIMAP) is also putting greater efforts into positioning the country as the leading offshoring destination for superior healthcare information management services. 
Top global outsourcing list
Outsource Accelerator is the world's leading outsourcing marketplace and advisory. We list over 3,000 BPO firms located across the globe in our global directory, and we provide detailed information, price guides, and reviews.
Whether you're a solopreneur, SME owner, or a corporate executive, we can help you find the most suitable outsourcing provider for your business.
Explore our outsourcing directory now. You may also check out our Top Healthcare Outsourcing lists per country here:
Top 25 healthcare outsourcing companies in the Philippines
Below are BPO companies in the Philippines that offer various healthcare outsourcing services. Most of these companies cater to a wide range of industries but have a significant background and expertise in healthcare functions.
Cloudstaff offers professional cloud-based staffing solutions for various healthcare support roles. This outsourcing provider prides itself on having robust data security measures, and it is also Health Insurance Portability and Accountability Act (HIPAA) and Payment Card Industry (PCI) compliant.  
Cloudstaff specializes in a wide range of healthcare outsourcing services from appointment setting to insurance claims, digital marketing, and medical transcription. 
Sourcefit's outsourcing services center on staff leasing, virtual captives, and project-based solutions. It offers different outsourcing roles for various business industries. 
As for the healthcare field, it offers medical billing, claims processing, transcription, and electronic medical records.
HGS has healthcare solutions that aim to engage, retain, and maintain medical establishments' patients and members. This BPO company's industry focus is consumer products and services, medical, and IT. 
Outsourced Philippines is another remote staffing solutions provider that is located in Quezon City. 
In terms of healthcare outsourcing, Outsourced is HIPAA compliant. It offers medical billing, coding, health information management, and transcription among others. 
Acquire BPO provides a plethora of outsourcing business roles to various industry sectors. In terms of the healthcare field, examples of their services are medical billings and collections, data entry, medical coding, and RCM. 
Acquire BPO is also compliant with global industry standards and regulations like PCI DSS, HIPAA, and GDPR.
Fusion BPO Services is backed by over 15 years of outsourcing experience. It also has 17 global centers across the UK, US, Canada, El Salvador, Albania, Jamaica, India, and the Philippines. 
Its healthcare outsourcing services include patient surveys, customer support, claim processing, awareness campaigns, medical answering services, and lead generation.
Infinit-O is a global outsourcing company based in Pasay City that specializes in building high-performance teams and leveraging powerful technology.
Their expertise spans various domains, including Customer Experience, Back Office, Sales & Marketing, Data Science, and Engineering, powered by Automation and Business Intelligence. Infinit-O serves industries in Technology, Investment Management, and Healthcare.

As an outsourcing provider, Infinit-O holds ISO and Great Place To Work certifications and has also been recognized as a leader in the global outsourcing industry.
The company ranks in the top 5% out of 2,300 BPO companies in the prestigious Outsource Accelerator OA500 and Global Outsourcing Firm (BPO) Index for 2023.
Additionally, Infinit-O adheres to different security and privacy standards, including HIPAA, GDPR, and DPA 2012.
Helpware provides customized teams for companies of all types and sizes. Besides its headquarters in Manila, it also has physical offices in Berlin, Lexington, Guadalajara, and Kyiv. 
It specializes in customer support, back office, marketing, and microtasking platforms solutions for various industries, including healthcare. 
Visaya is an award-winning BPO company that is based in Makati City. It specializes in contact center services, healthcare information management, finance and accounting outsourcing, data analytics, and IT consulting. 
This outsourcing provider is compliant to different security and privacy standards. Among these are HIPAA, PCI-DSS, GDPR, TCPA, and the National Privacy Commission of the Philippines.
KKC Outsourcing Corporation was founded in 2018 and is located in Davao City. This BPO company is a part of the Khan Kon Chi Group of companies. 
It offers a range of outsourcing services like telecommunications, digital media, real estate, and advertisements. KKC Outsourcing Corp has recently offered new services like content writing, virtual assistants, and chat and email support.
Magellan Solutions offers healthcare support services like medical billing, transcription, healthcare call center, data entry, data processing, telemedicine, and telehealth. 
This BPO company also provides other outsourcing functions for different types of industries. It is also ISO 27001, PCI DSS, and HIPAA compliant.
IdeasUnlimited is headquartered in the US, with physical locations in the Philippines and Pakistan. It provides healthcare, customer care, multilingual, operations, back office, and e-commerce support services to different establishments globally.
ADEC Kenya was founded in 1998 in Nairobi, Kenya. Today, this outsourcing provider has over 15 delivery centers around the world, including the Philippines. 
Its key offerings include contact center and customer experience, data capture and validation services, data assurance solutions, image annotation, and data labeling. 
Process Zip's clientele comprises small to mid-market businesses, with an industry focus on medical and real estate. It offers business automation, data analytics, change management, e-commerce automation, website design, and SEO. 
LaQuest Inc, an outsourcing firm located in Taguig City, specializes in IT-related services and business consulting. Its services include voice and non-voice support, back office, CRM consulting, and system integration. 
Vector Outsourcing Solutions Philippines supports US healthcare facilities. Among its provided services are RCM, medical billing, and hospital and insurance credentialing. It also offers IT-related roles and software development. This outsourcing firm is located in Ortigas, Pasig.
Aspire Outsourcing Services Philippines Inc is an IT outsourcing company that provides bespoke software solutions, web design and development, and other outsourcing services. This IT outsourcing firm has office centers in Bonifacio Global City.
Access Healthcare helps medical establishments automate their revenue cycle management. This outsourcing provider is a proud leader of revenue cycle services, acquiring several awards and recognitions from 2019 to 2020. 
Besides its office in the Philippines, it also has operations in the US and India. 
STAFFVIRTUAL helps companies build their own virtual teams. It has provided data entry, back-office solutions, and insurance verification to healthcare firms in the US. Customer support, payroll, and IT outsourcing are also among its key offerings. 
This remote staffing solutions provider has been in the outsourcing business for over 10 years. 
MicroSourcing is a known expert in offshoring services, with over 4,500 remote staff working for over 250+ clients across the US, Australia, and the EU. Its offshore staffing solutions cater to all industries including the healthcare sector. 
Peak Outsourcing has specialists in call center services and other outsourcing roles. Examples of its services are back-office support, content writers, customer service, technical support, web design, and appointment setting. 
Peak Outsourcing is also PCI compliant and HIPAA certified.  
MCVO Talent Outsourcing Services has over four years of experience in the industry. Although a newcomer, it offers a wide array of business process roles for all types of fields. 
MCVO's remote staff can be employed full-time or project-based. Medical billing, accounting and bookkeeping, digital marketing, data entry, and customer service are among its offered roles. 
KDCI Outsourcing provides staffing solutions, e-commerce outsourcing, design, and marketing services to global companies. This BPO service vendor is located in Ortigas, Pasig. 
Besides the healthcare sector, KDCI also caters to other industries such as finance, retail, and real estate. 
The international office of Flatworld Solutions is located in the Philippines. The company has experience with non-voice back office, transcription, and call center services. The majority of its clients include healthcare firms.
Premier BPO offers medical billing services to global clients in the healthcare field. Apart from its office in Metro Manila, it also has physical locations in Pakistan and China. 
Premier BPO also features other outsourcing services like contact center functions, IT-related roles, and back-office processing.