Healthcare outsourcing: The key to patient-centric care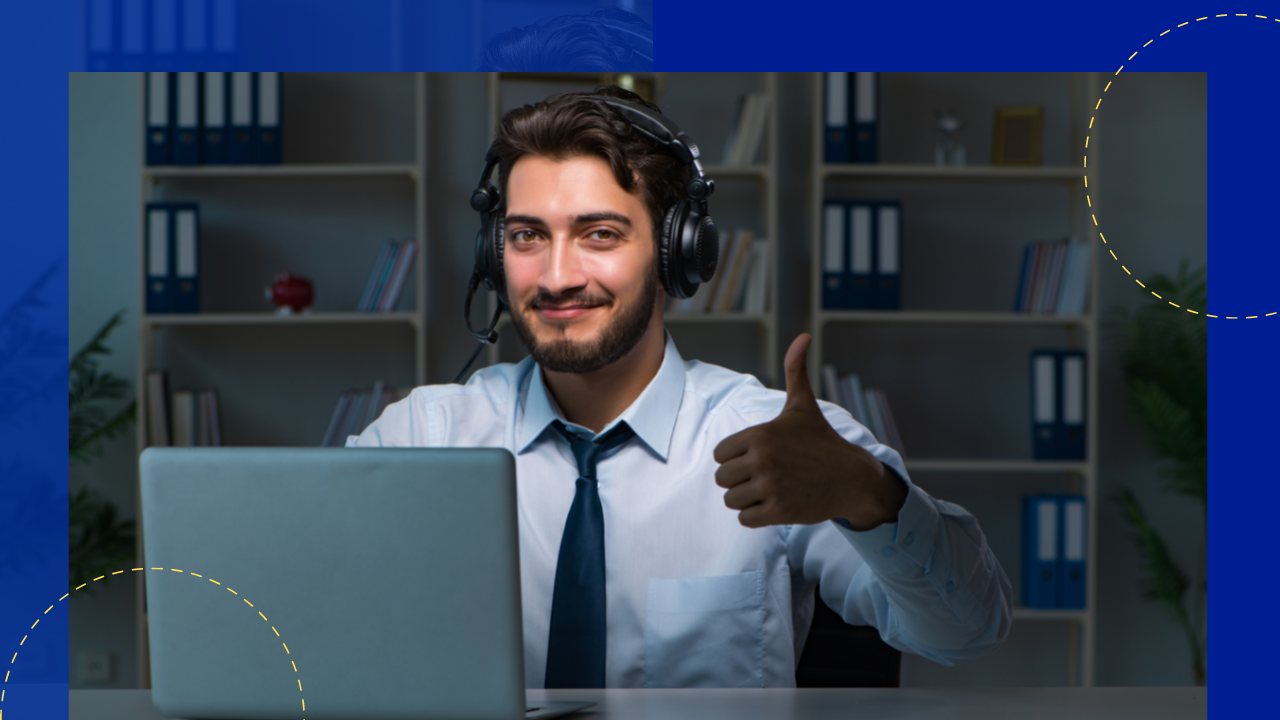 Here's what you need to know about healthcare outsourcing
The healthcare industry is one of the most crucial industries around the world. Medical organizations take care of their patient's well-being daily. They need help as much as they provide it, the reason healthcare outsourcing exists.
Outsourcing healthcare services is not a new concept to most companies and organizations. They usually delegate customer service and administrative tasks to remote teams in offshore countries such as India and the Philippines.
This helps them enjoy several benefits, such as lower costs and increased productivity, and focus on their patients.
Learn how healthcare BPO helps medical institutions and what they should look for in an outsourcing partner in this article.
What is healthcare outsourcing?
Healthcare BPO refers to a process of healthcare institutions delegating projects and resources to a business process outsourcing company. This covers non-core yet crucial projects delegated for short-term or long-term projects.
With the increased demand for healthcare services, medical institutions would surely need help in managing their clients, workforce, and processes. Most institutions are rarely seen as customer-centric in this sense.
Healthcare outsourcing companies like Infinit-O take care of the technical aspects of hiring a team. This includes the employees, tools, and equipment for work, office space, training, salaries, and required certifications.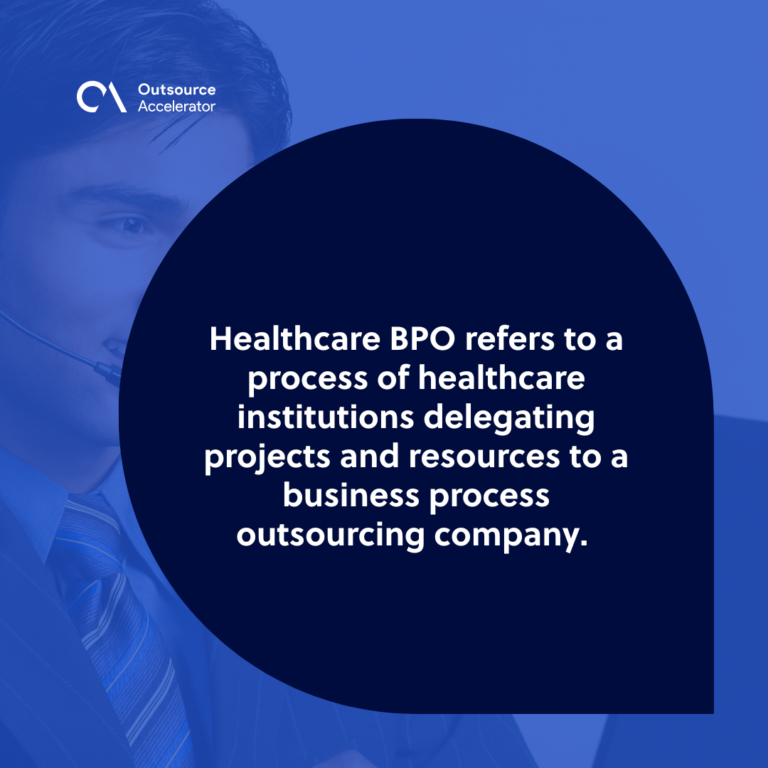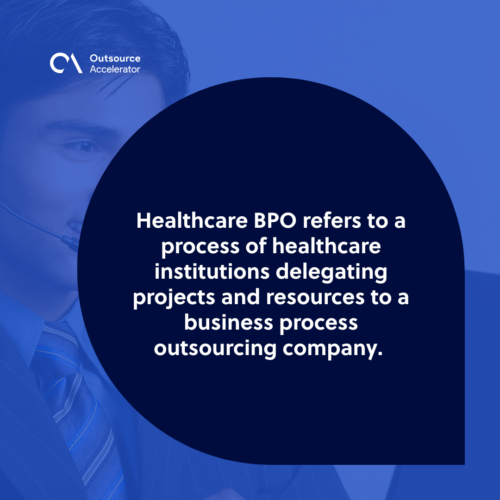 Why do medical companies outsource healthcare services?
According to a Salesforce study, 47% of consumers think that healthcare companies focus more on industry needs than patient needs. However, healthcare companies want to show otherwise.
As much as institutions want to provide better care to their patients, they still have other tasks to do. This includes administrative and non-core work.
Meanwhile, they cannot always afford to hire in-house personnel to help them with these tasks. This can be the case for small clinics and doctor's offices.
Outsourcing healthcare services is the best way they can maintain the balance between industry and patient needs in the long run.
With this, experts in Market Watch project the healthcare outsourcing industry to even grow in 2024 due to the following:
Lack of in-house professionals
Towering operational costs
Integration of healthcare solutions
Pros and cons of hiring healthcare BPO services
Every business strategy has its advantages and disadvantages. Healthcare BPO services, in this instance, have the following pros and cons:
Pros 
Acquiring medical services from outsourcing companies provides the following advantages:
Reduced errors
Accuracy is crucial in a medical setting. A simple error can affect everything from diagnosis to illness treatment. Medical practitioners who will handle tasks on their own, including administrative ones, are prone to creating these errors.
Delegating certain tasks to an outsourced team can help reduce mistakes in creating reports and prescriptions for their patients.
Better compliance 
Outsourced companies follow standard compliances when working on a client's project. They are required to comply with HIPAA standards since they deal with sensitive patient information.
This helps healthcare companies ease their burden of training in-house personnel for additional compliances.
Cost savings
Clients can as well save as much as 70% on costs and resources when outsourcing. Aside from employee salaries, most BPOs only charge a fixed fee every month. Their fees already include office use, electricity, equipment, and compliances needed when their teams work.
Increased efficiency
Healthcare BPO services often specialize in specific functions and have streamlined processes and advanced technology. This boosts the efficiency of clinical services and the healthcare system.
Scalability
Medical outsourcing can provide scalability, allowing healthcare organizations to adjust the level of services as per their needs easily.
This flexibility can be beneficial during times of rapid growth or fluctuations in patient volumes.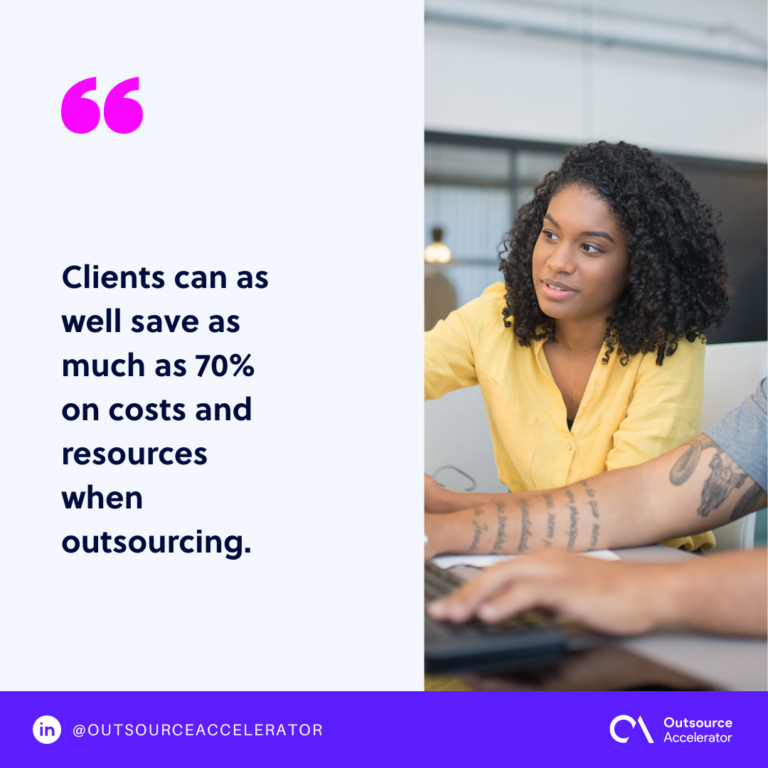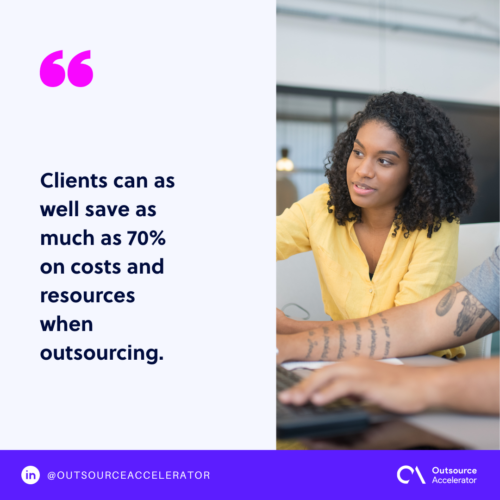 Cons
Healthcare BPO won't easily take a company to success. Several hurdles can be experienced when dealing with outsourced healthcare services. All of which can be avoided by finding the right outsourcing partner.
Technology compatibility. BPOs and clients must ensure the compatibility of the platforms they use to avoid delays and interruptions.
Data security concerns. Concerns about data and privacy security will always arise while working with an outsourcing partner. Compliances and security standards can shield them from this.
Concerns on the scope of work. Each party should as well clear out the scope of work, metrics, and performance indicators to use.
Quality of work. Not all low-cost BPOs offer the quality of work set to their standards. With this, clients should set their expectations on what they want to achieve while working with their service providers.
Communication challenges. Language barriers, cultural differences, and time zones may present communication challenges when working with an offshore healthcare provider.
Loss of control. Outsourcing certain healthcare functions means relinquishing direct control over those processes. It's important to establish clear communication channels, performance metrics, and SLAs to manage expectations and maintain oversight.
Healthcare outsourcing services available
Healthcare companies can outsource to either a virtual assistant or a freelancer for one-time and short-term projects.
Meanwhile, a healthcare BPO company can be more helpful for long-term, larger volume ones.
Medical billing
Medical billing is way more complicated compared to other industries. It is not designed to be done straightforwardly. Rather, billers should be aware of the medical codes and terminologies used in coding each treatment and medication.
Investing in medical billing software and equipment can be an option. However, institutions tend to outsource this to a BPO company to deal with volumes of billings each day.
Healthcare support
Healthcare institutions offering 24/7 service have a better edge in providing the utmost care to their patients. This is because customers can reach them anytime they need medical help.
While small clinics hire in-house receptionists for front office and customer support, they as well hire outsourced teams for after-office customer service. This maintains the efficiency of their operations even when they are away.
Medical transcription
A part of a healthcare provider's work relies on transcribing and creating patient reports for filing and reference. Medical transcriptionists usually take time to interpret doctors' audio dictations in a certain diagnosis.
Healthcare providers at first either do this on their own or with the help of in-house personnel. However, there will always be a time when they feel overwhelmed with loads of audio files to transcribe and interpret.
This is why most of them outsource this function to a BPO company to manage their workload better.
Medical coding
Medical coding is the process of assigning codes to medical diagnoses, procedures, and services.
Medical coders must avoid making errors, minimize the risk of claim denials, and ensure compliance with coding standards.
Healthcare organizations can access trained and experienced coders who ensure accurate and consistent coding through outsourcing.
Outsourcing medical coding also allows healthcare organizations to focus on core operations and patient care while reducing in-house staffing costs.
Claims processing
Compared to a usual inbound or outbound service, claims processing involves more "back office work." This function covers the entire process of verifying and qualifying an application for claiming insurance and health benefits.
Claims processing cannot simply be done with one person, especially if healthcare providers receive volumes of applications each day. A simple virtual assistant will be overwhelmed with this workload even with online tools in place.
Outsourcing this to a reliable team can help ease the burden of this work.
Lead generation
Healthcare providers need to attract potential clients as well. Insurance companies and health maintenance organizations (HMOs) usually enter new markets and locations as they expand their offerings.
A good lead generation team can help them with this. Call centers with healthcare accounts are trained to generate more leads and turn them into paying customers in a short period.
Healthcare BPO companies
BPOs help businesses from a wide range of industries in their business processes. This includes the healthcare industry.
Compared to freelancers, reliable outsourcing partners offer great talent housed in world-class facilities and infrastructure.
Established service providers, such as ASW Global, offer several services, including taking care of training, salaries, and regulatory standards.
However, finding the right outsourcing partner may take time and some effort. Companies can find a lot of BPOs worldwide. Yet, a suitable provider in the healthcare sector can still be difficult to find.
Organizations should consider the following factors when looking for a healthcare BPO company.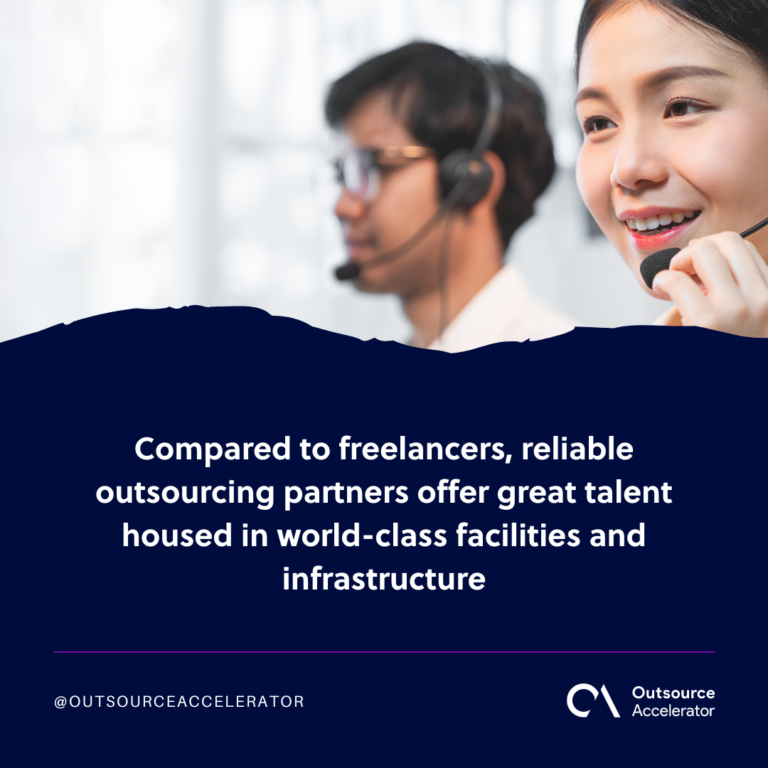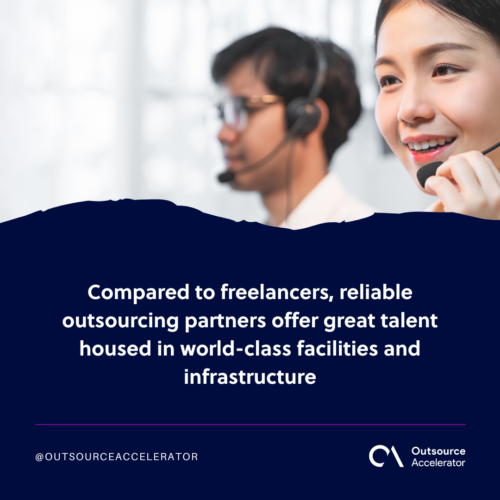 What to look for in a healthcare BPO company
Medical professionals and other healthcare providers must consider the following when looking for an outsourcing company to partner with:
Service guarantee
Healthcare BPOs' services garner years of expertise and experience in providing this to their clients. Organizations usually look for a partner with years of high-quality service to ensure that their functions are well taken care of.
Healthcare outsourcing companies should guarantee specialized expertise in whatever medical services are needed. A good outsourcing provider will be familiar with healthcare systems and prioritize patient satisfaction.
Compliances
Companies must ensure that their outsourcing providers are 100% HIPAA compliant. Medical-related functions require the utmost data and privacy security to protect their patients and company data.
Being HIPAA-compliant means their outsourcing partner undergoes strict security measures to protect their information to avoid data breaches and compromises in the future.
Pricing 
BPOs often set fixed pricing for their services. Billed periodically, their fees cover the expenses used to run their operations, from office space, electricity, and connectivity, to documentary requirements for compliance.
Though, some BPOs charge extra fees for additional services such as call transfers and after-hour charges. With this, clients should ask their preferred service providers about their pricing structures, billing cycles, and additional fees.
Customer reviews
Organizations must not simply rely on their preferred provider to ensure their guaranteed service. They can either ask for a trial run in doing their operations or check for customer reviews about the BPO company.
Customer reviews can be a great guide for companies in determining the quality and reliability of their preferred service provider.
A simple lookup on Google or review sites such as Clutch can help in knowing what their customers say about their service.
Performance monitoring
Lastly, outsourcing healthcare services does not end in delegating all functions and metrics to a remote team. Institutions should also monitor and measure their team's performance and progress to make sure it fits with their standards.
Both the provider and client can agree with the online collaboration and employee monitoring tools to use in their operations.
Healthcare BPO trends
Market analysts recorded the size of the healthcare BPO market this year at US$ 232.33 billion. According to them, global healthcare outsourcing is projected to grow to almost a 9.81% annual rate by 2026.
The COVID pandemic has accelerated the ever-increasing demand for health-related services around the world. This phenomenon triggers the need for institutions to tap IT and business process companies around the world.
North America, particularly the United States, still has the largest outsourcing market share to date. US institutions outsource healthcare services to offshore countries due to high expenditures, strong reimbursement frameworks, and a high percentage of claim records.
On the other hand, several nearshoring and offshoring destinations rise in popularity in healthcare outsourcing, including South Africa and Puerto Rico
As the world ventures post-pandemic, medical organizations will have a wider range of options for healthcare BPO around the world.