Surefire ways to become a medical transcriptionist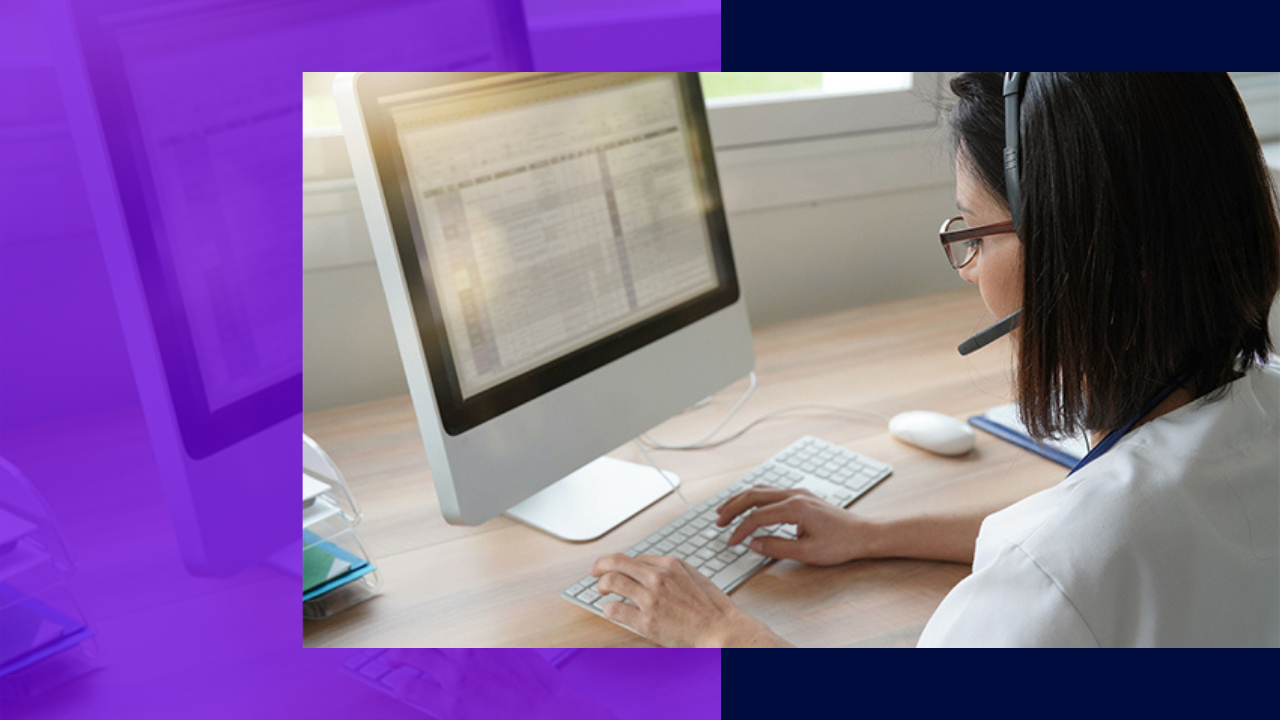 Every day, doctors, nurses, and healthcare workers are saving lives. They work on improving their patient's conditions, doing rounds, and advancing their techniques as well as their knowledge of the tools and equipment they use. 
But even they need help in ensuring they have accurate health reports. This is where medical transcriptionists come in. 
Medical transcriptionists work closely – or remotely – with healthcare workers to provide the utmost support for them and their patients. 
Becoming a medical transcriptionist at home or through business process outsourcing (BPO) companies can also be a good work opportunity. 
If you have great typing skills, sharp focus, and medical knowledge, you can become a medical transcriptionist. This job pays well, especially for experienced individuals at home.
Learn all about the surefire ways to become a medical transcriptionist, the qualifications you need, and the institutions that accept them in this article.
What does a medical transcriptionist do?
Also known as a healthcare documentation specialist, a medical transcriptionist is tasked to listen to medical audio and convert them into document files. 
They can either transfer data directly from the audio file or use specialized text-to-speech software. With the availability of online tools today, medical transcriptionists use text-to-speech software to transcribe their audio easily. 
After rendering, they will then verify and review the document for errors in grammar, punctuation, and spelling, then collate their data to create reports.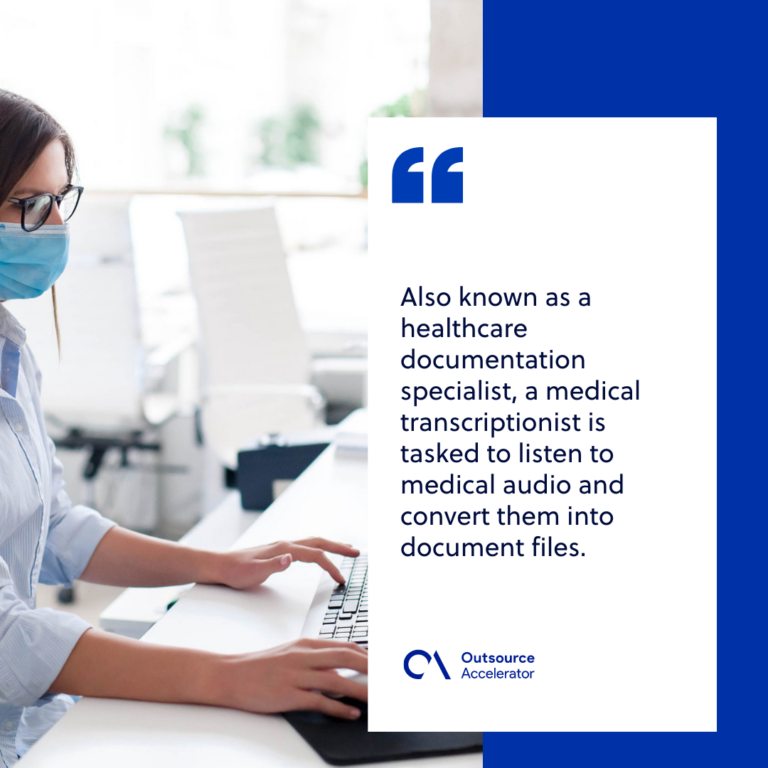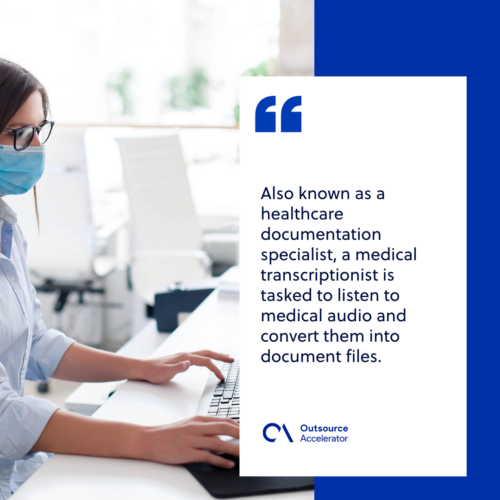 Aside from this, their tasks include listening to audio dictation, interpretation of medical data, and description of the patients' medical backgrounds. 
Medical transcriptionists also translate medical jargon into long-form, create and proofread medical reports, and submit those reports for approval.
It is also given that a medical transcriptionist strictly follows confidentiality guidelines. Sensitive data such as the patient's information must be secured properly.
The average salary of a medical transcriptionist
A medical transcriptionist's average salary may vary depending on their location, experience, and skillset.
An average transcriptionist in the US earns a median annual wage of US$35,270. They can earn up to US$37 per hour depending on the specialty. 
Medical transcriptionists are usually hired in hospitals, medical and diagnostic laboratories, doctor's offices, specialized clinics, and administrative offices.
Remote and outsourced medical transcriptionists, meanwhile, can earn as much as US$12 per hour or at least US$24,000 per year.
What does it take to become a medical transcriptionist?
Any qualified applicant can become a medical transcriptionist from the comforts of their homes or through formal education. However, it takes training and practice to become a professional in this position.
To become a professional medical transcriptionist, applicants must meet the following requirements:
Educational attainment
Applicants must have at least a General Education Diploma (GED) or high school diploma to become a medical transcriptionist. 
However, most companies require them to undergo additional training, whether through a community college, distance-learning program, or vocational institution.
Completing at least one or a two-year certificate or associate degree is the best way to qualify for jobs. 
Training
Online and offline medical transcriptionists today are either self-taught through online courses or have formal education. 
Applicants with formal education completed several courses including anatomy, medical terminology, grammar and punctuation, and medical-legal issues. 
Others conduct their on-the-job training with direct supervision, depending on their institution's offering.
On the other hand, those who are self-taught improve their skills over time. But they might seek internships first to gain experience before applying.
Licensures 
Most locations in the United States require applicants to have certifications and licensures to become medical transcriptionists. 
The Association for Healthcare Documentation Integrity (AHDI) provides two certifications: registered medical transcriptionist (RMT) and certified medical transcriptionist (CMT).
The most basic of the two, RMT, is given for individuals who recently graduated from formal training or have less than two years of work experience. Single-specialty transcriptionists are also required to have this certification.
Meanwhile, CMT is given to individuals with existing RMT certification or at least two years of work experience. To qualify as one, applicants must have years of experience in transcribing acute medical cases or multi-specialty transcriptions.
As with any other certifications, applicants must pass the national exams to become licensed RMT and CMT. Both licenses require continuous education and recertification every few years as well.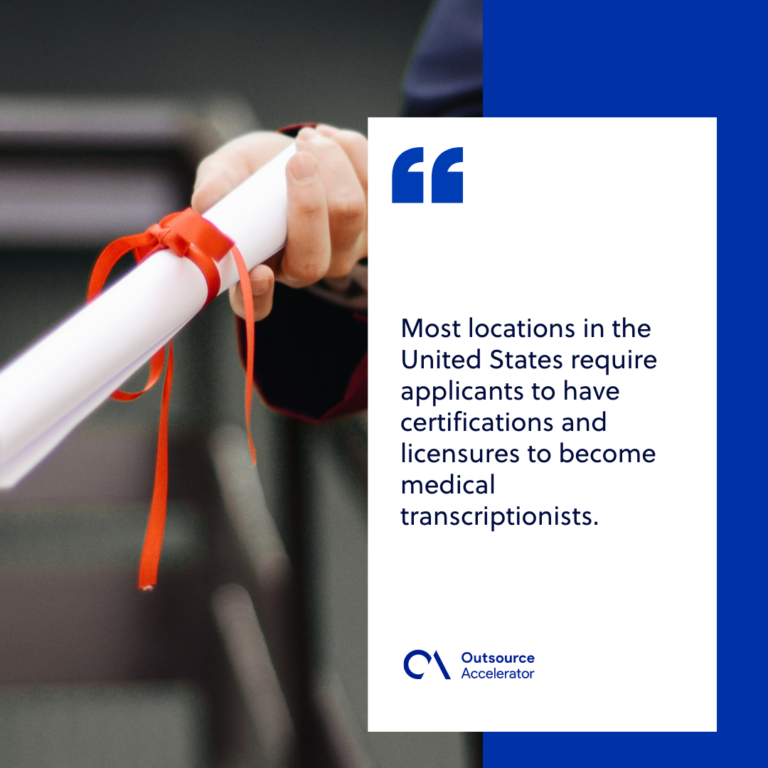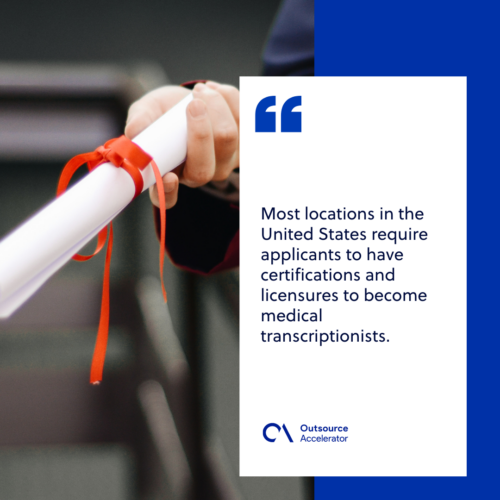 Necessary equipment
Depending on the health institution, medical transcriptionists use a handy audio device to play files. This includes audio recorders, MP3 players, or cassette tapes. 
Nowadays, most of them already use digital files transferred through the cloud or a hard drive. With this, applicants must have the following:
Laptop or desktop
Having a working laptop or desktop is vital for virtual tasks needed to perform by medical transcriptionists, especially for audio playback and document processing.
Word processing software
Applicants can use web applications such as Google Workspace for processing documents. However, it's best to have an offline document software like Microsoft Word when dealing with highly sensitive transcriptions.
Foot pedal
Professional medical transcriptionists save time and effort in audio playback by utilizing foot pedals instead of mouse clicks.
Medical dictionary
It's best to have a medical dictionary handy when transcribing. This helps in looking up terms that are difficult to spell or are new to them.
Transcription software
Medical institutions usually provide or indicate their preferred transcription software for playing audio depending on their medical field, assigned doctors, and preferred file format.
Quality headset
Transcriptionists should invest in a good quality headset. This is most helpful when the doctor or nurse speaks fast or mumbles at times.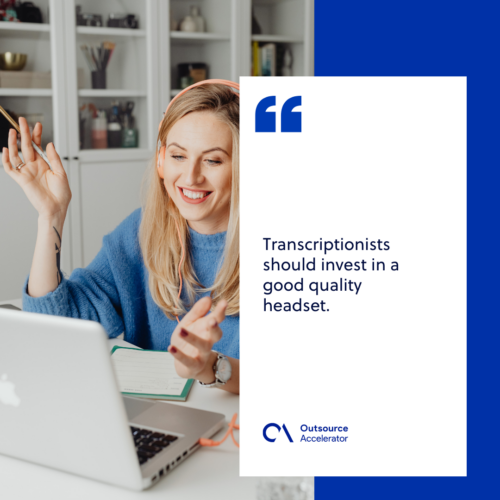 Skills needed to become a medical transcriptionist
Skills learned and developed from both formal schooling and self-paced learning can help you become a medical transcriptionist. Such are as follows:
Computer literacy
Medical transcriptionists should be comfortable using the computer and word processing software. They should be knowledgeable in basic document formatting and troubleshooting in case anything goes wrong with their document.
Typing speed
Medical transcriptionists normally have a typing speed of at least 65 words per minute with minimal to zero errors. Typing speed is crucial in capturing data quickly and accurately.
Medical knowledge
They need to have ample medical knowledge to interpret and translate terminologies, abbreviations, and jargon.
Writing skills
Most importantly, a good medical transcriptionist is knowledgeable in grammar, spelling, and syntax. 
Attention to detail
A small mistake can cause a great impact in a medical setting. This is why medical professionals pay careful attention to each transcribed audio and written report they get.
Listening skills
A good medical transcriptionist also listens closely to the dictation of the healthcare professional on record to convey the intended meaning of the medical report.
Time management
Written reports must be done quickly to meet specific deadlines. Medical transcriptionists should know how to manage their schedules and be able to work under short deadlines when needed.
Ability to focus
Medical transcriptionists work on volumes of audio transcriptions and reports daily. They should be able to focus on their current tasks to finish their reports on time.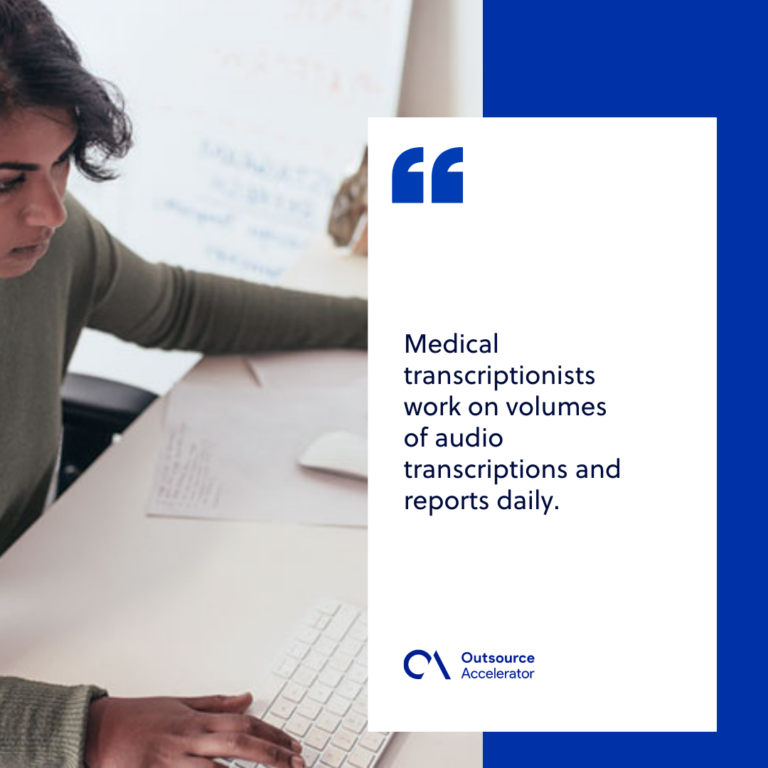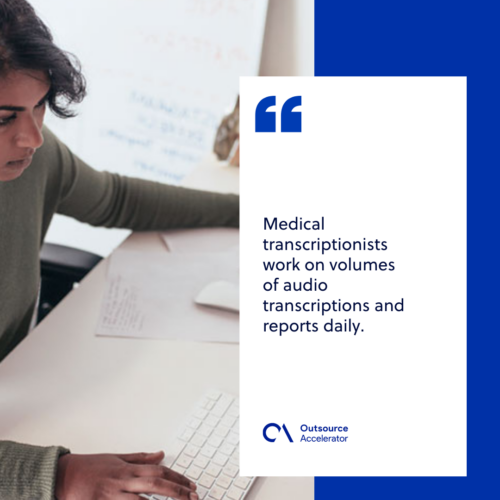 Essential qualifications companies look for in a medical transcriptionist
To become a medical transcriptionist, you must be dedicated and continuously learn to develop the skills and capabilities needed for this position. 
Here are the essential qualifications that companies look for in hiring a medical transcriptionist.
Degree
A degree signals a certain level of education. It indicates that the employee can tackle complex tasks and has the necessary skills to succeed in the company's operations. 
The best way to get this role is to take higher education and earn a certificate or an associate degree. Everyone can take higher learning programs online or in-person through universities, community colleges, and vocational schools.
Certifications 
Certifications are optional but highly recommended in the medical field. It demonstrates that the employee has met standards and criteria set by a recognized authority. 
This guarantees employers and institutions that the individual is skilled, fully qualified, and reliable for the role.
Skills and competencies
Companies look for employees with the right skills and competencies to ensure that they can meet their business goals and objectives.
In this role, there are a lot of typing and listening practices available online to help an individual hone their skills and increase their accuracy.
Having a team of medical transcriptionists with the necessary skills and competencies lets firms be confident that they can carry out their tasks efficiently and effectively.
Experience
It pays to gain experience outside formal training and before the real work. Companies typically opt for experienced employees because they better understand the industry and processes. 
Moreover, they can use their knowledge and expertise to immediately impact the company's success. Taking internships in medical institutions and doctors' offices helps individuals jumpstart their work as medical transcriptionists.
Where to find medical transcription jobs
Companies and medical institutions hire medical transcriptionists. They offer both in-house and remote positions for the role, especially since this can now be done online using remote work tools and services.
Medical transcriptionists can find available jobs through the following:
Local health facilities
Medical transcriptionists mostly work at local health facilities, particularly in hospitals and physicians' offices. 
They provide help in interpreting medical data directly from doctors' audio dictations and formulate written reports in hard copies. This requires them to work closely with doctors or healthcare providers within the facility.
Offshoring
Offshore health institutions engage with medical transcriptionists through freelancing. Usually hired on a per-project basis, employers will send the audio files to the medical transcriptionists to work on within a specific timeline. 
Freelance transcriptionists are sometimes considered self-employed since they are not connected to a specific health institution.
Medical transcriptionist outsourcing
Outsourcing companies also hire medical transcriptionists for their local and offshore clients. A medical company delegates projects such as transcription and support to an outsourcing partner. 
The BPO company will then take care of hiring a team that will work on these projects for a certain period of time.
Through outsourcing, medical transcriptionists are considered to be employees of the medical company. However, the outsourcing partner will take care of their employment needs, including equipment, salaries, benefits, and training.