Virtual medical assistant: How do they aid medical professionals?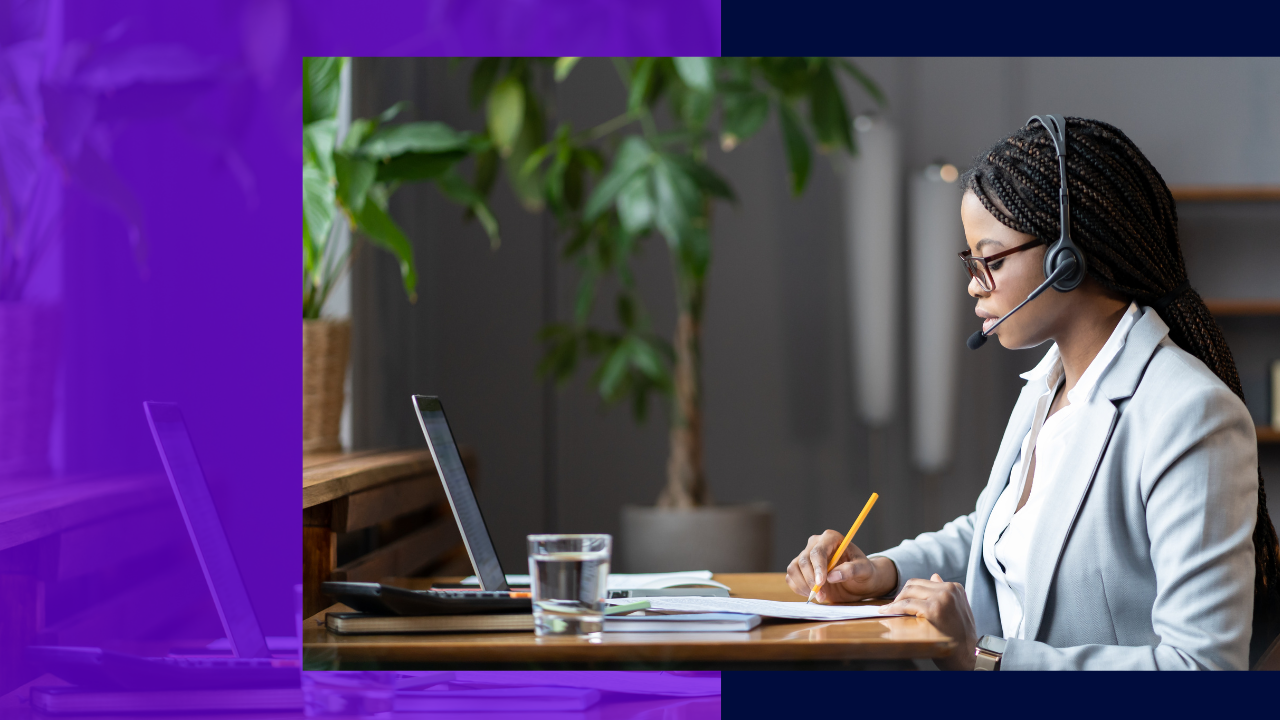 Virtual medical assistant How do they aid medical professionals
We are used to the idea that virtual assistants are hired to work for entrepreneurs and other types of companies in the business sector. Little do we know that virtual medical assistants also exist to aid healthcare professionals.
What is a virtual medical assistant?
A virtual medical assistant is a remote professional medical assistant that handles daily repetitive tasks for medical practitioners. Just like other VAs, these types of remote workers can also be hired from different geographical locations.
Medical VAs are often well-versed in the day-to-day tasks and activities in medical offices. Thus, health professionals can count on them to help not just with administrative duties but clinical tasks as well.
With proper training, you can employ medical assistants to assist with pretty much any task in a doctor's office that does not require being physically present.
Who can benefit from a virtual medical assistant?
A virtual medical assistant can work for pretty much any medical establishment like clinics, physicians' offices, rehabilitation centers, urgent care clinics, and mental healthcare facilities.
More so, any healthcare practitioner may acquire the support of a remote medical assistant. This includes surgeons, psychiatrists, psychologists, physicians, and dentists, among others.
Since doctors have a very busy schedule by nature, a medical assistant can go a long way in supporting their operations.
They can help the entire workforce to get around devoting extra long hours of work every single day.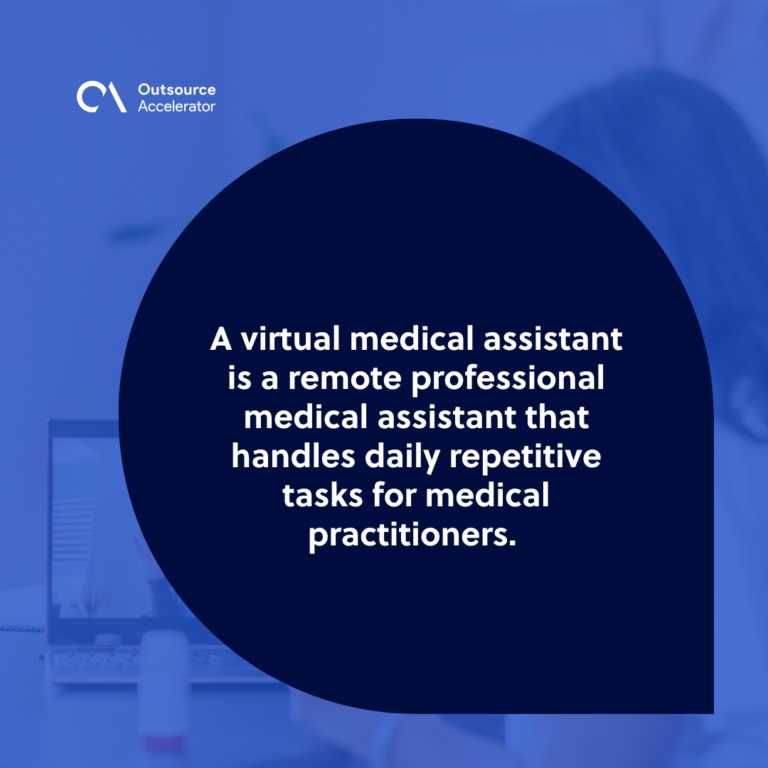 Virtual medical assistant roles and tasks
A virtual medical assistant has the skills and capability to perform various tasks that do not need specific healthcare expertise. However, it doesn't mean that they can only perform clerical duties. Health professionals can still rely on them to perform certain administrative and clinical tasks.
Part of the roles and responsibilities that medical professionals can delegate to a medical VA are:
Administrative tasks
As virtual physician assistants, medical VAs can be given various administrative responsibilities ranging from mundane medical office tasks to more specialized ones like handling the medical histories of patients.
These tasks can be taking calls, scheduling appointments, email management, supply management, and organizing files in the database.
Data entry and transcription
There are medical virtual assistants that are experienced in performing data entry roles and assisting with medical records. These data entry roles can be specifically for Electronic Medical Records (EMR) and Electronic Health Records (EHR).
VAs today are able to join in during patient examinations via encrypted video conferencing software. From there, remote medical assistants are able to record patient history or any specific information in real-time.
Other practitioners may also record specific information during or after each patient appointment. Medical assistants will then transcribe the recorded file into patients' medical charts.
Bookkeeping
Virtual medical assistants can also create and send out invoices, process payroll, or pay bills. Some even have the background and ability to create financial reports. This is a great help for facilities to track their overall financial expenses and cash flow.
Verifying insurance coverage
Other medical assistants are also tasked to verify insurance coverage before patients can receive certain treatments.
Further, they can process and submit billing statements and other insurance forms to the patient's insurance company after they have gone through each service.
Marketing
A medical assistant who is able to perform marketing roles can help practitioners to widen their reach and have more patients.
Aside from social media management, this role also includes website updates or responding to online reviews. Others are also skilled in setting up and running campaigns to target specific audiences within the medical practitioner's area.
Virtual receptionist
It is also possible for medical virtual assistants to answer calls on behalf of medical professionals. They can function as a regular receptionist that is in the clinic or facility.
The kind of task may include answering phones, taking important messages, transferring urgent calls, or catering to patient inquiries.
Although virtual medical assistants are not physically working in medical offices, doctors can still task them with answering phones and fielding them.
Advantages of hiring a virtual medical assistant
Hiring a virtual medical assistant can bring in a lot of great benefits for medical and healthcare professionals. Among these advantages are the following:
Better service
Having an extra set of hands helps the division of tasks be more efficient and aligned. This also helps everyone in the team to focus on other more important tasks that need to be done.
As a result, patients will be taken care of properly. Happy and satisfied patients will lead to them recommending such services to their family or friends.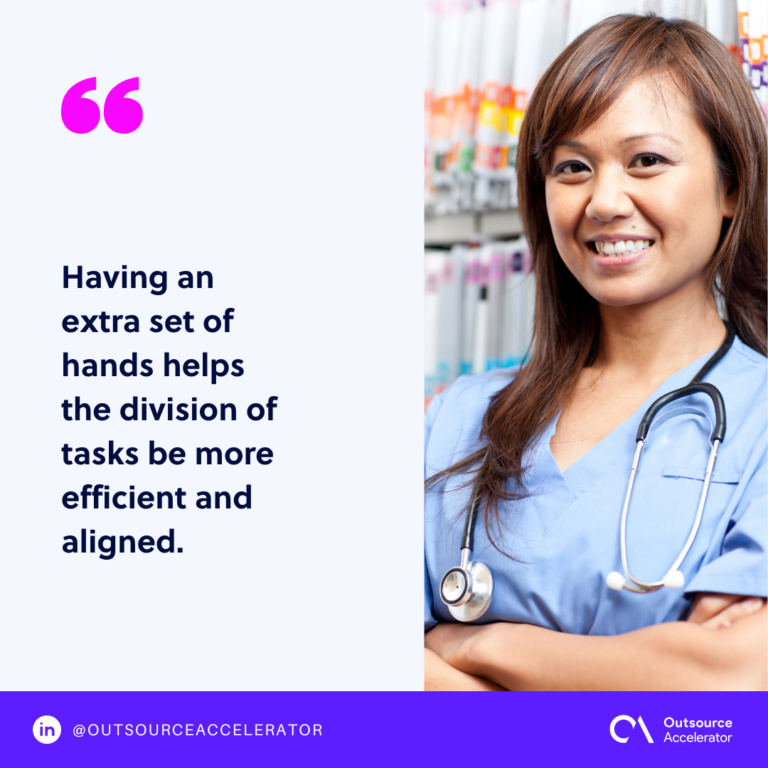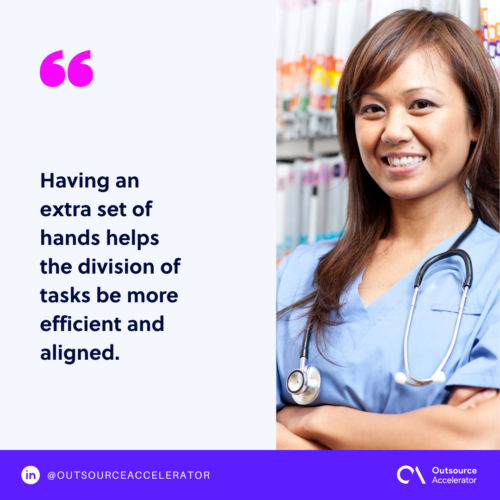 More time for patients
Since medical assistants are also in charge of doing paperwork, doctors will have more time for patient cater. This also leaves more time for healthcare professionals to attend to more patient appointments within the day.
Cost-effective
Contracting out a medical VA is way more cost-effective compared to hiring a full-time employee.
In hiring a full-time in-house staff, employers will also be required to provide office space and other resources required for the job. A remote worker, on the other hand, is already equipped with resources, skills, and experience.
No need for training
Virtual assistants generally invest in continuously improving their skills, resources, and tools. It is their responsibility to keep track and up-to-date with the latest trends and developments in their field of practice.
Other virtual medical assistants may have a college degree or associate degree in the medical field. Some may require medical assistants to have particular training or undergo an accredited program before onboarding.
Hiring from reputable agencies or BPO providers can often give access to medical assistants with specific certifications, such as certified medical assistant (CMA) and certified nursing assistant.
Flexibility
As we have mentioned before, virtual medical assistants are well-skilled in handling different types of roles. From accounting and marketing to simple administrative tasks, they can work according to what their employers require.
Virtual medical assistants are able to start immediately after a contract has been signed and everything else has been discussed.
Factors to consider before hiring virtual medical assistants
Hiring the services of a virtual medical assistant can bring many advantages to professionals and medical facilities. However, there are many factors you need to think about before getting a medical assistant VA to assist with administrative duties in your practice.
Below are some of the things you need to be clear on before hiring a virtual medical assistant.
Possible timezone differences
Virtual medical assistants — or any VA, for that matter — work remotely. You may be physically working in a New York facility, but your medical assistant VA can be working from a city in Southeast Asia.
Thus, it's best to clarify early on if you want a medical assistant VA working in your timezone or if you want them to cover administrative duties while you're clocked out.
This would affect whether you'll want to hire a local medical assistant VA or an offshore one. Having a virtual medical assistant working in a different time zone has its share of pros and cons. Ultimately, it comes down to whether you think the pros outweigh the cons for your business.
Length of contract
Another factor you should consider before onboarding a virtual medical assistant is how long you intend to have them work for you. Doing so can help you plan your budget accordingly.
Whether you're hiring long-term or short-term can affect which tasks you can delegate to your medical VA. For instance, you wouldn't want to task short-term virtual medical assistants to develop a new system of file organization that you'll eventually abandon when the VA leaves.
What to look for when hiring virtual medical assistants
To ensure that your virtual medical assistant will be a great asset to your practice, it's best that you know the qualities you should be looking for in one.
Here are some of the things you should be considering when hiring a medical assistant VA.
Qualifications and certifications
It isn't necessary for your virtual medical assistant to have a degree in medicine. However, having a medical VA with related certifications (e.g., certified medical assistant or registered medical assistant) can be of great help in performing clinical duties.
Experience
Finding a virtual medical assistant with prior experience working in a clinical setting is always a good thing. Although some clinics and private physicians entertain entry-level candidates for virtual medical assistants, many prefer experienced VAs who can hit the ground running upon hiring.
Adaptability and multitasking ability
Working as a virtual assistant in medical facilities can be hectic. An ideal medical assistant VA should be able to perform routine administrative tasks simultaneously with their other responsibilities smoothly.
Assess your virtual medical assistant candidate's ability to handle a fast-paced and demanding work environment.
Skills and competence
Although virtual medical assistants will not be helping with in-person medical procedures (e.g., drawing blood or recording vital signs), you should still ensure their competence in other areas. Being in the medical field, it's imperative to have near-impeccable administrative skills.
Check how well they perform with managing medical records, medical coding, and other administrative tasks.
Where to hire virtual medical assistants
Thanks to the increasing popularity of virtual assistance services, hiring virtual medical assistants has become easier than ever.
If you're looking to hire virtual medical assistants, here are some places you can look into.
Virtual assistant agencies
As the name suggests, virtual assistant agencies help connect professionals with skilled virtual assistants. Turning to a virtual assistant agency is one of the fastest and easiest ways of hiring skilled virtual medical assistants.
Once you've found a reputable VA company, you can provide them with your requirements, and they'll find a suitable VA for you at affordable rates.
Freelance marketplace
You can also find qualified virtual medical assistants on freelancing platforms like Upwork and Fiverr. You can simply upload your tasks on these platforms, and freelancers will contact you to apply.
However, going to freelance marketplaces instead of VA companies can be time-consuming as you'll do the VA screening yourself.
BPO firms
Business process outsourcing firms function similarly to VA agencies. You simply have to furnish them with your specific requirements, and they'll handle the recruitment and screening.
From there, you can select your virtual medical assistants from the pool of applicants that BPO firms will provide.
When hiring medical VAs, it's advisable to turn to either VA or BPO firms. Because these companies have reputations to uphold, they're beholden to ensure that your virtual assistant undergoes the training necessary to work in healthcare settings.