Top medical transcription companies to work with in 2024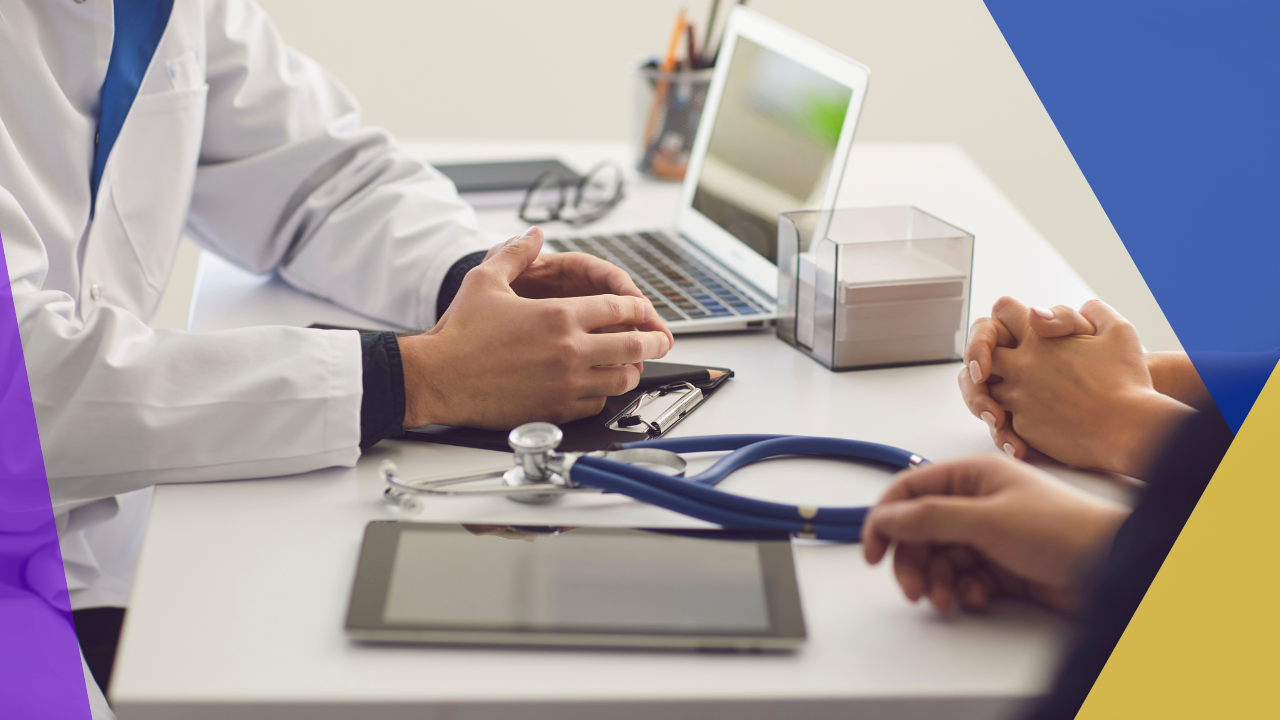 Top medical transcription companies to work with in 2023
The healthcare industry sprawls across various practices. From medical transcription to billing service and insurance claims, it's not a surprise that the sector calls for professionals.
Medical service providers, like inbound and outbound contact centers, align themselves with the values of those who are in the medical field. No matter what the nature of their work is, it all boils down to prioritizing treatment and care for the people.
That being said, entities and medical institutions have to look for medical transcription companies that are aligned with their mission, vision, and values.
For starters, here are the top medical transcription companies to check out this 2024.
A brief recap of medical transcription services
Medical transcription is transcribing audio files from medical practitioners. Surgeons, physicians, and attending nurses have medical transcription devices on them to easily dictate a process or a medical procedure.
Then, if they so choose, they can transcribe the audio files by themselves or outsource them to medical transcriptionists.
Medical transcriptionists are the ones who transcribe all the patient's medical history, laboratory results, prescribed medicine, and more.
They usually have experience in the medical field and have university-level degrees. Having these makes their work easier since they're already familiar with the processes and the medical jargon.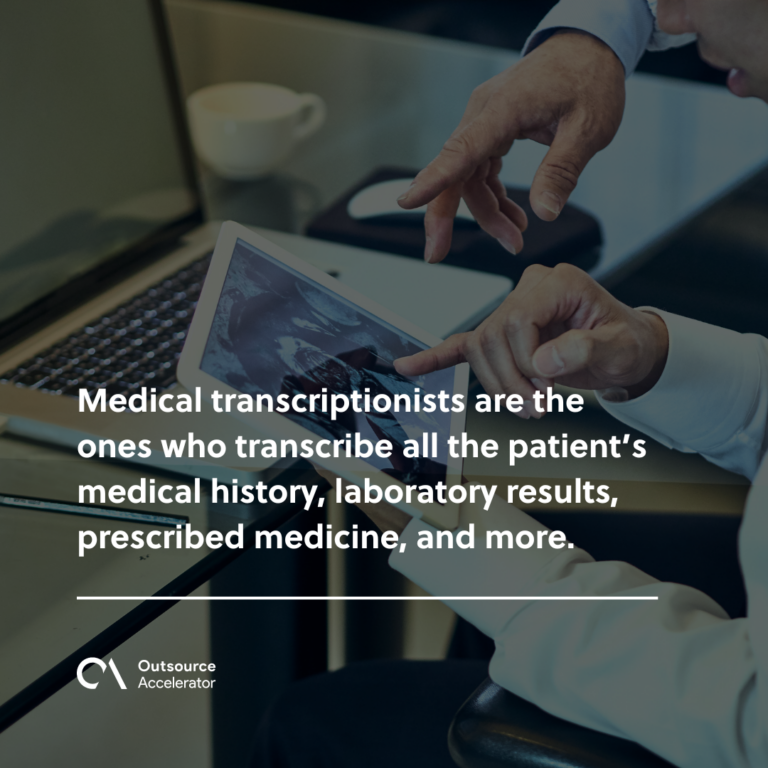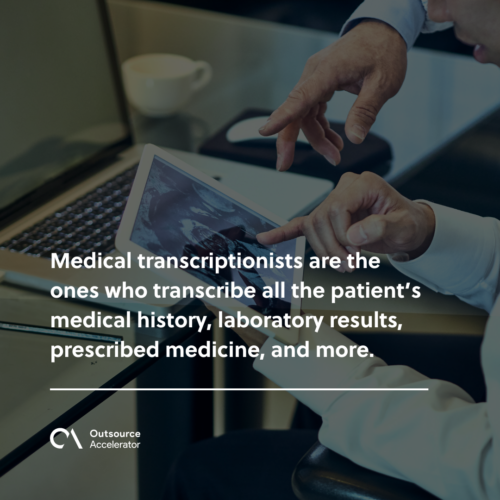 Medical transcription service: What is it for?
Healthcare providers from various disciplines benefit from companies offering medical transcription services.
These healthcare professionals avail the services of medical transcription companies for a variety of tasks, such as:
Surgical, operative, and radiology reports
Patient visit summaries
Clinical trial and research transcripts
Narrative summaries
Clinic and SOAP notes
Why medical transcription is important
Medical transcription is just as important as the doctors and nurses that treat and care for their patients. Without medical transcription, the amount of miscommunication and malpractice that medical practitioners have to wade through will be immeasurable. 
Most often than not, patients are seen by different doctors—these records have to be error-free and easily accessible by other medical practitioners.
Medical transcription makes it easier for practitioners to maintain their records of past and current patients, including their health status and suggested cure. This also expands their effectiveness in their profession.
AI versus humans: The future of medical transcription services
There's no doubt that technology has come a long way. We now have artificial intelligence (AI) assistants and programs that can transcribe audio for everyone—not just medical practitioners.
What's stopping them from taking over the medical transcription field?
However, keep in mind that these software and programs aren't perfect. Errors and mistakes are inevitable, especially if the AI hasn't been properly 'trained' yet. 
Humans can produce high-quality and accurate medical transcription outputs. Sure, it will take time and effort, but consider those as investments rather than expenditures.
Remember, medical transcriptionists handle sensitive information that will affect a patient's treatment.
What to look for in medical transcription companies
Choosing a medical transcription company can be difficult, especially when you don't know where to start.
Medical transcription requires accuracy and precision to ensure the information transcribed is at par with the audio file. At the same time, medical transcription companies must at least comply with HIPAA and other regulations to protect patient data.
Here are the following characteristics to look for in medical transcription companies.
Extensive experience
Choosing to work with a startup medical transcription company is not wrong. However, there will always be risks to asses and rewards to reap when partnering with up-and-coming businesses. 
Some business leaders and decision-makers may choose to work with tried-and-tested institutions, and that's okay too.
It all points to whether the company's expertise and promises will shine through despite the age of the organization
Certifications and qualifications
Medical transcription services may come from an outsourcing company. That being said, clients will always look for proper certification and qualifications.
There are colleges and universities that offer degrees and courses similar to medical transcription. Some may opt for certification from an accredited institution, as they usually offer a shorter, more dense curriculum.
Certifications and qualifications are more on the employee rather than the employer themselves. Keep in mind that medical institutions must ensure the quality of the work they will be getting.
Legality of the medical transcription company
It shouldn't come as a surprise that medical—or any entities—should only work with legal and fully documented service providers.
Hypothetically, if a hospital unwittingly works with an illegal third-party service provider, there will be pressing legal issues for both of the parties involved.
Quality and efficiency
As always, the quality of the outputs should meet the client's expectations. Hospitals and other medical institutions often have a rigid quality check to ensure they get the quality they're paying for.
Medical transcriptionists should be highly productive and efficient when handling files, all the while maintaining the quality of their service. Quality should always surpass quantity.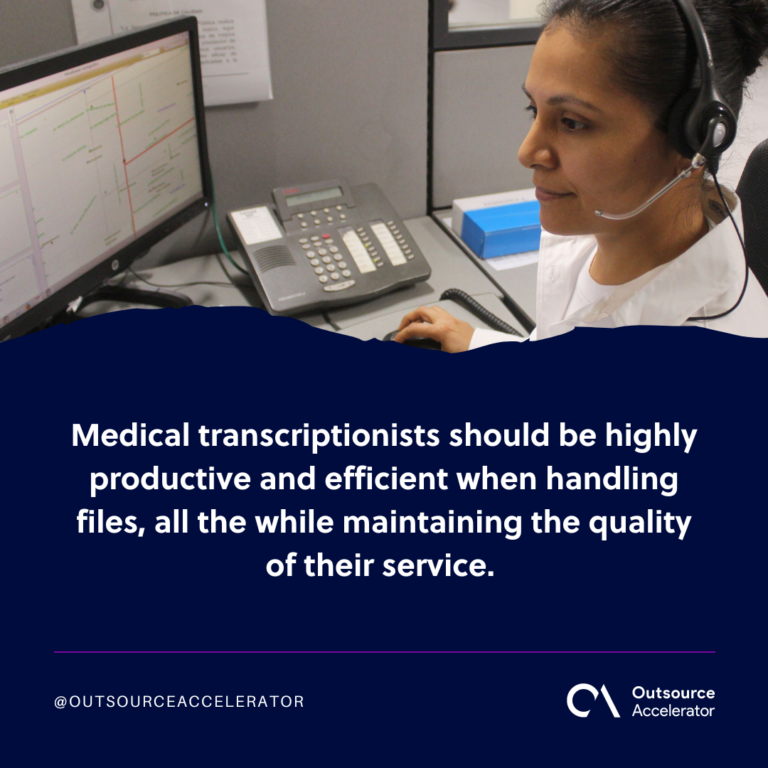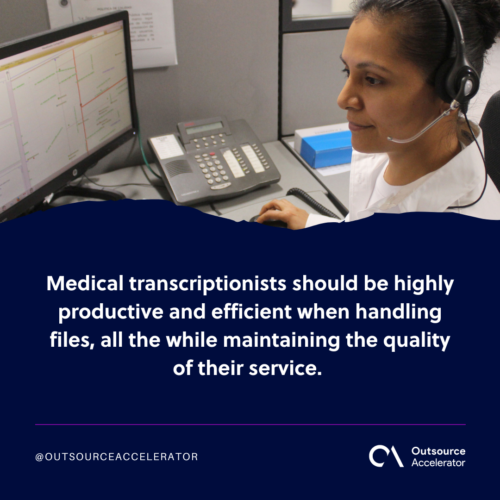 Turnaround time
In most cases, audio files from hospitals, clinics, and other institutions are dropped off in batches, and a certified medical transcriptionist works on them before the deadline approaches.
Working on these files may include raw transcribing, proofreading, and reformatting. The actual turnaround time may vary per audio as the length is something that even the clients can't control.
After-sales customer service
Most people wouldn't conduct business with a company that has little to no after-sales customer service. The same goes for partnering up with medical transcription companies.
After-sales customer service is important regardless of whether the product or service is virtually flawless. People still need a working number or an email to reach out to if they have further questions about the goods they received.
Benefits of working with medical transcription companies
Medical transcription is essential to modern healthcare delivery and is often outsourced to professional transcription companies. 
Most medical transcription companies provide the following advantages:
Improved accuracy
One of the primary benefits of working with a medical transcription company is the improvement in accuracy. 
Medical transcriptionists have specialized training in medical jargon and terminology, allowing them to transcribe complex medical information precisely. 
Medical transcription services use advanced technologies to transcribe medical and patient records accurately. This reduces the risk of errors that can compromise patient care and lead to legal or financial issues.
Faster turnaround times
Another key advantage of availing medical transcription services is faster turnaround times. 
Medical transcriptionists typically have faster typing speeds and use tools to minimize the time required to transcribe medical or patient records. 
This can result in faster document delivery and turnaround times. In turn, this can help healthcare providers deliver better patient care.
Streamlined workflows
Medical transcription companies can also help to streamline workflows for healthcare providers. 
Instead of managing medical record transcription in-house, medical transcription services can handle the process more efficiently. This frees up other healthcare workers to focus on other critical tasks. 
Therefore, there is a more streamlined workflow, improved productivity, and better patient outcomes.
Improved compliance
Medical transcription companies are well-versed in the complex regulations around medical information storage and handling. 
Healthcare providers can improve compliance with regulatory requirements by working with a professional company. This reduces the risk of data breaches and minimizes liability issues. It also makes working in legal and government spaces smoother.
Flexible medical transcription service
Medical transcription services often offer flexible solutions that can be tailored to the specific needs of each healthcare provider. 
This means that healthcare organizations can choose the services that best suit their needs and budget. 
They can opt for full or partial medical transcription services, depending on their requirements. Medical professionals can even customize the transcription process to match their existing workflows with additional services.
Saves on cost and resources
Outsourcing medical transcription services to a professional company can also result in significant cost savings for healthcare providers. 
Instead of hiring additional staff or training current staff in transcription, healthcare organizations can save on labor costs associated with in-house medical transcription. 
Professional medical transcription companies use advanced technologies that can guarantee accurate transcription and reliable medical documents.
This ultimately saves the provider time and money that would have been wasted on correcting transcription mistakes.
The top medical transcription companies in 2023
Check out the top medical transcription companies to help you with your operations in 2024.
GoTranscript is one of the leading online transcription services worldwide. Aside from audio transcription, they also provide captioning for video files and translation between English and other foreign languages. 
AQuity Solutions is a premier medical documentation and management provider. They employ clinical documentation specialists in several countries to best support medical firms doing provider documentation solutions, revenue cycle management, and additional services.
Since 2002, InSync Healthcare Solutions has been a reliable medical software and services provider offering all-around medical management services to healthcare firms.
Aside from medical transcription, their systems are fully integrated with practice management, revenue cycle management, and medical billing.
World Wide Dictation is an established full-service transcription business with over 45 years of experience in the field.
World Wide Dictation supports transcription in several formats, whether through phone, tape, or handheld devices. Since 1964, they have been trusted by legal and medical firms for transcription services with the utmost quality and security.
EHR Transcriptions provides user-friendly medical transcription services for professionals and medical firms worldwide. They support transcriptions from all specialties, including surgery centers, though their services work best with long narrative reports.
Improving patient experience through medical transcription companies
Delegating medical transcription to specialized companies is the best way to ensure its quality and improve the patient experience further. With the process taken out of their hands, medical professionals can better focus on taking care of their patients.
At the same time, this also prevents errors in billing their patients with the wrong procedure. The better experience their patients get, the more they can improve their credibility and practice at hand.
Choosing a medical transcription company should be carefully planned by healthcare organizations, firms, and institutions. It is best to consider the ones that can take care of their data to reflect their level of care for their patients better.