Definition
What is HIPAA compliance?
Compliance with Health Insurance Portability and Accountability Act or HIPAA is mandatory for all sectors of healthcare, including call centers concerned with classified details. A HIPAA-compliant call center can guarantee the security of the medical facilities and confidentiality of their patients' records. 
HIPAA is a complicated law that can affect any area of your call center business. HIPAA-compliant call center and business process services will not only save extra expenses for medical dependent companies. They will also become part of a more productive and robust patient care experience.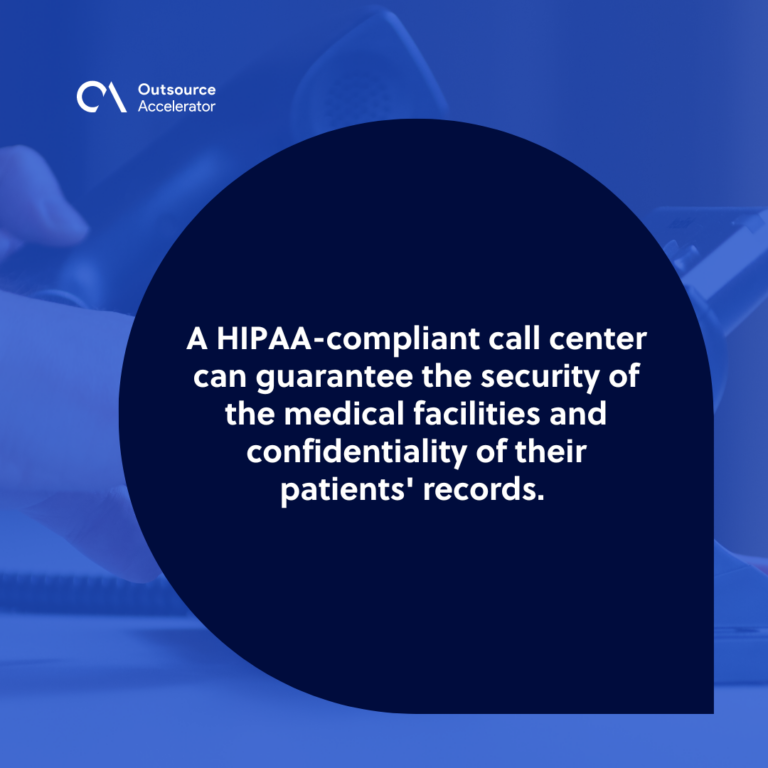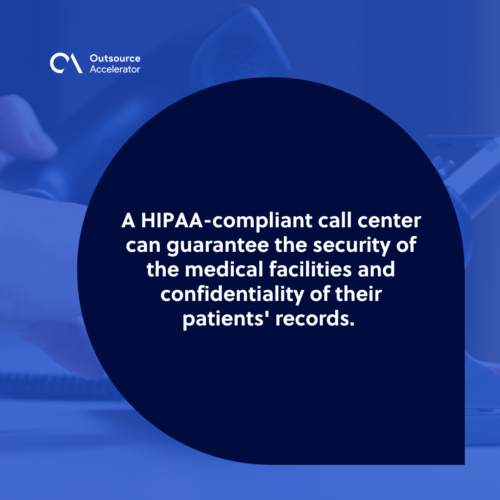 Benefits of HIPAA compliance in the call center
The Healthcare Insurance Portability and Transparency Act (HIPAA) was approved by the United States Congress in 1996 to protect sensitive health records with confidential coverage at all times. 
HIPAA compliance ensures that any checked identity, address, social security number, diagnostic code, name of the provider, and all other Protected Health Information (PHI) must be addressed safely, whether in a registered phone call, in a forwarded email chain, or an appointment confirmation text message.
The HIPAA compliance extends to more than health care companies and insurance agencies. The covered entities effectively cover all primary care facilities, health insurance providers, and all billing services including health information management programs.
Here is the list of HIPAA compliance benefits to call center firms:
Provides American employees with the right to move and retain health care benefits after leaving or losing a career.

It prevents theft and violence.

Includes industry-wide guidelines for health records on electronic billing and other procedures.

Mandates the security and secrecy of private health records.
Guidelines for HIPAA compliance
HIPAA compliance regulates industry-wide guidelines for health records on electronic billing and other procedures. This has contributed to a decrease in the number of cases of fraud and neglect of health care by applying these principles. HIPAA compliance determines who may have access to such patient records, which is especially relevant in the modern age, where information can be shared quickly and broadly.
When selecting a call center, it is necessary to make sure that the call center company complies with these specified guidelines:
PHI Safeguard (Protected Health Information)

Document leaks or violations of data

Keep a comprehensive list of internal PHI security activities

Encrypt the information

Regulate & train staff 

Limit access to patient data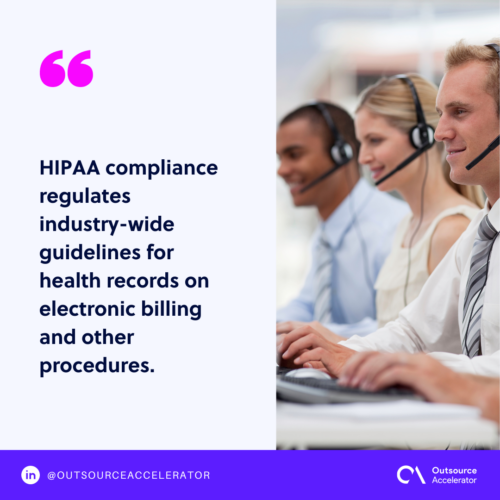 Consequences of HIPAA non-compliance
Fines for violations of HIPAA are provided by the Office for Civil Rights of the Ministry of Health and Human Services (OCR), and state attorneys general. In addition to monetary fines, affected companies are expected to follow a response plan to bring standards and procedures up to the requirements required by the HIPAA.
Here are four categories used for the structure of the penalty:
Tier 1:

Infringement that the person concerned did not know and could not realistically stop had a sufficient degree of caution been taken to comply with the HIPAA rules.

Tier 2:

A breach that the person concerned may have been mindful of, but may not have prevented, even with a fair level of caution. 

Tier 3:

Infringement incurred as a direct result of "voluntary neglect" of the HIPAA Rules in situations where an effort has been made to remedy the infringement.

Tier 4:

breach of the HIPAA rules, constituting willful negligence when no effort has been made to remedy the violation.
The penalties for non-compliance are affected by the level of negligence. It can range from $100 to $50,000 per violation, with a maximum penalty of $1.5 million per year for infringements of the same provision. Violations may also involve criminal charges that may result in prison time.