Outsourcing to South Africa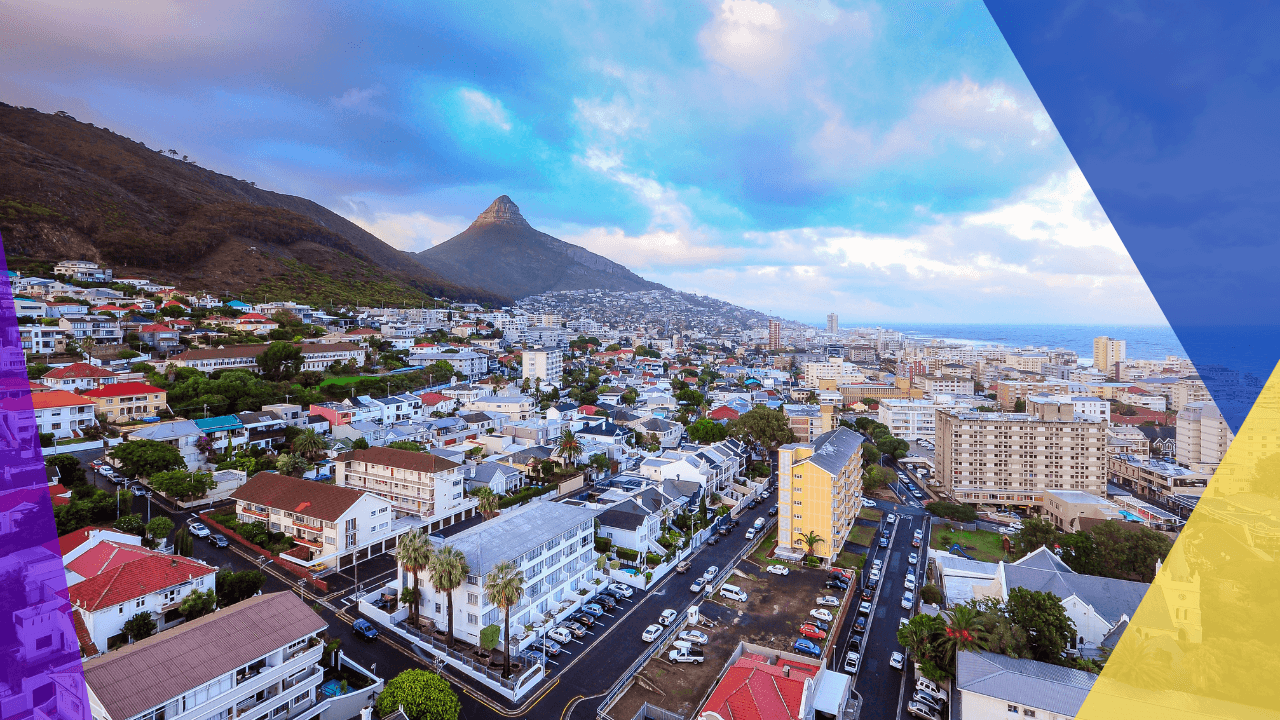 South Africa is one of the most promising outsourcing destinations for global clients today. As an emerging African nation, it has been able to level with top destinations India and the Philippines in just a few years.
First noticed in the 2000s for its call center services, South Africa opened its doors for a wide range of back-office and front-office functions. It recorded a year-on-year growth of 22% between 2014 and 2018, twice the industry's overall global rate. 
Some of the factors involved in its growth include support from the government and impact sourcing.
The country also experienced several challenges in the pandemic, affecting its Tholons ranking from 16th in 2020 to 20th in 2021. However, they noted a quick recovery from this setback, picking up faster than India in terms of flexible work arrangements. 
McKinsey recorded that the industry even employed more than 270,000 people in September 2020, 65,000 of which serve international clients. From this recovery, experts predict a rapid rise in its outsourcing market in the future. 
McKinsey also forecasts that it could triple its workforce by 2030, up to 775,000 people employed. Its market size, meanwhile, is expected to grow by US$ 3.6 billion by 2027, having a 13.2% CAGR during the forecast period. Truly impressive!
It will be an exciting time for this outsourcing destination in the future. For now, let's get to know South Africa as a business process outsourcing (BPO) country — along with its business climate, advantages, and top serviced functions.
South Africa's outsourcing climate
South Africa has been named the second most attractive outsourcing destination by Ryan Strategic Advisory for two years in a row now. Though a late bloomer in the market, they have proven that they can compete with the leading countries in terms of providing outsourced services.
Having one of the largest economies in Africa, the country is classified by the World Bank as a newly industrialized nation. However, poverty, income inequality, and unemployment are still rampant. 
Its local call center industry has been growing by about 8% a year since 2003, employing about 54,000 people and contributing to 0.92% of the country's GDP. Business Process Enabling South Africa (BPESA), established in 2001, worked to develop and support the BPO industry in Cape Town and Western Cape.
A government-backed BPO support program, meanwhile, was established in 2007 to enhance South Africa's competency in the outsourcing industry. The government invested ZAR 1.1 billion in investment incentives that encouraged companies to open job opportunities for the citizens. From here, the industry has seen rapid and steady growth.
The country has long been poised as the next outsourcing powerhouse, having been named the "Offshoring Destination of the year" in 2016 and 2018.
South Africa is able to compete in terms of voice and non-voice services, catering to companies in the financial, e-commerce, and IT sectors.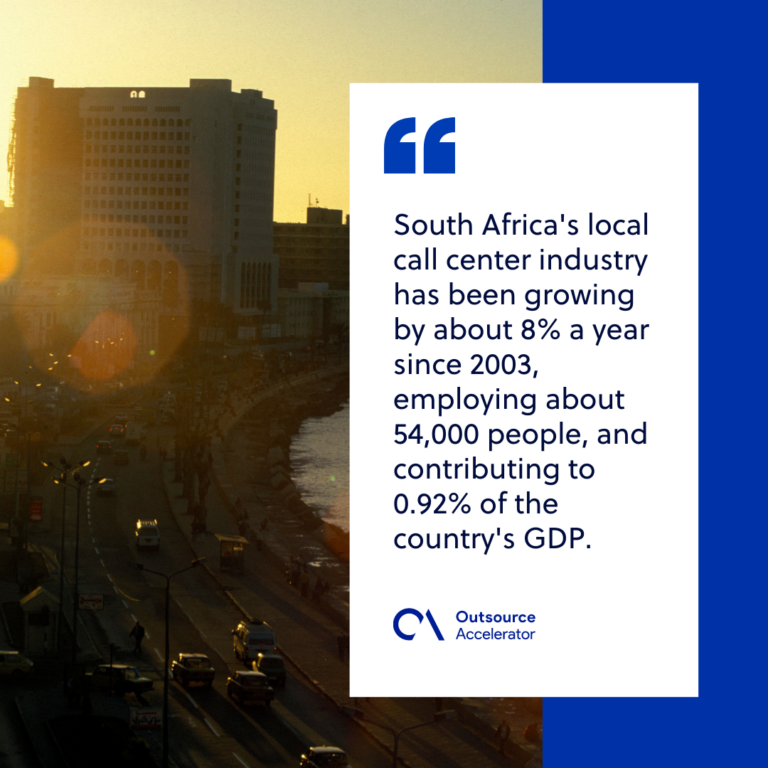 Fast facts about South Africa
Another name

.

Dubbed "the rainbow country,"

South Africa features an unusual spectrum of cultures, ethnicity, and languages.

Economy

. South Africa now has the third-largest economy in the African continent, next to Nigeria and Egypt.

Capital cities

. It is one of the only countries in the world with three capital cities, all equally sharing government power: Pretoria, Cape Town, and Bloemfontein.

Income inequality

. Despite being a newly industrialized country, South Africa

had

the world's highest level of inequality in 2019.

Impact sourcing

. South Africa is one of the early adopters of impact sourcing in Africa.

Outsourcing cities

. Three of its cities are now recognized as the outsourcing hotspot trio: Johannesburg, Durban, and Cape Town. They first entered Tholons Super Cities in 2015.
6 reasons why South Africa is best for outsourcing
Besides its great track record and resiliency over the past years, companies are eyeing South Africa for outsourcing activities for these six major reasons.
1. Language and culture compatibility
South Africans speak English as their native language. Ranking 12th out of 100 countries in Education First's English Proficiency Index, agents in the country can easily adapt to different accents and can communicate clearly with their customers.
Aside from this, South Africa also takes pride in its wide availability of French, Portuguese, and Dutch speakers. This makes them more capable of offering multilingual services for businesses in Europe.
2. 24/7 service
BPOs in South Africa are also capable of delivering 24/7 service to their Western clients. The country follows the South African Standard Time (SAST), having only a few-hour difference from Europe and America.
South African BPOs also follow the "sun mentality." Called the "follow the sun method," this refers to delegating several workloads and issues in different time zones to increase responsiveness.  
This opens their landscape in offering services during the sun while sales, customer support, and other related services after the sun. It also makes employee distribution more efficient on their part.
Moreso, its time zone allows the country to serve multiple regions such as Australia and the United States during their daytime.
3. The utmost level of customer care
The outsourcing climate in the country is more customer-focused. They tend to provide the utmost customer experience for their clients with full empathy and concern for their welfare. 
This is why despite being more popular in the European market for its costs and time convenience, a growing number of American companies looking to improve their customer experience choose to outsource in the country.
4. World-class infrastructure
The country went up three places in the World Economic Forum Global Competitiveness Index ranking in 2021. 
South Africa has a strong world-class infrastructure, making it a steady competition with India. Its broadband networks also continue to improve, forging agreements and partnerships with big companies such as Sony Ericsson and Google. 
5. Massive government support
The country has a strong outsourcing market – thanks to the massive government support it receives.
Like in India and the Philippines, foreign investments in South Africa receive incentives. They get free office space, desktops, and high-speed internet simply for running their operations and investing in the country.
South Africa's outsourcing industry is governed by three entities: BPESA, CapeBPO, and the Department of Trade and Industry. Recognizing outsourcing as a driver of job creation, BPOs and their clients receive financial incentives for every job created in a certain number of years.
6. Access to a highly skilled and educated workforce
Despite having a 34.9% unemployment rate due to the pandemic, South Africa has a large opportunity of providing a highly skilled and educated workforce through outsourcing. 
Most call centers are located near universities producing quality graduates entering employment each year.
The country's workforce is composed of employees with top skills and expertise, part of them ready to work in the industry thanks to impact sourcing. This provides a great opportunity for companies to expand their operations in the country.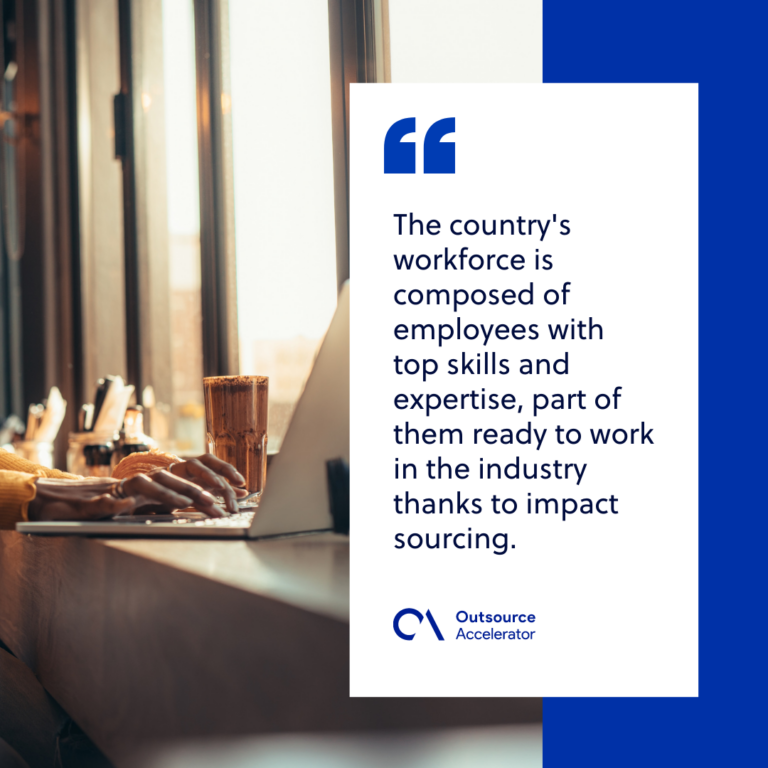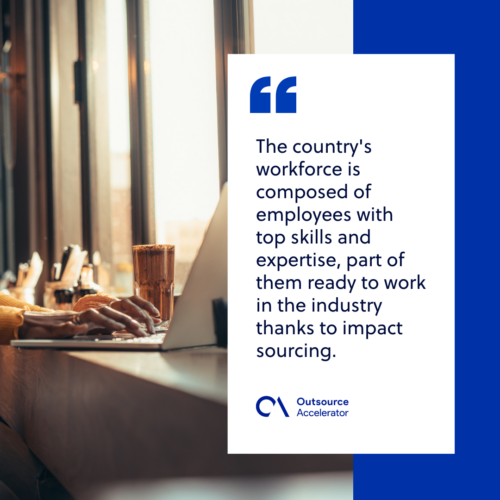 Top 6 business functions for South Africa outsourcing
The South African outsourcing industry caters to these functions in a very competitive manner. The industry relies on external service providers to make exemplary moves that will bring the country renown in global outsourcing. 
Customer support
The country is most popular with customer support services. After all, the country boasts an abundance of English, bilingual, and multilingual call centers handling complex support services and transactions.
Outsourcing customer support to the country helps companies manage concerns better without sacrificing the quality of their service. South African agents handle customers better with their neutral accent and the level of empathy they give to them.
Their time zone is also ideal for European companies looking for support personnel in the day and US companies establishing 24/7 customer service.
Information technology (IT) 
South Africa has also shown its potential in information technology (IT) and IT-related services, such as support and development. 
Companies found delegating these services to the country more advantageous with their quick recovery and stability during the pandemic.
The country's strengths in IT outsourcing relies on its infrastructures and skillset. BPOs can provide the best support and development team along with top-tier equipment and tools at work and fast connectivity for communication and collaboration. 
Accounting
The 2022 Global Finance & Accounting Outsourcing (FAO) Market Intelligence Survey ranked South Africa as one of the top global offshore locations for finance and accounting. This demonstrates the country's strength and capability in outsourced accounting services.
Offshore accounting companies in the country provide full accounting services, from taxation to income declaration and financial advisory.
Their teams also have ample knowledge in managing international taxation, account payables, and receivables, making it convenient for them to even transfer an entire department there.
Human resources
It has been considered an HR powerhouse due to its strengths in recruitment process outsourcing (RPO) and employee experience (EX) among 200 small and large enterprises around the world.
Human resource outsourcing may not be a new concept. However, it can be of great help to a company in managing its workforce.
This enables them to access better and more suitable talents for their roles and provide better benefits for their current employees.
Sales
One of the most crucial roles of a business involves sales. They have to continuously attract and convert leads, take care of existing customers, and tap new markets if they want to grow and expand their offerings
Companies can also outsource sales to South Africa. With this function, companies have a better edge in attracting leads, converting prospects, and growing their market worldwide.
Legal services
Lastly, legal support and processes are among the popular functions outsourced in the country. Legal support outsourcing enables companies to overcome legal compliances and challenges in a cost-effective way, with legal experts handling them.
At the same time, Western firms acquire their services through legal process outsourcing to manage their case volume and focus on priority cases.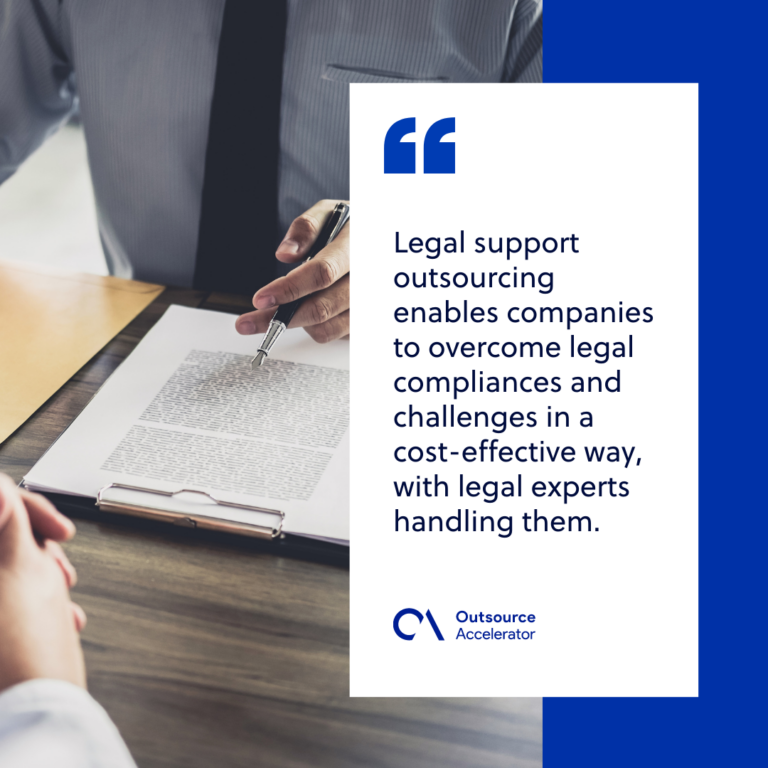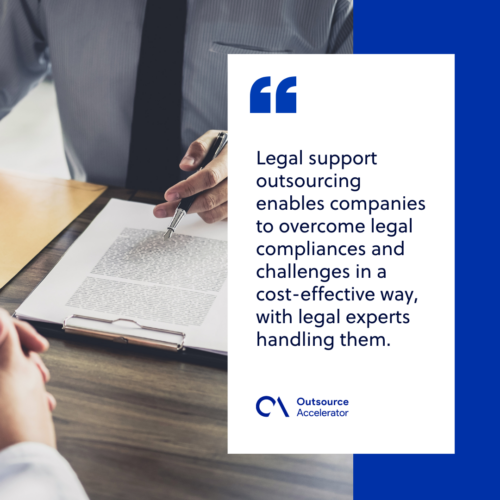 Top BPO companies in South Africa
Businesses looking to outsource in the country can now choose from a wide range of BPO companies and their offerings more easily. Now, they can hire offshore teams on every business aspect they need to improve and have tailored solutions for them.
The top BPO companies in South Africa are a dynamic range of firms providing services from customer support to document processing and software development. 
These companies are deemed reliable in terms of costing, performance delivery, and taking care of employee welfare. Their services are most popular with small and large enterprises, including Fortune 500 companies worldwide. 
Each of them is ensured to provide the best service to their customers in a cost-efficient way. See Outsource Accelerator's comprehensive list of the Top BPO Companies in South Africa here.