Kickstart your professional career as a medical coder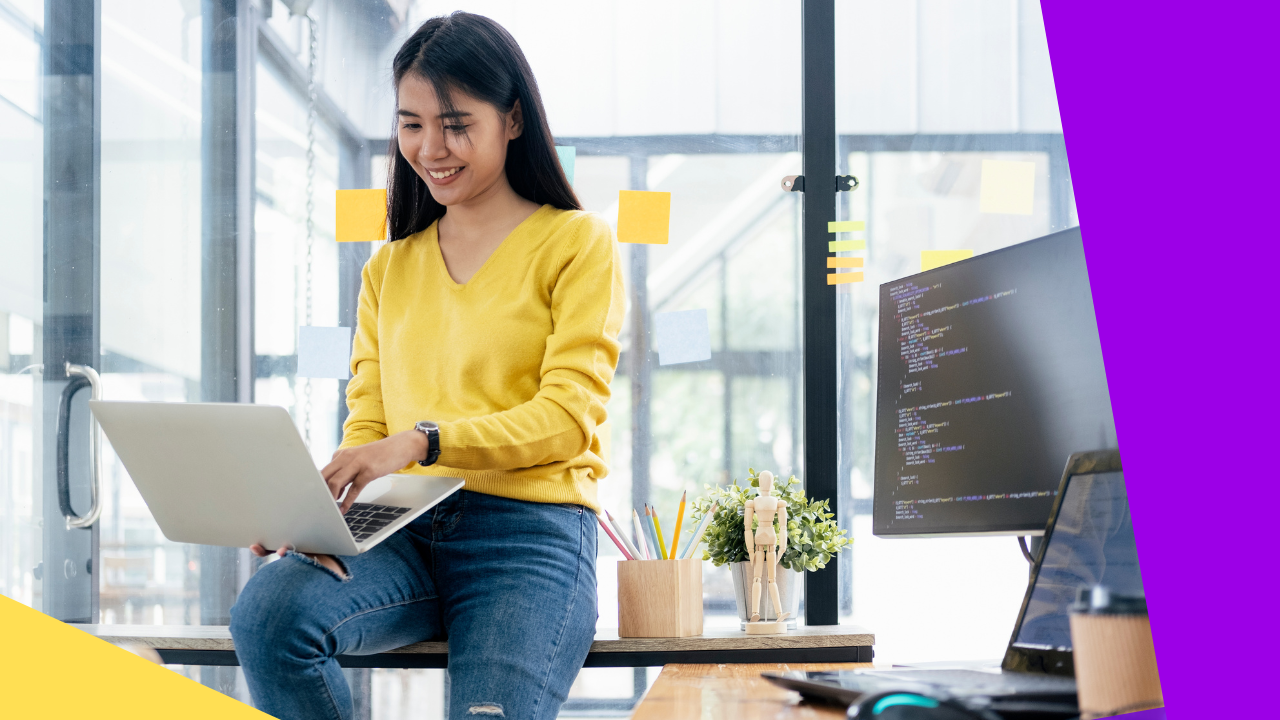 The healthcare industry is not just for people who are aspiring to be doctors or nurses. Realistically, the medical field offers a wide range of career opportunities for every individual.
A medical coder is one line of work that is often overlooked in this sector. However, it is currently among the fastest-growing professions in the healthcare industry.
The rise of medical coders is also an emerging trend in healthcare outsourcing. This is mainly due to the fact that more and more facilities are adopting the use of electronic health records (EHRs) to replace their traditional paper-based medical records.
Although a medical coder is a non-patient-facing job, it plays a crucial role in the revenue cycle management of healthcare establishments.
If you are looking to jumpstart your career as a medical coder, let this article serve as your guide from the get-go.
What is a medical coder?
A medical coder is someone who is responsible for translating practitioners' reports into universal medical alphanumeric codes. Medical coding is performed every time a patient visits their physician.
Responsibilities of a medical coder
As a medical coder, you will be required to review medical records and ensure that all information is translated correctly, especially during the billing process. Keeping the accuracy and consistency of codes is also essential for those involved in medical coding.
It is also used in maintaining patient records. More importantly, it is basically how medical practitioners get paid.
Your translated medical codes should inform the payer of the following information:
Patient's diagnosis
Medical supplies, treatments, and other services that the patient received
Situation or medical condition (if any) that affected the services or treatments provided
In terms of patient records, it can be in various forms such as medical procedures, healthcare diagnoses, equipment, and other medical services.
To become a medical coder, you need to have in-depth knowledge of physiology, anatomy, pharmacology, and disease processes, including different classification systems for medical codes.
As a medical coder, you will also be required to acquire specific certifications. You should also be up-to-date on the changes and updates in the coding standards. This also ensures a smooth process for your medical biller.
Medical coding is practiced all over the world, and most countries make use of the International Classification of Diseases (ICD), which is updated by the World Health Organization.
As outsourcing and digitalization become more commonplace, the number of medical coding jobs is expected to grow.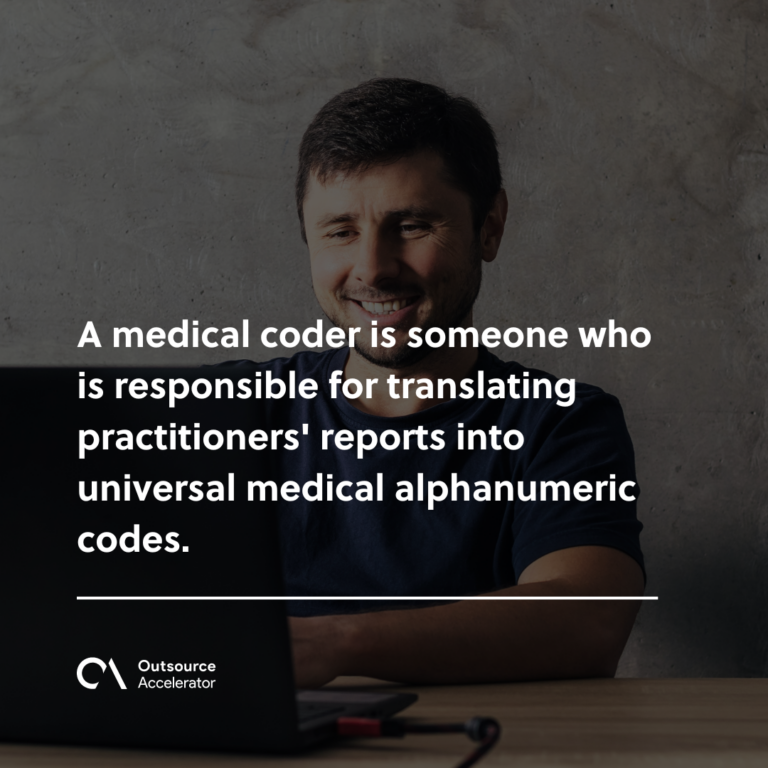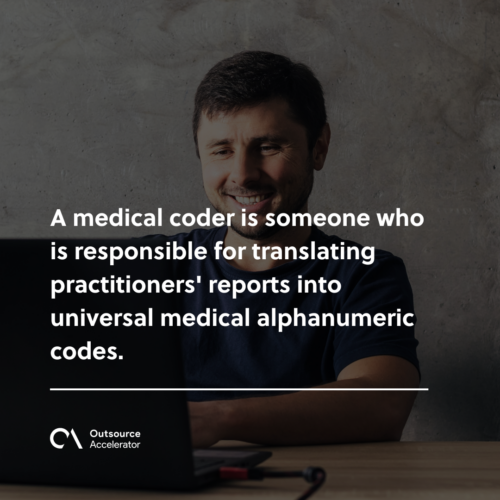 How can you become a professional medical coder?
Here are five steps you can follow to start your career as a medical coder:
Complete the basic prerequisites 
The first step in pursuing a career as a medical coder is your high school diploma. Although, some employers also look for applicants who have completed their post-secondary education, preferably with an Associate's degree.
A background check will also be conducted before you proceed to the next step. If you have any criminal offense or drug history or have committed a sexual crime, your application will most likely be turned down.
Undergo medical coding training
Once you've passed the background check, you can now undergo a series of training sessions.
Accomplishing medical coding courses will serve as your stepping stone on this path. It also gives you a strong foundation for building your career.
Examples of these medical coding courses are the following:
Coding foundation
Revenue cycle and medical billing
ICD-CM Coding
ICD-PCS Coding
Ambulatory care coding
If you have a busy schedule, you also have the option to take these medical coding courses online.
Acquire medical coding certification
After taking all necessary training, it is time to procure your medical coding certification. Having a medical coding certification lets employers know that you have all the right skills, knowledge, and capabilities to handle the job.
Here are some of the medical coding certifications you can choose to take:
Certified Coding Associate (CCA)
Certified Professional Coder (CPC)
Certified Coding Specialist (CCS)
You may also take a Specialty Medical Coding Certification as a next step once you already have enough experience. This allows you to handle family practice, ambulatory care, anesthesia, general surgery coding, and more.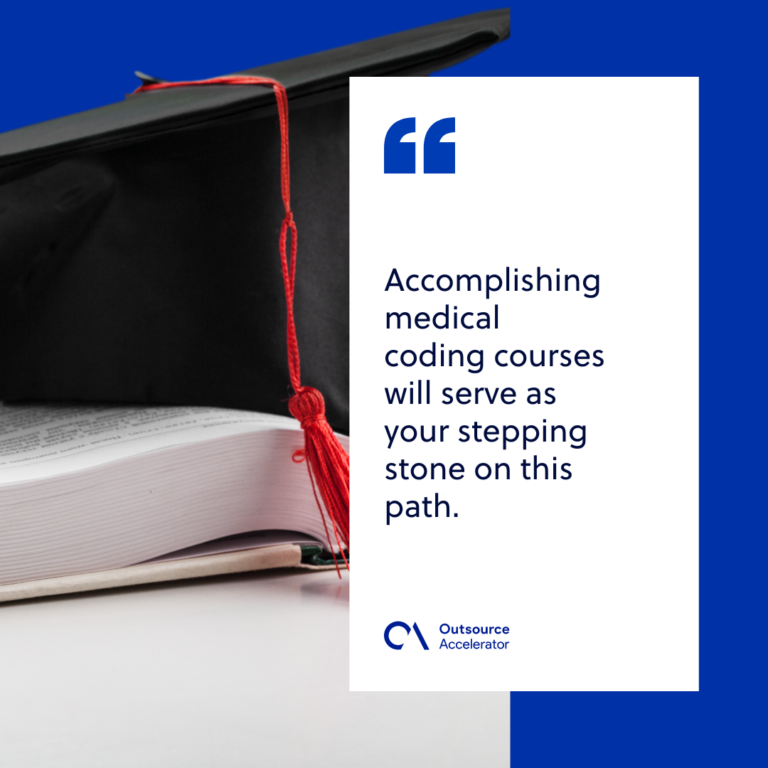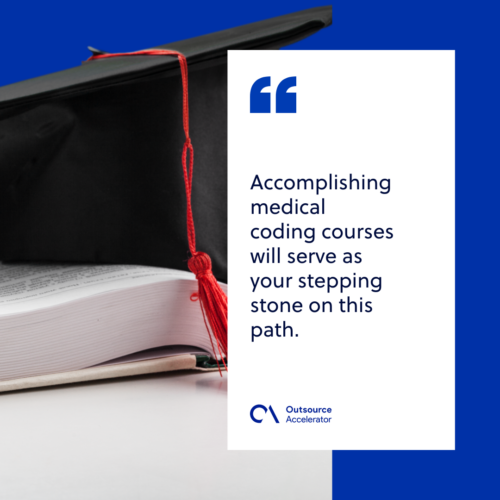 Work on your technical skills
One last step before you are fully ready to apply for open medical coder jobs, you need to improve your hard and soft skills. It is also best to know what employers look for in hiring the right candidates.
As for your soft skills, you need to be an excellent communicator, computer literate, organized, collaborative and have good attention to detail.
In terms of technical skills, you need to have proper knowledge of the following:
ICD-10
Health Information Technology (HIT)
Customer billing
Inpatient coding
Outpatient coding
Physiology
Anatomy
Medical terminology
HCPCS coding
Job hunting 
Now you are ready to land your first job! As you apply for job openings, keep in mind what kind of environment medical coders work in.
Some people prefer to work in clinics as it is more tranquil. Others, on the other hand, opt to work in the fast-paced environment of hospitals.
3 medical coding services providers you can apply to
To help with your job hunting, here we have listed down three medical coding companies that also offer remote work:
Besides medical coding, The Coding Network also offers quality assurance services to various healthcare providers.
This company has a range of job opportunities for different medical specialties. As for remote medical coders, you will need at least three years of experience to apply on their website.
Maxim Healthcare Services is another outsourcing provider for healthcare facilities. Its featured services include medical coding, health information management services, and auditing.
Medical coder applicants are required to have the right certifications in applying for the job.
Conifer Health Solutions provides a series of managed solutions for different healthcare establishments. Part of their services include revenue cycle outsourcing, clinical revenue integrity, financial risk management, and others.
As for their medical coding and quality assurance services, you will be required to have at least three to five years of experience.
If you're interested in becoming a medical coder, there are tons of medical coding companies you can apply to online. Especially these days, more and more companies are opting for remote medical coders to fulfill this job role.