Top 20 healthcare outsourcing companies in South Africa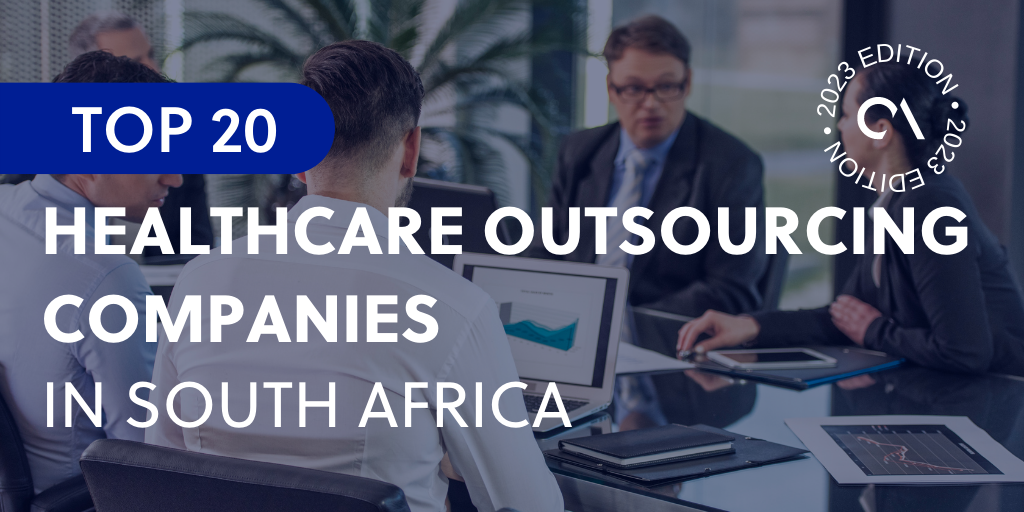 Healthcare organizations normally have two goals—to deliver top-notch medical services and expand their companies. Without one, the two objectives cannot be achieved.
There are numerous approaches to accomplish these two objectives, including healthcare outsourcing.
Healthcare outsourcing explained
Also called medical outsourcing, healthcare outsourcing is the hiring of services of outside providers primarily for back-end operations. These services are usually provided by BPO companies that serve healthcare businesses. 
These services typically include medical data entry, medical billing, customer service, digital marketing, bookkeeping, and accounting. Employing these services has a variety of advantages for healthcare organizations. 
Top 20 healthcare outsourcing companies in South Africa
Top global outsourcing list
Outsource Accelerator is the world's leading outsourcing marketplace and advisory. We list over 3,000 BPO firms located across the globe in our global directory, and we provide detailed information, price guides, and reviews.
Whether you're a solopreneur, SME owner, or a corporate executive, we can help you find the most suitable outsourcing provider for your business.
Explore our outsourcing directory now. You may also check out our Top BPO Outsourcing lists per country here:
Benefits of healthcare outsourcing
Outsourcing generally comes with a wide range of advantages. Like most companies from other fields, healthcare companies can also benefit from outsourcing back-end services. Here are some of them:
Control over operational costs
Hiring outsourced medical assistants and personnel is typically more cost-effective than employing locally. Organizations can save on overhead expenditures in addition to salaries and benefits because they will not be required to provide additional equipment and office space. 
Access to diverse talents
Outsourcing allows companies to draw from a larger pool of knowledgeable and skilled individuals.
Competitive advantage
If a healthcare organization decides to outsource its back-end operations, it can accomplish more with less money. This can mean improved customer satisfaction and competitive advantage. 
Better productivity
Healthcare companies that outsource services may concentrate on offering top-notch services and creating fantastic products for their patients and customers. Consequently, this can expand their businesses further. 
Top 20 healthcare outsourcing companies in South Africa
One of the top BPO outsourcing companies in South Africa is Mango5.
Founded in 2005, the company provides BPO services to domestic and foreign companies from different industries, including healthcare. Its Cape Town facility has a long history of providing top-notch outsourced services. 
The company offers holistic call center service, inbound and outbound calls, live transferring, quality control, and specialized recruitment within the medical sector. 
Theta Connect was established in 2013, with an office in Sandbaai, South Africa. The company is focused on call answering services, primarily for small and medium businesses from the healthcare, finance, and legal sectors. 
The company offers appointment scheduling, call answering, conference calling, and virtual assistant services to medical professionals to help them concentrate on expanding their practice. 
Startek has been in the industry since 1987, providing high-quality customer experience management solutions to organizations from different sectors, including cable media, financial services, and healthcare.
Initially founded in Denver, Colorado, Startek now has multiple offices across the globe, including Johannesburg, South Africa. Its healthcare outsourcing services cover payers, providers, pharmaceuticals, and medical devices. 
Exusia is an award-winning, ISO-certified digital solutions provider founded in 2012. It offers outsourcing services to various industries, especially healthcare. Headquartered in Miami, Florida, Exusia has branches in London, UK; Johannesburg, South Africa; and Pune, India.
The company's healthcare outsourcing services are mainly data retention and archival through technology—guaranteeing better care quality at a much lower cost. 
Founded in 2003, WNS Holdings is known as a leader in business process management services in more than 60 countries. The company was established in Cape Town, South Africa, and provides outsourcing services to ten industries, including healthcare. 
Some of its healthcare outsourcing services include bill processing, medical claims, and report classifications. 
Started in the 1990s, Better Practice Management is a known healthcare practice management organization located in Cape Town, South Africa. It mainly serves small and medium healthcare businesses and assists private medical practitioners in building flourishing careers. 
The company's medical outsourcing services include compliance support, IT services, recruitment, consultancy, and website design and management. 
Xpedient started in 2009 in South Africa, intending to help healthcare professionals manage their practices. What began as a small medical outsourcing company became a leader in providing comprehensive medical business solutions. 
Its medical outsourcing services include healthcare administration which covers all the non-clinical functions of the healthcare business, and practice management, which makes the medical practice operation run smoothly. 
Founded in Sandton, South Africa, in 2012, Roubler specializes in providing outsourced human resource management to organizations from different industries, including healthcare.
Roubler's cloud-based tool delivers the power of a single, integrated system for all labor management requirements of its clients. Its human resource software solution covers recruitment, onboarding, roster, management, and payroll. 
Aegis was founded in 1983 and is known to be a leader in providing global outsourcing and technology services. The company focuses on improving every aspect of customer experience in companies from different industries, including healthcare. 
Aegis offers various outsourcing services, including human resources, enterprise business, technology, and social media & analytics. 
Henchmen is located in Cape Town, South Africa, an outsourcing company specializing in talent acquisition. They are committed to matching businesses with the best candidates, including business developers, sales executives, engineers, medical professionals, and IT experts. 
The company's professional services include training and development, quality assurance, internal auditing, and business improvement. 
Known as an international clinical research organization, The Micron Group was established in 1996 by highly skilled healthcare experts with various academic and pharmaceutical sector experiences. Its main headquarters is in South Africa, with offices in the USA and the UK.
The Micron Group can provide full clinical outsourcing, data administration, medical communications, and consulting services from its centers.
Initially developed as a training management system in South Africa in 1983, Educos swiftly evolved into a fully integrated HCM and payroll system catering to different industries, including healthcare.
Educos developed domestically and abroad, opening headquarters in Luxembourg in 2008 to assist its European operations. The company provides outsourced payroll solutions, human capital systems, and HR consulting. 
Founded in 2000, 118Contact is a South African company that offers professional services, business processes, software development, and contemporary outsourced contact centers. 
Through its various multi-channel technology platforms, the company provides quick and practical capabilities to its local and worldwide clients. 
118Contact's clientele comes from industries like government, manufacturing, consumer goods, information and communications technology (ICT), finance, and healthcare. 
4R Technologies South Africa was founded in 1999, providing business process outsourcing services to the United States.
Through the company's outsourcing services, businesses may access a sizable, highly qualified, and accent-neutral talent pool of English speakers. It also possesses first-class infrastructure and connectivity, creating a stable and enabling setting.
Some of 4R Technologies' services include revenue cycle, software QA, billing and collections, healthcare, project management, and database administration.
Established in 2018, NTH Consilium is a South African company that provides all-encompassing solutions focusing on, but not limited to, the healthcare sector. The company comprises talented individuals like business scientists, data engineers, and pharmacists. 
The company offers services such as business development, data automation, digital transformation, medical regulatory consulting, and business excellence. 
Afrihealth Advisory is a South African company founded in 2015 operating in South Africa and Abu Dhabi. The company aims to provide a variety of consulting, advisory, and corporate services to help medical device firms who want to join the Southern African healthcare market. 
The company's services include contracting administration, interim management, logistics and distribution, imports, and regulatory compliance.
A business process outsourcing provider founded in Europe, the United States, and Canada, Fronaysis was launched in 2019. The company offers blue chip corporations, startups, and SMEs back and front office solutions like customer service and data entry. 
The company's primary goal is to assist businesses in various sectors, including travel and tourism, transportation and logistics, and healthcare.
Under the South African close company Act, Med Core Billing is a licensed medical practice administrator and medical bureau.
The company was established in 2010 to make practice administration profitable and hassle-free for healthcare professionals through electronic medical billing and financial solutions.
Its services include medical billing, electronic claims processing, practice management, and benefits. 
JoMedico provides a range of services to meet the demands of a virtual practice manager. 
Founded in 2019, the company covers everything from independent audits and claim collections to social media. JoMedico operates nationally and streamlines operations to help healthcare professionals, from getting a new practice up and running to upgrading their current practice.
The company's full-feature service includes coding analysis, credit control, and medical payment arrangements set up.
Founded in 1999, e-SEK is a business consulting and services firm in South Africa that offers high-end talents for knowledge process outsourcing, business process outsourcing, and embedded knowledge and skill automation via sector-specific software solutions. 
The company provides advisory, outsourcing, and innovation services to companies from different industries, including aviation, energy, financial, and healthcare.