Top 20 healthcare outsourcing companies in India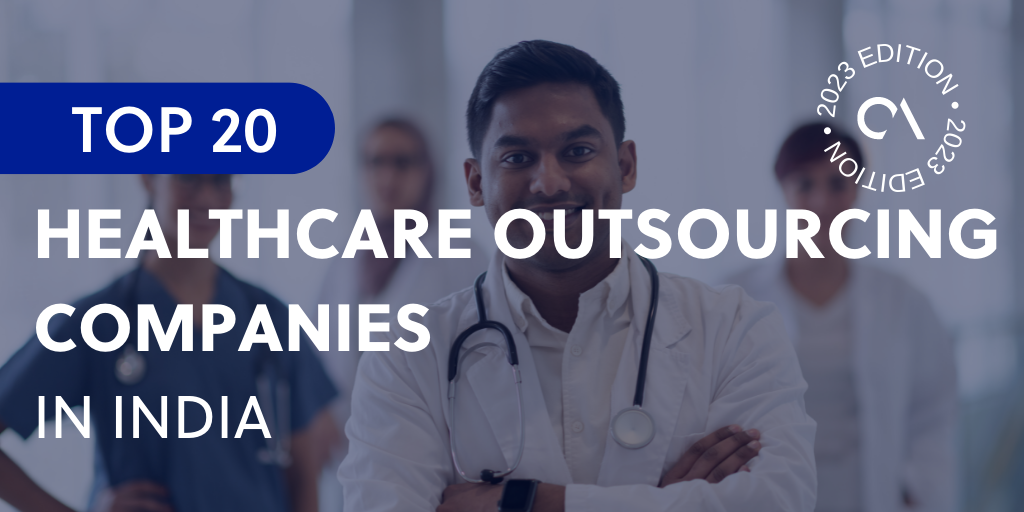 India has one of the largest healthcare systems as the world's largest democratic country, with a whopping population of 1.3 billion people.
Health and medicine is a highlight in India as it is a popular destination for medical tourism and has one of the oldest traditional healing practices. 
On the other hand, the second-most populous country in Asia is one of the leading Business Process Outsourcing (BPO) hubs for various companies in the world.
Ranking high in English proficiency (35th in the world), India has been a preferred offshoring destination, especially for English-speaking companies. 
Combining India's rich history and recent improvements in medical tourism with its people's competence in the English language makes the country also a leading outsourcing hub for healthcare and medicine in Asia.  
What Healthcare providers outsource in India
The healthcare sector is one busy and demanding environment. With all the pressure in the medical field, healthcare facilities may find outsourcing an excellent strategy to help them with their business processes. 
Some services that healthcare outsourcing firms in India provide are 
Hospital records

Medication records

Clinical and healthcare records

Medical billing

Medical coding

Medical data entry role

Medical claims processing

Medical accounts receivable

Charge entry in medical billing

Healthcare revenue cycle management

Payment posting

Pre-certification and insurance verification

Account and billing details 
Such outsourcing services are as essential as hospitals' and clinics' medical operations. These processes must be done carefully and correctly to serve only the best, especially since lives are at stake. 
Healthcare outsourcing companies can fill in the responsibility of these processes that medical personnel may not be able to do with full attention. 
If you are looking for healthcare outsourcing companies that can attend to your needs, this article lists India's top and most trusted healthcare outsourcing firms. 
Top global outsourcing list
Outsource Accelerator is the world's leading outsourcing marketplace and advisory. We list over 3,000 BPO firms located across the globe in our global directory, and we provide detailed information, price guides, and reviews.
Whether you're a solopreneur, SME owner, or corporate executive, we can help you find the most suitable outsourcing provider for your business.
Explore our outsourcing directory now. You may also check out our Top BPO Outsourcing lists per country here:
Outsource Accelerator identifies the top trusted outsourcing firms after comprehensive research to produce dependable lists for those searching the suitable outsourcing providers. 
Top 20 healthcare outsourcing companies in India
As one of the leading BPO hubs in the world, India's edge in the outsourcing industry lies in its cost-efficient services and flexible rates, little-to-no issues with the English language barrier, a large, talented workforce, and its latest and standardized technology. 
Here are the top 20 healthcare outsourcing companies in India with their descriptions. 
A leading name in India's call center industry, Fusion BPO services is an outsourcing company that serves various industries, including healthcare.
Fusion's medical BPO services are HIPAA-compliant, combining experience in healthcare customer support with its AI-powered outsourcing solutions that provides premium patient care management.
The firm offers appointment management, insurance verification, claim processing, patient communication, and billing and settling invoices.
WNS Global is a business processes management (BPM) based in Mumbai, India, serving enterprises worldwide, including the healthcare, life sciences, and insurance industries. 
It caters to healthcare providers, payers, telehealth, and utilization management with its digital-first, patient-centric approach.
Their collaborative patient care solutions consist of claims, RCM, and healthcare analytics accredited by HITRUST, URAC, NCQA, and Quality Improvement Organization (QIQ) certified at flexible rates.
Formerly known as nThrive, the firm has rebranded to FinThrive but still functions as revenue cycle management. FinThrive prides itself as the most complete end-to-end revenue management platform provider in healthcare. 
With its expertise, scale, and technology, the company has served over a thousand satisfied customers and delivered frictionless revenue experiences. 
Among the services, Finthrive offers are revenue integrity, revenue recovery, patient access, and patient finance. Hospitals and healthcare systems are not its only market but also ambulatory and physician practices, payers, partners, and resellers.
VSynergize is a BPM outsourcing company that caters to various industries, including healthcare. Beyond executing lead and demand generation solutions, the company also positions itself as a partner in growth and creating strategies to target its clients' goals. 
The company is a network of qualified, highly skilled, experienced, and amiable outsourcing professionals that offer top-in-class human resources, coverage issues, clinical policy, financial outcomes, reimbursements, and insurance claims. 
A leading provider of healthcare revenue cycle services and process automation solutions, Acces Healthcare has been a trusted outsourcing partner by healthcare institutions for creating an efficient healthcare system. 
With its technology-led and people-first approach, the company transforms hospitals, healthcare systems, medical groups, and boutique RCM software and services to achieve efficient and market-leading clinical, administrative, and financial outcomes. 
Since 2003, Promantra has been a Revenue Cycle Management (RCM) providing quality BPO services in the healthcare-IT domain.
Although its corporate offices are based in New Jersey, its delivery center is in Hyderabad, India. However, it is still a leading partner of healthcare providers in the US, competing in their markets and offering top patient care services. 
Promantra adheres to the Global standards with its ISO 27001 and ISO 9001 and has served its clients with delivery innovation methods and quality control framework to attain RCM excellence. 
Anion is an ISO-certified and HIPAA-compliant one-stop solution center for healthcare providers, IPA, TPA, and all health plans (HMO, PPO, FFS, POS, and commercials). 
For two decades, Anion has provided Back Office data processing (BPO) for physicians, providers, clinics, and payers. Other client processes it offers are medical billing, medical coding, and claim management. 
As part of India's largest business group, BOSS Healthcare is a partner in healthcare BPO services that offers cost-reduction techniques and consistent resources of talented and experienced professionals. 
Some services BOSS Healthcare offers are medical transcription, coding, billing, denials management, RCM, and accounts receivable analysis.
Mediscript is a medical transcription service in Pune, India, providing various medical transcription and related medical documentation services in English across the healthcare and business sectors worldwide. 
Providing client-centered service, Mediscript has been trusted among hospitals in the US and UK for twenty years and more.  
Trusted by more than a hundred leading healthcare organizations around the US, AGS Health hails itself as a strategic growth partner for revenue cycle solutions.
The company offers services from patient access and finances to medical coding and documentation using AI-enhanced technology, data-driven services, and specialized support to improve revenue cycle performance.
A full-service medical billing company experienced in multi-specialty billing and coding, Medryte Healthcare Solutions has prided itself as one of India's most reliable healthcare outsourcing companies for a decade. 
With more than 300 certified billing and coding experts based in state-of-the-art delivery centers in Nagercoil and Tirunelveli, Medryte also offers eligibility verification and credentialing. 
Firstsource Solutions is a global outsourcing company with 14 offices in India and is a leading Digital-first healthcare outsourcing solution serving healthcare providers, health plans, and life sciences companies.
A specialist in healthcare BPO, Firstsource provides a digitally empowered contact center and intelligent back office. 
A global professional services firm delivering efficient business outcomes, Genpact serves the healthcare and life sciences with industry expertise, advanced technology, and analytics to improve operations and uplift patient experience and results with cost-efficient rates. 
The multi-awarded BPO offers various services, from artificial intelligence, data, analytics, technology, and risk management to trust, safety, and customer care.
ARDEM Incorporated is a healthcare and life sciences outsourcing provider that helps its clients in the medical, legal, and pharmaceutical sectors increase efficiency. Its end-to-end outsourcing solutions include medical records, insurance applications, medical claims, and test requisition forms. 
The HIPAA-compliant firm puts security and accuracy at the top of its priorities, especially when dealing with confidential and sensitive data. 
For over 23 years, this global healthcare BPO has been ISO accredited and HIPAA and ICD-10 compliant. Outsource2india offers numerous healthcare solutions like teleradiology, healthcare software, medical animation and illustration, and pharmacy business services.
Using high-tech software such as AdvancedMD and Athena, Outsource2India helps its clients reduce cost bearings by at least 40%.
A pioneer in Hospital Revenue Cycle Management (RCM) services, I-conic Solutions redefines the healthcare ecosystem with innovative solutions, excellent customer service, and affordable rates. 
For medical billing assistance, patient statement services, and medical coding, the I-Conic Solutions team of experts are trusted to increase the revenue and profitability of healthcare organizations, physician practices, and all types of health systems. 
Login Services is a trusted medical back-office support providing solutions for cash flow and compliance issues.
Its pool of talented and skilled people are experts in medical billing, electronic medical records, and electronic medical records (EMR) management systems. 
Medphine is one of the largest professional medical billing and coding services firms in India and the USA. Its RCM outsourcing services provide voice services, business consulting, claims denial management, and more. 
Its team of specialized and dedicated professionals delivers comprehensive and innovative solutions and strategies to increase revenue and decrease the overheads of various healthcare providers in America. 
Since 1997, AthenaHealth has been with a team of certified professionals with expertise in the healthcare outsourcing industry.
In 2019, the firm rebranded by merging two companies with decades of experience in the industry, making the firm a nationwide key player through their combined technology, experience, knowledge, and customer base.
AthenHealth's medical outsourcing solutions involve RCM, patient engagement, telehealth, care coordination, and patient engagement to yield better clinical and financial outcomes.  
Seyyone has been a global medical transcription and outsourcing company serving clients across the US, UK, Australia, Canada, and New Zealand since 1999. 
A HIPAA and GDPR-compliant healthcare back-office, Seyyone offers medical transcription, remote medical scribe services, medical billing, medical record summarization services, and payer-aided services, to name a few.