Top 20 medical billing companies in India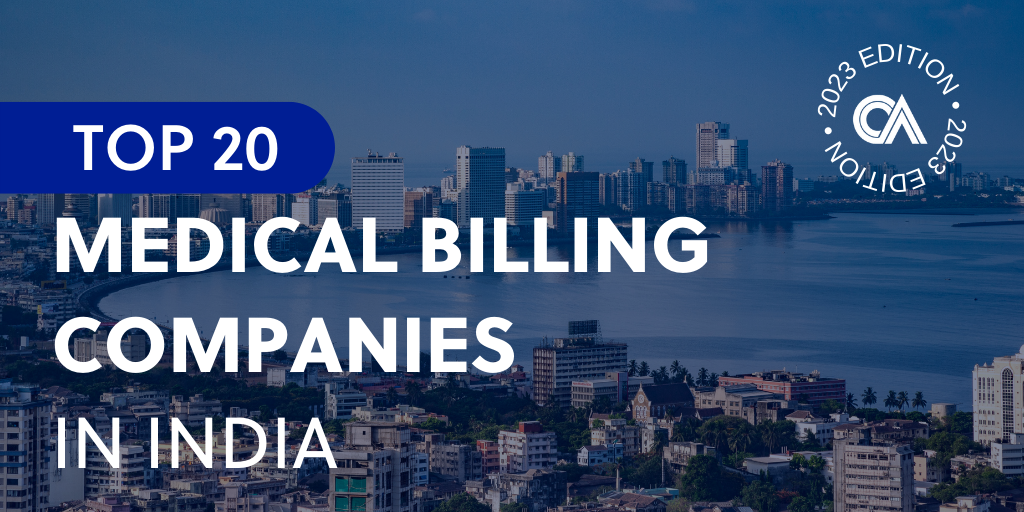 India is one of the leading outsourcing hubs for all types of companies around the world. Over the decades, India along with the Philippines have always been two famous outsourcing powerhouses in Asia. 
India has been a preferred offshoring destination, especially for Western companies. In terms of Business Process Outsourcing (BPO), IT roles are the primary services that the country is well known for. In addition, they specialize in call center, contact center, accounting, human resources, and other outsourcing services. 
Healthcare providers have also been sourcing out parts of their business processes to the country. Medical billing is one of the services that BPO companies usually offer for the Healthcare industry. 
In this article, we will be outlining the top medical billing companies in India. We'll help you weigh in twenty options of outsourcing providers you can outsource to. More so, we'll let you know why a lot of foreign healthcare providers are opting to offshore their medical billing to the country.  
Top 20 medical billing companies in India
Top global outsourcing list
Outsource Accelerator is the world's leading outsourcing marketplace and advisory. We list over 3,000 BPO firms located across the globe in our global directory, and we provide detailed information, price guides, and reviews.
Whether you're a solopreneur, SME owner, or a corporate executive, we can help you find the most suitable outsourcing provider for your business.
Explore our outsourcing directory now. You may also check out our lists of top medical billing companies per country here:
Medical billing outsourcing in India
Let us start by defining what outsourcing is. It is the process of hiring a third party to perform a portion or portions of your daily operations. You can either contract out work to individual contractors or freelancers, or choose an outsourcing company. 
You also have the option to select which method of outsourcing from the following:
Onshoring

– Outsourcing to a third party that is located within the same country as yours. 

Nearshoring

– Acquiring outsourcing services from a provider that is based in a neighboring country. In this type of outsourcing, there is usually minimal time-zone differences between both countries. 

Offshoring

– Farming out parts of your business processes to an external provider that is located in another country, far away from yours. Unlike nearshoring, the time-zone difference in this kind of outsourcing is several hours apart. 
The outsourcing practice has drastically evolved over the years, from manufacturing to call center services. Today, the BPO sector offers a wide array of services that caters to various types of industries.  
Especially in the medical field, outsourcing has also become a strategic practice for healthcare providers. We all know that the medical sector has a very busy and fast paced environment. 
Through outsourcing, you can be able to boost your efficiency and productivity while saving money. On top of that, this will enable you and your healthcare team to attend to more patients within the day.
Medical billing has become one of the reasons that made India a sought-after offshoring destination, especially for healthcare establishments in the US and the UK. India provides Revenue Cycle Management (RCM) services that are congruent with global healthcare standards. 
Besides medical billing process, you can also avail of these healthcare processes in the country: 
Medical coding

Medical data entry role

Charge entry in medical billing

Medical claims processing

Healthcare revenue cycle management

Medical accounts receivable 

Payment posting

Pre-certification and insurance verification
Doing your medical billing processes correctly and accurately is vital in keeping your operations moving forward. While this type of process is tedious and time consuming, it requires commitment and attention to detail. 
If this task will be handled by one of your staff that has other important responsibilities, it will be more susceptible to coding errors and other mistakes. 
Why healthcare providers outsource to medical billing companies in India
Outsourcing this process to one of the top medical billing companies in India will let you streamline your overall operations. Moreover, outsourcing your medical billing to the country provides your the following advantages: 
Data security and safety
India has a rich talent pool of IT experts which is also a good advantage in strengthening data security and information safety online. Digitized data is easier to store and recover compared to physical documents. 
Medical billing outsourcing providers in India ensure that all your information will be protected against data leaks, corruption and loss. 
Up-to-date with the latest regulations
Medical billing outsourcing companies in India are compliant with all rules and regulations according to Protected Health Information (PHI). Every information shared by their clients is kept confidential.
They also adhere to the regulations of Health Insurance Portability and Accountability Act (HIPAA). 
Access to a wider pool of skilled workforce
Medical billers and coders provided by outsourcing companies in India undergo extensive training.
After training, they go through assessments to ensure that they are able to meet quality standards for them to handle clients.They are also usually well experienced in handling complex processes or claims properly.  
Time-zone advantage
Time-zone differences are considered advantageous as healthcare establishments are able to function over extended hours. For example with India and the US, Indian Standard Time (IST) is nine to 12 hours ahead of the country. 
Offshoring your medical billing to India will enable you to complete this process even before your required turnaround time. 
Better accessibility to information
Another good thing about outsourcing is that it gives you access to all information you need anytime and anywhere. Outsourcing your medical billing to the right external provider helps you have better control over this task. 
In case of any issue or problem, you can easily contact your service provider either through email, phone call, or chat. 
Handing over your medical billing processes to skilled and properly trained staff gives you a competitive advantage in the industry. Your outsourced staff can also perform analytical diagnoses on your data sets.
This can result in valuable insights that can also help you in making important decisions. 
Top 20 Medical billing companies in India 
Now that you are well informed about the necessary information about this specific medical process, let's proceed to the last part. 
Here we have outlined the top medical billing companies in India that you can outsource to: 
Founded in 2004, Fusions BPO services is an outsourcing company that is located in Kolkata. 
The company also offers other outsourcing roles related to customer engagement, digital solutions and data marketing. 
Fusion BPO supports different industries like banking and finance, retail, travel and hospitality, ecommerce, and telecom. 
BOSS Healthcare is a BPO company in Chennai that is solely focused on the medical field. Twenty-five per cent of the company's services are medical billing processes. 
It also specializes in other business processes like transcription, software design and development, network consulting, and IT infrastructure support. BOSS mainly works with physicians and their in-house teams to boost their productivity and growth. 
Aside from medical billing, Trupp Global also specializes in customer experience services and back-office support. This outsourcing company was established in 2010, and is headquartered at Bengaluru. 
Trupp Global's clients are mostly small businesses to mid market size. More so, its industry focus are organizations in the IT, financial, healthcare, and other business sectors. 
Eldeot Info is a startup outsourcing company that was established in 2017 at Chennai. Although a rookie in the field, it has been supporting clinics, hospitals and practitioners for several years now. 
This medical outsourcing provider provides 100% non-voice and back-office services. Fifty per cent of its featured processes are medical billing services. 
Tech2Globe Web Solution LLP is an all around BPO services provider that is based in Delhi. Besides medical billing, its outsourcing roles also include web and ecommerce development, graphic design, and digital marketing. 
Fusion Business Solutions Pvt Ltd is a 10% medical billing services BPO company in Udaipur. Its service lines involve non-voice BPO, back-office services, Artificial Intelligence (AI) and custom software development. 
I-conicsolutions LCC is an outsourcing company that purely supports the healthcare field. Its headquarter is located at Jamshedpur. Its service lines are voice and non-voice BPO, back-office services and business consulting. 
This healthcare outsourcing company specializes in medical billing and coding, AR and denial management. Other services also include patient collections, payment posting, eligibility and authorization. 
Nisos Health provides medical billing, call center, and software development services for healthcare establishments. This multinational BPO company has two headquarters in Mumbai and New York. 
GA Technocare is a 75% medical billing outsourcing company that can be found in Noida. It is also considered as one of the leading IT solutions and service providers in India. 
This BPO company's service lines are non-voice BPO, back-office, HR services, and voice services. Besides the healthcare field, it also caters to IT and telecommunications industry sectors. 
Promantra is a healthcare IT outsourcing company that is ISO 9001 and ISO 27001 certified. This outsourcing company has its physical office in Hyderabad. It specializes in both voice and non-voice services, back-office, and IT roles. 
Seyyone has been serving its global clients in the medical field since 1999. This outsourcing company has partnered with different healthcare establishments in the US, UK, Australia, Canada, and New Zealand. 
Pacific Global is a healthcare revenue cycle management company that is located in Vadavalli and the US. Its featured medical outsourcing roles are medical billing and coding, transcription and accounts receivable. It also provides eligibility verification and full practice services.  
Tekplant Infotech is another international BPO company that has headquarters in Chennai and New Jersey.
Its services are 70% medical billing processes and it also offers app development, product engineering and independent testing. 
Hinduja is an BPO provider that is 50% medical billing services, and is based in Mumbai. According to Clutch, the company has over 10,000 professional employees. Aside from medical services, it also has other outsourcing processes from customer service, digital marketing, to IT-related roles.   
AthenaHealth has been backed with its certified professional expertise in the healthcare outsourcing industry since 1997. Its medical outsourcing solutions involve RCM, patient engagement, telehealth, and care coordination, among others. 
Medphine is a RCM outsourcing services provider that has been serving US healthcare establishments since 2013. Its service lines involve voice services, business consulting, including finance and accounting outsourcing. 
Access Healthcare is a global BPO company with several locations in India, US, and the Philippines. It specializes in consultative support, front end revenue, mid revenue, and back-end revenue cycle. 
Medical Billing Wholesalers offers medical billing, coding, revenue cycle and other medical outsourcing processes. Its services lines include voice and non-voice, back-office and transcription roles. 
Baruch Business Solutions is another RCM outsourcing provider that is headquartered in Thanjavur and the US.
This outsourcing company has been serving various US healthcare establishments since its inception in 2016. 
Info hub is a 100% medical billing and coding outsourcing services company that is based in Coimbatore. It also specializes in RCM consulting and credentialing services. Its service lines are centered around voice and nonvoice, transcription, and back office services. 
Connect with us today for better opportunities!
Are you in our top 20 list? Do not miss the chance to be among the 900+ BPO companies listed in our Directory. You can email us at [email protected]. 
Feel free to also browse through our list of Top 30 BPO companies in India!