Top medical billing companies in Albania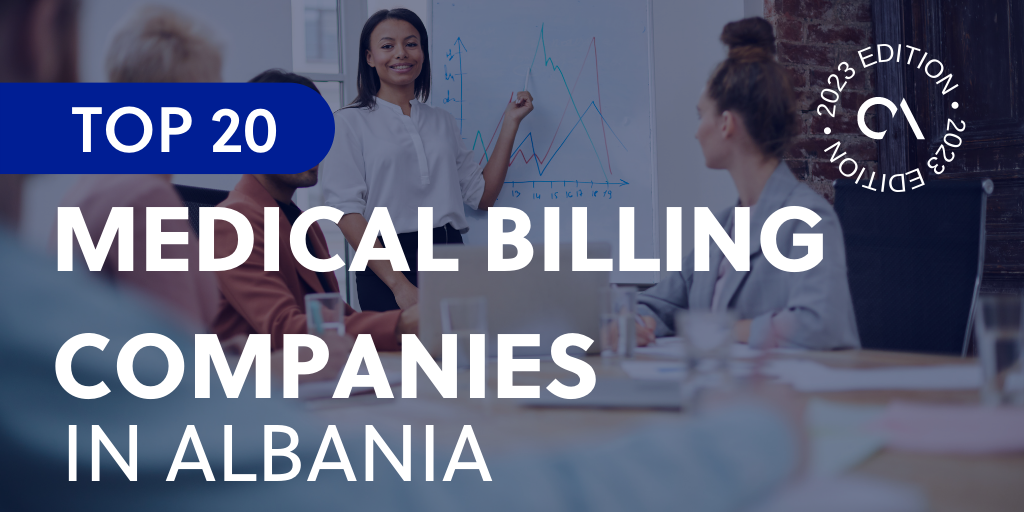 Processing healthcare claims can be taxing and tedious. It requires a great deal of familiarity with the various nuances of healthcare premiums and the legalities governing them. 
With the healthcare industry becoming heavily regulated and demanding, most facilities are swamped with responsibilities to process their claims and update payments to ensure profitability and reimbursement of rendered services. 
However, most institutions and individual practitioners need more time, familiarity, and patience to deal with these administrative burdens. This is why medical billing companies emerged to help the healthcare industry focus on providing timely and quality care to its patients. 
Why Albania?
Albania is an emerging market for many foreign and multinational companies. Its young and professional workforce is well accustomed and adapted to English and other European languages, making it easier to do business internationally or locally. 
Albania was ranked by the World Bank as 19th globally in Minority investor protection, making it easier for foreign businesses to do business in the country, not to mention secure funding through local loans and credits. 
The country is also positioned to be one of the major players in the IT industry. With its tech-savvy youth and most IT companies emerging in Europe, it is well-positioned to integrate these new solutions into its industries. 
Top 20 medical billing companies in Albania
Global outsourcing lists
Outsource Accelerator is the world's leading outsourcing marketplace and advisory. We list over 3,000 BPO firms located across the globe in our global directory, and we provide detailed information, price guides, and reviews.
Whether you're a solopreneur, SME owner, or corporate executive, we can help you find the most suitable outsourcing provider for your business.
Explore our outsourcing directory now. You may also check out our lists of top VA companies  here:
Top Medical Billing Companies in Albania
Below are the top medical billing companies engaged in the healthcare sector of Albania.
Sara Call Center is a Tirana-based company that provides back-office services across different industries, including healthcare. It is known for its multilingual capabilities that serve as its main competitive advantage compared to its contemporaries. 
Backed with ten years of experience in the industry, Sara has 400 professionals working on different tasks with various difficulties in a wide range of industries.
Dalerio Consulting thrives in the customer support domain. It helps its diverse clientele accomplish personal and professional tasks efficiently and smoothly.
Back-office support services take up more than half of its operations, accounting for 43% of its services. Included in this is financial transactions such as debt/claims processing. 
The company was established in 2017 and supported businesses and individuals in managing their daily operations. 
ACCA19 is a Tirana-based BPO company offering back support services and call center solutions both locally and internationally. Compliant with GDPR and PCI DSS certifications, the data of its clients is secured and safeguarded. 
ACCA19 has ten years of experience and can handle huge workloads in different languages and channels.
Local Eyes is a multinational company that harnesses smart technology and human expertise.
Offering a wide range of full-stack outsourcing solutions, it has been one of the leading companies in Albania that provide smart solutions to daily operations. 
Local Eyes is part of the STAR7 family that embodies a specific brand of office solutions. The whole group has been servicing various industries for 20 years, including impacting the ROI of its partners. 
Intercall is a multi-language back-office support service provider operating in the Albanian health industry for years. It offers 24/7 continuous support both locally and internationally and specializes in operational transactions and back-office services. 
One of the companies that it serves is the Estrepremier – a leading health medical company helping its clients look for the best health institutions and facilities in the country they reside. 
Truelancer is a multinational outsourcing company that takes pride in its affordable and flexible range of services and solutions for multiple industries.
Most of its healthcare experts are certified coders and medical practitioners who are well acquainted with the healthcare regulations of Albania.
From top-notch back office services to customizable customer support to creative design services, Trimark BPO is integrating all of these individual solutions into one experiential service for its clients. 
Some notable projects it had include Depo 24, which medical facilities in Albania use. Trimark is based in Tirana and is continuing to grow. 
BPO Albania is an industry veteran in the outsourcing scene. Composed of industry veterans with the right mix of young blood, it handles full to partial outsourcing solutions depending on the needs and means available to its clients.  
As a major outsourcing destination for major European countries, it offers lower service rates, 30-50% lower than other Southern and Central European providers.  
Fusion Albania is ISO 27001:2013 and Global Workforce Management Forum certified, a testament to its superb customer support service solutions. From billing to technical support and document processing, it uses its omnichannel capabilities to help clients get the job done. 
With 33 years of experience supported by 300+ agents and skilled experts locally and worldwide, Fusion Albania is changing the landscape of business processes in Albania and abroad.  
Alfa Solutions is an IT expert solutions company that was established in 2016. It has successfully incorporated back-office solutions into its repertoire of solutions which serves as its main competitive advantage vis-a-vis its competitors. 
Alfa flourishes in its data entry services as well as its financial services, which include billing and coding. As a leader in innovation, it allows its clients to tailor-fit the packages they avail, allowing them to scale at ease.  
We Are Fiber is a staffing and outsourcing company that leverages data and experience. As a staffing company, it builds qualified and experienced professionals that will handle their clients' tasks.
It has 700 employees, usually composed of young, talented individuals considered the cream of the crop in Europe. 
The company's expertise lies in customer service, back-office, and process management. It is also multi-lingual, capable of catering to 10 foreign and local clientele.
Vigan Group is a consultancy firm based in Tirana, Albania. It offers consulting and outsourcing services to assist its clients in scaling effectively by focusing on their clients and business. 
Vigan Group follows a systematic approach to managing the needs of its clients. From evaluating the current context to strategizing multiple business models and tailor-fitting all of these into effective, appropriate solutions for any enterprise.
Nethex BPO is a Tirana-based multinational company engaged in customer service and digital marketing solutions. It is an established partner of big brands such as Pfizer, Sky, and Unicef. 
Leading the charge for better treatment of women in the workplace, 70% of its workforce are independent, professional women. In 2021, Nethex BPO expanded its services to the healthcare and gaming industries. 
APA Communication is an integrated IT solutions company in Tirana. As a back-office service provider, it combines creativity and dynamism in managing its multi-industry solutions. 
As an industry veteran in Europe, it employs an omnichannel and multimedia approach coupled with IT-powered technologies that support its clients locally and globally. 
Known as a proud product of Albanian expertise and resources, INEL Outsourcing is a home-grown BPO company focused on back-door operations and outsourcing solutions.
As a staunch advocate of work-life balance, it only operates during the weekdays from 9:30 AM to 7:00 PM. It is based in Durres and is engaged in data analytics and business processing.
Simetrix Solutions is a global BPO company that operates in many locations across Asia. Europe, the US, and the UK. They offer 24/7 support across multiple industries using cutting-edge technologies. 
It has accomplished 200 projects for various clients with the help of its dedicated and home-trained employees. Banking on its ten years of experience, it has mastered bespoke solutions with flexible pricing and payment schemes. 
With over a hundred employees across three different offices in Albania and the US, Climbia is a known omnichannel, multilingual BPO company that offers end-to-end back-office services. It has worked with ten industries, including healthcare, non-profit, and e-commerce. 
It is a multi-awarded company that has bagged the 2020 Wilmington Local excellence award and is a recipient of the European Customer Service Award. It was established in 2017.
Remote CoWorker is a global outsourcing company that offers a wide range of services. Its contractors are certified and vetted with corresponding certifications and proof of expertise in their field. 
The company operates globally and has some of its services in Albania, making it one of the many considerations for businesses and individuals to tap into for their healthcare needs. 
Upwork is a multinational company known for its affordable and wide range of services. Being in the industry for decades, it has a lot of experienced contractors and professionals, all with certifications and accreditations from their past employers.
The major advantage of the company is that it is flexible and allows for various natures of employment and pricing schemes depending on the needs and means of the client. 
ProMarketing Albania was established in 2011. Its initial offerings were marketing solutions and services, which gradually expanded to catering to various back-office solutions. 
It harnesses its expertise in dealing with customers in managing the different healthcare needs of its emerging clientele.