Top 20 medical billing companies in the US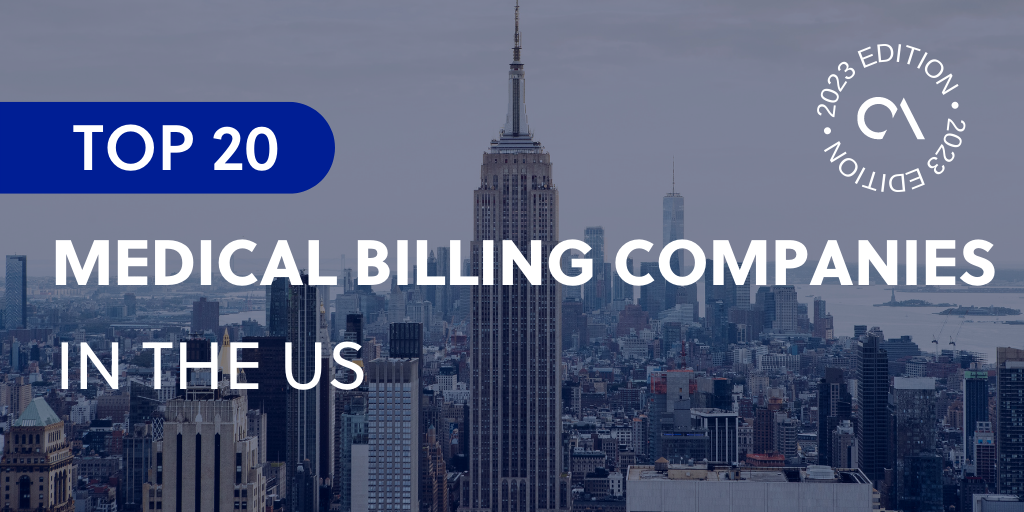 The outsourcing practice does not just apply to one industry alone. The business process outsourcing (BPO) sector caters to all sizes and types of businesses.  Besides being able to save on costs, hiring a medical billing company allows organizations to fill in skill gaps in their office services.
More so, they can boost their productivity and get things done faster through outsourcing. It has become a strategic practice for businesses as they compete with the ever-cutthroat market industry.   
Over the years, outsourcing has also been supporting the entire healthcare industry. With the healthcare field's very busy nature, it is a common challenge to be able to maximize all their resources while providing quality services to patients.   
Among the most common outsourced services, especially in the US healthcare is medical billing or coding. For US healthcare establishments seeking to outsource this type of role, you have come to the right place.  
In this article, we have broken down 20 of the top medical billing companies in the US and how this service benefits healthcare establishments. We have also included the other types of services that are usually outsourced in the medical sector. 
Top 20 medical billing companies in the US
Global outsourcing lists
Outsource Accelerator is the world's leading outsourcing marketplace and advisory. We list over 3,000 BPO firms located across the globe in our global directory, and we provide detailed information, price guides, and reviews.
Whether you're a solopreneur, SME owner, or corporate executive, we can help you find the most suitable outsourcing provider for your business.
Explore our outsourcing directory now. You may also check out our lists of top medical billing companies per country here:
Healthcare BPO: outsourcing to medical billing companies in the US
Outsourcing non-patient care services enable healthcare providers to mitigate their expenses, at the same time, leverage their remaining resources. Technological advancements are continuously reshaping patient care and how providers perform their business.
It is safe to say that technology is set to have a major transformation in healthcare, especially in the US. Along with these transformations, the US government and private insurance companies have been decreasing the reimbursement of such clinical and non-clinical services.
As a result, a lot of healthcare establishments are having difficulties in supplementing their profit margins for such medical services. By outsourcing, you will be able to alleviate this challenge. Further, outsourcing services in the medical field is not only limited to one process alone.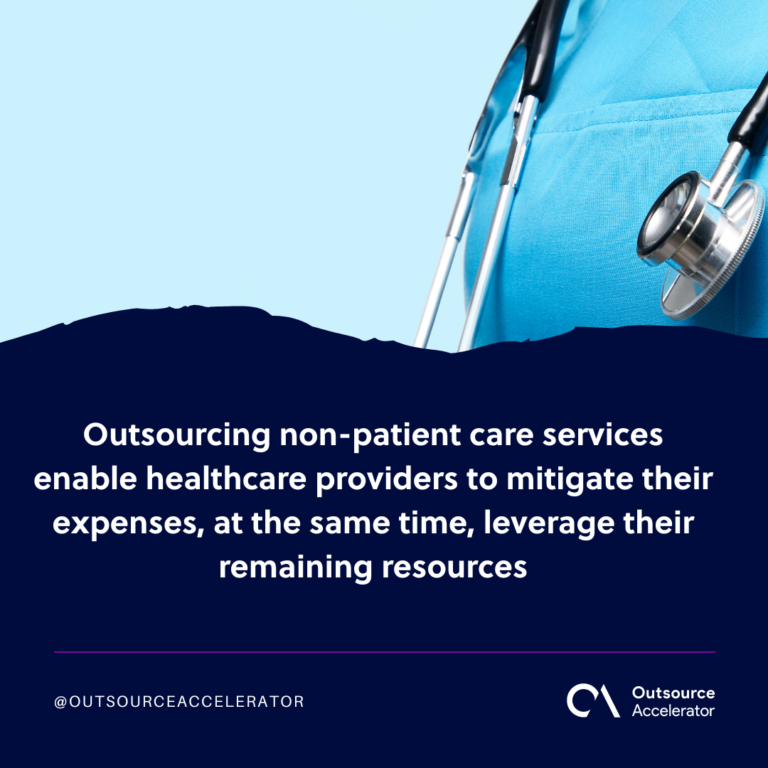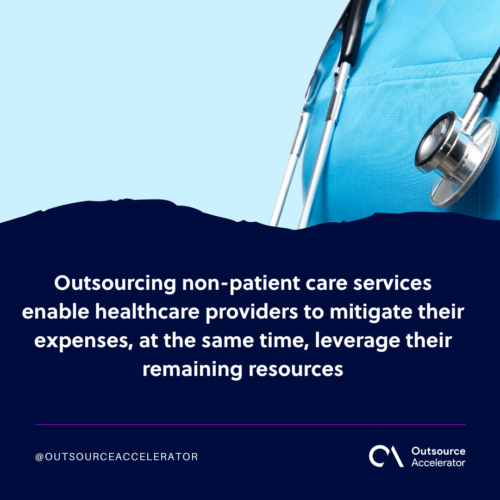 Other types of healthcare outsourcing services
Here are three other outsourcing services in healthcare, besides medical billing or coding processes:    
Claims processing
Processing patient claims is a time-consuming and critical role. This is because patients need to have precise and proper medical claims for their insurance companies.   
Outsourcing this function enables healthcare providers like you to ensure that all patient claims are processed accurately. This mitigates the risk of billing errors and halting the cash flow of hundreds of claims that need to be processed daily.
It is also a good choice to help complete all required insurance claims on time.   
Data processing services
 As a healthcare organization, you have to update and record volumes of medical data and electronic health records every day. Examples of these sets of data include:  
Patient insurance information

Tests and lab results

Various hospital records

Prescriptions and drug inventory
  Acquiring data processing services frees up more of your time and resources. 
Medical transcription
Medical transcription refers to the manual transcribing of recorded medical reports dictated by healthcare practitioners. These medical reports can be taken during medical lectures, clinical summaries, surgery notes, and the like.   
These transcribed documents are often required in the patients' medical charts, for insurance claims, and for practitioners' own records. 
How outsourcing to medical billing companies in the US benefits healthcare providers
Outsourcing to the top medical billing companies in the US greatly helps healthcare organizations like yours in the following: 
Cost reduction
Compared to hiring and training in-house employees, outsourcing this role allows you to save money, both from your operational expenses and overhead costs. The money that you save can then be allocated to other projects to enhance the growth of your entire healthcare business.
Focus on patients
As a medical practitioner, it is quite understandable that you have a very busy and demanding schedule. Apart from being able to save on costs, outsourcing also lets you save more of your precious time.   
In turn, you will be able to focus more on your patients' needs. You will also be able to entertain and attend to more patients daily. 
Improved services
Outsourcing the medical billing process allows your in-house staff to focus on other important matters. On top of that, having extra sets of hands helps you and your team to improve your services and add more to your existing ones. 
Access to industry experts
Working with the top medical billing companies in the US adds more value to healthcare establishments. Outsourcing lets you connect with skilled professionals that have undergone proper training.   
These professionals are also backed with industry experience from working with various clients in the healthcare field.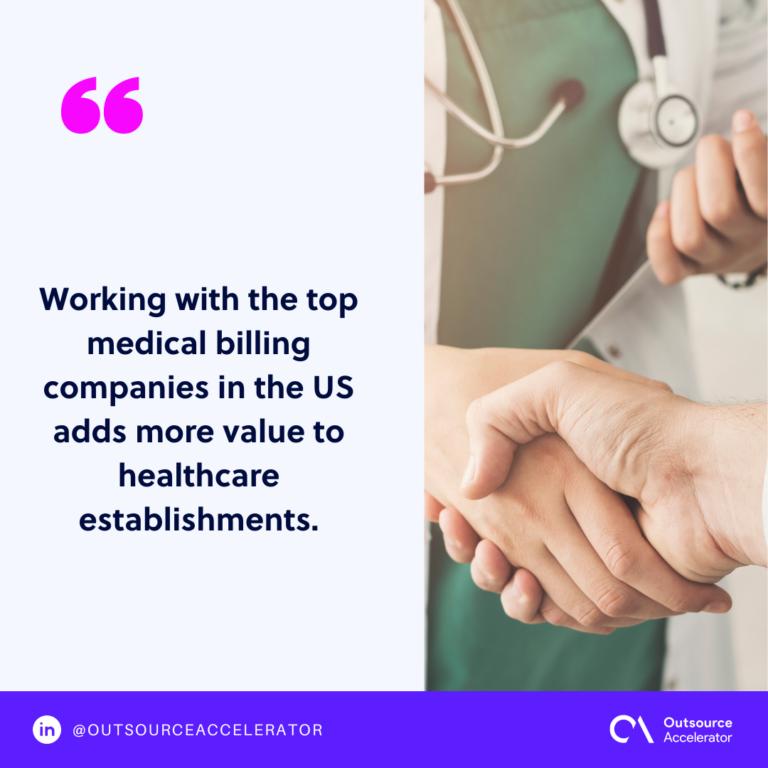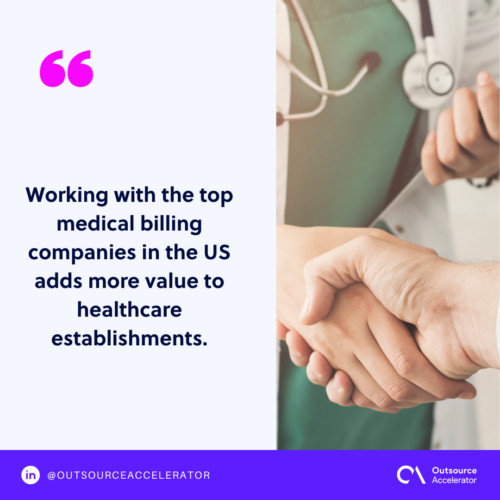 Top 20 medical billing companies in the US
Finding a third-party consulting firm dedicated to helping healthcare providers may be challenging especially if your company has a wide range of services offered.
To help you decide, we have compiled an extensive list of medical billing companies in the USA for your reference.
Connext is a back-office Business Process Outsource (BPO) service firm in the Philippines. The firm has been providing highly skilled professional staffing services at a minimal cost since 2014.
Enabled by seamless cloud connectivity, Connext solves the staffing challenges of its clients. The firm achieves this by building exceptional remote teams that contribute to the smooth running of their client's businesses.
AdvancedMD is a healthcare technology company that was founded in 1999. It is headquartered in South Jordan and Utah. This outsourcing provider specializes in cloud medical software for ambulatory medical practices. 
Examples of its other medical services are credit card processing, managed billing services, clearinghouse, telemedicine, and patient messaging. Its medical billing processing rate starts at $25 per hour. 
Established in 2004, Kareo offers cloud-based and complete medical technology platforms for different healthcare establishments. It has two physical offices that are based in California and Costa Rica.
Its medical billing service starts at $25 per hour. This medical billing company also specializes in other medical roles such as patient collections, insurance reimbursements, care delivery, patient experience, and more. 
CareCloud is a renowned healthcare information technology provider with a global presence in Sri Lanka, Pakistan, and the US. This outsourcing provider has been backed with professional expertise in healthcare services since its inception in 1999.  
Examples of its wide range of medical solutions include RCM, practice management, patient experience management, telehealth, and healthcare analytics. CloudCare is currently serving 40,000 healthcare providers in over 50 states. 
Formerly named as GroupOne Health Source, this healthcare outsourcing company has been working with its clients since 1991. It has two headquarters that can be found in Indiana and India. 
Its specialized solutions in RCM and medical billing involve remote staffing, patient pay, denial management, clinical coding, and healthcare analytics. It also specializes in EHR software systems and MIPS. 
Infinite-O is a multinational BPO company that has its global offices in the Philippines, UK, Australia, and the US. It has a wide pool of professional RCM and billing specialists who are skilled and trained in utilizing EHR or EMR systems.
Besides healthcare services, Infinite-O also offers finance and accounting, research and data, customer experience, IT, and back-office support. 
Promantra specializes in BPO services for all sections of the entire healthcare industry. It has two offices located in the US and India. It also offers IT solutions specifically for healthcare software development, mobile apps, e-learning, QA and testing, and software integration. 
4D Global is another revenue cycle management company that has been working with US-based medical billing companies since 2015. It has two headquarters located in Arizona and India. 
Its list of featured services involves payment posting, denial management, data entry, provider credentialing, credit balance resolution, A/R follow-up, including eligibility and benefits. 
Medwave provides medical billing, A/R recovery, and credentialing in various healthcare sectors. It serves healthcare practitioners in behavioral therapy, chiropractic, physical therapy toxicology labs, and more. This medical services provider is situated in Pennsylvania. 
20/20 MD Billing is considered as one of the pioneers in the medical billing services in America. It has two headquarters located in New York and New Jersey. Through its 20 years of experience, the company has perfected its featured services. 
20/20 MD Billing services include medical coding, auditing, physician credentialing, and RCM. 
24/7 Medical Billing Services is famous for its medical billing, coding, A/R follow up and credentialing services. As its name implies, the company offers round-the-clock services to medical establishments across all the states in the US. 
Medcare MSO is a medical billing and revenue cycle management company that helps healthcare organizations improve their financial performance.
With a team of specialists having 12 years of experience in the industry and is committed to delivering customized, efficient solutions that meet the specific requirements of each client.
The company provides a comprehensive suite of medical billing services, collections, and practice management. Medcare MSO is committed to providing its clients with the highest quality of service and helping them achieve their financial goals.
ABCS RCM offers medical billing solutions, behavioral and mental health billing, and credentialing services. It also specializes in Ohio waiver provider billing, eWebSchedule: software for agencies, web design, SEO, and PPC services. 
Founded in the year 2004, Absolute Solutions offers billing and consulting services, as well as project management to healthcare providers. Part of its goal is to provide simple and efficient services that will maximize each dollar spent by its clients. 
Accurate Medical Billing is a full-service practice management corporation headquartered in Phoenix, Arizona. Its specialized services include patient eligibility, patient pre-authorization, and an online client resource center.
Its other services are online scheduler, patient online access to paperwork, online credit processing, and credentialing. 
ACP Billing Services claims to be among the leaders in the medical billing market. Founded in 2008, this Orlando-based medical services provider offers 24/7 support to different medical establishments.
Their services can help take care of the hospital billing process, the physician billing process, application management, and application development. 
Advanced Pacific Medical, LLC is a healthcare management company that specializes in revenue cycle management and billing services. The company was founded in 2011, and it is based in San Diego. 
It caters to different medical specialties like primary care, behavioral health, internal medicine, physical therapy, pulmonary critical care, and rheumatology. 
Alpine Medical Billing has been working with mental health counselors, therapists, LCSW, and MFT since 2012. This medical billing provider offers insurance billing, patient billing, benefits verification process, claims research, monthly report, collections, and customer service. 
Alta Medical Management has been helping medical providers to simplify their revenue cycles for over 15 years now. Its services include eligibility verification, charge posting, billing, clearinghouse denials, claim submission, and more. 
AMBSI Inc. specializes in providing end-to-end medical billing services to medical providers and healthcare companies. This medical firm aims to help clients increase profits and become financially stable through its services. 
Its featured offerings include medical billing consulting services, medical coding and claim reimbursement, HIPAA compliance and consulting, accounts receivables, and consulting.