Top 20 medical billing companies in Canada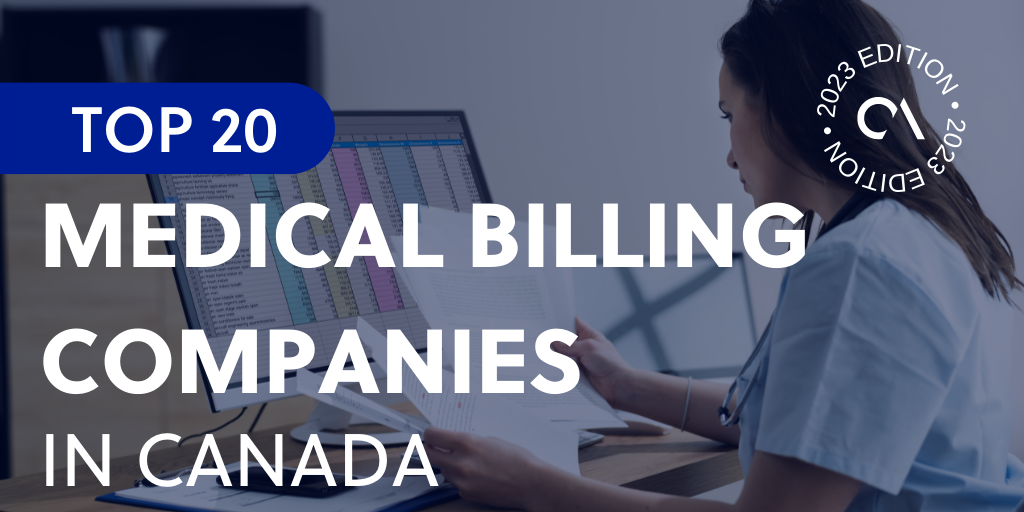 Canadians receive generous healthcare packages through the Canadian government's healthcare system or personal premium health cards. The majority of the medical operations, processes, and fees are covered by the system.
However, the processing is often met with inconsistencies and inefficiencies obstructing the delivery of quality care. 
One factor is the lack of digital copies of medical records. Patients suffer from long wait times to locate their records, often resulting in the wrong administration of medications or procedures. This also creates a huge impact on medical billing.
To avoid these instances, healthcare providers seek the help of third-party providers to fill in the gaps in these processes. Bringing experience and technological expertise to the table, third-party service providers digitize records making big heaps of data searchable in minutes. 
This article explores the top 20 medical billing companies in Canada, along with their unique services and solutions.
Top 20 medical billing companies in Canada 
Top global outsourcing lists
Outsource your work to the best BPO companies of the world. Explore our international directory and get in touch with our advisors to find out how we can help you save valuable time and resources. 
Outsource Accelerator is the world's leading outsourcing marketplace and advisory. Find the list of over 3,000 BPO firms around the world and learn more about their price guides, reviews, and other information that can help you make the best decision for your business. 
Smart Outsourcing: Performing optimal
Outsourcing medical billing services has been the trend in the last few years. One of the many reasons for this is the additional baggage inefficiency on the part of physicians and medical practitioners.
The administrative mandate to follow up payouts, manage patient information, and haggle through the tedious bureaucracy of claims, stresses these physicians, forcing most to not perform at the optimal level. 
This gap paved the way for third-party service providers to take on these menial tasks. Compounded with technological applications and resources, the management of bills in the healthcare industry has become smart and lean. 
Top 20 Medical Billing Companies in Canada
Finding the right service provider to meet one's needs can be both physically and mentally taxing. Getting the right amount of information is essential to make a sound decision. Below are the top 20 medical billing service companies in Canada:
24H is a multinational outsourcing company focused on providing virtual receptionist support in the form of voice, non-voice, and chat. From arranging records to finalizing data and billing, agents are trained to ensure swift transition and delivery of services to end-users. 
As a medical billing company, 24H utilizes its back office support expertise and data entry specialization to support medical practitioners across Canada. 
Combining government regulation knowledge with technological acumen, Alberta Billing offers medical billing management in the comfort of its partners' homes.
Focusing on financial wellness, Alberta Billing provides financial reports and analytics helping its clients review the amount spent on each procedure and hospital visit. This promotes financial literacy and optimized usage of healthcare premiums.
Focusing on data management and processing, Ask DataTech empowers its partners and clients with smart data solutions. From digitizing health records to monitoring hospital utilization, the company makes hospital processes more manageable and efficient. 
Some of its services include form processing, data extraction services, and data conversion. Other expertise of this company is SEO and web content research.  
This company is supported by 5,000 medical practitioners all over Canada. Owing to its functional, interoperable medical billing software, healthcare professionals in large organizations operating in multiple provinces have no problem tracking transactions on the go. 
The company also helps doctors manage claims approval. Its services help cut rejection rates down to 73%, helping doctors get payouts successfully. 
Corpshore Solutions specializes in offshoring, nearshoring, onshoring, and digital transformation services. This company maximizes its global network by integrating smart human relations solutions as an added value to its diverse clients. 
Some of its smart services include medical bill processing and health record management. . 
Banking on its ten years of unparalleled service, Canada-based DigiMedix manages strict compliance with government healthcare regulations through its medical transcription solutions. 
A HIPAA compliant, the company offers several medical record management services such as medical record indexing, medical billing/RCM, and medical coding.  
Established in 2012, Doctor Care is a group of doctors and healthcare professionals. The main thrust of this company is to empower doctors by lifting the administrative burden through innovative technologies.  
Maximizing insights and analytics, this company offers valuable reports through comprehensive chart reviews to aid in the prognosis of doctors.  
Established in 2010, Interact BPO caters to multiple industries, including healthcare management which is under its administrative services pillar.
As a leading BPO company with a breadth of services, it leverages IT solutions with proprietary acumen to serve small, medium, and large enterprises in Canada and beyond. 
Other pillars of the company's solutions include customer support, marketing, and sales. 
Reducing paperwork and remote medical billing processing is at the core of this company's services. This company's account managers act as its competitive advantage.
Its experience and competence in remotely handling billing records allow customers to feel at ease while balancing the individual needs of each physician. 
OHIP billing, MOH billing, and WSIB billing are among the data entry services offered by LRR Medical Billing Services. Based in Ontario, Canada, this company offers other functions, such as form submission and medical coding. 
A global outsourcing company with a breadth of services under its brand, MAX BPO is a contract mortgage loan processing and accounting company. Among the company's offerings are data management and debt collection services. 
This diversity of solutions and services makes the company a trusted partner of many startups and Fortune 500 corporations. 
An industry veteran with 30 years of experience in data entry and healthcare solutions. This company takes pride in customizing business models and packages depending on the needs and requirements of the clients.
As an industry expert, they initiated the use of carbonless billing forms, allowing clients and partners to electronically communicate and process bills. 
The company informally started in 2005 when a group of professionals helped close peers in managing medical billings. From these humble beginnings, the company branched through word of mouth and was formally established in 2006.
Nearing its second decade of existence, this company continues to expand and offer trusted, transparent, and efficient medical billing services. 
Medinet is a cloud-based applications and services company in Vancouver. This company has been in the industry for three decades. With the successful integration of mobile application solutions to its capabilities, delivery of quality patient care has been seamless and smooth in its flagship product, PharmaNet.
Providing end-to-end healthcare services, OMBS provides a comprehensive set of medical insurance services that are legally compliant and reflective to the goals and needs of its clients. OMBS was established in 2002, since the company has branched out to different supplemental administrative services such as UHIP, WSIB, and direct to patient billing management. 
Known for having a 100% payout rate, PayMed is a company specializing in OHIP billing administration. By ensuring billing and medical documentations are error-free, this company carefully reviews charts and records through advanced technical solutions.   
Giving primacy to remittance dues, Prime Medical employs the MSP Payment schedule in arranging its partners' billing needs. Mastering the complicated bureaucratic process of payouts, the company increases the odds of approval allowing for better revenues. 
Stressing the importance of performing on a physician's core competencies, this company assists medical professionals through the tedious process of billing. From managing paperwork to navigating complicated application interfaces, the company enables its clients to earn more in a secure and comfortable manner. The huge benefit of the company's services is that it does not work on a contract basis, but monthly. If dissatisfied with the company's performance, clients can opt out of its services.  
One of the most experienced medical billing agencies in Canada, this company has been in the industry since 1988. A known user of TELUS Health Solutions, it manages billing requirements of private hospitals and even individual physicians with ease and accuracy. Notable services of the company include OHIP, WSIB, and RMB claims; Interim Federal Claims; and reconciliation of remittance advice.
Located in Langley, this company has been in the industry for more than two decades. A full service medical billing service bureau, it manages correcting patient information, claim and benefits correction, and billing.