Top 30 medical billing companies in Los Angeles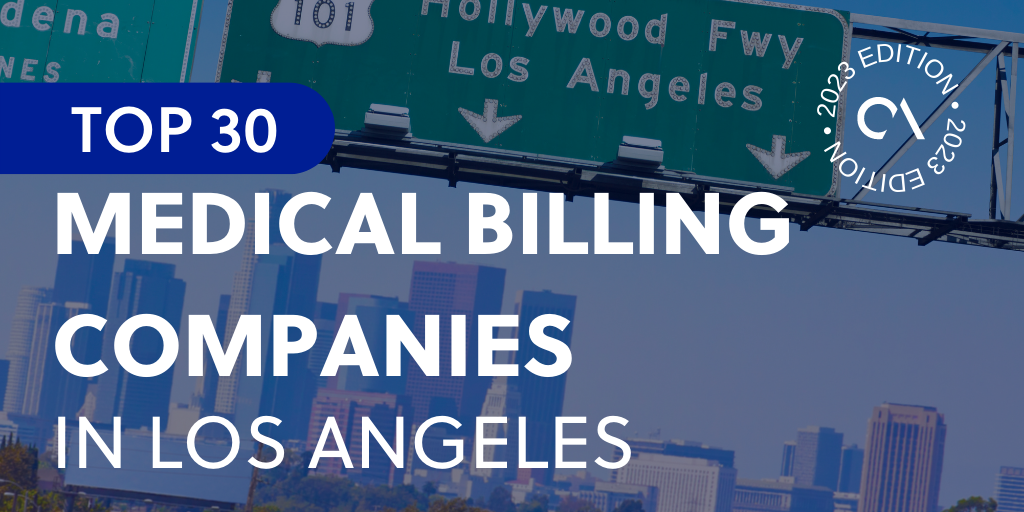 Los Angeles is the second-largest city in the United States, with nearly four million people calling it home. Los Angeles is a global center of business, culture, and innovation. 
One of the quality services it can offer companies is medical billing. 
Medical billing is one of the many areas outsourced by healthcare providers. This includes medical billing, accounts receivable, and the collection of funds from insurers and patients.
Delegating this task to professionals can allow healthcare service providers to alleviate the labor-intensive process of staying up to date with regulations, getting the latest technology, and other aspects of providing high-quality medical billing.
We've put together a list of the top 30 medical billing companies in Los Angeles to help you find an outsourcing company that you can trust.
Benefits of outsourcing 
In today's world, outsourcing has become a very convenient option for many companies. 68% of companies in the US outsource their services to low-cost countries, including small businesses. 
Find an overview of outsourcing benefits that your company can leverage today.
Improved productivity 
A growing company will benefit from improving its focus on core business activities such as providing care to patients. 
Entrusting administrative tasks such as billing to a dedicated team lets businesses be freed of laborious tasks without sacrificing productivity. 
Broader talent pool
Accessing a more diverse talent pool gives you a chance to improve diversity in your team.  Most importantly, this increases the chances of finding highly skilled workers that you can't find in your area.   
Increased accuracy
A medical organization's billing and collections processes are critical to its success.
As healthcare costs continue to increase, it's important for organizations to have a dedicated and well-managed team to take charge of billing processes. It can help reduce human error and increase efficiency.
Why outsource medical services in Los Angeles 
With the increasing costs of healthcare and a decrease in reimbursements, many doctors and medical professionals have been looking toward outsourcing non-patient care services. 
Outsourcing enables healthcare providers to mitigate their expenses, at the same time, leverage their remaining resources.
The US is home to the best hospitals in the world, including Johns Hopkins Hospital and the Mayo Clinic. They have an established presence in the healthcare industry, and Los Angeles is one of the many states in the country that offer renowned services for healthcare practice. 
Top global outsourcing lists
Finding a BPO company that can provide the support your business needs can be daunting. Save time and money by browsing our directory of the best providers in the world.
Our team of advisors has deep experience in identifying the right outsourcing solution for your specific needs, so get in touch and let us help you optimize your workflow today!
Outsource Accelerator is the world's leading outsourcing marketplace and advisory. Find the list of over 3,000 BPO firms around the world and learn more about their price guides, reviews, and other information that can help you make the best decision for your business. 
Top medical billing companies in Los Angeles
Browsing through our selection of the top billing companies in Los Angeles is the perfect way to narrow down your options and get started quickly.
BillingParadise provides support for tasks such as electronic processing and other revenue cycle management services. It is AAPC and HIPAA-certified to help you bill more efficiently, maximize reimbursement and reduce overhead costs.
Its compliant auditing processes and satisfactory billing services for healthcare professionals are supported by its team of 600 professionals. 
Allzone was established in 2005 to provide revenue cycle management services globally. Its quality management follows a hybrid model of ISO and Six Sigma methods to ensure best practices. 
Its medical billing solutions support over 25 different software to ensure streamlined integration. Its client base includes over 60 specialty practitioners and over 5,000 physicians. 
Conifer Health Solutions is a company focused on improving the healthcare experience by supporting providers through revenue cycle management. 
Its services are rooted in over 30 years of healthcare expertise. Conifer's health services cover front-end, mid-cycle, and back-end processes, including medical billing.
TaskUs started in 2008 as a virtual personal assistant company. It provides customer experience and back-office support services to businesses of different industries. 
For healthcare payors and providers, its solutions include claims and billing. The company also offers support for prior authorization, data quality, and records management. Its team of professionals supports over 30 languages
DrChrono's billing solution is integrated with EHR, medical coding, and front-end advice to aid common challenges in the process. This enables healthcare providers to focus more on care with the support of a dedicated team. 
Customers are assisted by billing experts along with coding compliance officers and certified medical coders to increase efficiency.
STAFFVIRTUAL is a leading American business process outsourcing company offering services to help businesses optimize operations with cost-efficient support. The outsourcing firm is known for its broad range of solutions ranging from medical to creative services. 
It connects healthcare providers with top medical records processor talent. Its team of medical billing experts is equipped with resources to manage medical and financial data.
Pivotal MD is a nationwide medical billing, consulting, and contracting company. 
Together with its in-house contracting and credentialing team, the company offers extensive medical billing knowledge and expertise to help clients create more efficient workflows to meet business objectives. 
TherapyNotes is the practice management system founded in 2010. It was created for behavioral health, offering a robust suite of tools to help therapists and counselors focus on patient care. 
It offers medical billing as well as note-taking features designed by a team of healthcare professionals to maximize ease of use and compliance. 
DrCatalyst, a biller services company, provides businesses with trained billers that are available in different service models, such as project-based and hourly billers.
It provides support for clinical, billing, and marketing tasks. Each task is carried out by its team of global professionals. 
IQVIA provides healthcare companies with advanced analytics, commercialization solutions, and clinical research services. It assists in improving patient care outcomes by transforming healthcare data into knowledge that can be used to drive better decisions.
With this company, healthcare providers can access a broad set of applications, tools, and capabilities to reduce processing time.
PracticeSuite offers a suite of cloud-based software solutions to help doctors and businesses in the healthcare industry manage their practices.
The platform features allow for better patient communication and practice management. It comes with medical billing software designed with revenue cycle management in mind. 
Nextech provides a customizable, easy-to-use platform that allows practices to have billing solutions that meet their specific needs.
The company offers specialty management solutions that are applicable to different practices, such as dermatology and orthopedics. Its other offerings include advanced analytics, support, experience, and practice consulting. 
Optum is a cloud-based information systems solution that allows health organizations to manage their clinical, administrative, and financial tasks in one place. 
With features like scheduling, prescribing, and billing, Optum provides a comprehensive and intuitive platform that enables improved collaboration and productivity. Its solutions are designed for mental health, prescription management, and senior care, among other specialties.  
Cerner is a revenue cycle management solution from Oracle. The platform provides a fully integrated billing, claims, and contract management solution that puts healthcare professionals in control of everything from day-to-day operations to long-term strategic growth.
It also provides a robust financial tracking feature to help ensure that billings are accurate and comply with payment practices.
Allscripts Healthcare Solutions is a leading provider of RCM solutions for hospitals and physician practices. Its two-service portfolio offers specialized features that can help healthcare facilities reach their respective business objectives.
It helps businesses increase efficiency through billing services as well as other revenue cycle management tasks.
Athenahealth works with hospitals and medical organizations to help them manage the complex billing and revenue cycle process. 
Its medical billing solution is called athenaCollector ®, which also comes with extended services for medical coding, claim resolution, and authorization management.
PUREDI has been working with healthcare providers for twenty years. It offers a platform that adapts to changing reimbursement models, updating you quickly and easily to ensure customer billing will meet the demands of diverse specialties.
It is a web-based platform with different features that include automation and reporting for a versatile solution.
Praxis provides its clients with a template-free solution to medical billing through an AI engine. 
Its team of professionals creates and maintains custom-made invoices, manages clients and projects, and keeps track of payments. The service provider integrates with different billing software to increase compatibility with customer operations. 
It also offers an EMR artificial intelligence system designed to help people save up to 3 hours daily.
Human Medical Billing services Los Angeles is a trusted partner that supports medical office operations. It offers comprehensive solutions for medical billing and coding. 
Additionally, it extends its services to the patient portal and denial management. 
The company is equipped with innovative technology to provide personalized service and offer accuracy at every step of the billing cycle.
Genpact's healthcare and life science solutions are powered by artificial intelligence and automation to optimize operations and provide visibility into financials. Its revenue cycle management service includes medical billing.
It extends services across industries such as banking and consumer goods. Its customer base includes Fortune 500 companies. 
eClinicalWorks supports healthcare providers with Electronic Health Record (EHR) and Practice Management (PM) solutions. It has helped care providers since its establishment in 1999. 
It provides a self-service model and an RCM service model for customers to choose from. This gives healthcare customers a flexible choice on how they want to access quality billing services. 
Experian, the global information services company, helps clients to make smarter decisions. One of its many offers includes healthcare solutions such as revenue cycle management and care management. 
Backed by over 20 years of experience, it skillfully handles medical billing with the help of over 1,900 payer connections. 
InfoHub is designed to be a "one-stop shop" for medical billing needs. It provides medical billing services for physicians, practices, clinics, and other healthcare providers.
The HIPAA-compliant company offers support for telehealth billing.
AdvancedMD provides a wide array of services using complete cloud software. The company offers a cloud-based solution that allows businesses that handle processes such as billing and report generation. 
The platform is hosted and managed on Amazon Web Services to drive reliability, security, and performance. 
Practice Fusion helps businesses stay compliant. With automatic eligibility checks, flexible billing options, and professional billing support, it shoulders labor-intensive processes and entrusts them to its experts and robust technology. 
Other features, such as scheduling and task management, help businesses to streamline patient care coordination before, during, and after each transaction.
R1 offers technology-driven solutions that transform the patient experience through end-to-end revenue cycle management.
Its services are designed to increase efficiency when billing transactions and processing patient payments. The company also covers areas such as denial management and reconciliation.
Kareo is an easy-to-use practice management software designed to support independent medical practitioners in billing, operations, and practice management
The platform offers features to assist businesses through every step of billing. Its comprehensive solutions can be used for claim submissions and review up to insurance verifications. The platform also comes with advanced features such as billing analytics. 
Helpware enables clients to save money on outsourcing while gaining the expert knowledge they need to succeed. It helps companies create and manage customer support, back-office, and other services. 
Helpware's healthcare services are API and integration-enabled for increased efficiency. The company's team of back-office support teams use these technologies to provide accurate and timely output.
Medwave offers solutions to help providers, from inpatient and outpatient to residential hospitals.
Through a team of healthcare experts, the company provides a suite of services for healthcare professionals and practice management.
With over 20 years of experience working with care providers and physicians, businesses can entrust different billing specialties, such as COVID-19 testing and sleep study labs.
24/7 Medical Billing Services is a medical billing service provider certified by HIPAA and other regulatory bodies.
It offers support for different healthcare specialties, including ambulatory surgical and pharmacy billing, among others. The company helps businesses scale by offering services for medical coding, credentialing, and other essential healthcare tasks.