Top 20 nearshore medical billing companies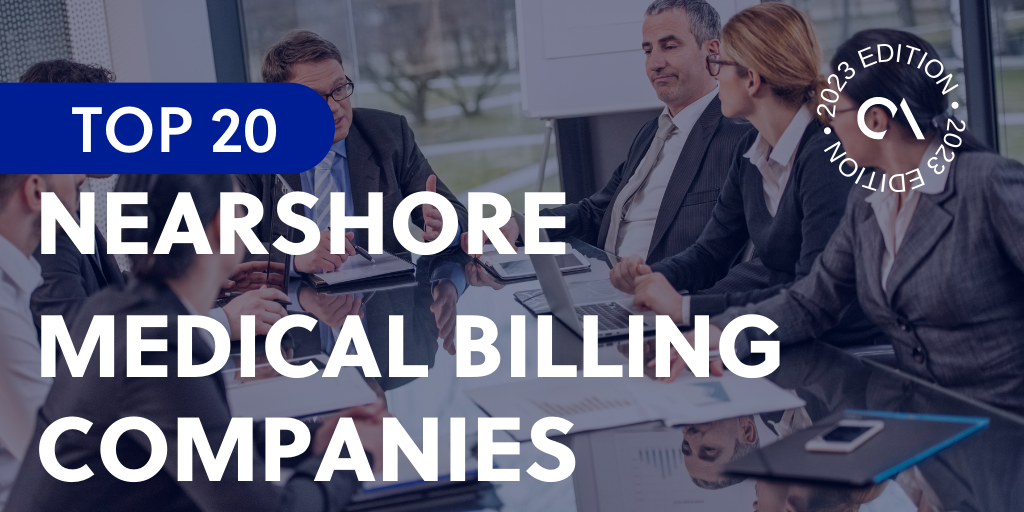 Healthcare is a rapidly evolving industry, thanks to the newest treatment developments and the massive need for patient care. What many people do not see, however, is the in-between work of healthcare providers. 
Healthcare work does not end when the patient leaves the clinic or the hospital. Its behind-the-scene responsibilities also include medical billing, which entails enormous paperwork. It has become a tedious part of the healthcare system, and most providers end up outsourcing this part of the process. 
What is medical billing
Medical billing can be defined as the process of obtaining payment for medical services. This guarantees the healthcare provider receives a reasonable price for the services rendered. The fees collected should reflect the services provided and be well-timed. 
In most cases, medical billing can be much more complex than this. The process usually includes producing claims presented to insurance companies to obtain payment for the medical services provided by doctors, clinics, or hospitals.
Essentially, the medical services are translated into a billing claim wherein reimbursements are issued to the healthcare providers. 
Top 20 nearshore medical billing companies
Top global outsourcing list
Outsource Accelerator is the world's leading outsourcing marketplace and advisory. We list over 3,000 BPO firms located across the globe in our global directory, and we provide detailed information, price guides, and reviews.
Whether you're a solopreneur, SME owner, or a corporate executive, we can help you find the most suitable outsourcing provider for your business.
Explore our outsourcing directory now. You may also check out our Top BPO Outsourcing lists per country here:
Outsourcing medical billing services
As complex as it can be, medical service providers outsource their billing services. Many resort to this solution, so medical billing companies are also rising. Medical billing services can include: 
Submission of bills and claims
Automating the submission process of bills and claims is the core service of these companies. They do this by integrating the healthcare provider's electronic medical records systems and converting relevant patient information, visits, and other data into a standardized claims form.
Benefits verification
There are cases where the medical service obtained is not covered by the patient's insurance benefits.
Medical billing companies have a way to determine if a particular medical procedure is covered in the patient's insurance benefits before it is rendered to avoid denied claims. 
Patient payment collection
Reaching out to previous patients who still have balances due is tiresome and, not to mention, time-consuming. Outsourcing this task is also possible, as medical billing services include securing past payments thru phone, email, and even posts. 
Accounts receivable management
It is also nice to keep track of the outstanding payments to be received and follow up on them. It is also time-consuming, being a fundamental healthcare process.
Outsourcing medical billing services also include this in their tasks, leaving the doctors focused on providing healthcare services. 
Top 20 nearshore medical billing companies
As cumbersome as it may seem, billing for medical services is vital to all healthcare practices. This important task is being outsourced to those who work in small clinics with limited human resources.
Here are the top 20 nearshore medical billing companies that healthcare companies can look out for.
Founded in 2009, Unity Communications offer different outsourcing service, including contact center as a service, data entry outsourcing, and healthcare BPO. Headquartered in Arizona, US, the company operates in the Philippines, Mexico, and Costa Rica. 
Unity Communications also provides healthcare BPO services, including medical transcription, billing, data entry, claim processing, and medical coding. 
Fusion BPO Services was established in 2004, providing various BPO services, including customer engagement, data marketing, digital solutions, and utility billing. Its main office is in Kolkata, India, with centers across the globe. 
The company works with the healthcare industry and offers patient surveys and communication, claims processing, invoicing, and insurance verification services. 
Established in 2010, IdeasUnlimited offers top-quality outsourcing services, including customer support, multilingual support, healthcare, operations, and virtual assistance. It was founded in Texas, USA, and has offices in the Philippines and Pakistan. 
Its industry support services include medical administration support, 24/7 call center service, insurance verification, and billing and payment management. 
Connext started in 2014 to provide a new kind of outsourcing experience to clients across the globe. Its services include customer service, finance & accounting, and back-office outsourcing. Connext has its headquarters in the Philippines with a branch in Honolulu, Hawaii.
The company's healthcare services include revenue cycle, telehealth, patient support, office administration, and data visualization. 
AdvancedMD has been providing healthcare technology services since 1999. The company offers medical office software solutions and a comprehensive suite of services. Its main office is located in Utah, USA.
Its services include practice management, medical billing, and patient engagement. 
Founded in 2007, Tri Source International has been providing outsourcing services such as customer experience, back office expertise, and sales. From its headquarters in California, the company has expanded to several locations in Latin America and the UK. 
Tri Source International offers back-office support services to the healthcare sector, including invoicing and collections, inventory management, technology services, and skilled labor. 
Fusion Business Solutions has been providing outsourcing services since 2006. It offers recruitment processes, eCommerce, accounting, and data management services.
With its main headquarters in Udaipur, India, the company has expanded over the years and now has branches across the globe. 
The company works with the healthcare industry and provides medical billing and coding, insurance and claims verification, patient refunds, and denials management services. 
Trupp Global started providing back-office support and customer service experience services in 2010.
The company offers these services to make outsourcing services attainable to start-ups and small and medium enterprises. Its main headquarters is in Bengaluru, India, with office centers in the US and the UK. 
Among its medical billing outsourcing services include medical coding, payment posting, accounts receivables, medical records indexing, and denial management. 
Founded in 2007, Login Services is known to be a leader in providing data entry, web research, data processing, and admin support services across different industries.
The company offers various services to the healthcare sector, including medical billing, medical record management, communications management, customer service, and more. 
Cloudstaff has been in the industry since 2005, providing accessible, adaptable, and cost-effective outsourcing solutions. The company has offices in several locations, including the US, the UK, Australia, and the Philippines. 
Its medical billing services include billing & payments, insurance processing, collections, appointment setting and reminders, medical transcriptions, admin support, and more. 
Founded in 2018, I-conic Solutions is a 100% medical billing company that provides various kinds of back-office support to midmarket and small healthcare businesses. Its main office is in Jamshedpur, India, with an office in Wyoming, USA. 
I-conic Solutions provides medical coding, billing & claim submission, patient collection & statement, payment posting, denial management, and rejection management services. 
4D Global was founded in 2015 and has been providing customized healthcare solutions with more than 30 years of combined experience. Its main office is in Chennai, India, with branches in several locations worldwide. 
The company provides patient demographics and charge entry, visit coding, payment posting, denial management, credit balance resolution, and patient eligibility. 
Founded in 2005, Infinit-O provides various outsourcing services, among which include healthcare services. The company operates in several locations in the US and the Philippines.
Infinit-O provides revenue cycle management services to healthcare providers, including payment posting, denial management, patient eligibility, transcription, and claims submission. 
Arise has been in the industry since 1994, providing different kinds of outsourcing services to companies of various sizes and industries. Its main headquarters is located in Florida, USA, and it also has centers in the UK and Canada. 
Its medical back office support includes payer support services, pharmaceutical and medical device support, and other non-clinical support services. 
Established in 1997, MaxBPO started as a company that provides data entry services. In fact, it is an ISO-certified data entry company.
Over the years, the company expanded and now offers various back-office services to organizations from different industries. 
Among its offers to healthcare companies include accounts receivable, insurance claim processing, and medical data entry services. 
Another ISO-certified BPO company, Magellan Solutions, was founded in 2005, offering call center, back office, and data processing services. Its main office is in Mandaluyong, Philippines, but the company has expanded and now has offices in the UK, the US, and Australia. 
Its services for the healthcare industry include medical billing & outsourcing, medical transcription, data entry & processing, telehealth, telemedicine, and more. 
Athena Health is an outsourcing service provider that offers a variety of services dedicated to organizations from the healthcare industry. Founded in 1997, the company has since expanded and now has multiple headquarters in the US and India. 
Athena Health offers electronic health records, medical billing, patient engagement, care coordination, and telehealth. 
Founded in 2011, Quintessence is a market-leading provider of revenue cycle management services, delivering healthcare organizations performance-guaranteed and efficient solutions. Its main office is in Texas, USA, and it has two branches in India. 
The company offers patient demography & data management, billing & transmission, payment posting, and patient balance. 
Established in 2000, Vee Technologies is a well-known business process management firm with offices in Bangalore and New York. The company serves as a dependable partner to corporations and institutions worldwide, from Fortune 500 enterprises to mid-size businesses.
Vee Technologies provides a broad range of end-to-end revenue cycle management services to hospitals, professional billing firms, and outpatient surgery clinics.
Client Services (CSI) has been in the industry since 1987.
Started as a customer service provider, their services have evolved and now offer full-feature customer relationship management, accounts receivable management, business processing outsourcing, and healthcare solutions. CSI has offices in the US and Costa Rica. 
Some of the services it covers for the healthcare industry include medical billing, benefits verification, and insurance authorization.