Top 30 medical billing companies in Spain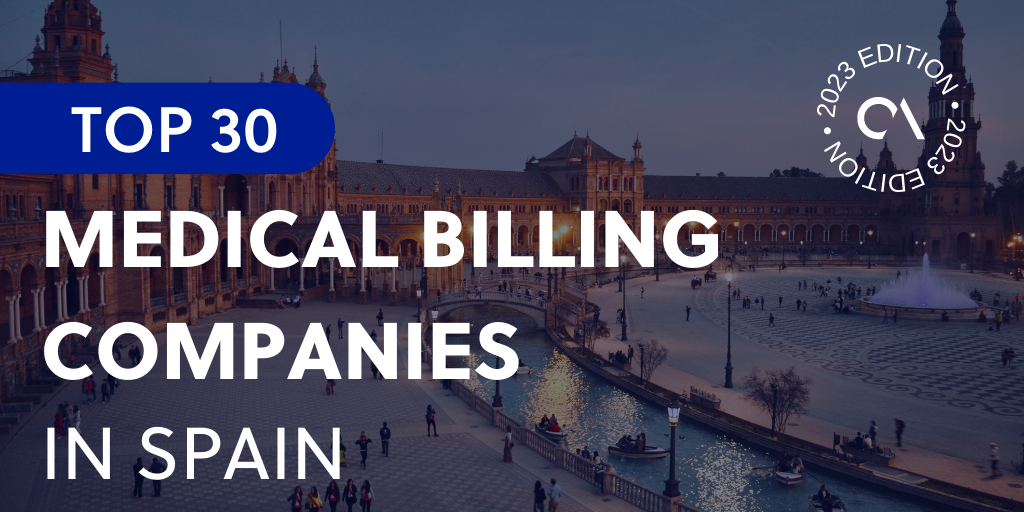 Spain is powered by a competitive economy that offers benefits in the form of trained human capital and innovation support with taxation and incentives. 
This is only one of the many reasons businesses and professionals are working with businesses in this country to scale their growth. 
Medical billing is one of the many areas outsourced by healthcare providers. This includes medical billing, accounts receivable, and the collection of funds from insurers and patients.
It comes with different challenges, such as regulatory changes, evolving technology, training, and other factors that take a lot of labor to catch up to. 
Entrust this task to trained professionals who can help achieve compliance, minimize errors while freeing up your time, and speed up the process of insurance payments.
Our list of the top 30 medical billing companies in Spain will help you find a highly experienced company and streamline your operations.
Why choose Spain as an outsourcing destination
Spain is a European Union (EU) constituent member. It has been ranked one of the largest economies in the world and among Europe's top emerging markets, as found by the European Chamber.
Spain is also globally recognized as an important player in health care, energy, high-end manufacturing, tourism, and international trade. 
Its government prioritizes its economy to encourage business by having lenient regulations for international investment as well as giving grants to promote knowledge transfer and job creation. 
When it comes to the workforce, its citizens offer specialized talent. It is among the top 10 European countries with the highest educational attainment.
These are just a few reasons why Spain is worth considering when it comes to outsourcing or nearshoring. 
Advantages of outsourcing medical billing
Outsourcing medical billing offers benefits beyond cost savings. Here are some of its highlights.
Fewer errors
Medical billing and collections is a highly delicate process that requires remarkable precision. Patients can easily become a victim of billing errors and inaccuracies, leading to delayed or denied claims. 
When outsourcing, quality assurance measures, and service level agreements are put in place to help uphold accuracy and ensure your business operates smoothly.
Compliance
The healthcare industry is constantly changing, as are government regulations. This is why it is necessary to keep up with compliance regulations and ensure that we provide you with the highest level of service in all areas of your medical billing. 
Outsourcing this administrative task can help you stay updated on compliance standards as you work with a provider that can manage this for you.
Improved focus
Delegation of medical billing may allow you to operate more efficiently, focusing on core activities in your business while leaving the scheduling aspect to someone else. 
By giving your staff the opportunity to proactively engage with patients and their families, they'll be more present while they tend to needs—leading to happier patients and increased retention rates.
Top global outsourcing lists
Finding a BPO company that can provide the support your business needs can be daunting. Save time and money by browsing our directory of the best providers in the world.
Our team of advisors has deep experience in identifying the right outsourcing solution for your specific needs, so get in touch and let us help you optimize your workflow today!
Outsource Accelerator is the world's leading outsourcing marketplace and advisory. Find the list of over 3,000 BPO firms around the world and learn more about their price guides, reviews, and other information that can help you make the best decision for your business. 
Outsourcing healthcare services
Outsourcing in healthcare is a service that has grown over time and overall, it has improved the healthcare industry. There are many different services that can be outsourced, such as medical billing or coding processes, but there are also others.
Let's look at three other outsourcing services in healthcare.
Claims processing – This is the process of filing patient claims in a specific manner in order for insurance companies to pay for their services.

Medical transcription – Medical report transcription is the process of manually transcribing recorded medical reports dictated by healthcare practitioners. 

Healthcare customer support – Healthcare customer service representatives provide customers with details about insurance coverage, including deductibles and out-of-pocket expenses. They respond to questions and billing concerns, among others. 
Top 30 medical billing companies in Spain
DrChrono's solution is integrated with EHR, practice management systems, and clearinghouses to address common billing needs. Providing streamlined operations and management, its services help healthcare providers shift more focus on their patients.
The company has a team of dedicated billing experts who work with coding compliance officers and certified medical coders to provide high-quality service.
TherapyNotes connects businesses with experienced billing professionals who can adapt to workflows easily. It also has cloud-based solutions intended for mental and behavioral care providers. 
The platform comes with an EHR, patient portal, scheduling, and medical billing solutions. It supports providers of different sizes, be it remote workers or clinics with multiple branches. 
DrCatalyst offers specialized remote solutions for healthcare. Its services include clinical, billing, and marketing tasks powered by its team of global professionals. 
It provides businesses with trained billers that are available in different service models, such as project-based and hourly billers. 
IQVIA provides healthcare companies with advanced analytics, commercialization solutions, and clinical research services. It has over 100 locations worldwide. 
The company's medical billing service offers a suite of applications that help businesses speed up processing time and improve organization.
Allscripts Healthcare Solutions helps healthcare organizations create connected and secure communities. Companies can leverage their billing services as well as other revenue cycle management tasks to increase efficiency. 
The company provides specialized assistance for hospitals and physician practices. 
Athenahealth supports hospitals and medical organizations with expertise in revenue cycle management, including billing. 
With over 30 years of healthcare experience, the company provides a broad range of services that cover electronic health records and patient engagement.
Optum Coding Intelligence has the solutions and experience that can help healthcare providers stay on top of their medical billing. It constantly stays up-to-date with changing industry demands and regulatory codes. 
The company has over 30 years of medical billing, coding, and compliance experience. Their mission is to deliver industry-leading medical coding solutions.
PracticeSuite's cloud-based solutions offer a way for businesses to provide a modern digital patient experience. It offers complete solutions from scheduling management to financial reporting. 
Its medical billing solution is designed specifically for revenue cycle management.
Nextech's specialty practice management solutions, including EHR, practice management, and revenue management. These solutions offer specialized help for dermatology, ophthalmology, orthopedics, and plastic surgery. 
The platform is customizable to help customers have billing solutions that meet practice-specific needs. 
Optum helps health organizations manage their clinical and administrative tasks. With features like scheduling, prescribing, and billing, Optum is the only tool you need to ensure your patients are receiving the care they need.
Cerner is a revenue cycle management solution from Oracle. The platform supports healthcare professionals through integrated billing, claims, and contract management. 
Additionally, Cerner can track financial performance and integrate communication between billing and clinical teams for increased efficiency.
The Praxis EMR artificial intelligence system provides its clients with a unique solution to electronic charting through an AI engine. Its platform is designed to help people save up to 3  hours daily.
The service provider integrates with different billing software to help streamline delegation. Its team is composed of experienced billing professionals. 
BillingParadise was established in 2004. It is AAPC and HIPAA-certified to provide support for tasks such as electronic processing and other revenue cycle management services.  
The company has a team of over 600 professionals to ensure compliant auditing processes and satisfactory billing services for healthcare professionals. 
Genpact helps companies reinvent their businesses and unlock new growth opportunities. It provides services to different industries, from healthcare to banking. 
The company offers healthcare solutions powered by artificial intelligence and automation to streamline operations. It covers revenue cycle management, including medical billing. 
eClinicalWorks is a leading provider of comprehensive Electronic Health Record (EHR) and Practice Management (PM) solutions.
Since 1999, the company has helped 300,000 physicians and other healthcare professionals to enhance the quality of care they give to their patients by streamlining and standardizing their workflow.
Customers have the option to go for a self-service model and an RCM service model.
Experian provides information services and data to the world's largest companies, helping marketers make smarter business decisions and providing consumers with better financial products and services.
Backed by over 20 years of experience, the company takes a thorough approach to medical billing, from patient access solutions to payer contract management.
R1 RCM offers medical billing and consulting services. Its specialties include bill payment options and auto-payment plans. They also provide services for insurance companies looking for help managing their coding management and customer service. 
Its data-driven services apply to hospitals, physician groups, and other healthcare networks. 
Kareo helps independent medical practitioners in billing, operations, and practice management. The platform was designed to help small and mid-size independent medical practices.
It offers a complete platform for independent practitioners, clinics, and other service providers.
Helpware is an outsourcing company that creates customer support and back-office teams for modern companies. 
It helps care providers provide world-class support services for patients. Some of its services include web-application support and development and medical billing.
Medwave's solutions are designed to support different providers, from inpatient and outpatient to residential hospitals. 
The company provides a suite of services for healthcare professionals and practice management, including electronic medical billing, A/R Recovery, and credentialing services. It has over 20 years of experience working with care providers and physicians.
24/7 Medical Billing Services is a medical billing services provider established in 2005. It is a known outsourcing company with certifications from HIPAA and other regulatory bodies.
It offers a one-stop solution for revenue cycle management, including pharmacy, mental health, and emergency room billing.
InfoHub was founded by a group of physicians and healthcare practitioners to provide outsourced medical billing services for physicians, practices, and other healthcare providers. 
It offers a complete range of medical billing services tailored to meet physicians' needs in all specialties, including telehealth billing, ambulance billing, urgent care, and more.
AdvancedMD is a leading national medical billing company that provides a wide array of services through complete cloud software.
It allows businesses to perform functions from billing to report generation. The company has helped over 40,000 professionals worldwide. 
Practice Fusion supports businesses through automatic eligibility checks, flexible billing options, and professional billing support.
Its other offers cover web-based electronic health record systems, medical practice management technology, and patient engagement services for a complete solution.
Founded in 2015, Remote Team Solutions provides outsourcing services that include remote teams, offshoring, and nearshoring.
Its medical processing services help doctors and partners through billing support and automatic eligibility checks. 
Pivotal MD is a medical billing company offering revenue cycle management to help providers fill the gap between patient services and reimbursement.
The company streamlines its services by having an in-house credentialing team that helps maintain accuracy.
SkyWeb Service supports clients through solutions across multiple industries, including payment posting, accounts receivable, and claims processing. 
Its other services include image entry, legal document entry, and form processing, among other data offers. 
Automatic Claims Processing Inc. (ACP Billing) is a medical billing outsourcing company with over 18 years of experience to help you with your unpaid bills. 
It helps healthcare providers and physicians manage the day-to-day collection of their receivables, providing the highest quality service in the industry.
Alpine Medical Billing was established in 2012. The company works with therapists, counselors, clinical social workers, and other healthcare professionals. 
Intake forms, follow-up on outstanding claims, and more — Alpine Medical Billing covers the basics of billing support. Its team of experts can take on these tasks to help clients focus on treating patients.
Peakflo allows companies from different industries to save time when billing and creating invoices. The provider is trusted by finance teams from all over the world. Its services are designed to streamline payables and automate receivables.
Healthcare customers can also customize their platform by setting up WhatsApp and email reminders for convenience.