Top 20 Medical Billing Companies in Poland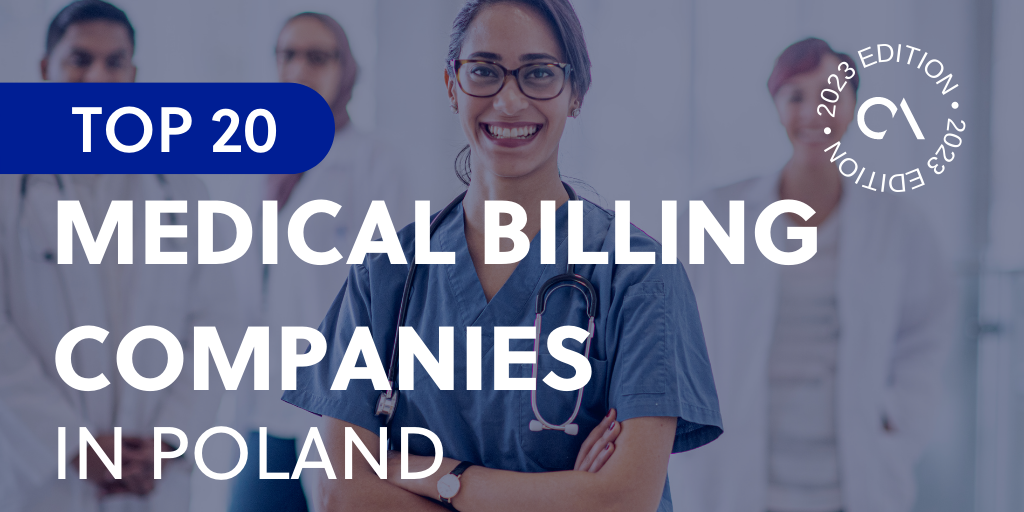 Healthcare is one of the many industries served by business process outsourcing providers. One of the known outsourced tasks in this industry is medical billing. 
Managing a revenue cycle department and ensuring it stays updated with the latest technology is a massive challenge for any healthcare provider.
Delegating medical billing to off-site professionals can help healthcare facilities drive compliance and minimize errors while freeing up their time. Additionally, it can speed up the process and lead to faster insurance payments. 
Here are the top 20 medical billing companies in Poland for healthcare companies looking for a provider that can help streamline their operations.
The value of working with a medical billing company
Some businesses may not feel ready to outsource. But it's always a good time to start shifting the way you see this business process and welcome the scalability it can bring to your business. 
Working with a trusted medical billing service provider enables businesses to reap a ton of benefits. Here are some of the highlights of outsourcing medical billing. 
Business optimization 
Office space, equipment, and in-house employee salaries are just some of the overhead costs you can lessen with outsourcing. Apart from cost savings, it also offers benefits that can help you expand your business.
Medical billing outsourcing will allow you to operate efficiently and improve your business focus without spending more. It can also help improve patient experience when done right. 
Learn more about why outsourcing can benefit your business in this Outsource Accelerator white paper. 
Compliance 
Medical billing regulations change regularly. This is done to make sure that the auditing and monitoring of clinical documentation and transaction are done to continue improving service. 
However, training in-house employees can stretch a budget thin and be time-consuming for some companies. One fix to this is outsourcing to service providers with updated compliance standards.
Emerging market
The European medical billing outsourcing market is projected to grow at 12.5% CAGR by 2027, as found by a study. It's full of potential that businesses can leverage.
Additionally, Poland is known as an established global destination for shared service center (SSC) and BPO services, making it ideal for nearshoring. This is due to its economic stability and highly skilled workforce. 
By outsourcing to Poland, you can work with a strong workforce and market that won't be going away anytime soon.
The BPO industry can do a lot for healthcare that can go beyond medical billing. Other top solutions for this sector include medical coding, medical transcription, HR services, customer service, and more. 
Top global outsourcing lists
Finding a BPO company that can provide the support your business needs can be daunting. Save time and money by browsing our directory of the best providers in the world.
Our team of advisors has deep experience in identifying the right outsourcing solution for your specific needs, so get in touch and let us help you optimize your workflow today!
Outsource Accelerator is the world's leading outsourcing marketplace and advisory. Find the list of over 3,000 BPO firms around the world and learn more about their price guides, reviews, and other information that can help you make the best decision for your business. 
Start browsing the leading billing companies in Poland. This list can help speed up your decision-making process and get you started faster. 
Top medical billing companies in Poland
IQVIA provides healthcare companies with advanced analytics, technology solutions, and clinical research services. Its medical billing service is designed to help improve billing and collection cycles, resulting in faster processing time and improving record keeping. 
The company operates in over 100 countries, with its headquarters in North Carolina, USA.
Allscripts was founded in 1986 to provide practice management and electronic health record technology to healthcare companies. It offers healthcare solutions and services that enable organizations worldwide to build open and connected health communities.
Its portfolio includes billing services as well as other revenue cycle management services. These services come in two portfolios for hospitals and physician practices.
Athenahealth's network-enabled services, mobile apps, and data-driven insights help improve outcomes and increase revenue for hospitals and medical organizations with expertise in revenue cycle management, including billing. 
The company also offers other outsourcing services for patient management, care coordination, and telehealth.
BillingParadise was started in 2004 to help healthcare providers with revenue cycle management services. The company provides 24/7 support for tasks such as reimbursement, collection of accounts receivable, electronic processing, and the like. 
The company also supports customers that use electronic medical records. It is certified by the AAPC and HIPAA.
Genpact is a professional services provider established in 1997. It works with global clients, including Fortune Global 500 companies, to solve their most critical business challenges.
It serves different industries, from banking to manufacturing, with specialized offers. Its healthcare solutions include revenue cycle management that applies artificial intelligence, machine learning, and automation to streamline the revenue cycle.
eClinicalWorks (eCW) is a leading provider of comprehensive Electronic Health Record (EHR) and Practice Management (PM) solutions.
Since its founding in 1999, eCW has become one of the world's leading providers of innovative technology solutions for patient engagement and population health management.
Its billing services come in a self-service practice management model and an RCM Service model for an end-to-end solution.
Experian is the leading global information services group, extracting insight from data to power decisions. Its services are designed to help customers grow their customer base while protecting them from fraud and security risks. 
Experian has over 20 years of experience in revenue cycle management. It offers a holistic approach to medical billing, from patient access solutions to payer contract management. 
R1 RCM is an American revenue cycle management company. The company supports hospitals, health systems, and physician groups. It provides a data-driven approach to support healthcare providers such as health systems and physician groups. 
R1 RCM offers medical billing with online bill payment, autopayments, and omnichannel customer service. Aside from this, they cater to companies looking for other services, such as financial clearance, coding management, and education.
Kareo is a software company based in Irvine, California, that makes cloud-based platforms to help small and mid-size independent medical practitioners manage operations, billing, and patient intake.
Its medical billing services include scheduling, charge capture, rules engines, claims tracking, and other features that can help optimize operations.
Helpware is an outsourcing company that creates customer support and back-office teams for modern companies. Its services include web-application support and development, as well as medical billing. 
Helpware's telehealth and customer service functions have been recognized by established platforms such as Clutch.
Medwave offers services for electronic medical billing, A/R Recovery, and credentialing. It serves healthcare providers and professionals in behavioral health, genetic testing, speech therapy, occupational therapy, and other practices. 
The company supports different providers, from inpatient and outpatient to residential hospitals.
24/7 Medical Billing Services is a medical billing services provider that provides a one-stop solution for revenue cycle management. Its key competencies include pharmacy, mental health, emergency room, and radiology billing services.
Established in 2005, 24/7 Medical Billing Services currently possesses several certifications from HIPAA and other organizations. 
InfoHub is an outsourcing medical billing service provider that supports physicians & practices. Its team of experts supports different specialties ranging from ambulance billing to telehealth. 
The company also offers medical coding, credentialing, and consulting, among other healthcare support. 
Advanced MD has supported over 40,000 practitioners globally since its establishment in the '90s. Its services include expertise, technology, and convenience in a transparent and scalable billing paradigm.
It supports customers through a complete cloud software bundle that covers front-office up to reporting. For pricing, the company has plans for specialty, site locations, provider count, and other factors to help meet business needs. 
Practice Fusion is a comprehensive web-based electronic health record system, medical practice management technology, and patient engagement solution for physicians. 
The provider offers automatic eligibility checks, flexible billing options, and professional billing support. Their services cater to doctors, patients, and partners. 
Remote Team Solutions was founded in 2015. It offers a broad range of outsourcing solutions, including remote teams, offshoring, and nearshoring. 
Remote Team Solutions has a comprehensive medical processing solution that covers billing, insurance checking, and tech support.
Pivotal MD is a medical billing company that helps providers fill the gap between patient services and reimbursement by offering revenue cycle management. 
Its medical billing team collaborates with its in-house credentialing team to streamline its process.
SkyWeb Service is a Data Entry outsourcing company that started in 2009. The provider offers business process services to a range of industries. 
The company supports healthcare clients through solutions, including payment posting services, accounts receivable, claims processing, and patient demographics. 
Automatic Claims Processing Inc. (ACP Billing) is a medical billing service company with over 18 years of experience. 
Its services include medical billing, practice management, AAPC-certified coders and registered nurses, and MIPS overview. 
Alpine Medical Billing was established in 2012. The company works with therapists, counselors, clinical social workers, and other healthcare professionals. 
It offers billing services for insurance and patients. The company's team of experts will provide intake forms, visit logs, and follow up on outstanding claims for a straightforward billing process.