Top 20 Medical Billing Companies in Europe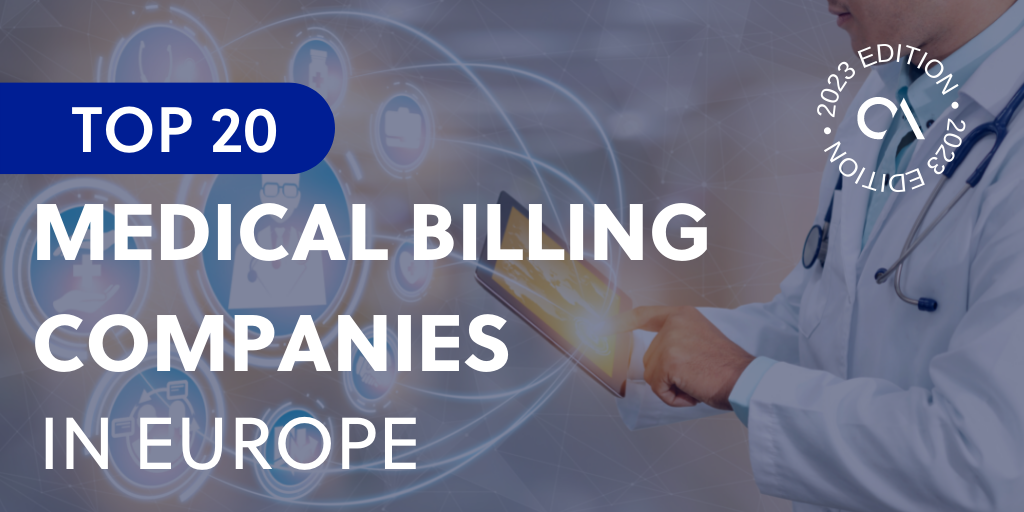 Although there are several steps in the medical billing cycle that might take a few days to many months, the top priorities are accurate billing and immediate follow-up.
The majority of states mandate that insurance companies settle claims in 30 or 45 days. On the other hand, payers establish claim submission deadlines that, if missed, void coverage.
Without the chance to appeal, the late claim is rejected, and the organization is not entitled to compensation. This is when hiring a trusted medical billing company comes in handy.
What is medical billing?
The process of creating medical claims to submit to insurance companies in order to get reimbursement for medical services provided by providers and provider groups is known as medical billing.
The medical biller tracks the claim after converting a healthcare service into a billing claim to make sure the organization is paid for the work the provider performed. A skilled medical biller can boost revenue generation for the doctor's office or healthcare facility.
How does medical billing work?
Although visiting the doctor may appear like a one-on-one conversation, it actually involves a complicated system of information and payment. Even though the insured patient may only engage directly with one person during the checkup, there are essentially three parties involved.
The patient is the first party, and the healthcare provider is the second party. Hospitals, doctors' offices, outpatient facilities, and any other location where medical services are given are all considered providers. Meanwhile, the insurance provider is the third and final party.
The biller puts all the data regarding the patient and the operation into a bill for the insurance company to process. A patient's demographic data, medical history, insurance information, and procedures done are all included in this bill, which is known as a claim.
Front-end vs back-end medical billing
The medical billing process has two stages: front-end and back-end. Front-end billing happens before the patient sees the doctor. All patient-facing tasks that are necessary for appropriate billing are performed during this phase, which includes the front office staff.
After the patient has seen the physician, back-end billing takes place. Back-end activities are not patient-facing once the medical coder has finished their duties and the billing team has access to the medical codes that represent the patient interaction.
Outsourcing medical billing services
In addition to interacting with patients, the medical staff also communicates with patients' relatives, confirms insurance coverage and deductibles, and examines and/or records medical information.
To guarantee the financial stability of their practice, healthcare facility employees are also accountable for executing medical billing, managing audits, evaluating fee schedules, and providing oversight for coding and charge reviews.
Medical billing requires entire concentration and knowledge to be done correctly, which is why so many healthcare providers are choosing to outsource their revenue cycle to experts at a medical billing company.
Benefits of hiring a medical billing company
Healthcare professionals should make an effort to manage financial chores alongside the practice's medical obligations, handle administrative tasks, and stay current with coding and billing standards.
Hiring a medical billing company to handle your medical billing tasks can be incredibly useful, and here are a few reasons why:
Increase in revenue
Certified professional coders are used by reputable medical billing businesses to filter claims before delivering them to payors. As a result, claims are processed more quickly, there are fewer denials, and the outstanding AR days (Accounts Receivable Days) are reduced.
By converting the cost structure from a standard departmental expense to a variable cost that is directly related to the net revenue received, working with a reputable medical billing business lowers overhead costs.
The medical billing fees decrease when patient visits and reimbursements do, and they increase when they do since the company may charge more for more volume.
Better accountability
The entire procedure will be automated by a medical billing service for the company. As a result, everything happens in the background without requiring much time, training, or administration. With the practice expanding, employees will have more time to focus on patient care.
Due to the fact that billing specialists are allocated to each stage of the revenue cycle, the outsourced billing service accepts complete accountability for the results of completing the entire revenue cycle.
Most practices understand medical billing errors because they recognize that their billing staff is frequently distracted by patient care-related tasks. With an expert medical billing company, there are no delays and no room for excuses because the main objective is to optimize their services.
Improved workflow
Monitoring workflow management can give doctors an insight into how they might increase staff productivity by concentrating on the medical components of the company.
The workflow may be slowed down if they were to divert their time and attention from their healthcare and financial duties. This is why delegating medical billing tasks to another party is helpful.
Additionally, hiring a medical billing company can help free up clinical space. By outsourcing medical bills, unproductive office spaces can be turned into money-making spaces like exam rooms or an on-site lab.
Medical billing companies in Europe
The growing demand for lower overall healthcare expenses is one of the main factors driving the market for medical billing services in the European region. 
Due to factors like constantly shifting pricing and reimbursement guidelines, the consolidation of major healthcare organizations, and mounting pressure on European healthcare providers to create more sustainable healthcare systems.
This market has a greater potential for growth, which is why medical billing companies that offer a wide variety of services continue to flourish all throughout Europe.
Top 20 Medical Billing Companies in Europe
Here's a list of the top 20 medical billing companies located in Europe:
Top global outsourcing list
Outsource Accelerator is the world's leading outsourcing marketplace and advisory. We list over 3,000 BPO firms located across the globe in our global directory, and we provide detailed information, price guides, and reviews.
Whether you're a solopreneur, SME owner, or corporate executive, we can help you find the most suitable outsourcing provider for your business.
Explore our outsourcing directory now. You may also check out our Top BPO Outsourcing lists per country here:
Top 20 Medical Billing Companies in Europe
MedSecretary offers a comprehensive medical billing services package that includes practice management, medical billing, debt chasing, transcription services, and medical reporting.
Established in 2005, MedServ has risen quickly to become the UK and Ireland's largest company specializing in medical billing.
They have patients in all of the major hospitals in Ireland and the UK and work closely with the HSE and NHS in addition to all of the major health insurers.
Patient Billing employs distinctive, innovative, state-of-the-art technology to issue invoices and process online payments securely and efficiently for their clients.
Established in 2004, DME Medical Billing is an end-to-end revenue cycle management system, a branch of Integra Global Corp.'s medical billing service, that aims to give DME/HME the highest possible reimbursement.
Medical Billing Direct (MBD), a dynamic, forward-thinking business with a committed team that has over 25 years of experience in delivering efficient billing and collection services, is based in London's Harley Street, the city's premier medical district.
Medical Accounting Services is a leading agency that provides invoice processing, credit control, and collection of outstanding invoices with a strong diplomatic orientation. They also provide worldwide trace investigations.
MediAccounts offers a renowned service where making sure that every invoice is settled is their top priority. They are passionate about standing for the medical practitioners' worth by making sure they get what is due to their given service.
Doctors Billing Services has excellent relationships with health insurance, private hospitals, and medical facilities and is familiar with the entire procedure of collecting medical bills.
A customized billing and collection solution is provided to the healthcare business by Premium Medical Billing Ltd (PMB), an outsourced service provider.
Their customized medical billing service relieves the burden of billing and collections from UK medical practitioners, increasing profitability and enabling improved patient care.
All medical practitioners can benefit from Bill Medical's complete and smooth solution, which takes the hassle out of billing, collections, and debt recovery by offering highly personalized, effortless service for clients and a safe, secure, and trusted service for patients.
MMP offers a cost-effective, user-friendly, seamless service for every administrative need. The company was created by a team of professionals, including medical practitioners, practice managers, accountants, and IT consultants.
Importantly, it does away with the necessity of hiring employees like secretaries because MMPL handles everything.
Because of their expertise, familiarity with medical clinic procedures, and attention to detail, the medical billers at Medical Coder ensure that no crucial information is lost and that no money is lost. 
By utilizing their services, company employees will be available to give patients the highest quality healthcare, and they guarantee that there won't be any revenue loss from claims that are rejected or denied.
Medical Billing and Collection's service is based on cutting-edge software created especially for the company and is suited to the needs of the individual consultant or group practice. They take a consultative and collaborative approach rather than acting merely as a supplier.
They provide services for consultants working in all specialties, multi-provider group practices, as well as a variety of clinics and hospitals.
The Coding Company uses the knowledge they have gained from many years of service to improve and raise the bar for health information management standards.
They assist clients by offering cutting-edge software customized to their needs and objectives, revenue cycle management services, HIM and healthcare management consulting, and employee education.
In the Nordic Markets, Belron® Solutions is an expert in offering top-notch customer service and claim handling. They provide services for insurance providers, auto leasing businesses, auto repair shops, and insurance policyholders.
The Genisys Group has spent the last 30 years assisting businesses in reimagining their operations for the digital age by providing comprehensive IT solutions backed by expertise, dedication, and strategy.
TELAG is a strong partner when it comes to customer engagement across all media. With their, 60 years of expertise in providing cutting-edge contact center services, every customer interaction is made positive by their team members' strong commitment to their clients.
Wecall's mission is to allow any business, whatever its size and the volume of its calls, to professionalize the treatment of its contacts at the best price by listening to the clients' service expectations and delivering them.
Dalerio Consulting is a well-run and capable group of people that offers top-notch services to businesses wishing to expand their network.
Their main objective is to continually provide their clients with high-quality service while exhibiting their skills and sense of accountability.
The goal of Hythehopes is to support medical professionals working in private practice and make sure they get rewarded for their efforts.
They achieve this by showing positive care for their clients, employees, and patients, staying informed about the complicated and constantly changing world of medical billing and collection, fulfilling their commitments, and showing respect for all parties.