Top 20 medical billing companies in New York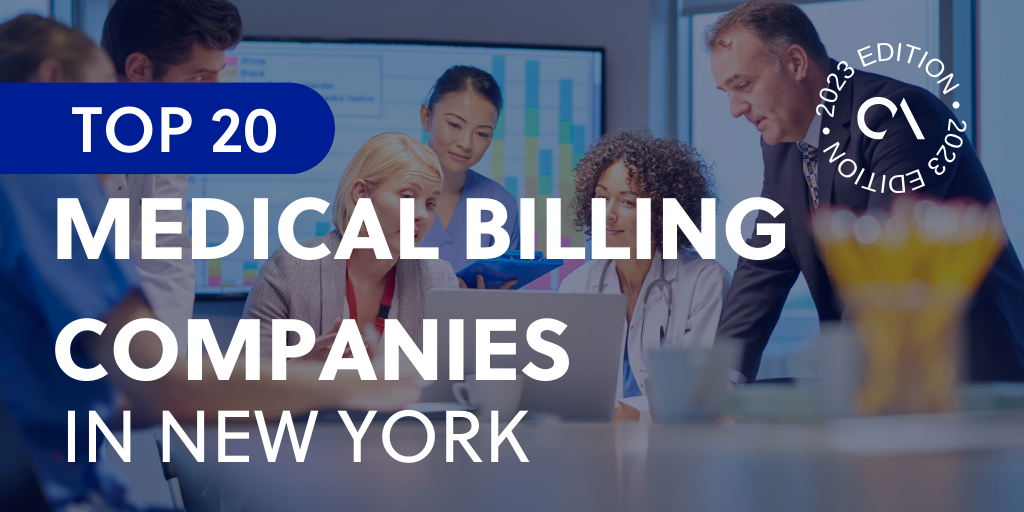 The US has one of the most advanced healthcare systems in the world. It is one of the first to revolutionize its care packages along with other European countries, thanks to increasingly automated solutions and the demand for better services. 
The advent of cyberspace and new care modalities have brought about new challenges in the healthcare industry. The Health Insurance Portability and Accountability Act (HIPAA) of 1996 and other regulations have complicated claims processes.
These new challenges paved the way for the medical billing industry. Each major city has multiple medical billers, with the emergence of various health insurance providers offering new sets of health packages. 
Medical billing: its definition and importance
Medical billing is the generation of healthcare claims by insurance companies to get payments for the medical services rendered to its patients. The medical biller will continuously follow up on the status of claims to receive reimbursements for the care provided by professionals. 
In the US, medical billing undergoes a rigorous process due to various regulations. This is further complicated by the difference between public and private insurance, which possess different standards and processes.
An experienced medical biller can optimize the revenue cycle for physicians and hospitals. Hence, the demand for outsourcing to medical billing companies ensues.
Benefits of outsourcing medical billing services 
The complexity of regulations in the US healthcare system makes it difficult for hospitals to process healthcare claims, along with the abundance of healthcare insurance companies in the country. 
This is the reason medical billing companies offer their services to physicians and hospitals. At the same time, they help medical professionals maximize their licenses at the peak of their careers.  
Outsourcing medical billing also helps reduce the expenses of training and hiring in-house staff. Lastly, with the scalable, time-tested solutions of these medical billers, physicians and practitioners can make better decisions through their readily-available data. 
List of top 20 medical billing companies in New York
Global outsourcing lists
Outsource Accelerator is the world's leading outsourcing marketplace and advisory. We list over 3,000 BPO firms located across the globe in our global directory, and we provide detailed information, price guides, and reviews.
Whether you're a solopreneur, SME owner, or corporate executive, we can help you find the most suitable outsourcing provider for your business.
Explore our outsourcing directory now. You may also check out our lists of top VA companies  here:
Top 20 medical billing companies in New York
Below is the comprehensive list of top medical billing companies in New York.
The majority of these service providers are RCM experts and are owned by career coders and billers. This makes the quality of service in the healthcare industry higher and more competitive. 
Altair Medical is based in Long Island, New York, and has one satellite office in Dallas, Texas. The company conducts auditing to identify financial leaks. It has 45 days time for revenue cycles and conducts a comprehensive review of claims and bills.
Barbara Young is a recognized and accredited member of the American Academy of Professional Coders, American Medical Billing Association, and American Institute of Revenue Cycle Management.
The company uses ADS EHR and RIS in managing medical bills and collectibles. They combine software technology and dedicated staff to send bills to patients with outstanding balances to ensure clients are paid accordingly.
Bikham was established in 2003; its initial offerings were digital content such as e-books. The company expanded in 2005 and integrated KPO services until it diversified to include healthcare, finance, and technological services.
The company is HIPAA and ISO-IEC 27001:2013 certified, with satellite offices in India and Singapore.
Billing geeks is a medical billing company savvy in managing bills and claims of patients. The company has an in-house team of nurses, medical practitioners, and experts that help in understanding the technicalities of medical records and other documentation.
This facilitates better medical processing and the accuracy of bills to be paid.
Cogneesol is a BPO company operating in the USA, Canada, Italy, Australia, and the UK. The company handles a lot of back-office support services while juggling the medical documentation and billing requirements of its clients.
Cogneesol is HIPAA compliant and ISO 27001 and 9001:2008 certified, ensuring excellence in customer service and support.
CureMD was awarded as the number one Ambulatory EMR/PM awardee in 2017 under the software and services category. This distinction is reflected in its wide range of care solutions that harness telemedicine and the generation of electronic health records.
The company's software app allows medical practitioners to keep track of their payables and clients, while patients can access its health records in real time.
FM Physician has 30 years of experience in the healthcare industry. The company specializes in Billing services, credentialing, and helping startups with their management needs. The company operates in New York, New Jersey, and California.
Its expertise is backed by a group of professional medical practitioners that provide medical chart interpretation and counter-checking of data. 
Genisys Group is a leader in AI applications across different industries, including healthcare, manufacturing, and marketing. The company's healthcare solutions are centered around revenue cycle management, data analytics, and patient administration services. 
Genisys Group integrates big data into software development, allowing its clients to use unique, cutting-edge billing strategies.
iRCM is a New York-based firm of medical billing consultants and coders that constantly deals with the complicated US healthcare policy framework. 
iRCM uses intelligent billing technologies which allow faster turnaround and secure processing of billing. The company has been featured by NBC, CBS, and Fox News for its innovative medical billing practices and solutions.
Maxim Management Services is a Medical Service Organization providing end-to-end administrative services.
The company is the most trusted billing company by Urology and Cancer patients in Western New York, giving them a wide range of services that include medical transcription, medical billing, and general consulting.
MBMNY is a full-service billing company that provides end-to-end revenue management for hospitals and medical facilities.
MBMNY manages outstanding claims from patients and insurance companies through a rigorous validation and claims tracking process. The company is an esteemed member of the HBMA.
MBW is a member of HBMA, AAPC, MBEC, and HFMA. Membership in these organizations, compounded with ten years of service, makes MBW one of the leading medical billing companies in New York.
Apart from billing, the company has a comprehensive RCM portfolio which includes eligibility verification, medical coding, audit, and RCM analytics.
MedEx has been in the industry for 27 years. The company specializes in full-service ambulance billing that caters to EMS companies.
Established in 1991, MedEx has successfully integrated automated solutions into its services, making the billing process faster, transparent, and more accurate.
Medeye is one of the medical billing companies in New York that covers a wide range of medical specialties, which includes Dermatology, Psychiatry, and Pediatrics. The company takes pride in its 24-hour turnaround time for submitting claims for processing. 
Armed with 15 years of experience, Medeye has served various hospitals, clinics, medical centers, and surgery centers. 
MedsIT Nexus was established in 2015 by a team of Certified Professional Medical Coders. From its initial beginnings, the company was able to grow and service the majority of the USA. 
MedsIT Nexus utilizes standalone EHR technologies that allow its users to access records through the company's cloud storage.
Medwise is a medical billing firm that helps individuals, legal teams, and insurance holders understand the content of denied medical bills and health insurance.
With a team of legal experts comprising its staff, the company provides expert resolution of medical billing disputes and errors. Medwise has been featured in Yahoo and The Boston Globe.
Millenium Medical Billing is a New York-based billing company recognized for its premium billing practices. The company was nominated and placed 2nd as Kareo's Billing company of the year in 2016.
All processes and operations of the company are HIPAA compliant. They focus on appeals, insurance billing, and patient billing services.
One Core Solutions is a full-service RCM solutions company catering to private physicians and hospitals. The company manages insurance denials and AR processes apart from medical billing. 
Being HIPAA compliant, One Core Billing Solutions maintains a large pool of credible and secure electronic data for real-time access.
Professional Ambulance Billing helps EMS companies get annual reimbursements often neglected due to high administrative workload and lack of familiarity with processes. The company is NEMSIS v3 compliant and takes advantage of its EMS software.
Paydoc is an RCM solutions company that provides end-to-end processing of bills, appeals, and claims. The company caters to a wide range of medical specializations, including Neurology, Nuclear Medicine, and Surgical Oncology.