Top 20 medical billing companies in Malaysia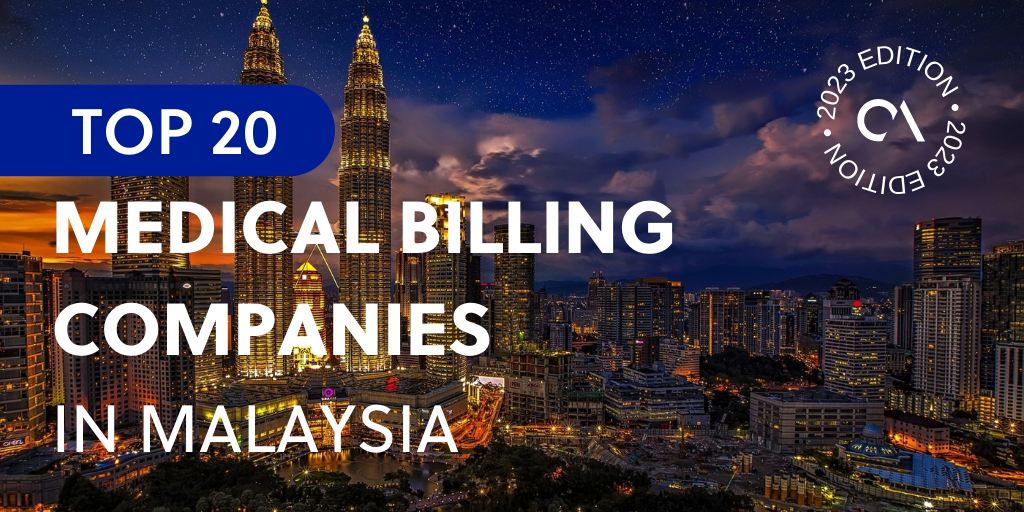 The patient's health should always be the number one priority of a healthcare institution. However, some healthcare professionals spend more time processing bill transactions, filling out forms, and doing other administrative functions instead of attending to their patients.
This has become a concern in Malaysia. To resolve this challenge, healthcare organizations gear toward outsourcing. 
Based on market research analysis, the healthcare BPO market is growing at a CAGR of 11.75% in the forecast period of 2022-2029. This growth goes back to business compliance and risk management, the need for efficient processes, and reduced in-house operational costs. 
Outsourcing enables healthcare professionals to deliver unrivaled healthcare to their patients.
Businesses should have modernized processes. It is crucial that companies that offer healthcare services like medical billing speak that same language of the business–technology. 
Poor business operations would not survive. With the confusing insurance process, recruiting problems, and keeping up with industry trends, there is no doubt why outsourcing a medical billing service provider is the next big thing.
Enhancing lives through healthcare enterprise solutions
Providing healthcare services means facing an evolving sector with many twists and turns, competition, and priorities. Organizations in the industry have no choice but to deal with it head-on and step up while delivering quality patient care. 
Moreover, some healthcare facilities are experiencing financial pressures. The challenging industry has become more difficult to face because of the rising costs, increasing patient responsibilities, and ever-changing laws and regulations.
With this, organizations look for solutions to achieve financial success. This is how digital technology breaks all boundaries–including the healthcare experience.
Top 20 medical billing companies in Malaysia
Top global outsourcing list
Outsource Accelerator is the world's leading outsourcing marketplace and advisory. We list over 3,000 BPO firms located across the globe in our global directory, and we provide detailed information, price guides, and reviews.

Whether you're a solopreneur, SME owner, or corporate executive, we can help you find the most suitable outsourcing provider for your business.

Explore our outsourcing directory now. You may also check out our Top BPO Outsourcing lists per country here:
Top 20 medical billing companies in Malaysia
The healthcare industry is always changing. There is nowhere to go but embrace it. Check out these top 20 medical billing companies in Malaysia and see how they change the game in the industry. 
Infosys has empowered many businesses through its AI-powered core with the help of its staff's expertise. The results are evident as it was recognized as the fastest-growing IT services brand. 
Infosys' 40-year journey has enabled its clients from different industries and countries to stay on top of their game. The company's innovative solutions allow healthcare organizations to scale up and power through digital transformation. 
Some offerings include enrolment and maintenance, premium billing, claims management, pricing configuration, and more. 
Accenture humanizes healthcare. They create a balance in maintaining efficient processes and empathy for customers. Their technology-enabled solutions build trust and loyalty, drive growth, retain people, and improve patients' lives.  
Accenture's healthcare BPO services include revenue cycle management, which tracks the patient's record from registration, and appointment setting until the final payment.
Clinical management, telemedicine, clinical informatics, chronic care management, and electronic health information management are some of the company's offered services. 
Sutherland Global believes that global organizations should value talent. They establish a diversified and inclusive work environment where everyone can thrive.
Delivering quality services, providing targeted solutions, and improving human experiences are at the core of everything Sutherland Global does.
They support healthcare physicians and their staff with their end-to-end solutions, such as telemedicine, patient relationship management, and business analytics reporting.
Expertise, automation, and innovation are the three pillars that make Cognizant the company it is today. Cognizant helps businesses navigate the ever-changing world. They do it through their industry expertise, transformed experience, and the latest tools and technologies. 
Cognizant's national footprint is apparent, with over 300,000 employees worldwide. It has been making a difference in many industries, especially in healthcare. They help modernize the IT infrastructure of healthcare organizations by offering cloud medical office software.
Through this innovative solution, their clients have simplified business operations, managed higher patient volumes, and remained focused on providing quality care to patients.  
Startek has been taking the digital healthcare experience to the next level for over 30 years. It is headquartered in Denver but has several onshore, nearshore, and offshore locations and employs over 11,000 professionals.
Startek supports healthcare organizations by delivering better customer experience, reorganizing their operations, and reducing operational costs. They serve the pharmaceutical and medical device segments, payers, and providers within the healthcare industry. 
The firm has a team of healthcare professionals, technical support, and clinical specialists built differently.
Some services they offer include revenue management, enrollment, customer care, billing and technical support, nurse triage, and remote patient monitoring.
Genpact has been relentlessly trying to make the world better for people. This has been their main purpose since the company started in 1997. They continue to be experts in several industries, transforming operations to improve customer experience.
With their efforts to fulfill their purpose, Genpact has employed more than 100,000 experts and generated annual revenues of $4 billion as of December 31, 2021. 
The firm has redefined patient care in many ways. Its solutions have helped many healthcare providers, health-tech firms, pharmacies, and payers generate profits, realize revenues, and improve patient experiences. 
Concentrix is customer-obsessed–in a good way. The company always wants to advance in solving the customers' challenges through data analytics and technology. 
Concentrix help business thrives in their respective industries by complementing their strengths. In the healthcare BPO spectrum, it has the scale to manage the business's sales and revenue generation and administrative challenges.
As a HITRUST CSF-certified company, Concentrix has a robust process to ensure compliance with all PCI, HIPAA, and applicable laws and regulations. 
Scicom is the leading BPO and Malaysian technology company. Its 20 years in the industry have taken different businesses in the right direction and helped them hit their end goals.
Scicom's expertise, knowledge, and methodologies have been the keys to accelerating the growth of its partners. It has expanded globally in 13 countries and plans to make its presence felt in more locations.
The organization is equipped with customer experience solutions to help businesses in various sectors be on top of their game.
It offers end-to-end solutions, including technical support, e-commerce, digital transformation, multilingual and omnichannel support, back-office, and intelligent automation.
Since the healthcare industry is complicated, the only way to deal with it is to make it simpler. That is why in 1993, R Systems set out on a mission to introduce digital transformation to businesses.
As a result, it has delivered unrivaled customer experience across the board. 
R Systems digitally transforms healthcare organizations through technology, AI/Analytics, and design. R Systems provides its partners with transparent data, visualization and reporting, and a clear picture of their overall business performance.
Their technology and custom solutions created value for businesses and helped them overcome the digital barriers holding them back. 
Across Asia Assist (AAA) is a core partner of the largest alliance of independent assistance organizations and providers worldwide. The company started with the purpose of serving its customers through efficient and customized solutions. 
AAA has a mission to become the leading assistance provider by incorporating advanced technologies while being human-centric. It has invested in five ambulances and housed a team of paramedics, delivering more than a decade of unrivaled experience in Malaysia and Singapore. 
Some of AAA's offered services include medical monitoring, medical billing and coding services, medical reports assistance, and other inbound assistance.
Being in the healthcare industry for more than a decade, Tech Mahindra has provided innovative solutions to address the problems with the traditional health model. 
Tech Mahindra's billing service is a multi-tenancy service. Their system can cater to multiple "tenants" or customers unaware of each other. The firm's integrated solutions show that the company puts customers at the heart of every innovation.
Being present whenever, wherever is what Webhelp is all about. Commitment, integrity, and unity are at the heart of their functions. The company operates in over 200 locations and has more than 11,000 creative minds. 
Webhelp has an end-to-end approach that has helped several businesses in different industries. They also combine development services with automation to provide more insights in terms of customer experience. This has been done without the firm forgetting about being "human."
Wipro has a long history of building innovative solutions to address the digital transformation needs of its clients.
By the numbers, Wipro had settled more than $15 billion in claims, had touched more than 50 million lives, and had over 1,300 active partners. These figures only showed that the organization knows how to make a difference. 
In the healthcare industry, Wipro offers solutions for payers and providers to boost growth and drive efficiency in business operations.
Some of these solutions include revenue cycle management (RCM), healthcare insurance exchanges, enrolment and billing, and provider lifecycle management.
When is "good" ever enough? For Teleperformance (TP), there is no room for being good; it should always be best. 
Its comprehensive portfolio shows its four decades of deep expertise in different sectors. With its global reach, TP serves 170 countries and employs 420,000 individuals across the globe. It also focuses on human-centric and streamlined services.
The organization offers round-the-clock support, record management, billing, coding, revenue cycles, test results delivery, and appointment scheduling in the healthcare segment. 
Brandt International has taken pride in strengthening human connections since 2001–understanding the customer's needs while providing quality service. Currently, the agency runs its office in Kuala Lumpur.
As the leading BPO company in Malaysia, Brandt International wants to help businesses acquire loyal customers. This is possible through their streamlined processes and end-to-end solutions for customer care, telemarketing, sales, and IT services.
They also provide outsourced management services and training portfolios in leadership, business operations, and organization management.
IKS Health has more than 6,000 employees who have been game-changers in the healthcare industry. The company wants to lead confused healthcare organizations on the path to success. 
IKS Heath can turn the challenges into opportunities while dealing with the risks using integrated solutions, insights, and industry knowledge. It also helps organizations perform better and achieve positive outcomes clinically and financially. 
The solutions IKS Health offers are clinical data management, revenue capture, enhanced documentation and coding, help desk support, revenue generation, and proprietary software solutions. 
ABeam Consulting started more than 40 years ago. The company's vision has always been to become Asia's leading global consulting firm. It has been providing business process outsourcing services to many industries. 
As ABeam Consulting scales, the responsibility grows as well. Its know-how solutions helped businesses of all sizes to achieve positive outcomes, especially in the healthcare industry. 
Conduent is a recognized global BPO leader in different areas, including customer service, healthcare, HR and Learning Services, and Finance and Accounting.
Conduent's decades of experience are a testament to the success of its mission. Its client-centric solutions have helped the company lead several businesses in the right direction. 
The company has partnered with healthcare organizations from other sectors, including payers, providers, pharmaceuticals and life sciences, government, and community health. They provide expert services to help them navigate the industry and reduce inefficiencies in their processes.
Working with Crowe means accessing years of expertise in several industries.
Healthcare outsourcing is one of the sectors where Crowe set foot successfully. It was designed to help healthcare institutions focus on quality patient care rather than time-consuming administrative matters. This results in an efficient process and lesser mistakes. 
Crowe's quality healthcare solutions include audit services, tax planning, reporting, revenue cycle management, and risk identification. These services have the power to improve the business operations of Crowe's partners continuously.
AS White Global (ASW) started in 2011 as a one-person business. It was built to improve startups, medium-sized companies, and big enterprises.
Today, AS White Global is an enterprise with hundreds of quality talents, all hungry to go above and beyond what is expected of them. 
ASW follows a five-step process to ensure its partners get the right people on the first try. It caters to the needs of businesses from various sectors–healthcare, accounting and finance, insurance, IT and software, marketing, legal, transport and logistics, and engineering