Healthcare BPO services in the Philippines
In the Philippines, the business went from $102 million to $460 million from 2010 to 2012. The Philippine healthcare BPO sector remains a reliable source of job opportunities since its rise in the last decade.
In fact, the growth within this industry continues even today, providing jobs to up to 100,000 Filipinos.
Healthcare BPO services
BPO for healthcare has many niches within the sector. The most common is the call center solution, but there are also medical billing, coding, transcription, and insurance claims processing.
These jobs are for the back-end of healthcare organizations. This allows medical professionals to focus more on their work rather than worrying about the back end of the business. Many people find that outsourcing will enable them to amplify their business to its full extent.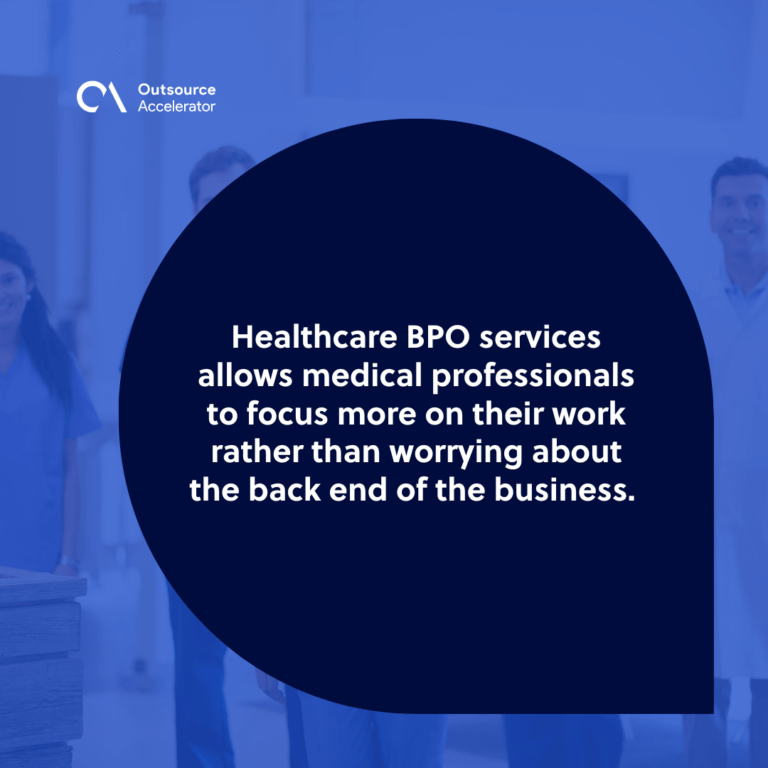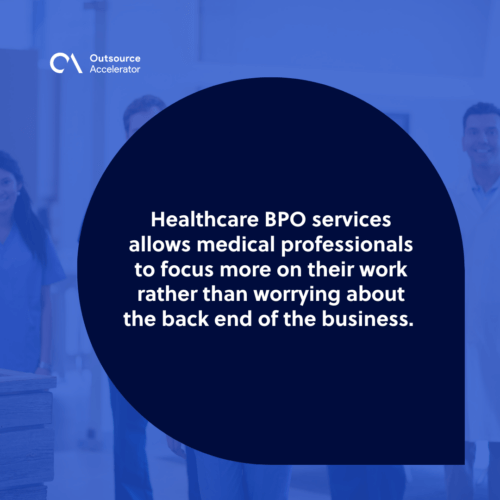 Top healthcare business process outsourcing solutions
Some of the top outsource healthcare BPO solutions, includes;
Medical coding
Remote monitoring
Revenue cycle management
Patient enrolment & strategic planning
Patient care
Medical transcription
Medical Imaging
Device monitoring
Provider management
Care management
Medical billing & accounts management services
HR services
Data/utilisation management
Customer service/support lines
Healthcare analytics
Insurance claims management
Product Development and Business Acquisition (PDBA)
Research and forecasting
Electronic health records (EHR) platform design
Electronic medical records (EMR) platform design
Other Non-clinical Services
Why does Healthcare BPO exist?
Having healthcare specialists work on the more tedious and repetitive parts of a medical process can help a person focus more on the aspects of their job.
Further, outsourcing these roles can help in keeping costs as effective and affordable to both the healthcare companies and the patients.
Healthcare outsourcing
The projected growth of healthcare outsourcing is supposed to be around $67.5 billion by 2024. This is because there are many factors that certified healthcare professionals do not want to have to think about during their day-to-day life at the office.
These include:
Improved quality of services
Costs of operation
Some healthcare company like CVS Pharmacy and Blue Cross Blue Shield outsource their healthcare needs. Hospitals are also a part of this list.
They often outsource their healthcare needs to their healthcare BPO partner so that the doctors and nurses can focus on care for their patients.
As the healthcare industry is a highly-regulated sector, these companies ensure they partner with industry regulations-compliant BPOs, like MVP Asia Pacific.
Within the hospital sphere, there is often an assistant to help with IT administrative tasks in-office and IT people to assist with any problems in the systems in-office. Virtual assistants are also common these days, as they are available with just a phone call or chat.
Finding healthcare outsourcing services can be difficult if the business does not know where to look. For highly critical matters like healthcare solutions, it's important to outsource to trusted BPO providers like ASW Global.
When going to find a healthcare BPO company or freelancer, here is a guide for the monetary costs of hiring an employee:
$1,200/month: entry level
$1,450/month: mid-level
$1,700/ month: technical
$2,700/month: executive level
Looking closely at the numbers needed monthly for services like paying the employee and keeping up with the service costs will help a company build smartly and efficiently, rather than getting stuck in an economic rut.
With these services, healthcare providers can expect significant benefits from healthcare BPO, which we will discuss in the next section.
Benefits of healthcare BPO services in the Philippines
With many benefits of healthcare BPO services in the Philippines, this occupation can be a perfect match for your employment or your business to find an outsourcer for their healthcare BPO needs.
Significant reduction in critical mistakes, expanding a company's offerings, increased productivity, and providing almost 1.3 million direct jobs to the people of the Philippines are just a few of the benefits of healthcare outsourcing.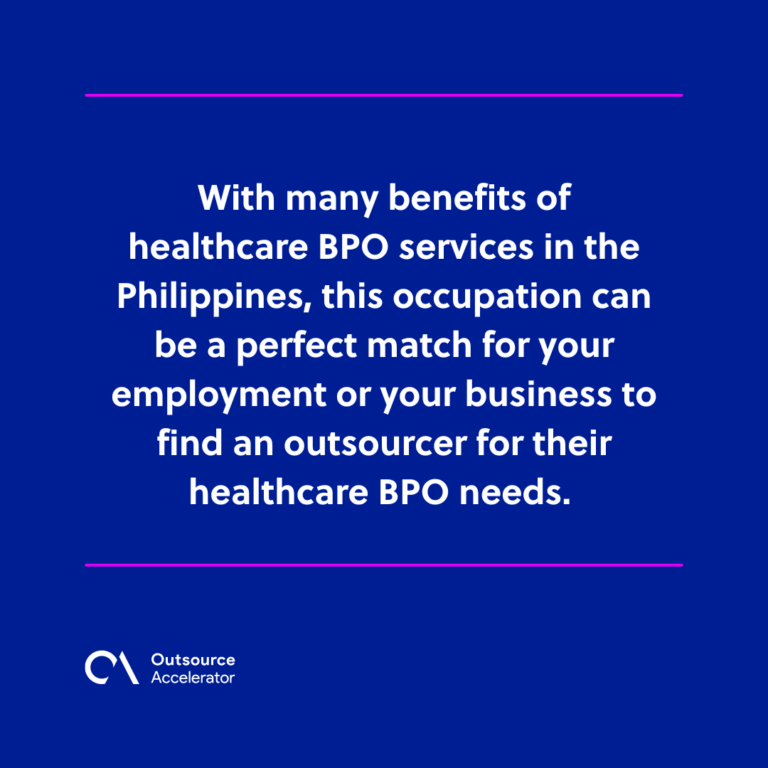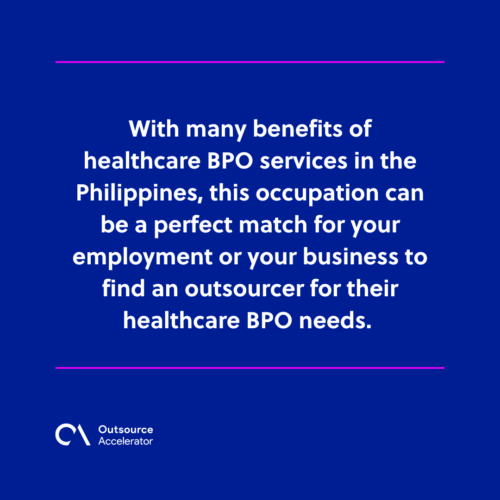 Why global companies outsource their healthcare services to the Philippines
The Philippines remains the call center capital of the world. It has been proven that Filipinos have the relevant experience, expertise, and educational background.
The Philippines also has a large pool of nurses, leading them to the outsourcing business for healthcare due to the need to find a job other than the traditional hospital or doctor's office nurse job.
By 2022, they fully expect around 700,000 additional opportunities for jobs in the medium and high levels.
This is excellent news, as many people become nurses and find that the hospital or doctor's office is not the place they want to be.
Healthcare BPO Outsourcing allows for them to find a different route with their nursing training still being used.
Healthcare BPO is a highly growing industry in the Philippines. While so many workers entering the workforce through nursing and not being able to find a traditional nursing job
In such cases, healthcare BPO companies has allowed these trained nurses to use their skills in a non-traditional way while still making very good money.
With much to expect from the BPO healthcare sector, there is a lot more in store that will be developed in places like the Philippines, simply because they are one of the leading countries within the BPO world.