Strengthening healthcare support through offshore staff augmentation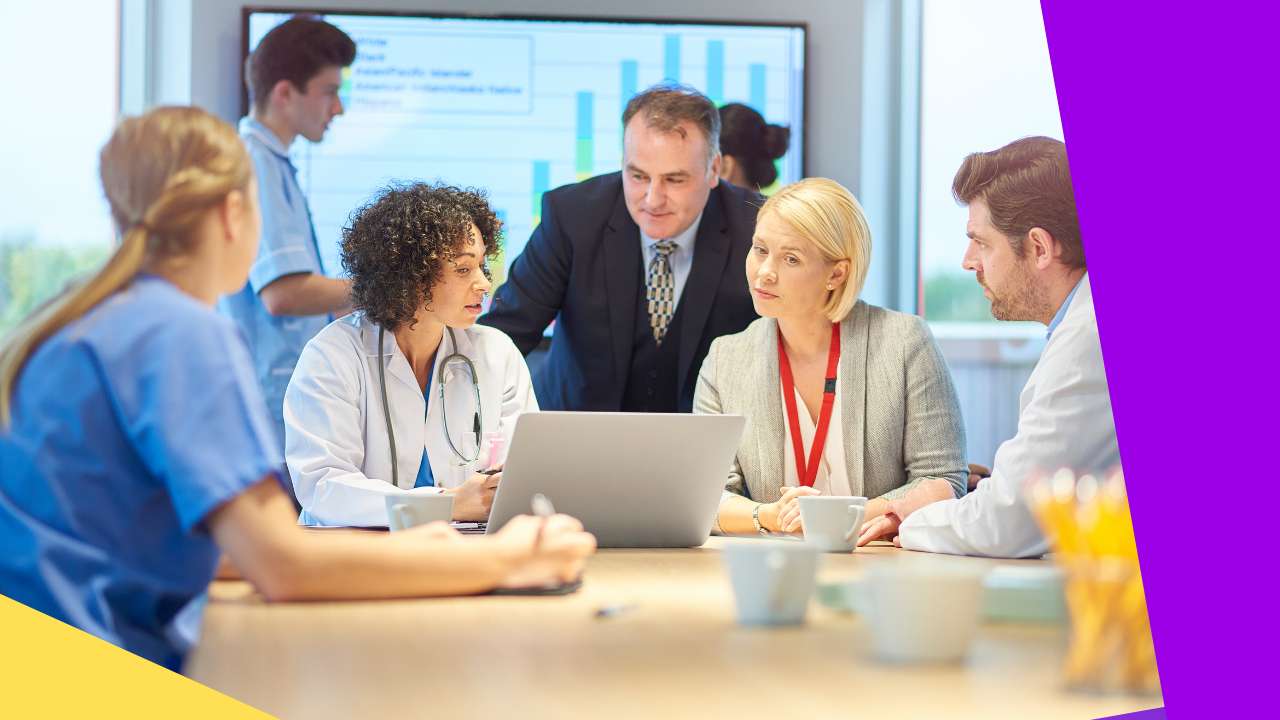 Strengthening healthcare support through offshore staff augmentation
One year into the unprecedented COVID-19 pandemic, the healthcare industry has gained a renewed appreciation and respect from the whole world. The sector, like the rest of the globe, was basically ambushed by a global health crisis. However, the sector has the added responsibility of keeping everything in place.
The world had to rely on the global healthcare industry to survive in the ongoing pandemic. Due to this, the overworked sector was forced to come up with adjustments, make quick decisions, and efficiently streamline COVID-19 processes in no time.
Further, as we all adjust to get ready for the new normal, the healthcare industry also needs to be improved. The first step to improvement is looking at the pain points and issues of the sector, then start working from there. 
The current issues of the global healthcare industry
Here are some of the current issues of the healthcare industry:
COVID-19 concerns
The COVID-19 pandemic seems to be a little too far from over. This crisis caused financial challenges for hospitals and clinics, staff and facility inadequacy, and unfortunately, mortality of healthcare professionals.
Projected vaccine rollouts
Some countries have already started their vaccination drives, while others are still in the planning stage. No matter the phase, vaccinations will all fall under the healthcare sector's shoulders. They need to recommend the best vaccine, help disseminate the right information, and frontline the actual vaccinations.
This is going to be a busy year for healthcare workers and the entire industry. They're gonna need all the help they can get.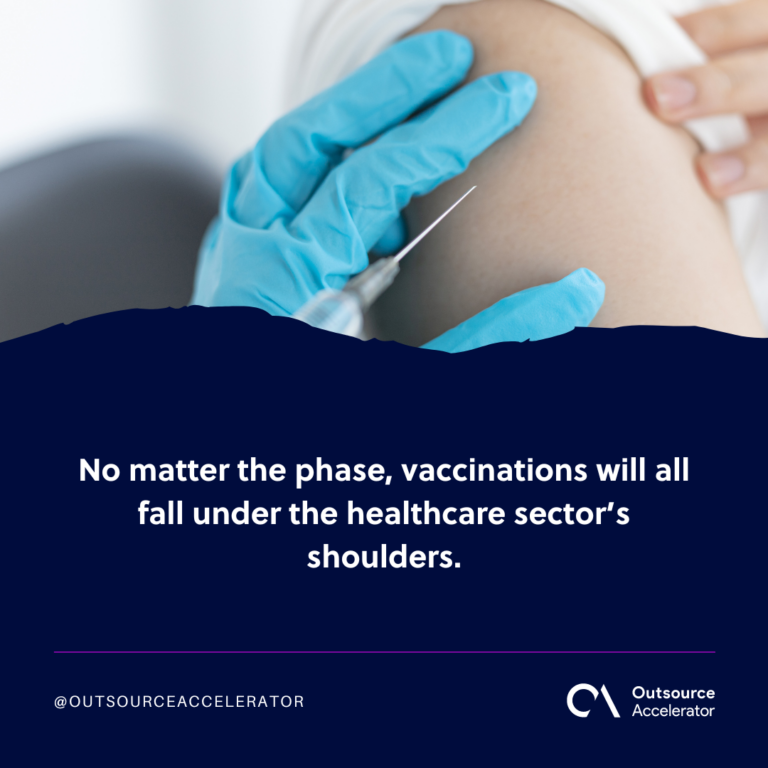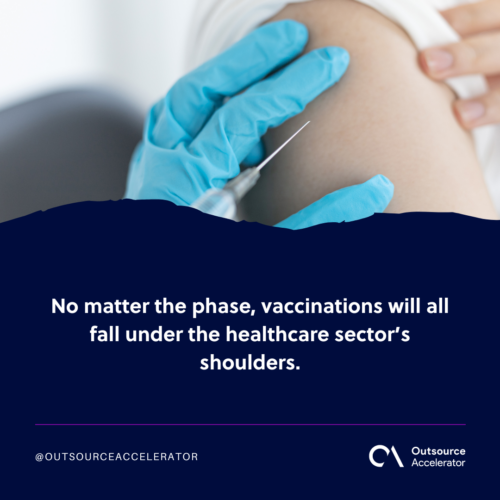 The rise of telehealth care
Medical facilities don't only cater to COVID patients; they also need to take care of patients suffering from other diseases and issues. For concerns that don't necessarily require patients to come to the clinic, telehealth care can be the perfect solution.
Telehealth care is the process of using digital devices to access and manage health care. It makes health care accessible to people who can't go out of the house, or those who live in isolated areas.
Through telehealth care, patients can virtually communicate with their doctors and/or nurses. Services can range from online check ups and requesting prescription refills, to Zoom therapy sessions. The rise of telehealth care is in perfect timing, as people can easily obtain their medical needs.
Healthcare support and offshore staffing: How will it work?
Online healthcare support is real, and it's efficient. While this idea seems crazy for some, telehealth care is arguably going to be the future of healthcare.
Offshore staffing, surprisingly, plays a very significant role in telehealthcare. There are various ways that remote teams can help in order to efficiently provide high-quality online healthcare support.
Outsourced Customer Care: 

Customer support and their related infrastructure services are the most outsourced business functions and for good reason. Outsourcing destinations have several decades of experience in providing quality omnichannel customer service for the healthcare industry. Modern call centers, are especially important for growing healthcare brands, helping them scale economically, without sacrificing quality. 

Practice Management:

There is a lot of back-office work required behind the scenes to make the front-end experience smooth. Finding the right offshore provider who can help with appointments, patient management, claims and denial management, clinical documentation and other back-office services is an important piece to delivering a smooth telehealth experience.

Community Moderation: 

It's vital that you listen to your customers and build trust with them. The best way to do that is by creating and facilitating a safe of the productive environment to engage with you, in the form of a well-moderated support community. Doing so helps telehealth care firms better understand their customers, drive product innovations and provide top-notch virtual healthcare services and support to their patients.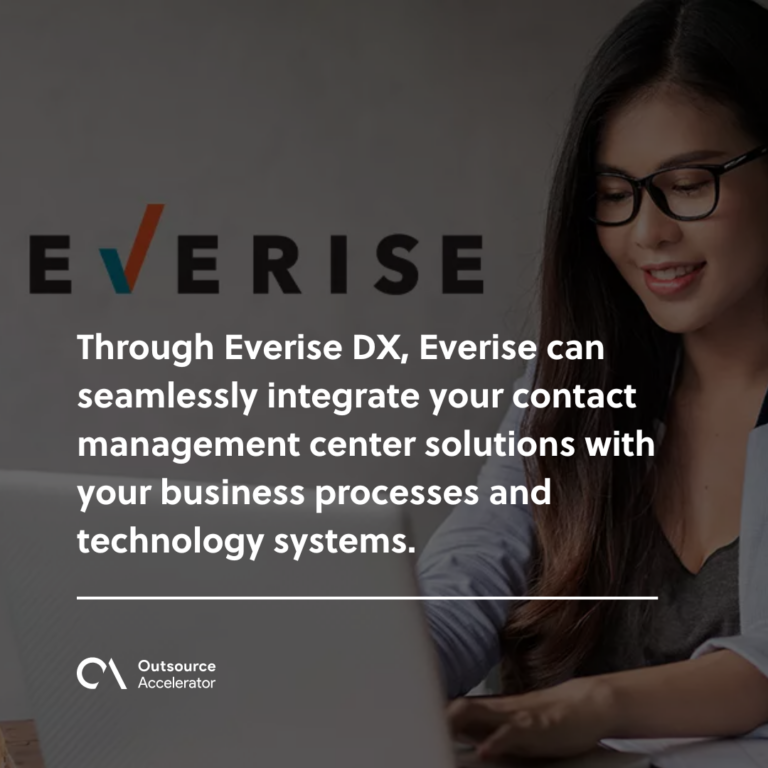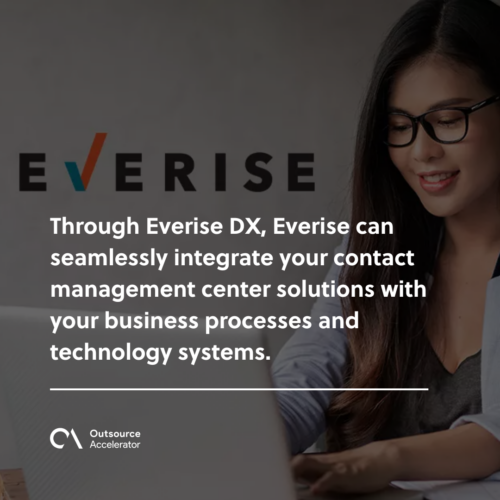 Everise is an award-winning customer experience solutions and technology firm with a 10-year heritage supporting major healthcare brands. They have over 7,500 healthcare agents globally, who mediate some of life's most important interactions. Visit Everise's website for more information.