Definition
Health care call centers offer medical consultations and also act as a forum for physicians. It also serves as an ideal connection between patients and physicians.
The health care call center is a call center designed to handle the hectic phone lines of healthcare professionals. This program is critical for relieving the pressure on healthcare providers by eliminating the hassle of dealing with many patient calls.
Healthcare call center primary services
The majority of healthcare call centers provide a combination of home health care facilities and advanced medical services.
These healthcare call centers are said to be very vigilant and concerned when dealing with patients and family members.
It is why they always answer your question within a moment and with complete sympathy.
Additionally, here are the other primary services offered by healthcare call centers:
Accept and manage large amounts of incoming calls 24 hours a day, seven days a week.

Healthcare call centers are using structured information processing to manage the patients' prescriptions and records conveniently.

Evaluate the patient's drug compliance and provide a real-time report on the patient's in-house condition.

Patients' funds are collected directly from them.
Benefits of a healthcare call center
A good healthcare call center service uses the expertise and skills of highly qualified professionals in accounting, customer service, payroll, information technology, and other fields that are not inherently central to the healthcare sector. 
Increased concentration leads to increased productivity
Healthcare outsourcing allows these medical professionals to concentrate on their work without being distracted by ringing phones since this role delegates to trained call center agents.
This simple division of roles will significantly improve the performance of any healthcare professional.
Expertise and cutting-edge tools are available
Healthcare call centers provide superior and dependable support to their valued clients while positively impacting their profitability. They also offer advanced equipment without having to invest in your own.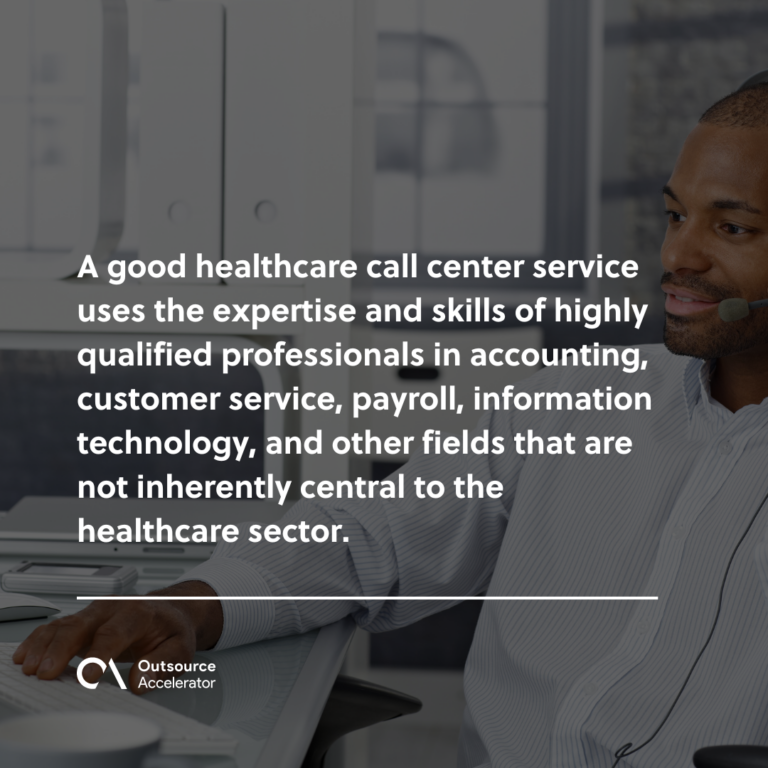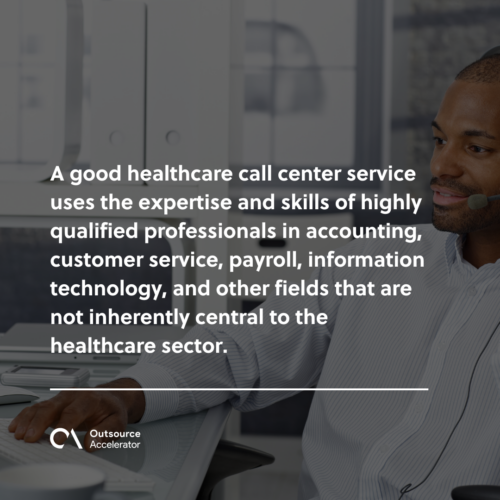 Accessible healthcare service
The key benefit of this virtual call center is that people living in remote areas can quickly contact them and receive assistance. In other words, anyone will benefit from this service.
These healthcare call centers are a reasonable option for hospitals, home care, pharmacists, doctors, and nursing registries.
Reduced the risk and improved compliance
Strict rules and guidelines apply to professional healthcare call center facilities.
Rather than taking the time-consuming road of learning these legal and industry requirements and running the risk of erring, healthcare providers can save time and feel more secure in their compliance status by outsourcing the professionals.
The drawbacks of a healthcare call center
Value can not be equated with price alone since there are several considerations to weigh when hiring a healthcare outsourcing company.
Although most BPO companies in healthcare are affordable, not all can provide the patients with vital and necessary maintenance. The aim is to save costs while increasing competence and customer experience.
Healthcare call centers can't examine their patients physically. During the on-call sessions, the professionals must rely on patient self-reports. It will necessitate physicians to ask further questions to obtain a complete health history.
If a patient fails to report an important symptom that could have been detected during in-person care, treatment could be compromised.
Although, if a patient has an immediate need, they should get an appointment the next day. A good healthcare call center will collaborate with patients to ensure a positive experience.