Contact center solutions for the healthcare industry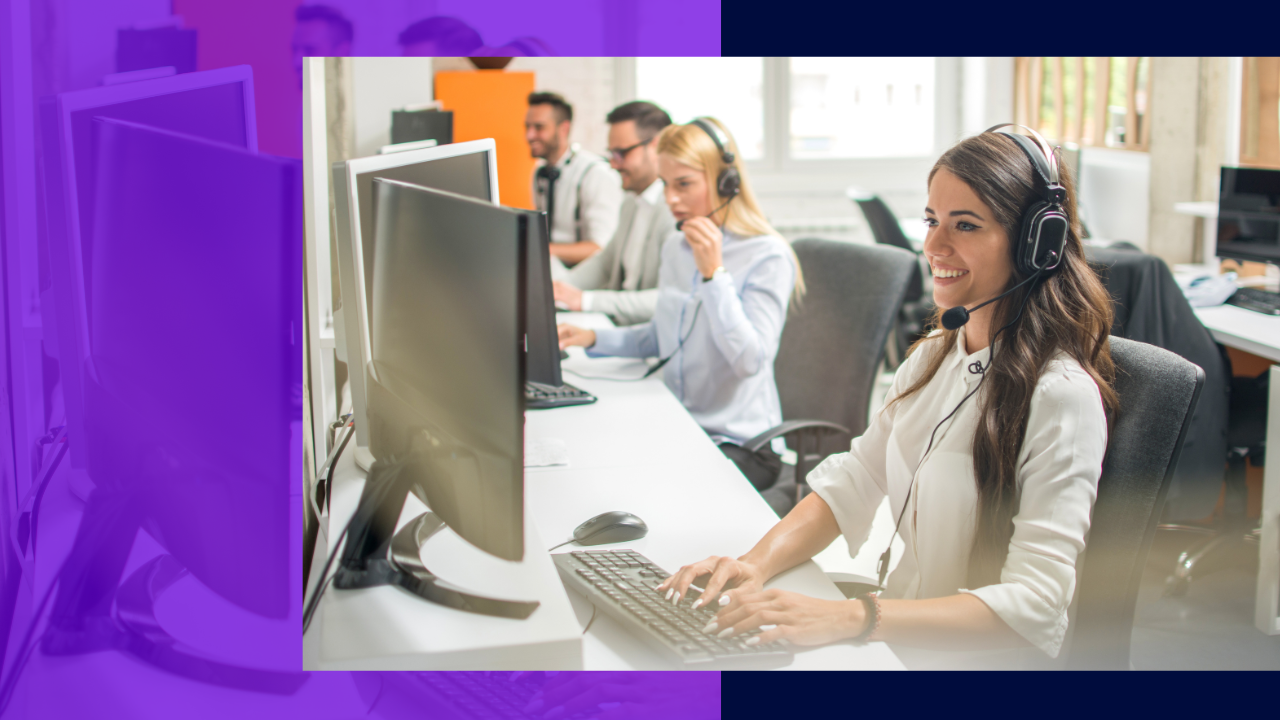 In times when the healthcare industry is becoming stable and self-sufficient, incorporating technology and outsourcing processes has become a norm. Not only will it take this industry to the next level, but it will also aid in providing superior healthcare to the public.
Outsourcing allied functions is a proven way to let the organization focus on its core competencies. The benefits of outsourcing outweigh all speculations related to the risks involved.
Healthcare call centers shift you towards a customer-centric model, which improves the perception of healthcare organizations.
Advantages of healthcare call center
Here are the major benefits of utilizing a healthcare contact center services:
You utilize multi-channel communication platforms
You can connect with your patients through all possible communication channels when you opt for multi-channel platforms through healthcare call center software. Emails, voice, social media, web chat, and other possible mediums are integrated with your communication strategy.
This provides a seamless patient experience. The contact center agents can quickly switch between channels without losing the context of patient engagement.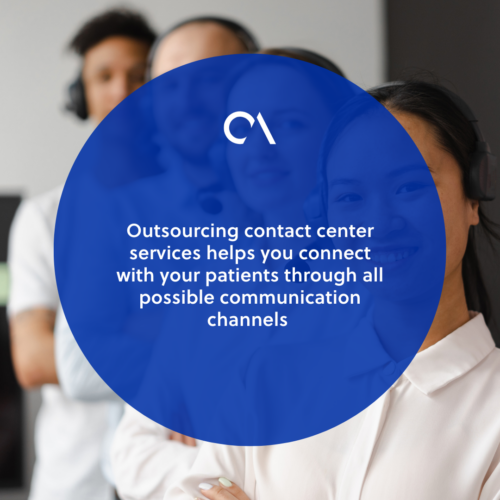 24/7 customer contact center
Round-the-clock customer care brings an immense boost to the satisfaction levels of your patients, who are after on-demand and immediate attention. On your end, it means lesser operating costs and improved call quality during peak hours.
With increased service levels, you can scale your business and ensure business continuity. This 24/7/365 customer support is at a fraction of the cost when you opt for contact center outsourcing.
Work with experienced contact center agents in handling customer care and technical support
Customer care outsourcing advantages go far beyond cost-saving initiatives. You stand to leverage the benefits of their competent and experienced workforce. These contact center agents excel in providing specialized customer care and technical support across various industries like healthcare.
On the other hand, it becomes a difficult task if you opt for in-house contact center services.
Benefits of outsourcing customer service
Your outsourcing partner will provide healthcare customer service with ease, thereby reducing stress for you and saving resources.
While you retain your patients, your executives and medical professionals have all the time to focus on critical business operations, as well as improving patient healthcare and diagnosis.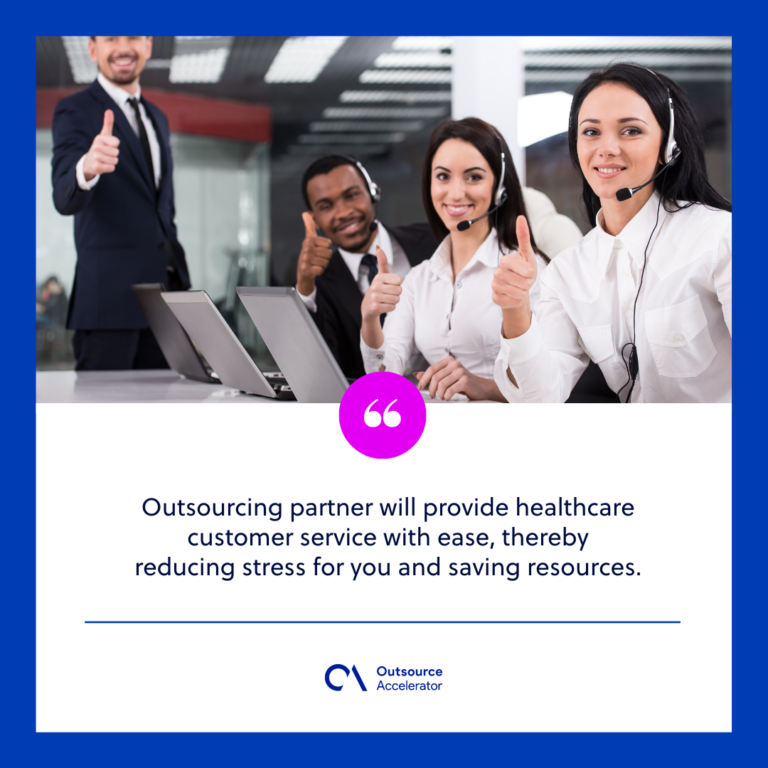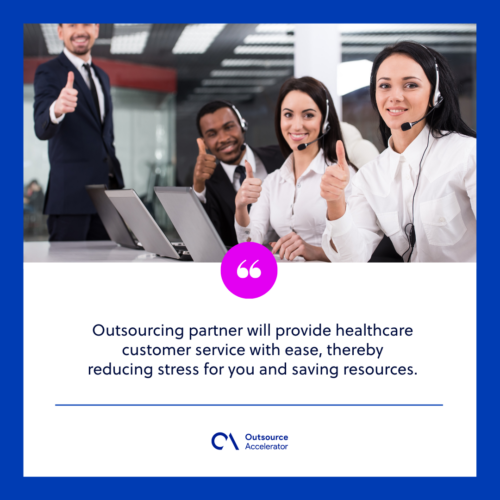 Faster response rate
Your patients appreciate the ease of communication and expect an instant result. If you fail to do so even in one instance, you stand to lose business, at worst, a life.
One significant benefit of outsourcing customer service is delivering a faster response rate for your patients. Even at peak hours, the service levels of a medical call center do not drop, which is what you will always expect.
Omni-channel communication media
Any customer of today utilizes a combination of channels for communication. They will use emails, phone calls, social media, and all other mediums. In your effort to provide a pleasant customer experience, an omnichannel communication strategy works best.
Healthcare call center services will not just ensure patient satisfaction; it will also serve as a tool for patient retention. You can rest assured that your outsourcing partner invests in the latest call center software.
Customer care quality assurance standards
The sole objective of any competitive customer care is customer satisfaction and retention. When quality assurance standards are implemented, it automatically means that you have taken your customer care to an excellent level.
Contact center solutions for healthcare are ideally designed to ensure that it meets the quality assurance standards in any region.
Healthcare contact center outsourcing solutions
Service quality is not a luxury that you offer to your patients; it is the bare minimum that you need to provide. Healthcare customer care outsourcing delivers a range of benefits.
Immediate patient care information
You know it quite well, better than anyone else does. In healthcare, every second counts, and even the slightest delay in patient care can be disastrous.
Healthcare call centers understand this principle very well.
Your outsourcing service provider will offer solutions that ensure immediate and precise patient care information is available to you and your employees.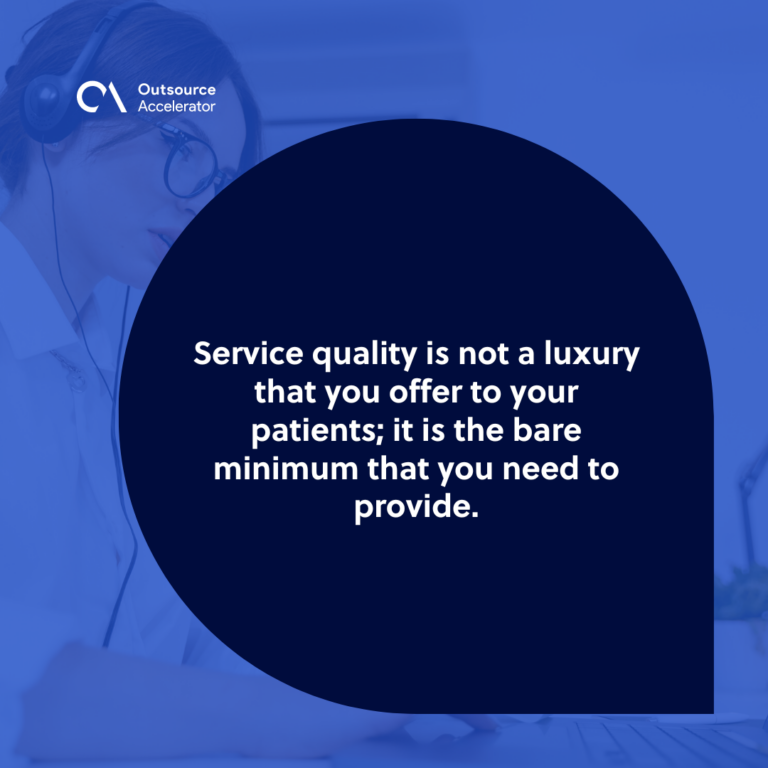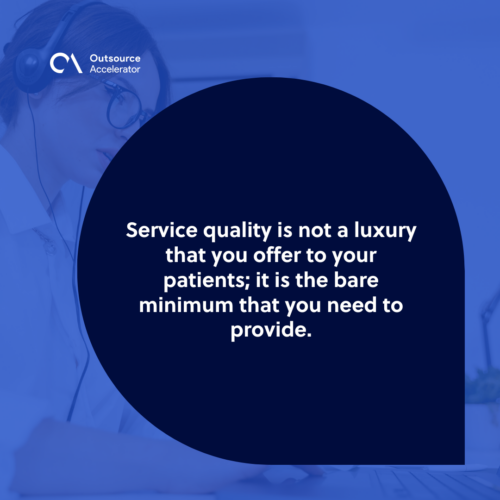 Online consultation services
Online consultation services have a good impact on the healthcare industry – and this transformation is changing the lives of many people. Apart from the convenience factor that it offers to the patients, there are many reasons to go for this option.
With a healthcare call center, you can provide prompt medical attention, and the 24/7 availability for your customers goes a long way in boosting your business.
Doctor appointments and scheduling
No longer do your customers wait for long hours for appointments with doctors.
The customer care solution provided by your outsourcing partner arranges the doctor appointments and scheduling through various communication channels giving ease and comfort to the patients.