Top 20 medical billing companies in Jamaica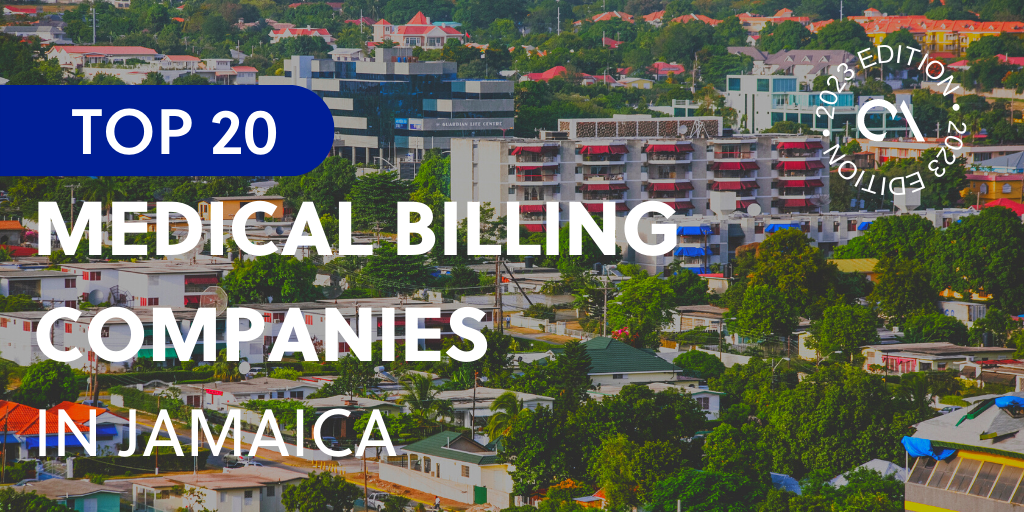 Business process outsourcing (BPO) has become integral to globalization. It streamlines operations and drives growth among all industries, including medicine, healthcare, and insurance processing.
One particular service provided by BPOs is medical billing.
Imagine having a third-party company specializing in interpreting insurance policies, verifying claims, and generating reports for medical service payments. With a medical billing BPO, your organization saves time and workforce going through these processes.
Jamaica is becoming increasingly known as a provider of medical billing services. Local BPO firms now cater to a range of clients, mainly from the United States and Europe.
In fact, Jamaica has become a crucial BPO location in the English-speaking Caribbean region. This distinction comes from the volume of investments expected in The Rock.
If you're looking to capitalize on the advantage of the Jamaican outsourcing industry, this article is for you. By highlighting their strengths and identifying the leading firms, you can weigh your options for your medical billing needs.
A look at medical billing in Jamaica
After decades of a stagnating economy, Jamaica is seeing steady economic growth. The World Bank credits this growth to the Caribbean island's skilled labor force and positive governmental and societal factors.
As a rising BPO hotspot in the region, the Jamaican government has invested heavily to accommodate the rapid growth. Local officials aim to grow local employment in the sector to 70,000 jobs by 2025.
Currently, most BPO firms in the Caribbean country are concentrated across its main cities of Kingston, Portmore, Montego Bay, and Mandeville.
Medical billing is one of the significant services offered by Jamaican outsourcing firms. Among the most common professions relating to this include:
Billing and Coding Specialists

: In charge-of medical billing legwork, they are tasked with encoding services, procedures, and treatments provided by a healthcare facility.

Insurance Verification and Authorization Specialists

: This position usually requires people with experience in the healthcare sector who are in charge of reviewing and making recommendations regarding medical billing claims.

Medical Records Technician

: They are responsible for updating and reviewing patients' medical records. MR Technicians can also be tapped to transcribe these confidential data into code per existing guidelines.

Medical Collectors:

This outsourced position tasks agents with collecting overdue patient payments.
Top 20 medical billing companies in Jamaica
Outsourcing medical billing processes worldwide  
With Outsource Accelerator, you can find the latest information about business process outsourcing. We have information on over 3,000 outsourcing firms worldwide. Find accurate profiles, price guides, and reviews on each of these offshore service providers.
You can check our outsourcing directory right away. You can also browse through our lists of top medical billing service providers in different countries below:
Top 20 medical billing service providers in Jamaica
The following list features BPO companies that offer different services as well as those dedicated to serving the healthcare and insurance sectors. They specialize in meeting offshore business process requirements for clients of different sizes.
Kingston-based Fusion BPO Services delivers top-quality call center resources to various industries. As a medical billing provider, they will cover your end-to-end needs, from patient care to claims management.
Boasting its massive roster of over 700 skilled and trained representatives, Fusion has emerged as a local BPO leader. It also serves other fields, such as tech and retail.
Another rapidly-growing solutions provider in the Caribbean island is IBEX, with an office in Portmore. As a significant player in the local BPO industry, IBEX has the largest facility and staffing volume in The Rock.
As a reputable medical billing service company, it features an end-to-end environment for patient and consumer support.
GGS markets itself as a "leading provider of global contact center solutions." As such, it caters to different markets, including finances, telecommunications, insurance, and healthcare.
Global Gateway is headquartered in Florida, US, with a satellite office in Montego Bay, Jamaica. It specializes in debt collection and telemarketing.
Similar to GGS, Contax360 is also a US call center firm that has expanded into the Jamaican market. Its Montego Bay office houses a native English-speaking workforce on top of virtual teams worldwide.
Its dedicated legal and healthcare processing section is designed to deliver full-stack medical billing services to organizations of all sizes.
Platinum BPO Solutions is headquartered in Montego Bay and offers a range of services designed to serve various industries worldwide.
As a medical billing provider, FIX BPO is designed to cater to smaller firms looking for an affordable alternative to other firms in this list.
Established in 2012, GO Solutions has continued to expand and currently boasts one of the most cost-efficient packages and quick onboarding of clients in the healthcare space.
While it offers end-to-end medical billing services, GO focuses on debt collection and telemarketing.
Magissistant was founded in 2018 in Atlanta, Georgia. Shortly after providing nearshore customer service in the United States, it expanded into Ocho Rios, Jamaica.
Magissistant in Jamaica focuses on the customer service aspects of medical billing. 
Another international provider of customer experience management, itel has 15 facilities across seven countries. It is known for serving a wide range of industries such as automotive, retail and commerce, and healthcare.
Its Jamaica location is based in Kingston and is equipped with HIPAA-compliant practices for top-quality medical billing services.
Although the ADS Global headquarters in Philadelphia focuses on telesales and e-services, its branch in Montego Bay offers a greater range of solutions. This includes a range of medical billing functions for local and international clients.
Aside from debt collection and claims processing, its mid-sized team is also well-equipped to help healthcare entities through its contact center management capabilities.
Specializing in customized service packages, Supirax Global Corporations is an increasingly popular option for medical billing. It is becoming a preferred provider in the US, the Caribbean, and the Indian subcontinent.
Worldwide BPO & Call Centres hosts its operations in Kingston. Focusing on complementary back-office processes, it is well-equipped for managing medical billing and insurance claims.
Its experience makes Worldwide BPO the trusted provider of specialized services such as medical collectors and account recovery professionals.
Founded in 2003, Etech holds the distinction as one of the first call center agencies in Jamaica. Over the years, it has retained a strong client base across different industries.
As a tenured medical billing service provider, Etech is well-equipped to provide the needed resources to clients worldwide. Its 24/7/365 commitment plus scalable teams give this company an advantage.
Guardian Life Limited is an insurance firm serving local businesses in Jamaica. As such, it has an in-house team for medical billing processing and collection.
As the local branch of the international Guardian Life brand based in Manhattan, its local offshoot is a trusted partner for Jamaican enterprises of varying sizes.
VXI has locations across over 40 countries worldwide. Its office in Kingston, Jamaica, is one of the fastest-growing locations that delivers billing management solutions.
It is known for its fast response times and its ability to deliver key customer process goals.
Among local players in the Jamaican business process outsourcing scene, Globescope has managed to secure a unique space. It boasts the best security features for a BPO company.
As a medical billing service provider, Globescope is well-equipped to access, control, and manage sensitive patient information.
StarTek is a customer engagement specialist located in Kingston. The global brand serves six strategic segments, and its Jamaica office helps oversee the Americas.
For medical billing needs in the region, this mid-sized firm is perfect for your personalized and budget-restrained outsourcing needs.
Iterum BPO is a homegrown call center agency serving international clients across different market sectors. With a focus on improving customer experiences, they've made a name as a medical billing services provider.
Located in Kingston, it boasts a cloud-native environment, giving it an advantage in speedy onboarding and plug-and-play requirements. 
With a proven track record for B2B-focused solutions, Visionary Outsourcing has catered to both local companies and international Fortune 500 organizations. Its Jamaican office is located at Montego Bay.
For large businesses looking for experienced representatives, this is the provider to consider. It maintains an average of 3 years of experience among its agents.
KCG BPO is a rising end-to-end call center provider, covering training needs and customer support among its offerings.
However, its excellent customer service record is offset by the limited range of services for the medical billing field.
This rapidly-growing BPO in Old Harbour is a worthy option for smaller organizations looking to outsource their medical billing requirements at reasonable rates.
Their services in the medical billing space range from customer follow-up calls to mang service information dissemination.
Find the right medical billers for your business
The rapid growth of the medical billing space among Jamaica-based BPO firms means that new players are sprouting every time. If you're an employee for a local service provider not mentioned in the list, let us know at [email protected]. 
Conversely, the companies listed above can help foreign business owners assess their options as they look to outsource their medical billing needs.