Why should you outsource medical billing services?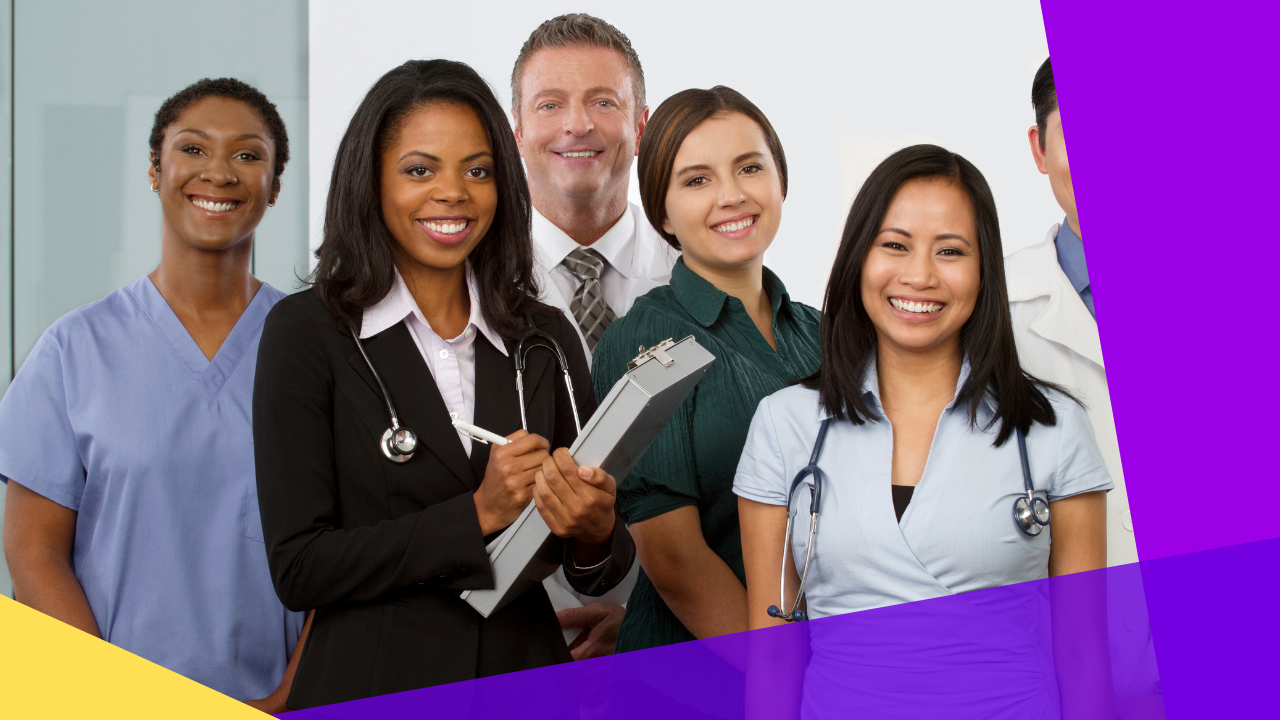 Why should you outsource medical billing services
Medical billing is considered a crucial part of a medical institution's operations. A small error can lead to complaints, reimbursement denials, and even penalties.
Yet, billing errors are still alarmingly common. According to a report by the Medical Billing Advocates of America, 80% of hospital bills generated in the United States contain errors.
As a result, people are mischarged for a wrong procedure, wrong medicine, or even a medical treatment they did not undergo.
Errors like these are usually caused by overwhelmed companies resulting in poor performance. This also burdens them since they want to give the utmost service to their patients.
The solution? They can delegate this to a business process outsourcing company. Learn how outsourcing medical billing processes can help medical institutions through this article.
What is medical billing?
Medical billing refers to the process of translating a healthcare service into a billing claim. Generated bills are submitted to an insurance company as reimbursement claims to receive payment for provided services.
Before, medical billing was done by the healthcare provider themselves through a paper process. They manually translate and file records to be submitted to the payor or insurance company, which may take up to days.
Most institutions outsource their 24/7 medical billing functions to BPO providers located in offshore locations like the Philippines.
Medical billing vs. Medical coding: Similarities and differences
Billing and coding are two separate tasks. Yet, both are crucial in receiving payment for medical services.
Medical billing covers the entire process of filing claims and following up with insurance companies for reimbursement. This is done by either medical institutions such as hospitals or by insurance companies to state or government reimbursements.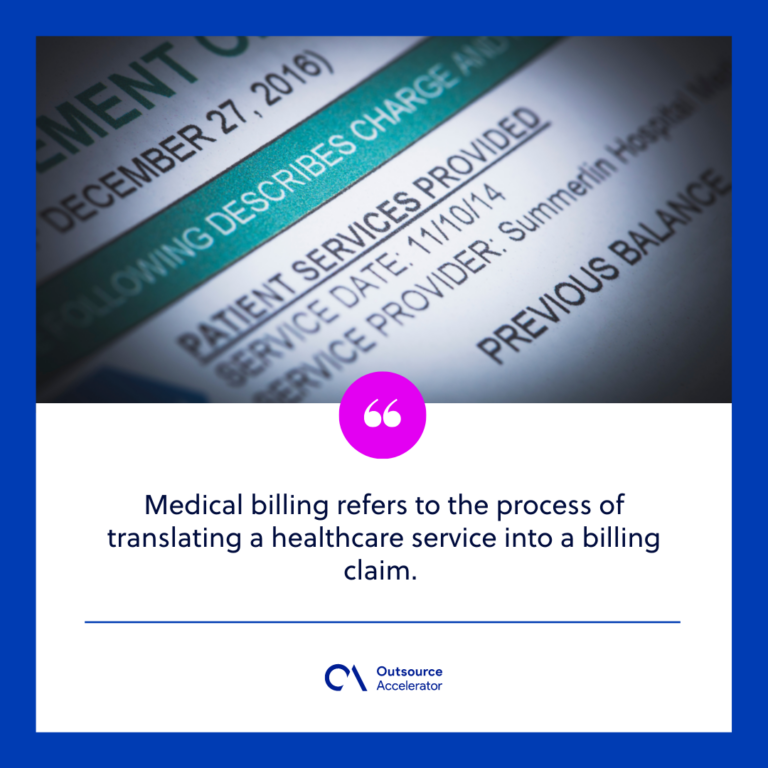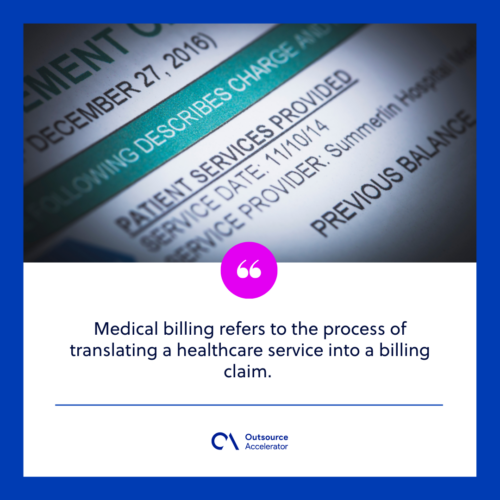 On the other hand, medical coding involves interpreting and deriving billable information from patient records and documentation. Each condition is represented by a code that determines what treatment should be given to a patient.
Coders are responsible for reviewing these data and assigning standard codes to each of them. Billers, meanwhile, take care of the rest of the 24/7 billing and claims processing for the healthcare provider.
Billing and coding can be done by the same person or different specialists for each function.
Medical billing process
The medical billing process is crucial to the healthcare revenue cycle. It ensures that healthcare providers are properly reimbursed for their services.
The process involves several front-end and back-end tasks to ensure accurate billing and timely payment. Let's explore each stage of the medical billing process.
Front-end medical billing
Front-end medical billing encompasses the initial steps in the billing process. It starts from patient registration to the point of service. Here are the key tasks involved:
1. Pre-registration and registration
Before a patient receives healthcare services, their information needs to be collected and entered into the system. This includes gathering personal, health insurance, and financial information. There may be an existing patient account or medical records for reference.
2. Insurance eligibility verification
A medical biller must verify the patient's insurance coverage and benefits to ensure accurate billing. This step helps avoid claim denials or delays due to incorrect or expired insurance information.
3. Point of service collections
Collecting co-pays, deductibles, and co-insurance at the point of service helps ensure prompt payment. This reduces the financial burden on the patient and the healthcare provider.
4. Encounter form generation
Encounter forms, also known as charge capture forms, are created to document the services rendered during a patient's visit. A medical biller must ensure accurate and detailed encounter forms for accurate claims submission.
5. Checkout
The checkout billing process involves finalizing the visit, providing the patient with any necessary paperwork, and addressing any billing inquiries.
Back-end medical billing
Back-end medical billing consists of the tasks that occur after the patient visit. It focuses on claim generation, submission, and payment processing. Here are the key tasks involved:
1. Charge entry
Charges for the services provided are entered into the billing system. Accurately recording the services provided and their corresponding charges from the encounter form is crucial for generating a complete claim.
2. Claim generation
Claims are created based on the encounter forms and include all relevant information insurance companies require for reimbursement.
3. Claim scrubbing
Claims undergo a process called claim scrubbing. In this stage, they are checked for errors and compatibility with insurance guidelines. This helps reduce the likelihood of claim denials.
4. Claims forms
Different payers may require specific claim forms. They are completed electronically or on paper, with all necessary information and attachments required by insurance companies.
5. Claim submission
Claims are submitted to insurance companies electronically or traditionally for adjudication and reimbursement.
6. Claim tracking
The progress of submitted claims is monitored. This is where any claim rejections or delays are addressed, ensuring timely reimbursement.
7. Payment posting
Payments received from insurance companies are posted to patient accounts. It should reflect the amount paid by the insurance company and any patient's responsibility.
8. Patient payments
Patient responsibility, including co-pays, deductibles, and co-insurance, is collected directly from the patient or through billing statements.
9. Denial management
In case of claim denials, it is essential to investigate the cause, rectify any errors, and resubmit the claim promptly. Claims should be resubmitted with necessary corrections to maximize reimbursements.
10. Accounts receivable (AR) collections
Outstanding accounts receivable are managed. And efforts are made to collect payments from insurance companies or patients. This step is crucial for maintaining healthy cash flow and minimizing revenue leakage.
11. Credit balances
Any overpayments or refunds owed to the patient or insurance company are processed to ensure accurate reconciliation of accounts. Handling credit balances involves refunding excess payments or applying them to future services, ensuring accurate financial accounting.
24/7 medical billing services
Working with companies that offer 24/7 medical billing services is always the best way to go.
There are many companies out there that offer 24/7 medical billing services, so it can be hard to choose which one is right for you.
When choosing a 24/7 medical billing service, it is important to remember that they are not all created equal. Some companies only offer this service during normal business days, while others offer round-the-clock support throughout the year.
When choosing a billing company, ensure they provide round-the-clock support 365 days a year!
It is also important for medical professionals to work with a company that offers 24/7 medical support. This makes them easy to reach in cases of medical billing errors.
What is a medical billing specialist?
A medical billing specialist is responsible for filing, following up, and tracking claims from separate entities. They team up with coding specialists to ensure that the provider's revenue cycles run smoothly and on time.
Aside from this, medical billers are responsible for the following tasks:
Working with self-paying individuals for payment arrangements
Consulting with patients' families
Resolving client billing issues and concerns
Ensuring proper records handling
Updating patient records and invoice
Posting received payments immediately
In-house vs. Outsourced medical billing
Medical companies consider several factors in deciding whether to hire in-house or outsource billing services. These are:
Duration of the company
Size of the clinic
Financial capacity of an organization
Small clinics and doctor's offices usually hire in-house medical billing specialists to have better control of this function. This also helps them in establishing their processes and metrics first before delegating them to a third party.
An in-house medical billing specialist earns an average of US$38,000+ a year, according to Glassdoor. This rate may vary depending on the location, expertise, and employment status they applied for.
Aside from this, they also have to prepare tools, equipment, and space needed by their employees.
On the other hand, outsourcing this function benefits them more in terms of increased productivity, revenue, and savings. This is ideal for companies with an expected volume of more than their small team can handle.
Outsourced billing specialists in the Philippines, for instance, work on an average salary of $500/month. Medical companies can already build a small team at less than the cost of an in-house specialist.
Benefits of outsourcing 24/7 medical billing services
Here are five of the various benefits of outsourcing your medical billing functions:
Increased work efficiency
Filing claims and invoices can be a repetitive task for healthcare providers. Hospitals usually have a separate team or department that works on medical billing alone.
However, a sudden spike in the volume of work can overwhelm their team. This happens in some instances, including a pandemic when medical facilities and institutions tend to receive a high number of cases and hospitalizations.
On the other hand, small-scale clinics cannot always expand an in-house team on their own due to a lack of resources. Doctors doing this, meanwhile, takes away their focus from treating and serving more patients.
By outsourcing this to a third-party provider, they get to free themselves from doing non-core work. Their service provider will hire and train medical billing experts that can do the work on behalf of the company.
Fewer errors
Medical billing requires intense focus and accuracy in filing invoices and charging certain services. A simple human error in billing may incur penalties and delays in processing claims and charges.
According to a 2020 report by AAFP, around five to ten percent of claims are denied each year. Reworking on these claims could cost up to US$25, which when accumulated can be a burden to the company.
Through outsourcing, healthcare providers can minimize these errors. The outsourcing company takes care of coding requirements and compliances such as HIPAA and HITECH.
The service provider shoulders the responsibility of accomplishing the task and auditing in case billing errors happen. In return, clients can ensure continuous revenue cycle management and reduce the risks of RAC audits on their part.
Better transparency
Healthcare providers have additional insights into their medical billing thanks to their outsourcing partners.
With their additional compliances, service providers are required to be transparent about their progress and performance. They can assign a dedicated team leader and manager to monitor the team's tasks and motivate them at work.
This helps in making their operations more transparent to the company and their patients in general.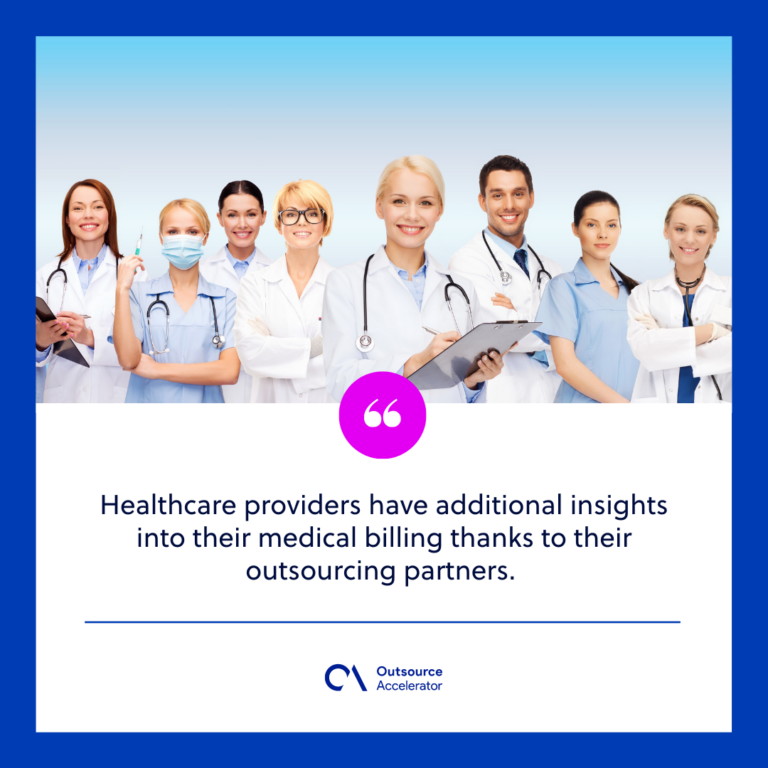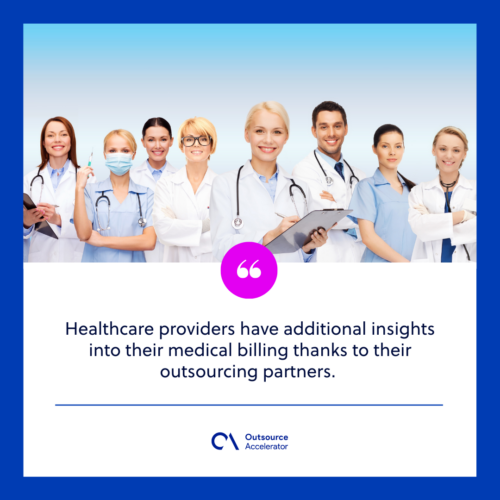 Cost-effectiveness 
Lastly, outsourcing medical billing is the most cost-effective way to do this task, especially for small clinics.
Aside from employee salaries and benefits, medical companies have to supply desktops, medical billing software, additional office space, and other equipment needed by their team.
All in all, this could take them up to US$50,000, at least in the previous decade.
Outsourcing this function helps them save up to 70% of these costs and resources. Their provider already takes care of all of their team's needs at work so they can start the sonnet possible.
Disadvantages of outsourced medical billing
Despite these advantages, medical companies would always face challenges and downsides in outsourcing this function. They have to work with their service provider working around these challenges to overcome them.
Lack of total control. Medical companies share the team's control with their outsourcing provider. With this, some changes they want to do with their operations may still go under their provider's provision.
Hidden or additional charges. Outsourcing partners may charge extra fees for additional work done within the operations. This includes working on previously-denied applications for claims.
Variable costs. Depending on the agreement, outsourcing providers may charge a percentage on collections. This would make allocating specific budgets a bit difficult for companies.
Security risks. Despite the outsourcing providers' secured operations, the possibility of security breaches happening may still occur. With this, companies should talk with their provider to prevent these from happening.
Is outsourcing medical billing good for your company?
Traditional healthcare companies are already used to hiring and expanding their in-house teams. Aside from the control, they tend to find this method affordable and effective in the long run. This is not bad since they have enough resources that allow them to do this.
On the other hand, doctors opening small clinics and hiring people can find this both beneficial and burdening. In a way, this helps them expand their practice and learn how to manage their office on their own.
However, it is not without a financial burden for them. Everything is paid out of their pockets from the office space, medical equipment, tools, resources, and compliances to start their medical practice.
Time will also come when they will be overwhelmed with tasks and work-ups enough to face the brink of closure.
In the United States alone, small-town hospitals hit a record-high closure in 2020 due to deficits and the effects of the pandemic.
With outsourcing, the benefits surely outweigh the downsides, especially for medical billing. More than the listed benefits, outsourcing several medical functions can help healthcare institutions become globally competitive in the future.
24/7 medical billing companies
The key to having successful outsourced billing is to find the right service provider. Healthcare BPOs offer a wide range of services including medical billing and coding. Though, each of them may vary in terms of quality, service level, and pricing.
Here are some factors to look into when finding the right service provider.
Compliance. Medical companies should look first at an outsourcing partner's compliance and operations. They are usually required to have HIPAA and even HITECH standards when dealing with sensitive information such as patient billing and medical information.
Pricing. Usually, healthcare BPOs charge a fixed amount for everything – tools, resources, office space, and electricity. Salaries, meanwhile, are billed depending on each employee. Though, they have to be careful of the hidden fees their provider might charge them.
Reviews. Company reviews can give clients an idea of how a service provider treats their clients, whether they give a good performance quality or how they charge them.