A guide on how BPO services for healthcare improve patient experience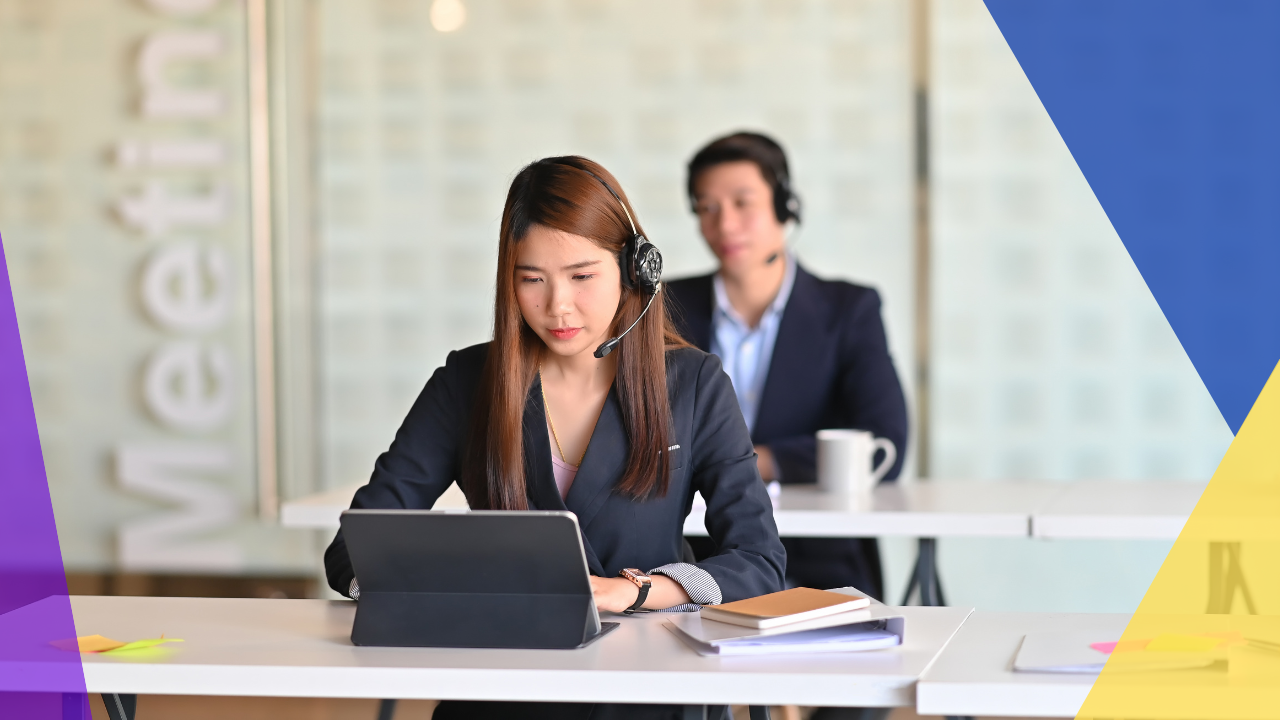 The healthcare industry is constantly evolving, and with it, the need for efficient and effective business processes.
Each year, hospitals and small practices lose money due to several reasons, such as vacancies, high operational costs, and even poor services. Business process outsourcing (BPO) services for healthcare help streamline operations and improve the patient experience.
In this guide, we'll explore how BPO services can help healthcare organizations improve patient experience and provide a better overall experience for their patients.
Defining healthcare BPO
Healthcare business process outsourcing (BPO) refers to the process where healthcare firms tap outsourcing companies for their non-core and complex activities.
Instead of doing their functions in-house, medical companies hire an outsourcing provider to perform their tasks better and more efficiently. At the same time, delegating their services helps them reduce costs, improve efficiency, and increase the quality of healthcare services.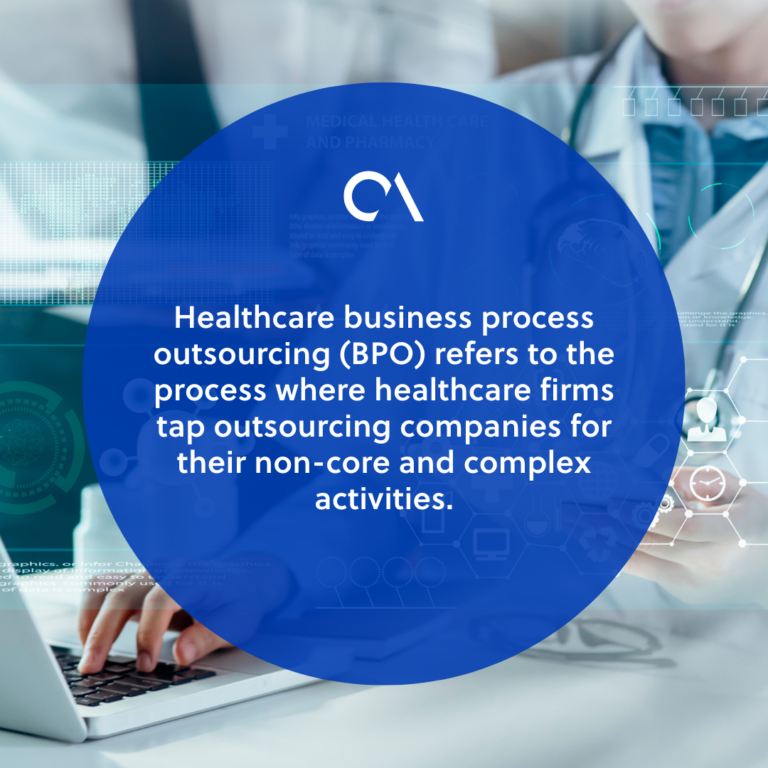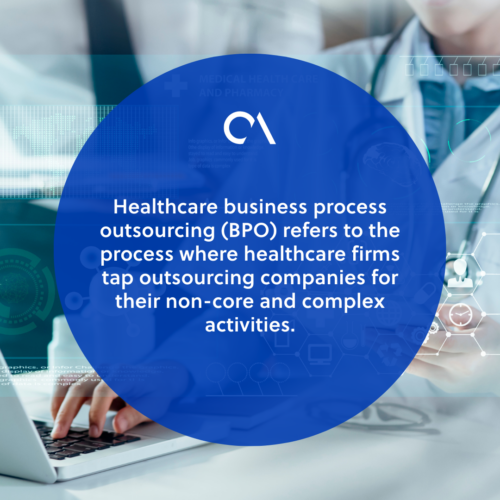 How medical institutions need healthcare BPO
Institutions rely on delegating BPO services for healthcare through the following ways.
Avoiding costly mistakes

. Mistakes can easily be committed when handling some of the services in-house. Healthcare BPO helps minimize these errors by assigning these functions to talents with years of experience.

Regulatory compliance

. Medical firms must also follow compliance to protect patients' information and welfare. Delegating to BPO companies makes compliance easier since they will take care of the procedures and paperwork that come along with it.

Focus on patient care

. As the saying goes, "no company can stand alone." Having BPO services for healthcare eases your burden of doing complex and time-consuming tasks, helping you focus more on providing better patient care.
BPO services offered for healthcare institutions
Outsourcing firms handle a wide range of BPO services for healthcare providers worldwide. This includes the following functions:
Medical billing and coding
Unlike most industries with billing and coding activities, medical billing and coding can be complicated.
In medical coding, you are required to be familiar with scientific codes depending on the diagnosis, treatment, and additional conditions that arise. Each category affects how patients are billed for the service they get.
A large volume of patient information for processing and inaccurate coding and billing could lead to delays, penalties, and even patient dissatisfaction. Worse, possibilities of fraudulent billing[1] may arise.
These instances could affect your reputation and credibility as a healthcare provider.
Outsourcing these functions to offshore teams is a great way to manage billing and coding. Armed with years of experience and licenses, your team can help you encode and bill your patients more accurately and timely.
Medical transcription
Medical transcription involves the entire process of converting audio to written documents, from transcription to editing and finalizing reports.
Transcribing audio recordings in a medical setting involves more than simply writing what the physician dictates. Transcriptionists also track the patient's medical history and existing records to interpret the physician's orders better.
While automated transcription services exist nowadays, healthcare providers still have to edit and verify what they have transcribed to create accurate reports.
This could consume time and effort on their part, especially with the volume of work they still have to do after patient diagnosis.
Offshoring medical transcription makes it easier for medical professionals to continue focusing on providing the best customer care possible. Along with the expertise of offshore teams, healthcare firms can store medical records more accurately.
Claims processing
Healthcare firms and insurance companies must verify medical claims to see if they qualify for reimbursements. Claims processing involves authentication of the patient's documents to check their legitimacy or see if their conditions qualify for reimbursements.
Not all medical companies handle claims processing in-house. With the large volume of patients filing for medical claims daily, maintaining accuracy might be difficult to manage, especially with only a small team.
This is why it is best to outsource claims processing to manage workload better and scale when necessary.
Accounts receivable
Healthcare institutions should stay on top of reimbursement and collection efforts to maintain revenue and growth.
The longer an account receivable (AR) gets unpaid, the less likely it is to get settled. This could result in a negative record for the patient and the institution. Unpaid invoices beyond 120 days could also burden the healthcare provider's finances with unnecessary costs and revenue leakage.
One way to make accounts receivable more efficient is by outsourcing them to a reliable service provider. This helps you keep up with your medical AR and ensure that your billing records are up to date.
Data entry services
Lastly, medical institutions must update their patients' medical information and process large amounts of data daily. They must ensure that all information is accurate and protected, including test results, laboratory reports, and payment information.
Medical data entry is technically more complex compared to data entry services in other industries. Outsourcing this function is a great way to update records more accurately and efficiently.
Advantages of delegating BPO services for healthcare
According to GlobalNewswire, the global healthcare BPO market is projected to grow by around US$755 billion by 2030, with a compound growth rate of 9.49%.
With the digital transformation happening in the industry, firms have been racing to improve their services and optimize the level of patient care they provide.
Delegating BPO services for healthcare institutions provides the following advantages to medical institutions worldwide.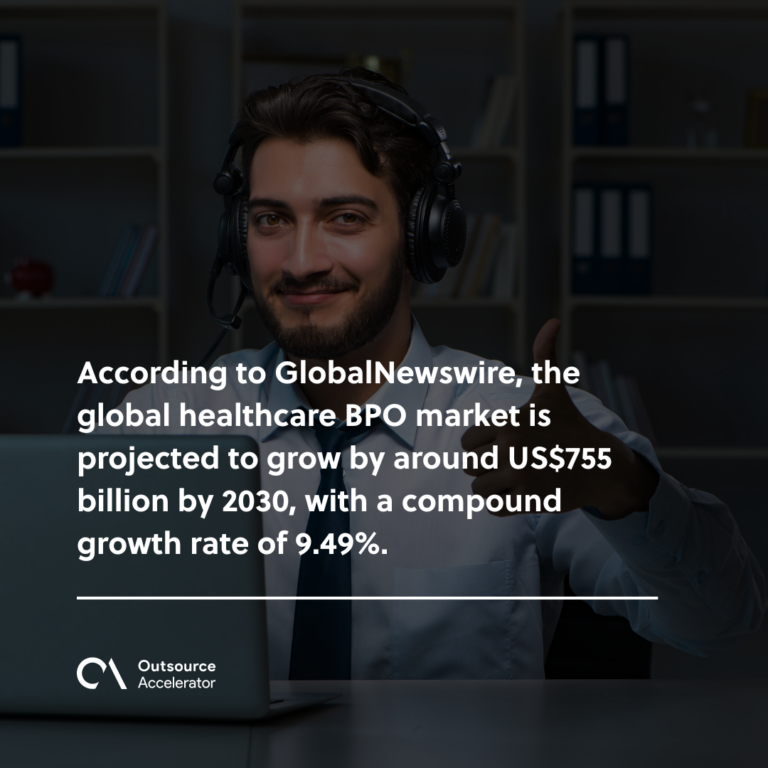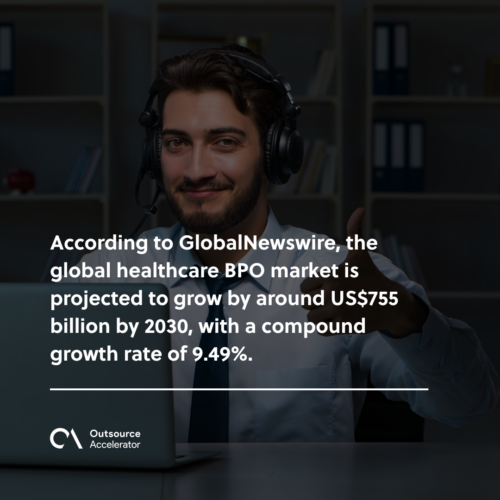 Distributed functions
All medical and paperwork are bottlenecked to an individual or a few people, especially when they have just set up their own practice. While they can still manage a few patients initially, medical professionals might experience difficulties supporting their growing number.
Having BPO services for healthcare gives professionals the freedom to distribute their functions to experts that can take care of it more efficiently. This gives them more focus on their practice better.
Flexibility
Some functions done by medical institutions are needed on-call. Having an in-house team that would simply wait for their time can be counterproductive and a waste of resources for the business.
By outsourcing healthcare services, institutions can practice flexibility at work. This is since they can easily scale their staffing up or down, depending on their needs.
Access to the latest resources
Resources for healthcare administrative work can be almost as costly as the devices that healthcare professionals use for their practice. This includes their teams' training, salaries, and equipment.
Hiring BPO services for healthcare also allows clients to access the latest resources and systems for their admin work. This, in turn, helps them to reallocate their savings to improving their main devices to treat patients better.
Access to expertise
Not every organization can get its services in-house. The limitations on their localities, from skill sets to labor costs, can affect how they hire and the quality of their teams.
By outsourcing certain tasks, healthcare organizations can access specialized expertise and resources that may not be available in-house.
Expand offerings
Overall, hiring BPO services for healthcare can help medical firms expand their offerings further. With the savings and increased efficiency they get, they can further invest in new technologies, practices, and other aspects that can enhance the patient experience.
A few reminders when delegating BPO services for healthcare
Despite the abundance of quality healthcare BPO companies in the market, clients could still find themselves with a service provider that goes below their expectations. Worse, their staff could even cost them their credibility with their patients.
When delegating BPO services for healthcare, make sure to do the following to avoid obstacles at work:
Check your provider's capabilities

. Ensure that the BPO provider has the necessary resources and expertise to handle the tasks you are delegating.

Ensure compliance

. Ensure that the BPO provider complies with all applicable laws and regulations, including HIPAA and HITECH.

Prepare service level agreements

. Establish clear service level agreements and performance metrics to ensure that the BPO provider meets your expectations.

Establish communication

. Communicate constantly with your BPO provider to ensure you get the output you expect from the team.

Monitor your team's performance

. Monitor your team's performance and metrics regularly to ensure that the services are delivered as expected.
Delegating BPO services for healthcare
Delegating BPO services for healthcare is a great way to streamline operations and reduce costs. At the same time, it enhances the way you take care of your patients.
By outsourcing certain administrative tasks, healthcare organizations can focus on providing quality care to their patients.
BPO services can help healthcare organizations manage their data, improve patient care, and reduce costs. With the help of experienced professionals, healthcare organizations can ensure that their operations run smoothly and efficiently.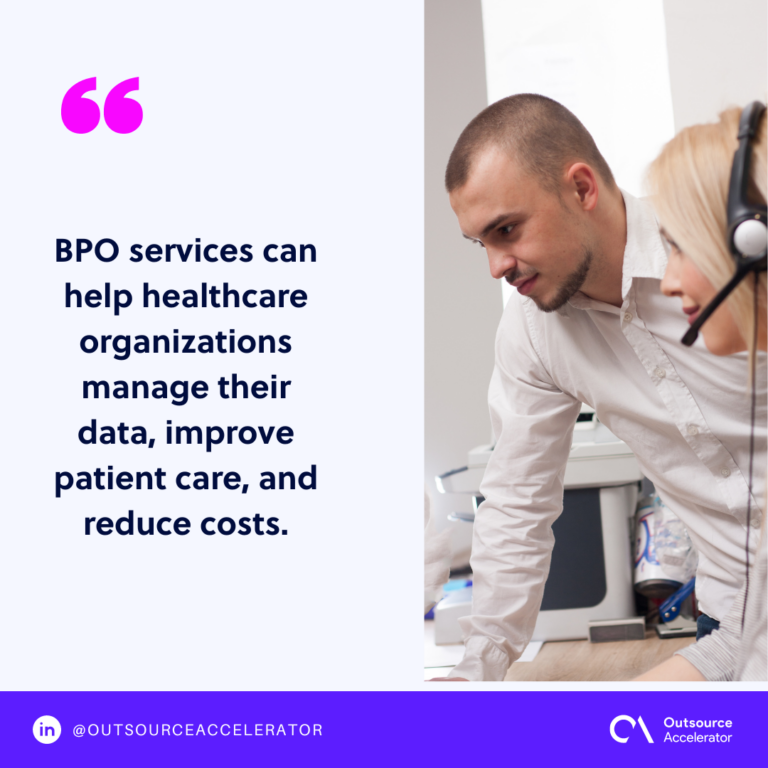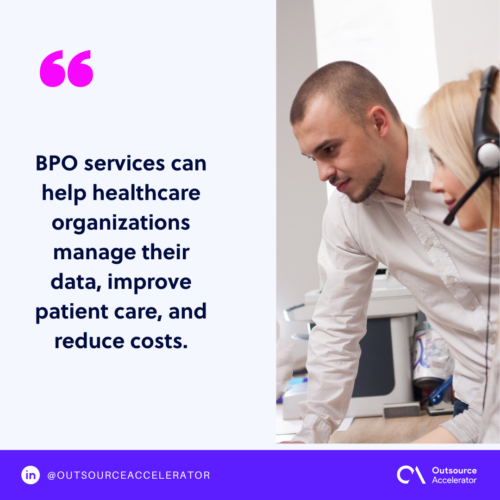 References
:
[1] Fraudulent billing. Drabiak, K. and Wolfson, J. (2020). What Should Health Care Organizations Do to Reduce Billing Fraud and Abuse? AMA Journal of Ethics, [online] 22(3), pp.221–231. doi:https://doi.org/10.1001/amajethics.2020.221.