Top benefits of medical billing companies: A peek into the healthcare industry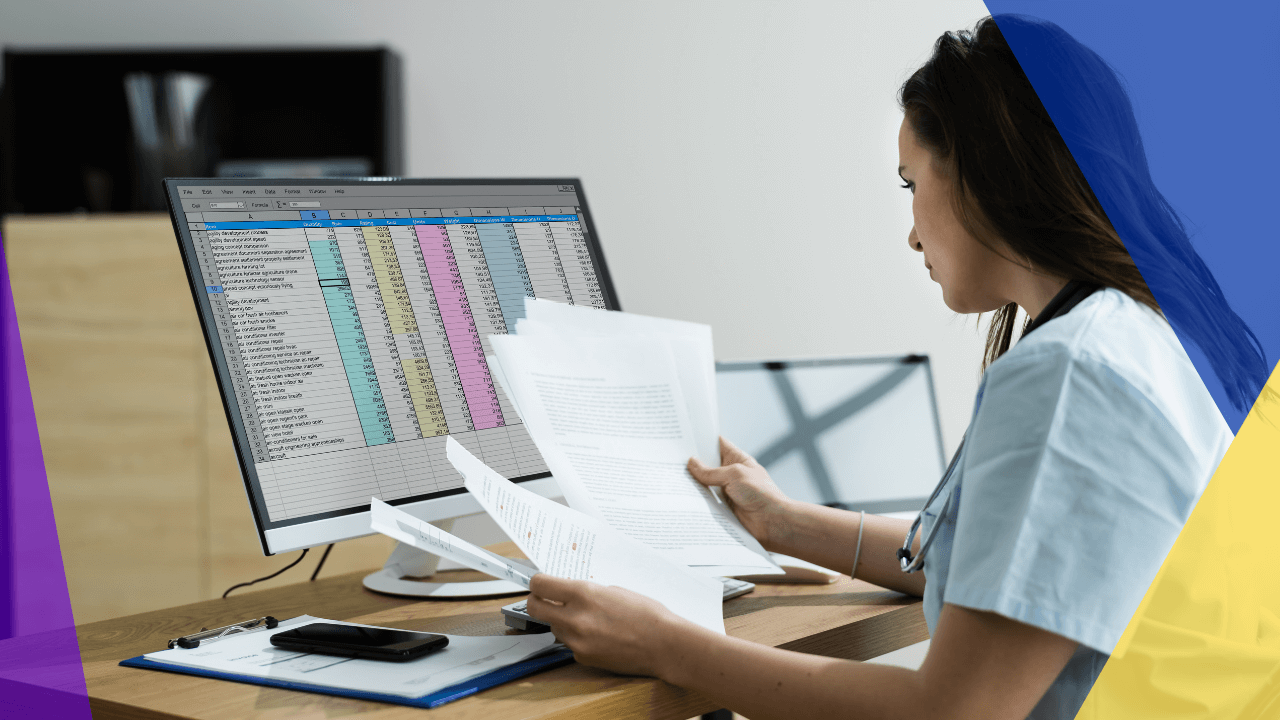 Medical billing companies often operate with local hospitals. They only venture into international providers once they get approved by the appropriate boards.
These firms offer medical billing services to busy healthcare organizations.
When partnering with medical organizations, you have to adhere to certain prerequisites, requirements, and standards to ensure a smooth process from start to finish.
The healthcare industry is governed by several laws and regulations to protect everyone involved against data breaches, medical malpractices, and unjust services.
What do medical billing companies do?
On the customer-facing side, a medical billing company ensures that healthcare institutions such as hospitals, standalone clinics, and other outpatient and inpatient facilities provide accurate expenses and bills.
On the client-facing side, billing companies ensure that healthcare providers are 100% focused. Their main activities are taking care of their patients, and they need to be present at all times.
Medical billing services exist to lend a hand to institutions, ensuring that they can operate at 100% capacity without any billing backlogs.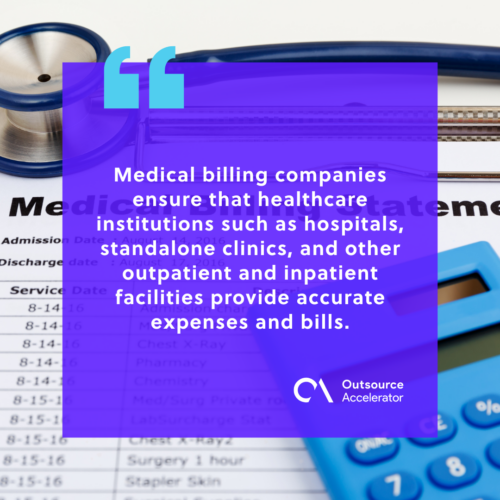 5 benefits of partnering with medical billing companies
The main goal of these outsourced medical billing services is to lessen administrative billing duties. Healthcare providers already have million and one things on their plate at any given time.
Below are other advantages that medical billing companies offer:
1. Cost-efficiency
Partnering up with medical billing companies may not be the most inexpensive decision your business will make. But cost-efficiency will pay off in the long haul, especially in the healthcare sector.
Long-term effectivity and efficiency through a medical billing provider are infinitely better than settling for the cheap and inexpensive.
2. Industry-standard data security
Since healthcare records contain sensitive information, it's only fitting to implement industry-grade security measures to protect them—and to an extent, the patients and the institutions.
Not only are data breaches worrying enough, but they also pave the way for multiple lawsuits for everyone involved. This includes the healthcare institution, its vendors and clients, and of course, its customers and patients.
To prevent this from happening, medical billing companies stay up-to-date and adhere to laws and safety standards. The best medical billing services apply appropriate medical billing software to ensure security and efficiency.
HIPAA
This federal law in the United States was sworn in and signed by President Bill Clinton on August 26, 1996.
HIPAA protects Americans' health records from being disclosed without their explicit consent. As of writing, there are three main HIPAA rules: the privacy rule, the security rule, and the breach notification rule.
The privacy rule addresses the following:
What kind of institutions are under HIPAA regulations
What is protected health information (PHI)
How healthcare organizations can share and use PHI
The permitted usage and disclosure of PHI
The patient's rights over their health information
The security rule covers the documents and electronic files themselves.
Healthcare institutions are subjected to strict protocols and training to ensure that these files will never be leaked or accessed without proper authorization, including by billing services.
In the breach notification rule, healthcare providers are sworn to alert the affected individuals, the Health and Human Services (HHS), and the media if necessary in case of breaches.
Should the breach affect more than 500 people, it's pertinent that the breached organization post a message and alert HHS, its employees, and patients of the situation.
If the breach is small and contained, it can opt not to post an alert, given that the PHI will not be accessed by unauthorized individuals.
Data privacy act of 2012
In the Philippines, the data privacy act of 2012 encompasses every public and private organization.
The Data Privacy Act of 2012 is meant to "protect the fundamental human right of privacy, of communication while ensuring free flow of information to promote innovation and growth."
It also defines the duty of those in the information and communications technology industry. They must "ensure that personal information in information and communications systems in the government and the private sector are secured and protected."
3. Aligned values and mission statement
There's no doubt that the healthcare industry shares the same virtue of providing the best possible treatment and service to their patients. However, every organization has its own core values, and it's important to find one that aligns with yours.
That said, you are sure to find a medical billing company whose values match yours. Working with these companies will ensure smoother billing processes as well as amplify human connections.
4. Hands-on experts
When you're servicing one of the most prominent industries in the world, you need to have experts available 24/7, 365 days a year.
Medical billing companies make sure that they have staff available within normal working hours and beyond. This ensures that you have available billers and coders constantly, allowing for a more efficient system.
5. Round-the-clock customer service
Another section that medical billing companies can boost is customer service. For after-sales or post-care support, it is essential to have an effective call center that customers can reach for any questions or concerns.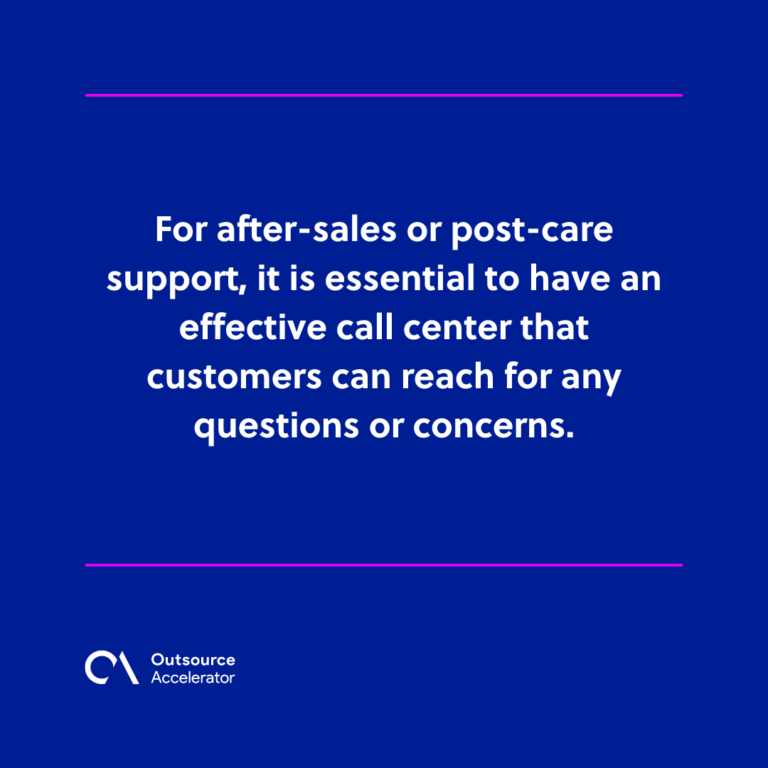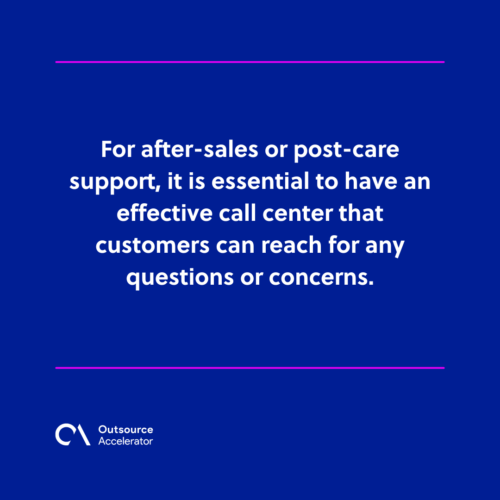 Why do healthcare providers outsource medical billing?
Healthcare providers outsource not only medical billing but also medical transcribing, denial management, and non-core services to cut overhead costs and save resources.
By outsourcing, providers such as doctors, nurses, and hospital administrators can focus on treating their patients. Outsourcing non-core services lets them work without worrying about the burden of clerical tasks later on.
That said, outsourcing from a medical billing company isn't a one-stop solution for the problems inside an organization. It's merely a business model to adapt, and so is the necessary research before deciding.