Top 20 healthcare outsourcing companies in France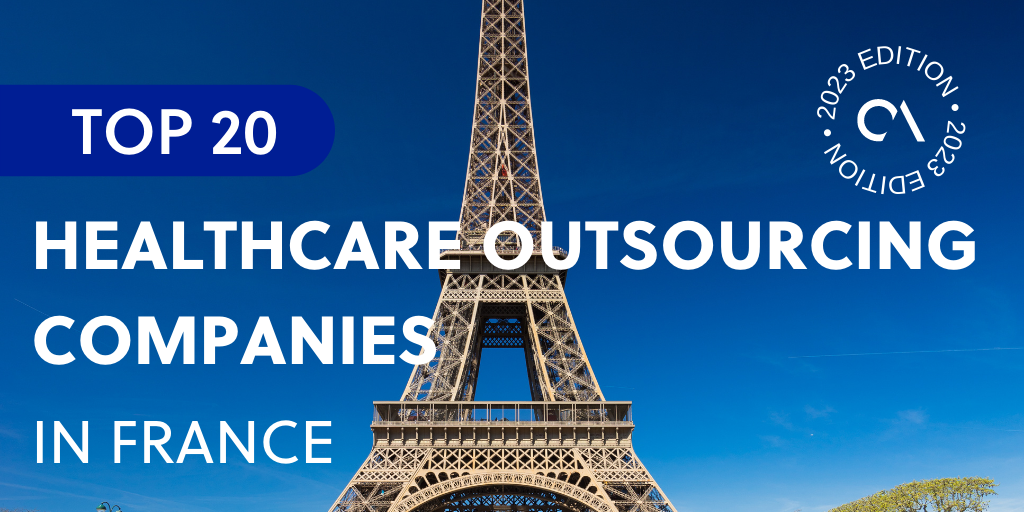 One of the most important sectors across the globe is healthcare. The professionals in this industry have the crucial responsibility of taking care of their patients.
While this is the main reason why medical organizations exist, healthcare is also a business, and there are other tasks that they need to take care of. 
This must be why healthcare outsourcing is a successful industry of its own. From huge hospitals to startup clinics, medical professionals outsource several functions so that they can focus more on their primary responsibility, which is taking care of people's health. 
How can the healthcare sector benefit from outsourcing
Healthcare is also a business, and medical companies run just like other organizations from other sectors. Outsourcing key tasks provide them with more time, focus, and resources for patient care—the heart of their operations. 
Here are some of the benefits they can get from outsourcing:
Medical billing and claims processing
Processing medical claims and billing are difficult procedures that call for expertise. Prompt and accurate claims processing guarantees patient satisfaction, thus it's critical to assign this responsibility to dedicated medical billing companies.
HR Services
Running a human resource department can be expensive, and outsourcing HR tasks can significantly lower the cost.
This can also result in better perks for the dedicated healthcare staff because a professional employer manager that oversees HR for a number of companies has better-negotiating skills when establishing employee benefits. 
IT Solutions
Healthcare facilities have a wide range of complicated IT requirements, from keeping electronic records current and safeguarding patient safety to effectively managing food and nutrition services.
Outsourcing allows medical companies to entrust their IT systems to experts who only work on healthcare-related services. 
Patient Care Services
Most huge hospitals offer complete facilities from onsite diagnostic labs to pharmacies, but not all medical companies have the capacity to do this. Outsourcing these facilities do not just help in cost reduction, but it also improves the quality of services that these hospitals provide.  
Top 20 healthcare outsourcing companies in France
Top global outsourcing list
Outsource Accelerator is the world's leading outsourcing marketplace and advisory. We list over 3,000 BPO firms located across the globe in our global directory, and we provide detailed information, price guides, and reviews.
Whether you're a solopreneur, SME owner, or a corporate executive, we can help you find the most suitable outsourcing provider for your business.
Explore our outsourcing directory now. You may also check out our Top Healthcare Outsourcing lists per country here:
How to select a healthcare outsourcing company
While healthcare outsourcing offers numerous benefits, choosing the right company to work with should also be considered. Here are some of the key aspects to think of while in search of the right outsourcing company:
Financial efficiency
The success of working with an outsourcing company also lies in the fact that the revenues and expenses of both parties are under control.
Examine the organization's track record of streamlining processes and cost reduction without sacrificing client experience. Does the company proactively seek opportunities for efficiency? How do they handle unforeseen financial crises?
Continuous quality improvement 
It is also important that the potential partner is committed to enhancing its services and delivering such improvements to the clients.
The company must be willing to invest in infrastructure upgrades to boost productivity. The healthcare sector is also an innovative industry, and it is important that its outsourcing companies can adjust to the industry's emerging trends and technologies.  
Results-based focus
The loss of control that comes with outsourcing services can have both advantages and disadvantages. It is important that the outsourcing company is also focused on augmenting goals rather than doing the job for mere financial gains.
Therefore, they should have concrete metrics in place to evaluate employee performance. 
Overall fit for the company
Finding a solid partner ultimately depends on finding the proper fit for the medical company, despite all the data and analysis, reference checks, etc. Sometimes it all comes down to the one that's most comfortable to work with.
Top 20 healthcare outsourcing companies in France
France is an extremely developed country known to be one of the largest economies across the globe. Its outsourcing industry is one of the lucrative sectors, and here is the top 20 healthcare outsourcing companies in France. 
Telus is one of the largest outsourcing companies in the world, with offices scattered in Asia, America, and Europe. Supported by Telus Health, Canada's largest healthcare IT provider, the company provides digital engagement and customer experience to healthcare leaders. 
The services it offers include patient access, patient outcomes, AI-enabled patient care, medical device support, and reputation management. 
Cegedim has been in the business since 1969, a company that provides innovative technology and services exclusively for the healthcare industry. Its main headquarters is in Boulogne-Billancourt France and operates in more than 10 countries in Europe and North Africa combined.
The company provides all kinds of healthcare-related software services from prescription dispensaries and patient management to automated invoicing and teleconsultation.
Atos is also one of the largest outsourcing companies providing IT solutions around the world. 
With over 100,000 employees headquartered in different offices in Asia, Europe, America, and the Middle East, the company caters to companies in different industries, including financial services, healthcare, manufacturing, public service, telco, and media. 
The services it offers include, but are not limited to,  customer experience, cybersecurity, digital workspace, and modern applications and platforms. 
Swiss Post Solutions (SPS) is a top provider of business process outsourcing services and cutting-edge document management solutions.
The company has headquarters in the US, Great Britain, France, Switzerland, and Germany and is working with companies from the banking, insurance, healthcare, legal, and retail industries. 
It offers smart hybrid workplace services, mailroom outsourcing, omnichannel input, and business process services. 
Since 2006, CDG CONSEIL has provided HR solutions exclusively to the healthcare industry. The company operates in France and other places in Europe and caters to both SMEs and huge enterprises. 
CDG Conseil's HR Solutions include recruitment and assessment, coaching and outplacement, transition management and expert outsourcing, and recruitment process outsourcing. 
Launched in 2006, Movianto offers a one-stop shop for healthcare logistics and distribution. The company provides pharmaceutical, diagnostics, and medical devices services. It functions in three regions in Europe, with its main headquarters in Paris. 
Movianto offers outsourcing services that include warehousing, transport, freight management, order to cash, value-added services, and sourcing. 
TechSell was founded in 2006 as a subsidiary of GLOBE Groupe, a known authority in commercial outsourcing in France. TechSell provides marketing and advertising services to companies from different sectors, including food, energy, beauty and healthcare, lifestyle, and tech. 
The company's outsourcing services include B2B and B2C sales force, merchandising and POS services, training services, and globe live shopping. 
GIS International was established in 1997 and has offices in Europe, Asia, Africa, America, and the Middle East. The company focuses on procurement outsourcing for organizations from market sectors, including mobility, energy, oil and gas, and healthcare and medical devices. 
Its services include sourcing, procurement, and supply chain. 
For over 20 years, Universal Medica has supported healthcare providers by offering them cutting-edge, customized solutions and top-notch medical information to enhance patient well-being. The company has headquarters in the US and China and has several offices in France. 
Universal Medica specializes in medical information, vigilance (pharmacovigilance, materiovigilance, cosmetovigilance, etc.), compliance, and medical writing. 
Founded in 2010, HR Mind is an industry leader in recruiting with a focus on placing highly qualified technical and managerial personnel. Its main headquarters is in New Delhi, and also has offices in Mississauga, Paris, and Lagos. 
The company offers full-featured HR services, including retained mandates, permanent recruitment, executive search, salary benchmark, RPO, payroll outsourcing, recruitment strategy, and expatriation-related services. 
Established in 2009, Synelience is another French company that provides a wide range of cutting-edge digital services to enhance the IT resources of its clients.
One of its three brands, Softalia, creates software dedicated to the healthcare sector to help improve its organizational efficiency and patient care. 
Its outsourcing services include multimedia, integrated software solutions, tailor-made development, and outsourced input and data processing. 
Cosium, a pioneer in clinical and retail software for optical and audiology specialists, was founded in France in 2003. The company has its main office in Versailles and a network of satellite offices across many countries, including one in the UK since 2018.
Cosium creates and executes software solutions to help healthcare practices or clinics be updated to current innovations. The services also include maintenance, on-site or remote outsourcing services, and other IT services.
Global RH Link was founded in 2014 as a company that specializes in providing HR outsourcing solutions to the healthcare industry. It is a French organization consisting of certified senior consultants in their HR expertise. 
The company offers a wide array of HR services, including HR consulting and recruitment, legal affairs and compliance, coaching and training, and personal data and information systems. 
CmonDoc was established in 2016, headquartered in Paris. The company specializes in the outsourcing of hotlines and secretarial services exclusively for healthcare professionals and medical practitioners. 
The services include telephone secretarial services and online appointment booking, which come in custom packages depending on their clients' needs. 
Established in Hanoi in 2008, FPT Software provides IT solutions to companies from different industries. Its services include digital consulting, digital innovations, and rebadging. The company operates in many countries in Asia, North America, Europe, and Australia. 
FPT Software caters to the healthcare industry by providing software for medical devices, medical information systems, digital medical data platforms, pharmaceutical information systems, virtual care, and health insurance. 
Accenture is also one of the world-renowned BPO companies, with offices scattered across the globe, including France. It is a huge organization that provides solutions to companies from all industries. 
Among its healthcare outsourcing services include digital health, health experience, operational transformation, healthcare security, and healthcare consulting. 
CompuGroup is one of the top eHealth companies in the globe. Its software is made to support all organizational and medical activities in medical offices, pharmacies, laboratories, and hospitals. The company's online patient records and information systems, which are meant for all parties involved in the healthcare system, help make it safer and more effective. 
CompuGroup offers various kinds of medical software, data security, teleconsultation, and secure messaging.
Calystene is another French company that offers medical IT solutions. Founded in 1992, the company is committed to developing medical and administrative IT solutions allowing clinics and hospitals to have better organization, strengthened procedures, unlimited sharing of information, and securing care processes. 
Founded in 1999, Sephira is another French company that specializes in software development. Having been in the health data management business for more than 2 decades, it is known to be a pioneer in autonomous billing and remote transmission systems.  
The company offers different kinds of software services such as billing, third-party payment, teleconsultation, practice management, and compliance.
Medical Resource Association was founded in 1997, with offices in the US and in France. The company provides full-featured services that are customizable to help in expanding medical practices and organizations. 
Its services include training and education, business development, business support, and auditing.