Top healthcare outsourcing companies in the US market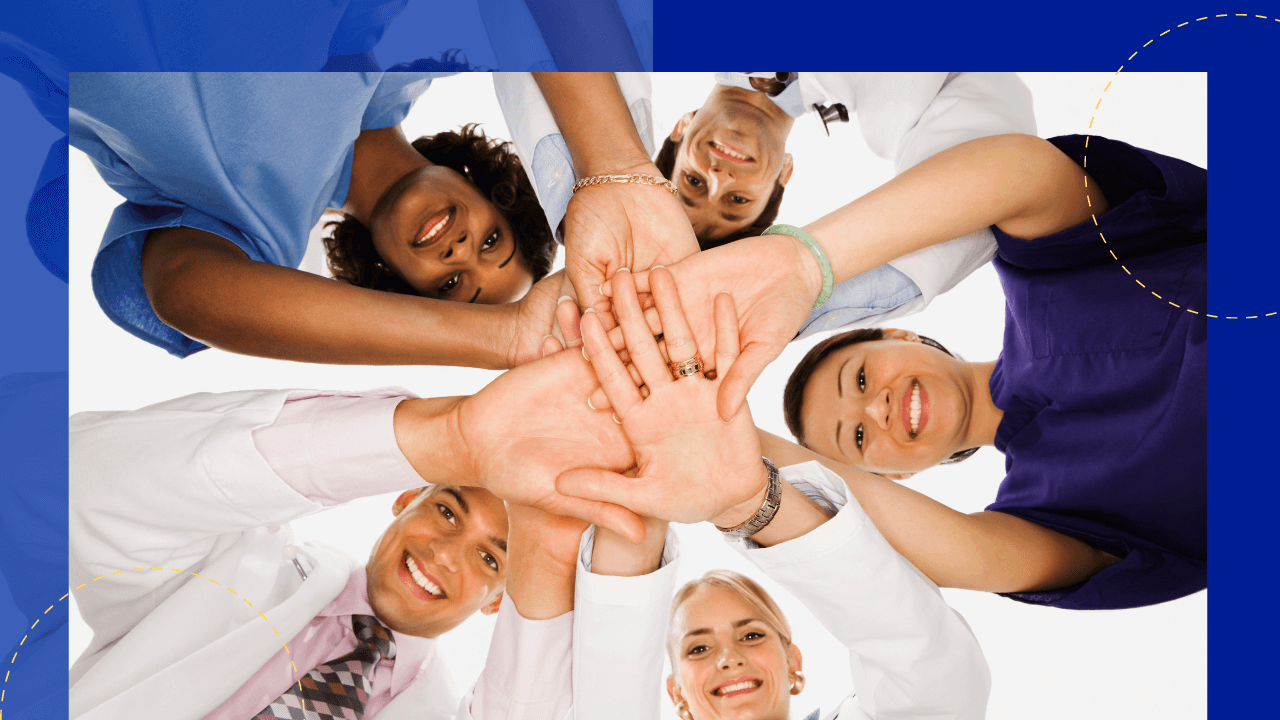 Outsourcing companies are an integral part of the healthcare sector in any country. However, the US is one of the biggest contributors to the healthcare outsourcing industry.
The future of the healthcare industry in the hands of outsourcing companies is brighter than ever. More and more people are making things possible through partnerships with healthcare outsourcing companies around the world.
What is healthcare outsourcing?
Outsourcing is a business strategy that allows a company to offload responsibilities to a competent external service provider. Business process outsourcing (BPO) companies offer back-office support, customer service support, and administrative help.
Healthcare outsourcing means that hospitals, clinics, and outpatient departments turn over their non-essential tasks such as filing, medical coding, and transcribing to BPO firms.
Healthcare outsourcing helps public and private health institutions expand more—therefore, helping more people in the long run. Clinics, hospitals, and staff can focus more on their patients' needs by delegating tasks to healthcare outsourcing companies.
How outsourcing affected healthcare in the US
Everyone knows that hospitals, clinics, and other healthcare providers go through an insane amount of paperwork every day.
With work piling up and the deadlines approaching, some companies lighten the load and offload a handful of non-core responsibilities and job roles. This is where healthcare outsourcing companies come in.
Outsourcing allows companies like healthcare providers to focus more on their core services: to treat and care for their patients.
Patients are more satisfied with healthcare when they see the doctors and other medical professionals being hands-on in this aspect. This is why hospitals need not outsource their core services and roles.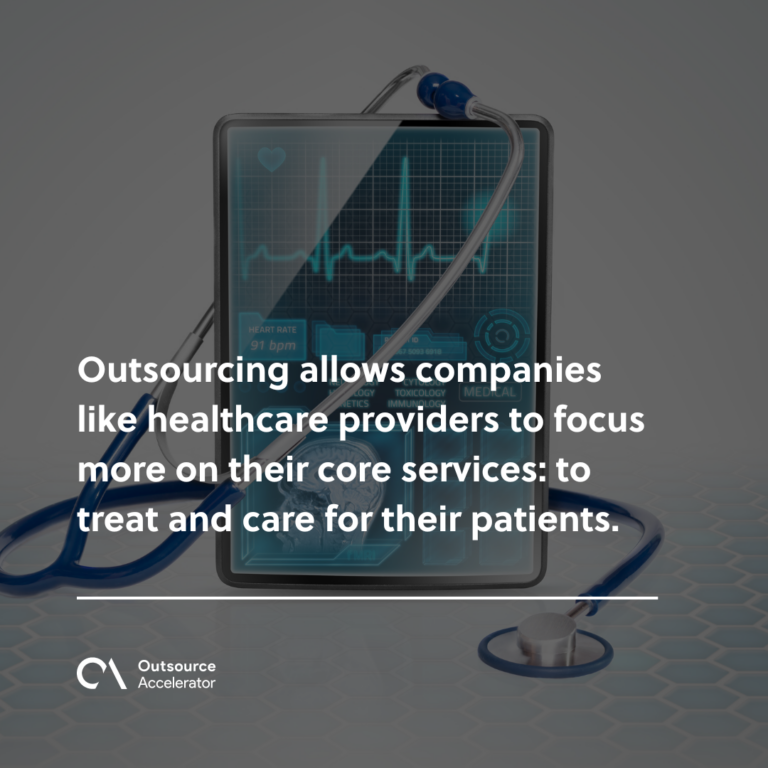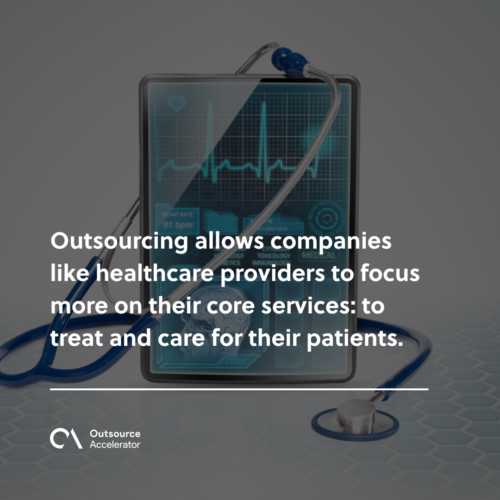 The challenge involving
healthcare outsourcing companies and HIPAA
Some healthcare outsourcing efforts were met by a slight pushback due to concerns over HIPAA compliance.
The Health Insurance Portability and Accountability Act of 1996 (HIPAA) provides American constituents safety and security regarding their medical records. This means that any institution cannot disclose someone's health record without explicit consent.
US healthcare providers assure their patients and the public that their outsourcing partners are compliant with HIPAA. This applies even if they aren't primarily operating in the States.
On the other hand, healthcare outsourcing companies continue to ensure that their client's information and data will never be disclosed without clearance even after ties have been severed.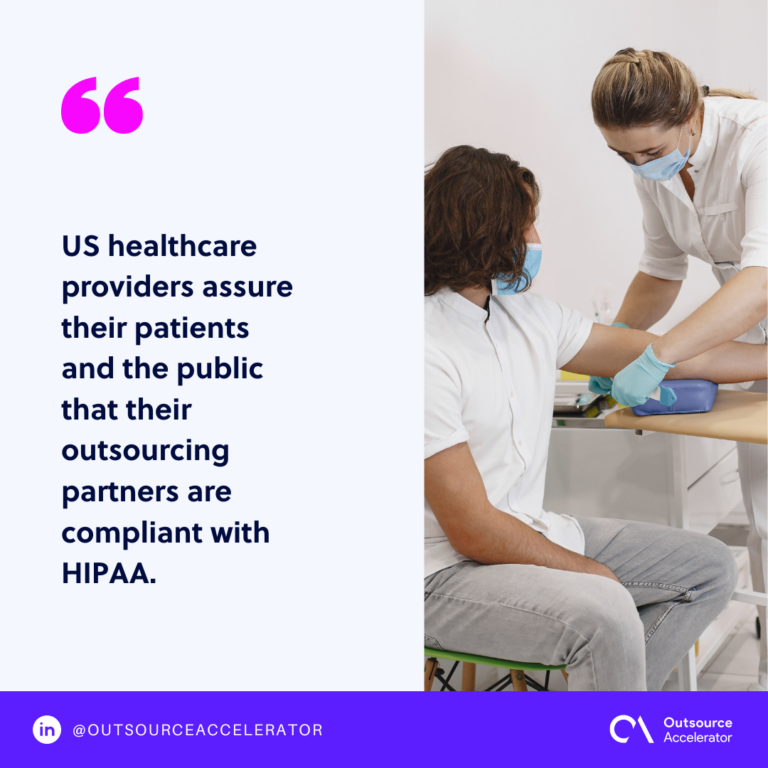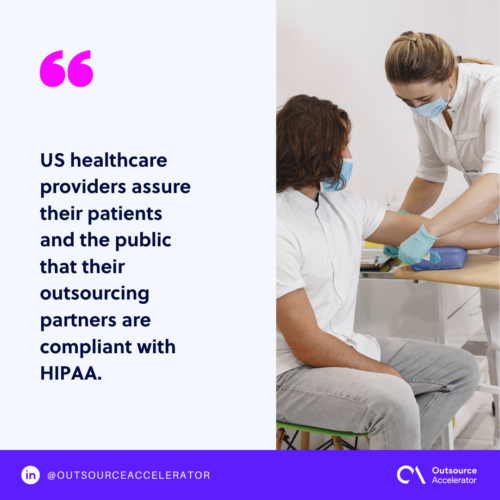 Why do healthcare companies choose to outsource?
Healthcare providers, like any other companies out there, choose to outsource their business processes primarily for one reason: to save on resources. 
Outsourcing allows companies to be more flexible in handling internal and external workloads.
While outsourcing as a business model isn't technically cheap, it's cost-effective and will support your business in the long run.
Like expansion, outsourcing isn't a yes-or-no decision—it may take months to years of researching and studying before taking a stand.
Where US healthcare companies outsource
Most healthcare companies in the US outsource to developing countries like India, the Philippines, and Mexico.
Mexico
Undoubtedly the first country that comes to mind when healthcare companies outsource from the US is Mexico.
Given its close proximity to the US, the country is the most practical option for finding the best healthcare outsourcing companies.
One advantage of outsourcing to Mexico is the lack of severe timezone constraints on both parties. Another is reaching and connecting with the Hispanic population in the US.
The Philippines
The Philippines is the world's call center capital, but they've got so much more than that. 
From unbridled hospitality to unwavering work ethics, the country remains at the top of any US healthcare provider.
India
Another contender for a healthcare outsourcing destination is India.
With the country's massive talent pool filled with experts and professionals, US and even European companies flock to the Indian workforce for healthcare outsourcing services.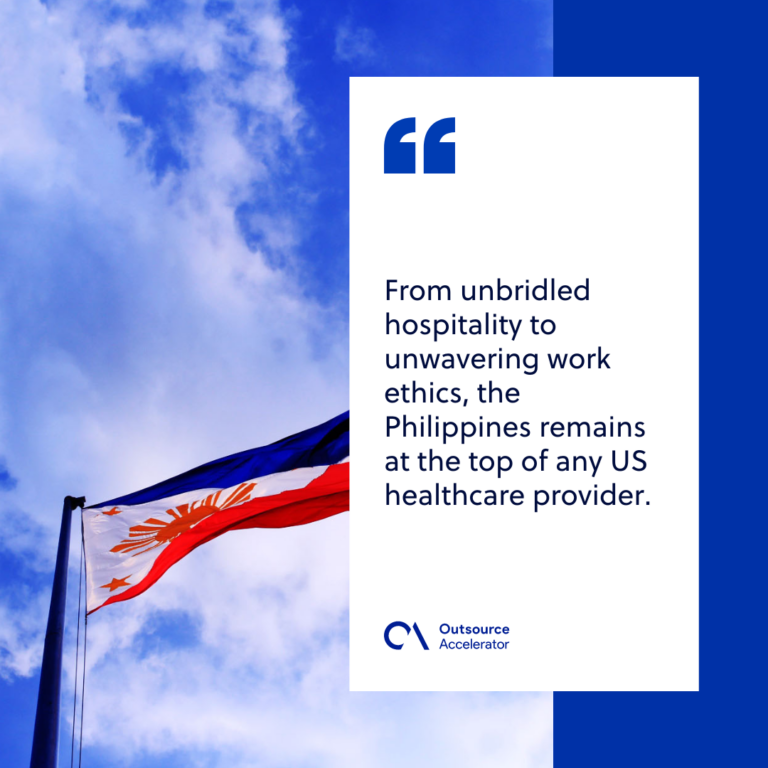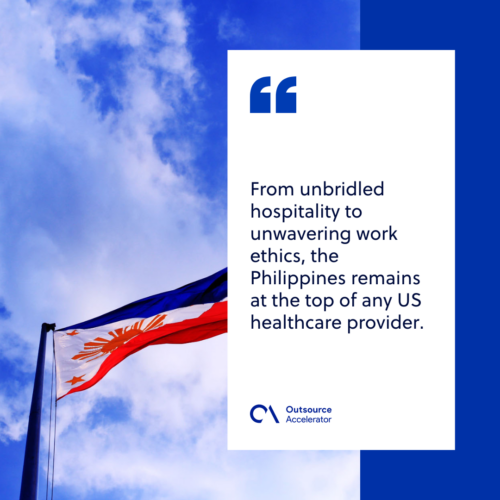 Services provided by healthcare outsourcing companies
From the beginning, we've been talking about non-core healthcare services, but what does that really mean?
Non-core services encompass any tasks and responsibilities that don't necessarily affect the customer or the clients of a company. In this context, non-core services include but are not limited to medical billing, insurance processing, and medical transcribing.
Medical billing
Medical billing outsourcing pertains to the process of letting a third party code and bill a healthcare provider's procedures. Be it surgeries or outpatient prescriptions, an outsource medical billing facility will handle it.
Insurance processing
Another time-consuming yet important task is insurance processing.
When patients come into care, they usually have an insurance card or policy that may cover the procedures and their admission.
Processing this paperwork is the responsibility of the insurance department. Most hospitals believe it is best (and cost-effective) to hire someone with experience in insurance claiming.
Medical transcribing
Medical transcribing pertains to digitally transcribing medical records, procedures, and notes from doctors, nurses, and hospital administrators.
Inbound and outbound customer service
Healthcare organizations need a contact department for non-urgent questions, concerns, and inquiries to keep things organized. 
Some of them ventured into outsourcing their customer service department to lessen the workload that comes through their channels every day.
Top healthcare outsourcing companies for the US market
Accenture is one of the global leaders in providing innovative services to businesses in several verticals, including healthcare. They are known for their optimized delivery of human ingenuity and technology to clients, especially in the US market.
WNS Global Services promises business transformation through digital transformation in industries like healthcare, insurance, and life sciences. They work towards providing a patient-centric approach in both physical and telehealth services.
Cognizant is another recognized leader in healthcare outsourcing. It helps companies modernize their infrastructure and digitize their services while maintaining an optimal level of experience for their patients.
Since 2005, Infinit-O has been helping small and medium companies to expand more efficiently through outsourcing. They help healthcare companies improve their processes in all aspects, be it medical billing, patient services, or telehealth.
Tri Source International makes outsourcing simple for businesses in various sizes and verticals, including healthcare. They provide top-tier outsourced customer support and back-office services packaged with the best customer experience possible.
How healthcare outsourcing companies thrive despite challenges
Outsourcing as a business model helped a lot of companies and businesses expand their operations. For the healthcare industry, this means that they can focus on treating and caring for their patients.
One of the more obvious reasons that outsourcing continues to grow is that it opens up so many avenues for both employees and companies. Despite some pushbacks, businesses keep on and strive for growth.