Top 3 benefits of medical transcription outsourcing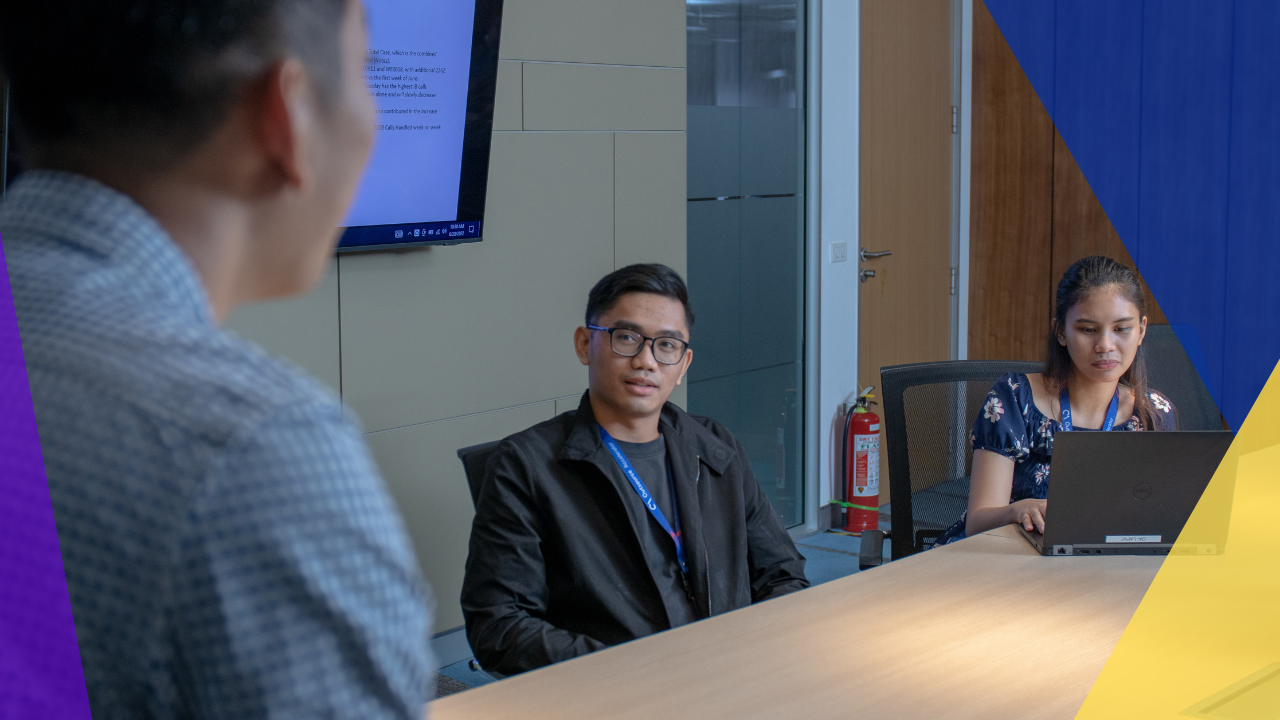 Business process outsourcing is not just exclusively for a few institutions anymore.
More and more medical services today are now also being outsourced to third parties. This has been made possible through continuous tech advancement in the healthcare industry.
Among the leading services in healthcare BPO is medical transcription. Farming out this job function has played a significant role for medical professionals in meeting the needs of their patients.
Outsourcing in the healthcare sector is readily available in the Philippines. Healthcare facilities from anywhere globally have thousands of highly qualified BPO companies to choose from in the country.
More so, these outsourcing companies' offered services are not only limited to medical transcription roles alone. They also offer a range of outsourcing functions such as revenue cycle management, claims processing, and billing, to name a few.
EMAPTA, a leading Philippines outsourcing supplier, shares its insights on this topic.
How medical transcription outsourcing works
Medical transcription outsourcing happens when a healthcare establishment hires a third party for medical transcription services.
WIthin medical transcription outsourcing, medical providers will send audio files to their chosen healthcare outsourcing provider. The medical transcriptionist will then convert the audio files into transcripts.
The converted files are accurate transcripts that are formatted according to the client's requirements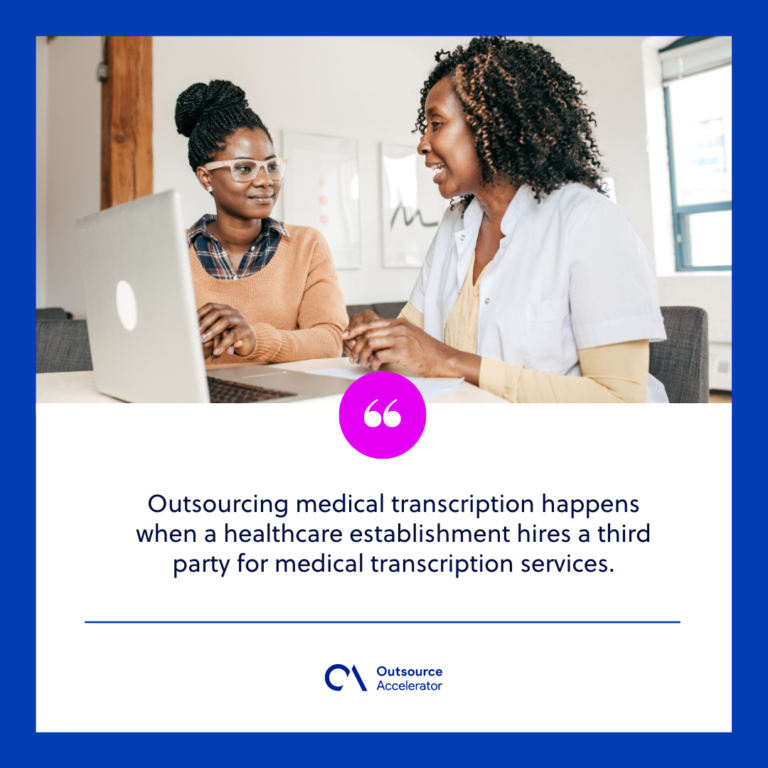 Reasons for outsourcing medical transcription services
Medical transcription solutions are in high demand since healthcare institutions gain greatly from this service because it allows them to provide their patients with adequate attention and specialist help.
Here are four reasons to outsource medical transcription services.
1. Affordable cost
The majority of healthcare practitioners choose medical transcription outsourcing to save time and costs.
As a medical professional, you are either stuck between transcribing your own notes or hiring an in-house transcriptionist for the work.
Doing transcriptions alone could keep you from other crucial work, including caring for your patients. Hiring an in-house staff, meanwhile, requires training, labor costs, and equipment on your part.
In contrast, when you opt for medical transcription outsourcing, you often pay simply for the transcripts generated and not for the expenses associated with recruiting and supervising transcriptionists.
2. Access

to highly

skilled professionals
Medical transcription is not a typical occupation, for it demands specialized industry knowledge, skills, and talents.
A medical transcriptionist is required to have a comprehensive understanding of both basic and advanced medical terms. Additionally, they must have great typing and communication skills to follow spoken or written directions in transcribing notes accurately.
Your notes will be correctly transcribed by an experienced service provider at a medical transcription firm. In addition, you can efficiently hire a medical transcriptionist staff specialized in certain areas, such as ophthalmology and radiology.
3. Quality control
Outsourcing medical transcription services allows you to exercise complete leverage over your medical transcription outsourcing needs.
You may provide a full explanation of the accuracy of the outputs you're aiming for, monitor the process yourself, and address any faults or problems that may develop.
4. HIPAA compliance
The Health Insurance Portability and Accountability Act (HIPAA) is the privacy guideline for the safeguarding of sensitive patient information.
The purpose of this legislation is to preserve private information while also facilitating the effective transfer of this data between those who are authorized to access it.
Outsourced medical transcription service providers commonly organize and submit their HIPAA compliance to ensure that they have full security of a patient record.
Three benefits of medical transcription outsourcing services
Here are three undeniable advantages of medical transcription outsourcing services:
Effective medical documents consolidation
Serving as the basis for the patients' treatments and history, medical records should always be accurate and error-free.
Having an outsourcing provider can greatly help in consolidating medical documentation, from audio transcription to written documents.
Patient history and diagnosis
History and diagnosis are needed during the entire process of a patient's treatment. With this, keeping a good monitoring system for the patient's medical records and their diagnoses is crucial.
Storing tons of physical files can be an additional task for medical professionals and institutions in general. A centralized digital database for all patient information would be the most convenient way to keep updated records.
Learning materials
Using medical transcription technology saves a lot of energy and time in learning about existing and new diagnoses.
The data from medical transcriptions can be a great tool for developing learning materials. This also helps support specific medical research and in training your healthcare employees as well.
Thus, through the use of the internet, these documents can be easily accessed by the employees.
People can open files and learn from anywhere. Whether at home, while on their way to work, or at work, even on break times, and whenever they could.
Medical research interviews
Through outsourcing medical transcription services, your research interviews can now be transcribed quickly and efficiently.
Important research information can also be acquired from patient interviews. As a medical practitioner, documenting them yourself is one meticulous task. You can outsource this function to focus on patient diagnosis without missing out on relevant data from your patient sessions.
Focus on core tasks
Medical transcription solutions could help you focus on the more important tasks you need to accomplish.
Hiring in-house staff requires stable monthly expenses for salaries, resources, office space, and training. Medical transcription outsourcing takes away the burden of having to spend more, put in more time in training newly hired employees, and efforts to retain them.
Medical transcription will also give you and your team more time to improve your facilities and services for your patient's well-being.
To help you more with your search, you may also check out Outsource Accelerator's BPO Directory page. We currently have over 900 outsourcing partners readily available, specifically in medical transcription services.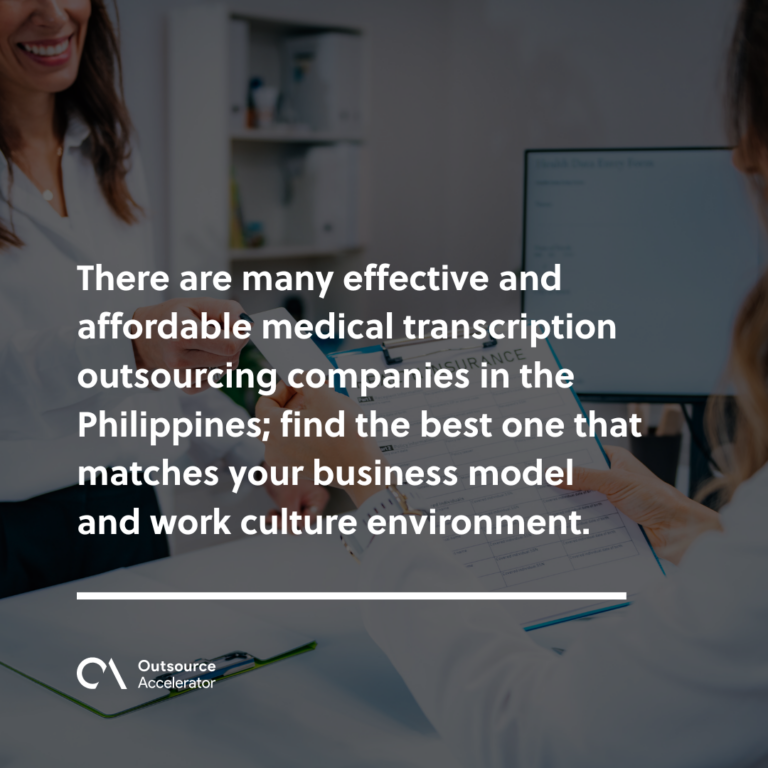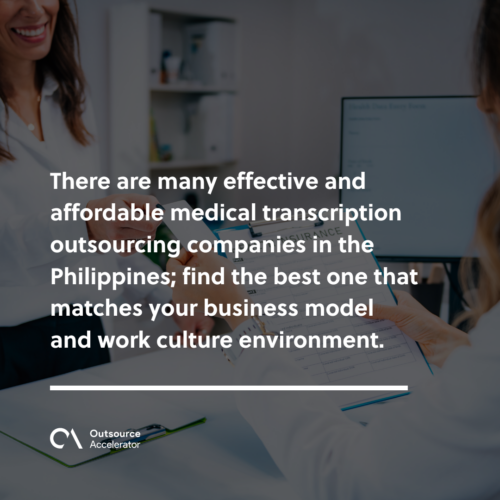 Why consider medical transcription outsourcing?
If you consider outsourcing medical transcription, seasonal swings will not be a concern. Depending on your transcribing needs, the service provider can provide an expert medical transcription team at your convenience.
Outsourced medical transcription services free you from keeping an in-house transcribing crew, which may have a lot of work one month and much less the next.