Why dictation services are important to healthcare professionals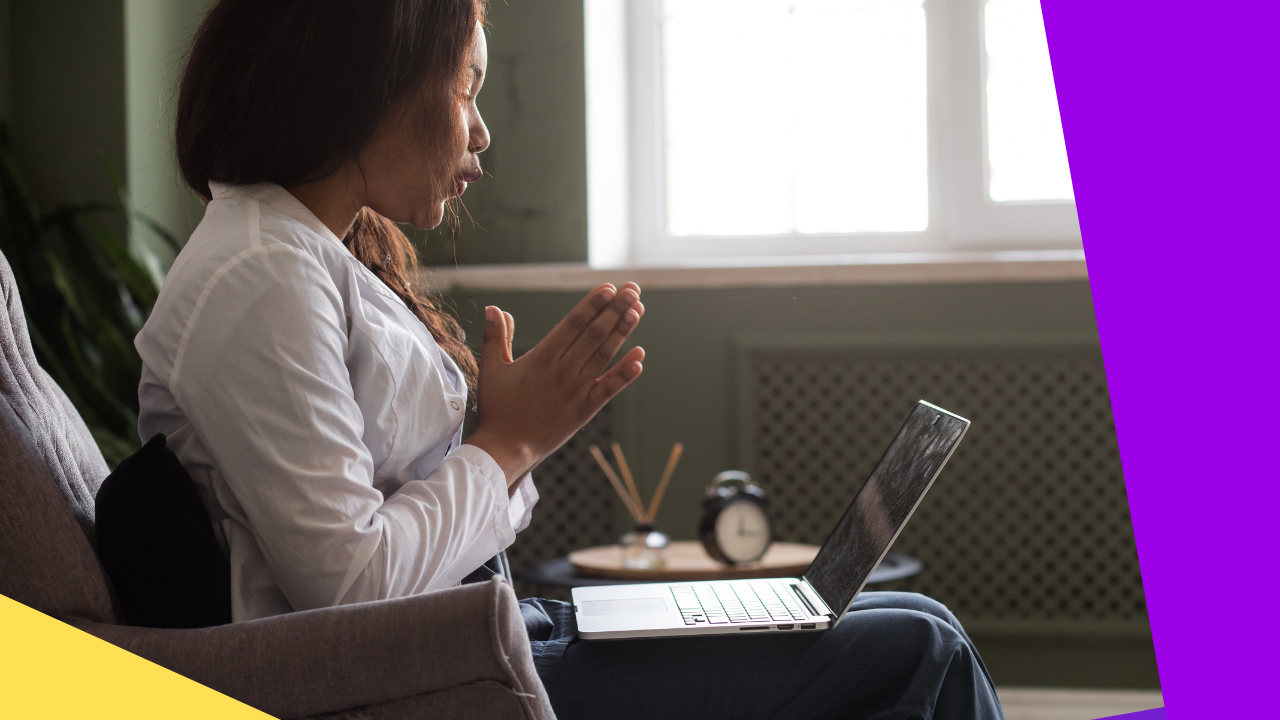 Why dictation services are important to healthcare professionals
Dictation service for healthcare is a practice that many medical professionals in varying industries are dabbling in. From the healthcare sector to the legal industry, they need online dictation services to format digitally recorded files into readable sources.
Also known in medical terminology as medical transcription service, this practice is important to healthcare providers as this is one of the more efficient ways to organize clinical documentation, files, reports, and analysis.
Rather than pouring in hours of administrative work, medical professionals like doctors and nurses can record themselves and let others transcribe their audio files.
Medical transcription
Medical transcription is a well-known branch of transcription and dictation services.
Many medical transcription services and medical cases are handled by company-trained transcriptionists to work efficiently and produce error-free outputs. At any rate, minor errors that can be quickly corrected are not flagged, but mistakes that can cause damage to the parties involved are not taken lightly.
This line of work values employees with a keen eye for detail and who are productive, intuitive, adaptive, and dedicated to giving the best medical transcription services.
Defining online dictation services
Experts define online dictation services as business service that focuses on transforming and reformatting audio and video files into a readable format. The final medium can either be digital (using medical dictation software) or written.
Mostly used in the legal, healthcare, and education sectors, dictation services have penetrated digital media as well.
From podcasts to online courses, transcriptions of different formats of media can be found alongside readable text.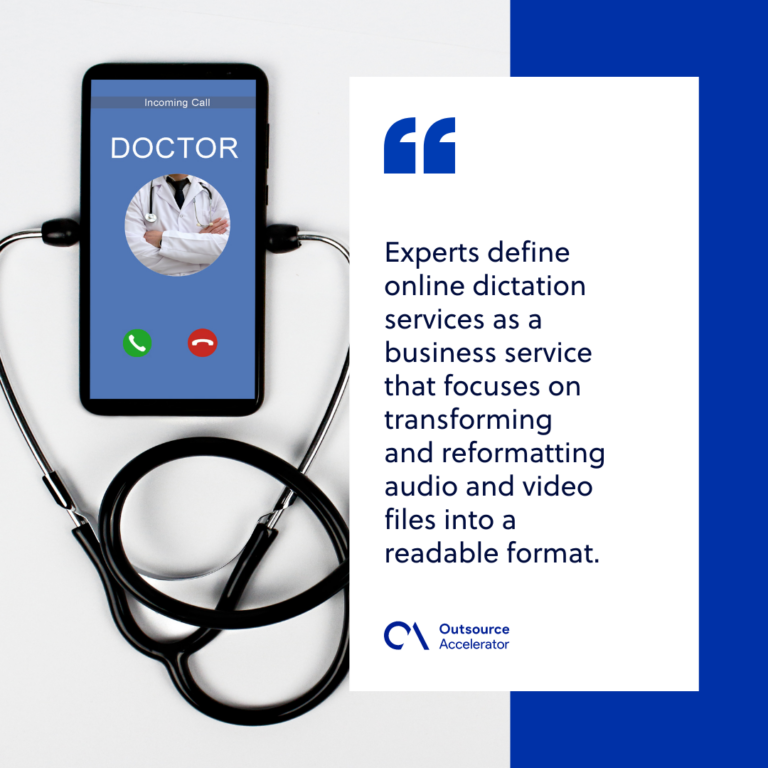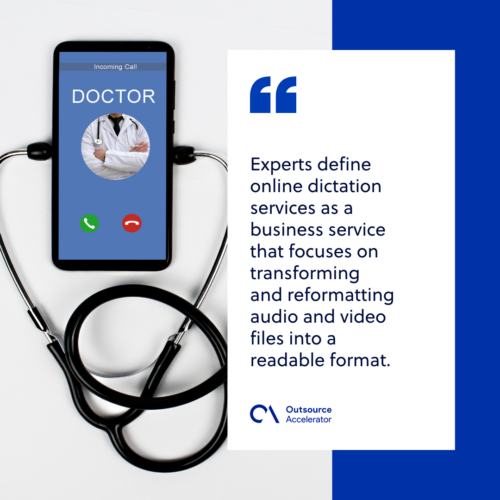 Can I get dictation services for free?
Yes, you can get dictation services.
Along with paid online dictation services, free apps and tools are available for the public.
However, the use of free services is limited. They can use these for personal projects and small-scale work. Extensive note-taking and reformatting must be done with at least one paid service to ensure its quality.
Free online dictation services
Below are some of free dictation services healthcare providers can acquire:
Google doc's built-in voice typing
The world's leading cloud-based document processing service has its own built-in speech recognition software.
Google's voice-typing AI works and recognizes over 20 languages in its database. Most of its users are students, professors, and those who are in the education sector.
With the AI's capacity to quickly pick up words, phrases, and sentences, it's becoming a favorite amongst its user base.
Otter
With Otter's support for the famous video conferencing platform Zoom, its name is uttered amongst working professionals and webinar enthusiasts.
Along with its powerful voice recognition AI, Otter can transcribe meetings with the highest accuracy. There's no need for the organizer to hire a transcriber when Otter's software can do the hard work itself.
Speechnotes
Take notes with ease with Speechnotes. One of their promising speech-to-text aspects is the promise of "[moving] from voice-typing (dictation) to key-typing seamlessly​."
Their website is straightforward and simple to use, with instructions on how to properly punctuate your notes.
Speechnotes has a paid transcription service that starts at $0.1 per minute. Their sophisticated AI will transcribe audio file and video file for your convenience.
Apple Dictation
One of the lesser-known features of Apple products is its ability to convert speech into text. While this can be used for quick note-taking, users can't upload a file and let the AI transcribe it.
They built the feature into the product's keyboard or into the system. It's useful when you're running a live or pre-recorded video or audio file and want to dictate the speech quickly.
Outsourcing dictation services
Large batches of paperwork, especially in the healthcare industry, can't be avoided.
So instead of processing patient records in-house and risking the quality of the output, most healthcare institutions opt for third party transcription services.
It's cost-efficient and quality controlled—as they dub most transcribers as professionals in their field. Not to mention that these transcribers have their niche and skill set developed for this line of work.
The human touch in dictation
While many professional recording systems have built-in AI transcribers, the machine may pick up the wrong jargon, phrase, or word that may be important within context.
It's better to let another human decipher and encode the electronic health record in a readable format.
To freelancers and independent contractors
Outsourcing medical transcripts to freelancers and independent contractors is a cost-effective way to reduce the workload in the department. Most of them have adequate experience, and some even have degrees related to healthcare.
It's a well-known fact that freelancers work with their own equipment at home. They also file their own taxes and insurance, making the company not liable for their benefits.
Above all, they can work on a per-hour basis or per project.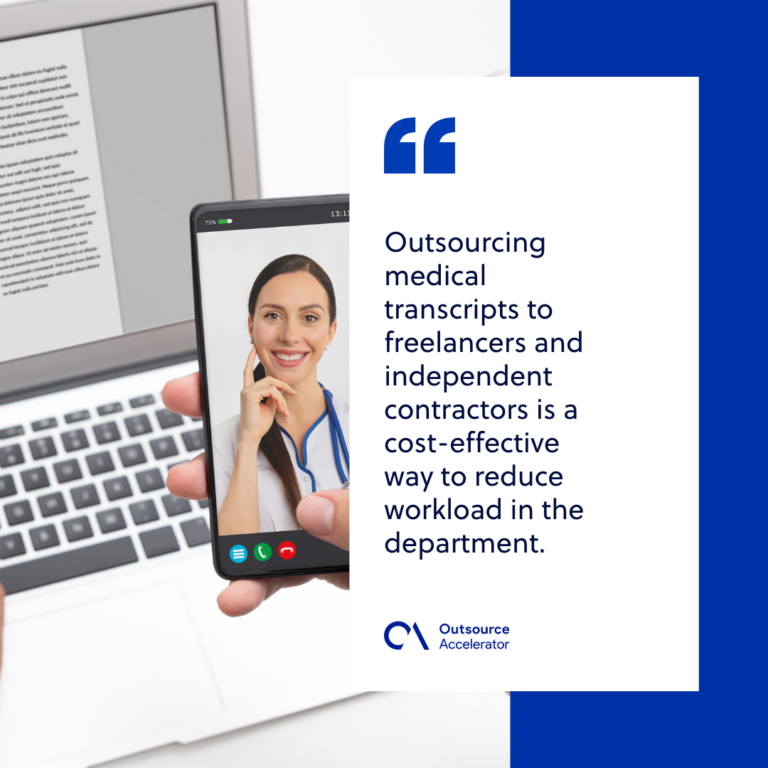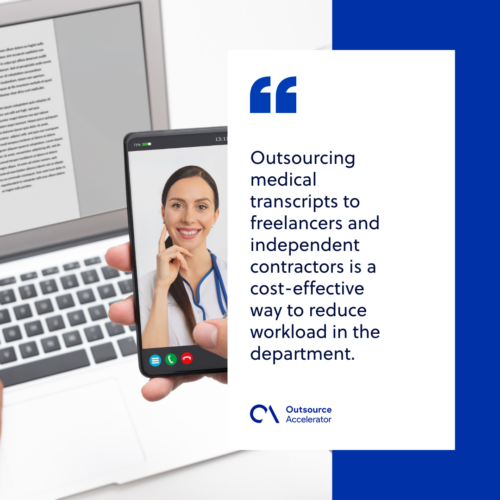 To outsourcing companies
Partnering up with outsourcing companies is substantial if the institute is dedicated to gaining an entire department to reformat and transcribe findings, processes, and files.
Outsourcing companies dedicate a workforce to each of their clients, ensuring the quality of each output that they produce.