Top 30 tech companies in Texas to partner with in 2024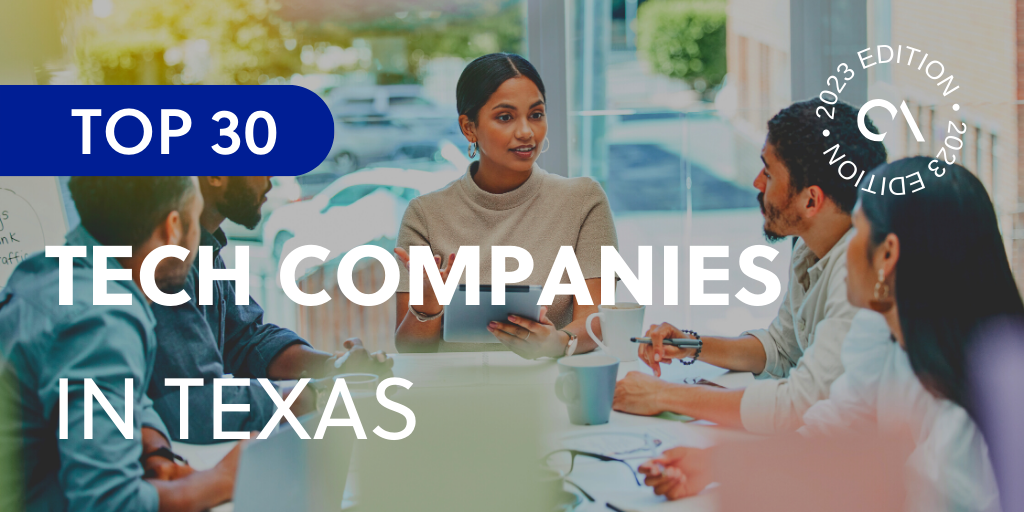 List of tech companies in Texas
Businesses prioritize capital investments for technological advancement and information technology (IT) infrastructures because of their impact on improvement and development.
There are many ways where organizations can mix and match the functionalities of technology services depending on their requirements.
Aside from IT infrastructures, service providers today offer Software-as-a-Service (SaaS) products that help businesses innovate systems and maximize their resources.
Importance of tech companies in the economy of Texas
According to Forbes, one of the reasons why Texas is considered a winning hub for business is because of the state's initiatives to capitalize on synergies across multiple emerging tech hubs.
As a result, top tech companies, particularly those headquartered in Austin and Houston, were recognized globally and have established their names in the tech industry. 
According to CompTIA's annual State of the Tech Workforce forecasts, Texas topped the nation for new tech jobs in 2022.
Texas has over 800,000 IT professionals working for tech companies in different industries. The state's tech workforce is the second largest in the nation.
Factors that change the face of technology in Texas:
When providing service excellence and customer satisfaction, it is necessary to continuously enhance and adapt to different technological advancements. 
Because of its vitality, technology became a driver of many organizations in Texas towards innovation and improvement. 
Let's look at some factors that change the face of technology in Texas:
Competitiveness in global IT arena
Texas has a well-established tech industry that paved the way for the state to be recognized and earned a global reputation as a leader in technology services.
Texas tech sector development spans almost everything from integrated circuits to IT infrastructure parts. New technologies found in Texas allow the state to handle competition in the global IT arena, attracting job seekers and investors.
Job opportunities for tech workers
Since the technology sector has expanded in Texas, new job opportunities related to the IT and technology sector also increased over the years.
Many studies have recorded an increase in employment in Texas for the said industry attributed to its emergence of tech companies. 
Texas also provides opportunities to remote workers worldwide. Tech firms offer jobs from satellite operation offices in different countries to ensure quality and excellent service delivery.

Drives economic development 
As mentioned, technology has significantly impacted the overall performance of its economic state. Aside from new job opportunities in tech services, the state attracted many investors from different countries.
Texas established a name as a destination for the tech industry and has continuously evolved over the years.
Top global outsourcing list
Outsource Accelerator is the world's leading outsourcing marketplace and advisory. We list over 3,000 BPO firms located across the globe in our global directory, and we provide detailed information, price guides, and reviews.

Whether you're a solopreneur, SME owner, or corporate executive, we can help you find the most suitable outsourcing provider for your business.

Explore our outsourcing directory now. You may also check out our Top BPO Outsourcing lists per country here:
Top 30 tech companies in Texas
Here we have today's top tech companies in Texas where your businesses can propose partnership and collaboration:
Location: Downtown Austin, Texas 
Founded in: 2013
Aceable is an Edtech company that centers on empowering leaders to help achieve goals, providing convenient and user-friendly licensing courses. 
Its team is composed of experts and educators who create different approaches to online learning.
As a top tech company in Texas, Aceable now services over 1,000 hours of course content in different fields. The team has 200+ employees, including industry experts, creatives, developers, and customer experience representatives.
Located: Houston, Texas
Founded in: 2016
Cognite is an international software company bringing digital transformation to heavy-asset industries in different countries. Its software products are aligned with existing Information Technology (IT) and Operational Technology (OT) infrastructures.
Cognite processes a variety of industrial data from siloed source systems and makes it accessible for humans and machines to deliver visualizations, analytics, and AI at scale.
Location: Northwest Austin, Texas
Founded in: 2010
Iodine is known for championing services that create value for healthcare professionals, leaders, and organizations. This enterprise AI company automates complex clinical tasks, generating insights and supporting intelligent care.
This tech company helped shape the healthcare system's future and its survival. With strong relationships with dedicated clinicians and healthcare executives, predictive tools were provided to empower them with a balance of quality, efficiency, and system financial resilience.
Location: Northwest Austin, Texas
Founded in: 1980
CCC Intelligent Solutions is one of the top tech companies in Texas that provides a wide range of cloud and mobile solutions for automotive and insurance companies. Its platform has a strong network of insurance companies, parts suppliers, repair facilities, and third-party providers.
The company's solutions help people recover their mobile cars after encountering accidents. At the same time, they can improve connections and relationships between players in the automotive and insurance field.
Location: Oak Hill Austin, Texas
Founded in: 2013
AdAction is a well-known tech company that has been a top provider of services for ad networks in performance-based mobile app marketing for almost a decade. It caters to over 6 million monthly conversions for well-known companies and game developers. 
The company has partnerships with renowned brands and tech leaders, including Apple, Twitter, Poshmark, and FourSquare. 
The firm specializes in mobile app services, offering owned and operated inventory and strategic partnerships to publishers worldwide.
Location: Houston, Texas
Founded in: 1981
AspenTech is known to be one of the top tech companies in Texas that develops software for oil, gas, chemical, and engineering companies. It aims to achieve the client's desired level of safety, sustainability, and operational performance.
Using AI and machine learning capabilities, the company helps shape clients' competitive drive by unveiling new opportunities in process modeling, simulation, and optimization. 
Today, the company has raised over $100 million in funding to acquire seven organizations. 
Location: Downtown Dallas, Texas 
Founded in: 2011
This tech company mainly provides cloud data and security solutions to the healthcare industry. It helps medical establishments to conform to the industry requirements and comply with global standards, privacy, and security.
ClearDATA offers services to key players in the healthcare industry, including healthcare technology, providers, payers, and life sciences companies.
Location: The Domain Austin, Texas
Founded in: 1996
Expedia Group is an established vacation rental platform providing access to hotels, houses, cabins, and other services for travel across 190 countries worldwide. It also works with the booking process for vacationers and those listing their homes. 
The platform provides easy access for renters to find great places to stay and listings of owners to manage their place's prices, bookings, and policies.
Location: Houston, Texas
Founded in: 2006
Cradle Solution is a tech company for software development that caters to clients in various industries. It offers Software-as-a-Service (SaaS) products, technical and executive training, and IT governance consulting services.
Industries like oil, gas, and home healthcare are some of its serviced industries. It offers customizable software tools to automate and streamline the systems and processes of these companies and provide excellent customer experience.
Location: Shavano Park, Texas
Founded in: 2012
WellAware develops a remote asset management technology customized to automate equipment for the gas and oil industry. The company's technology provides comprehensive end-to-end data to acquire, monitor, and analyze datasets for oilfields for intelligence.
It supports the energy sector with solutions that can minimize downtime, lessen operating costs, ensure regulatory compliance, and enhance the safety efforts of daily operations.
Location: Upper Kirby Houston, Texas
Founded in: 2005
FlightAware is one of the top tech companies in Texas, providing real-time flight-tracking services to its customers. It utilizes data from air traffic control systems globally, creating a unique tracking tool for aircraft operators, service companies, and travelers.
The firm has a million records of passengers and works with customers from United Airlines, TripAdvisor, and Hawaiian Airlines, making it the world's largest flight-tracking company in 2019.
Location: Montrose Houston, Texas 
Founded in: 2000
This tech company assists customers in recording and searching television for relevant clips and content. It is powered by cloud-enabled solutions where organizations can access TV programs from different devices and record shows.
SnapStream is highly capable of providing services to a wide range of impressive customers in the state. It covers shows like The Daily Show with Trevor Noah, MLB Network, Last Week Tonight with John Oliver, and the U.S. Senate.
Located: Downtown Dallas, Texas
Founded in: 1876
Cision is a leader and global provider of earned media software and services to public relations and marketing communications experts. The Cision software solutions allow users to determine influencers, conceptualize and develop strategic content, and measure meaningful impact.
Cision's Media Relationship Management is one of the most trusted media and influencer outreach solutions. It helps build powerful relationships while securing expanded quality coverage.
Located: Houston, Texas
Founded in: 2001
Enstep Technology Solutions provides small and medium-sized businesses partnerships and IT services. The company is passionate about helping clients consider innovative ways to make technology work for their business.
This tech company also helps firms achieve their goals and alleviate potential risks like losing data. It offers comprehensive backup management services including, threat assessment and disaster recovery testing.
Location: Downtown Dallas, Texas
Founded in: 2012
This marketing software provider is part of the list of top tech companies in Texas that have expertise in the following services:

Email marketing

Professional websites

Social posts 

Referral campaigns
OutboundEngine consists of talents that conceptualize creative ideas and engage content for each brand partner. They also create automatic campaign systems to cover scheduling and follow-ups. 
The ultimate goal is to help businesses grow and drive long-term value for customers.
Located: Dallas, Texas
Founded in : 1930
Texas Instruments is a well-known global semiconductor and manufacturing company that conceptualizes, designs, and tests analog and embedded processing chips. It offers a wide range of product services to more than 100,000 partner customers.
It helps clients to effectively and accurately transmit data and ensure quality control for their design. It services industries, including automotive, electronics, communications, and enterprise.
Location: Dallas, Texas
Founded in: 1997
Telvista is a telecommunication industry leader offering technical solutions. Its expertise focuses on IT services, including:
Application development

Infrastructure and systems integration

Social media management

Multichannel support
It also offers partnerships and collaborations with industries, including telecommunications, technology, travel, financial services, and retail. The team working in Telvista consists of well-trained lead engineers, call center technical support, and sales account managers.
Location: Westlake, Texas
Founded in: 2005
Solera is one of the top tech companies in Texas that offers risk and assessment software and services. It caters to companies in the automotive and property market, including global property and casualty (P&C) insurance. 
It creates a digital marketplace for customers to manage their vehicles. This tech company processes over 200 million transactions annually with over 180,000 customers across more than 70 countries. 
Solera also expands into the household by taking data, software, and connectivity from the auto to the home.
Located: Carrollton, Texas
Founded in: 1978
Tellabs is an innovation leader in fiber-based technologies. It has notable first-to-market success and a long record of history in terms of established investments in fiber optics research and development innovations. 
This tech company has delivered intelligent network services and support to its service provider and enterprise customers for a decade. Its core services focus on the following areas: 
Technical support 

Professional services

Training

Digital credentials
Located: Austin, Texas 
Founded in: 2009
Cloudflare is a driver to help build a better internet connection for its customers. It provides security and accelerates internet apps online without performing the installation of software or adding hardware. 
Internet properties under Cloudflare have a unique traffic pathway routed through its intelligent global network. This results in improved performance for their clients and decreases incidents of spam and other online attacks.
Located: Austin, Texas 
Founded in: 2005
This firm is another leader in identity security, performing services to modern enterprises. 
Maximizing the capability of AI and machine learning, SailPoint automates the management and control of access, providing only the required access to the specified identities.
SailPoint solutions match its partner enterprises' scale, velocity, and environmental needs. It supports and empowers the most complex enterprise globally to create strong privacy and security measures grounded in identity security.
Located: Downtown Dallas, Texas
Founded: 2010
Optimizely is an innovator and the world's leading experimentation platform. It allows businesses to elevate the value of their digital products, commerce, and campaigns through its software solutions.
Optimizely has three service areas focusing on orchestration, experimentation, and monetization. It transforms digital guesswork with evidence-based results, enabling product and marketing professionals to accelerate innovation.
Location: Windcrest, Texas 
Founded in: 1998
Rackspace Technology is one of the top tech companies in Texas with multi-cloud solutions experts. 
Its technical knowledge of the world's leading technologies and multi-cloud environments for applications, data, and security brings growth and efficiency to businesses.
The company solves more than workload problems and creates business advantages. Its solutions with firm expertise serve as a means to empower partners to work faster, smarter, and ahead of what's next.
Located: Austin, Texas 
Founded in: 2005
Bazaarvoice is a customer experience management company acquired by Oracle Corporation in 2014, and the acquisition was completed in 2017. 
The organization practiced a people-first approach to advanced technology, connecting brands and retailers to customers. 
The company's executive team includes some of the industry's most knowledgeable and expert executives. With the skillful leadership and guidance of organizational leaders, Bazaarvoice continues to grow and thrive, embracing its core values.
Located: Houston, Texas 
Founded in: 1975
Since its establishment, Microsoft has transformed into a well-recognized tech titan, serving customers worldwide with its software products and services. From Xbox to Office 365, products are widely used in the tech world, both entertainment and business sectors.
In 2016, Microsoft introduced its first cloud-based Microsoft Technology Center in Houston. It has engaging concepts for customers to be involved in immersive experiences, proof-of-concept workshops, and strategy briefings.
Located: Houston, Texas
Founded in: 1919
KBR, Inc. is a top-performing tech company in Texas that provides services and technologies to government and other industry clients. It is an engineering, procurement, and construction company operating across 40 countries.
The organization offers government solutions comprising defense, space, and aviation lifecycle, while its technology products encompass equipment, catalysts, and digital solutions.

Located: Houston, Texas
Founded in: 1980
BMC Software is a reinventor partner of businesses through its open, scalable, and modular solutions to pressing and complex IT challenges. It collaborates with 86% of the Forbes Global 50 and customer partners worldwide to create their future. 
It expertise is composed of innovation, automation, operations, and service management solutions combined with unmatched flexibility. BMC helps organizations become autonomous digital enterprises that can conquer better opportunities.
Located: Austin, Texas
Founded in: 2010
WP Engine is a well-recognized web hosting company specializing in WordPress. It provides brands the solutions to create unique sites and apps that drive their business towards success.
With values-based decisions and innovative ideas, WP Engine is a trusted builder of excellent digital experiences. It is a diverse and inclusive set of people who bind together by shared purpose and values.
Located: Austin, Texas
Founded in: 1984
The company develops and creates audio products for various applications for electronic devices, including smartphones, personal computers, and voice-over-IP telephones.
Cirrus Logic has over 5,000 well-trained employees in different satellite operating offices worldwide. Its hardware and software solutions enhance the consumer experience for the world's top mobile and consumer applications.
Located: Austin, Texas
Founded in: 1976
National Instruments is a multinational company that conceptualizes and develops software and hardware to support scientific research, engineering, and education. It has a market capital of $5.13 billion.
Over the years, NI has produced automated test and measurement systems that help many engineers solve some of the world's toughest challenges. NI's business services stretch to multiple industries, including the following: 
Aerospace and defense

Energy and industrial automation

Medical devices 

Media Entertainment 

Semiconductors and telecommunications

Wireless communication