Top 20 tech companies in Minneapolis to watch out in 2024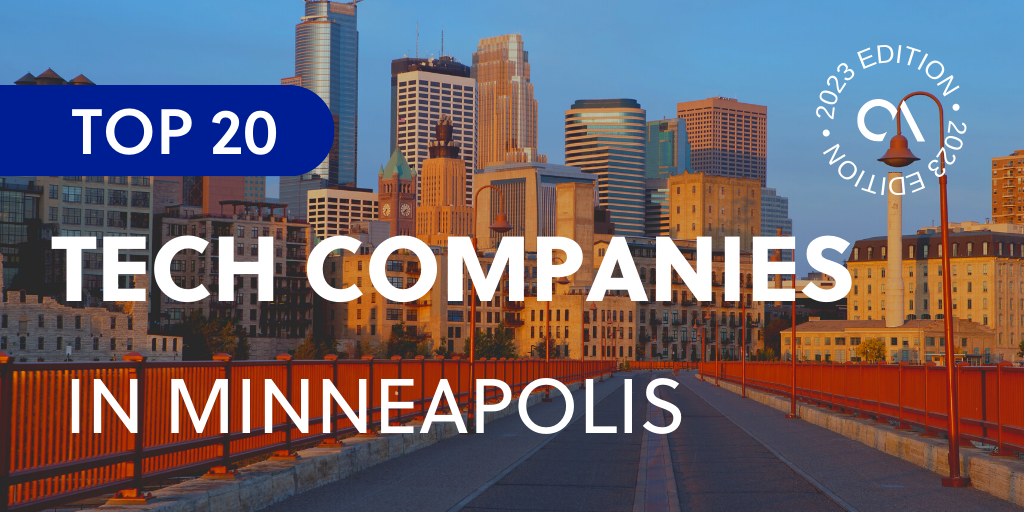 List of tech companies in Minneapolis
Minneapolis, one of Minnesota's largest tech hubs, has long demonstrated its contribution to the state and national economy. 
In terms of talent, more than 10,000 professionals graduate from Minneapolis each year. This indicates that the region's IT sector can produce talent and is growing faster than other states. 
According to a report from Business Insider, Minneapolis was named one of the top 15 best US cities to launch a startup.
Minneapolis and its twin city, Wisconsin, saw an increase in startups and entrepreneurship of 81.34% in 2018 alone compared to the previous year. It makes the city a remarkable place to start a business, especially for the tech industry.
But these are made even more possible by top tech companies in Minneapolis that build attractive workplaces for skilled professionals at any level and field.
Minneapolis houses tech companies from web development, cybersecurity, FinTech, and aerospace research. These prime tech firms provide world-class services for local communities and international clients. 
Why is Minneapolis a perfect place to start your tech business?
M25 has released its 2021 Best of the Midwest: Startup Cities Rankings. The annual Midwest Cities Rankings examines and ranks 59 cities, including Minneapolis, based on their performance in terms of:
Startup activity

Access to resources

Business climate
Recent research and studies recognize Minneapolis' emerging tech industry and economic development.
In choosing a place for investment and startup, it is necessary to properly determine the level of its progression and how your business performs at present.
Minneapolis' large number of tech professionals, including remote IT experts, has established strong support for its overall tech sector. This resulted in an incomparable curve to its economic development.
Top global outsourcing list
Outsource Accelerator is the world's leading outsourcing marketplace and advisory. We list over 3,000 BPO firms located across the globe in our global directory, and we provide detailed information, price guides, and reviews.

Whether you're a solopreneur, SME owner, or corporate executive, we can help you find the most suitable outsourcing provider for your business.

Explore our outsourcing directory now. You may also check out our Top BPO Outsourcing lists per country here:
Top 20 tech companies in Minneapolis 
Here we have today's top tech companies in Minneapolis your businesses can collaborate with:
Location: Eden Prairie, Minneapolis
Founded in: 2011
Optum is an international organization for healthcare technology and innovation under the company of the UnitedHealth Group enterprise with UnitedHealthcare. 
The company consists of more than 30,000 innovators and is one of the leading tech companies in Minneapolis. It modernizes the healthcare system through analytics, clinical expertise, innovative technologies, and experience in operational and clinical performance.
Located: Bloomington, Minneapolis
Founded in: 1887
75F is one of the leading tech companies in Minneapolis, Minnesota, to create energy-efficient and intelligent building solutions. In 2008, the United Nations launched a campaign to raise their secretariat building temperature from 70 to 75° F.
The reason is to reduce carbon footprints, and the inspiration from that thought started the 75F. The company uses IoT to create buildings that are sustainable, comfortable, energy-efficient, and positively impact the real estate sector. 
Location: First Avenue North, Minneapolis
Founded in: 1995
Perforce Software is one of the top tech companies in Minneapolis that provides highly scalable development and DevOps solutions. It delivers dynamic development, intelligent testing, risk management, and boundaryless collaboration. 
Its global experts bring insights, experience, and best practices to enterprises across many verticals. It serves as an advisor for leading companies on the following:

Automotive and semiconductor

Financial and medical services

Game development and virtual production

Retail/consumer packaged goods (CPG)

Travel, entertainment, and industrials  
Location: Saint Paul, Minneapolis
Founded in: 1998
PCs for People is a non-profit organization situated in Minneapolis that focuses on providing computer devices and broadband services at an affordable price.
Over the years, the firm served almost 155,000 clients with computers and internet requirements and recycled over 8 million pounds of electronic devices. PCs for People plays a vital role in digital inclusion and community building.
Location: Burnsville, Minnesota
Founded in: 1984
Data Transmission Network (DTN) helps partners become world leaders with its experience in various fields such as agriculture, energy, weather, financial analytics, and transportation. 
For this purpose, DTN delivers customer insights and analytics through internet connections. With detailed analytics, customers can make critical decisions and mitigate risks. 
DTN also centers on optimizing the business's supply chain management.
Location: Maple Grove, Minneapolis
Founded in: 1997
IRIS Consulting Corporation is a privately held IT staff augmentation and consulting organization supporting IT companies around Minneapolis to provide best-in-class talent and resources.
The company is committed to finding the best local talents through staffing solutions and is one of the top tech companies in Minneapolis. It understands the needs of a particular organization and provides tailored solutions.
Location: Minneapolis, Minneapolis
Founded in: 1987
SPS Commerce helps retail trading partners work better together. It empowers data collaboration in the retail supply chain with an expert team, proven processes, and industry-leading technology. 
The organization strengthens the global supply chain for customers. Its mission is to connect all retail trading partners through the easiest-to-join and use retail network.
Location: Minnetonka, Minnesota
Founded in: 1994
Digital River is one of the leading tech companies in the Minneapolis region, focusing on Commerce-as-a-Service solutions. The organization provides SaaS commerce, payments, and marketing services for business-to-business (B2B) and business-to-consumer (B2C) businesses. 
It provides services from small to mid-sized companies of  various industry verticals, including the following:
Software and consumer electronics

Computer games and publishing

Travel, music, and video games

Electronic toys 
Location: Technology Drive, Minneapolis
Founded in: 1995
For the energy industry, OATI offers software solutions for smart grid, power and gas management, and transmission and reliability management. 
The company focuses on developing strategies to reduce North American energy usage. OATI has expressed interest in implementing the newest trends in the energy industry, from electric vehicle (EV) charging to microgrids.  
Location: Northeast, Minneapolis
Founded in: 2013
Gravie is part of the list of leading tech companies for healthcare, insurance, digital health solutions, and employer benefits. It is a marketplace to buy health insurance and manage healthcare-related expenses. 
The organization is working towards filling the gaps in the healthcare industry and has helped over 1,500 employees and 100,000 clients from the North American region. It has partnered with various brokers to improve healthcare access.
Location: Minnetonka, Minnesota
Founded in: 2012
Total Expert is a SaaS-based organization offering an enterprise-grade marketing operating system (MOS) for financial services. The organization promotes automated solutions to retain customers by re-humanizing complex financial decisions. 
The solutions aim to bring marketing, sales, and compliance on a central platform for clients to build their brands. 
Total Expert supports the banking industry and lenders through a human-first approach to global financial services. 
Location: Washington Ave, Minneapolis
Founded in: 2010
Mindset Consulting leverages the power of System Application and Product (SAP) to unlock the potential of employees in the IT sector. It shares understanding with people by making them the center of the SAP-driven ecosystem. 
The organization focuses on transforming enterprise organizations by refining their business processes. Some of the most popular solutions of Mindset Consulting are the following: 
SAP HANA Cloud Migration

SAP on Amazon Cloud

SAP Fiori Implementation

Custom HTML5 apps

SAP Consulting and Staffing 
Located: Minnetonka, Minnesota
Founded in: 2003
Horizontal Digital is an IT organization that focuses on crafting solutions that solve customer experience and promote loyalty. It includes the following services:
Digital marketing solutions

Customer relationship management tools

E-commerce platforms

Data analytics platforms
The organization also develops websites or mobile applications to cover every digital touchpoint that customers engage in. 
Horizontal Digital is one of the top tech companies in Minneapolis, working towards crafting connected experiences and conversation channels. 
Located: Washington Ave, Minneapolis
Founded in: 2008
Ascent Solutions is one of the innovative tech companies in Minneapolis focused on providing consulting services in cloud computing and cybersecurity. 
The organization aims to solve technology-related business challenges by understanding the client's business methodologies. Ascent can provide related consulting and implement strategic IT solutions by overcoming cybersecurity challenges. 
Location: Northeast, Minneapolis
Founded in: 2005
OceanTech is one of the global leaders in IT asset disposition (ITAD), data center decommissioning, and environmentally responsible electronics recycling. From small to large-scale enterprises, OceanTech provides cost-effective services to all. 
It recycles and re-creates out-of-date electronic devices no longer needed in computer systems. The ultimate aim of OceanTech is to provide the most value from unused electronic resources by following responsible recycling standards.
Located: Hennepin Ave, Minneapolis
Founded in : 2001
MentorMate is one of the finest software development companies in Minneapolis. The company provides services related to the following:

Web development

Enterprise architecture and development

Cloud, DevOps, and UI/UX design

Staff augmentation
MentorMate has worked with various clients across the globe and solved the most complex business problems in industries like education, manufacturing, medical, finance, and retail.
Location: South 4th Street, Minneapolis
Founded in: 2014
phData solves real-world business data and analytics problems with cloud platforms and products. With modern data platforms like Kafka, Cloudera, Hortonworks, and Kubernetes, phData delivers world-class solutions. 
The organization also utilizes data science, machine learning, and interactive analytics to provide more value to its clients. It is a premier provider of big data solutions that help refine overall business workflow and data pipelines.
Location: North 5th Ave, Minneapolis
Founded in: 2007
Calabrio delivers workforce optimization and analytics solutions. Its primary aim is to enhance customer experience and boost business growth. It allows partners to align activities that can handle multichannel customer demands. 
The organization has developed an integrated software suite called Calabrio One. It covers services like call recording, quality control, workforce management, and analytics solutions in one place. 
Located: North First Ave, Minneapolis
Founded in: 2005
Qumu Corporation crafts software solutions that help create, manage, and publish live and on-demand video streaming content. 
The organization aims to deliver a best-in-class video streaming experience for a global community that allows the clients to create deeper engagement with their audience. It has produced some of the finest video streaming experiences worldwide.
Located: Washington Ave, Minneapolis
Founded in: 2001
NetSPI focuses on delivering application and network security solutions to enterprises across the globe. 
It helps organizations scale and streamline security operations with its workforce of networks and cyber security experts. It combines managed services, application assessment, network assessment, and advisory services. 
NetSPI delivers 360-degree security solutions that detect and prevent common security threats and protect the organization's most critical asset.