10 best remote work jobs for 2024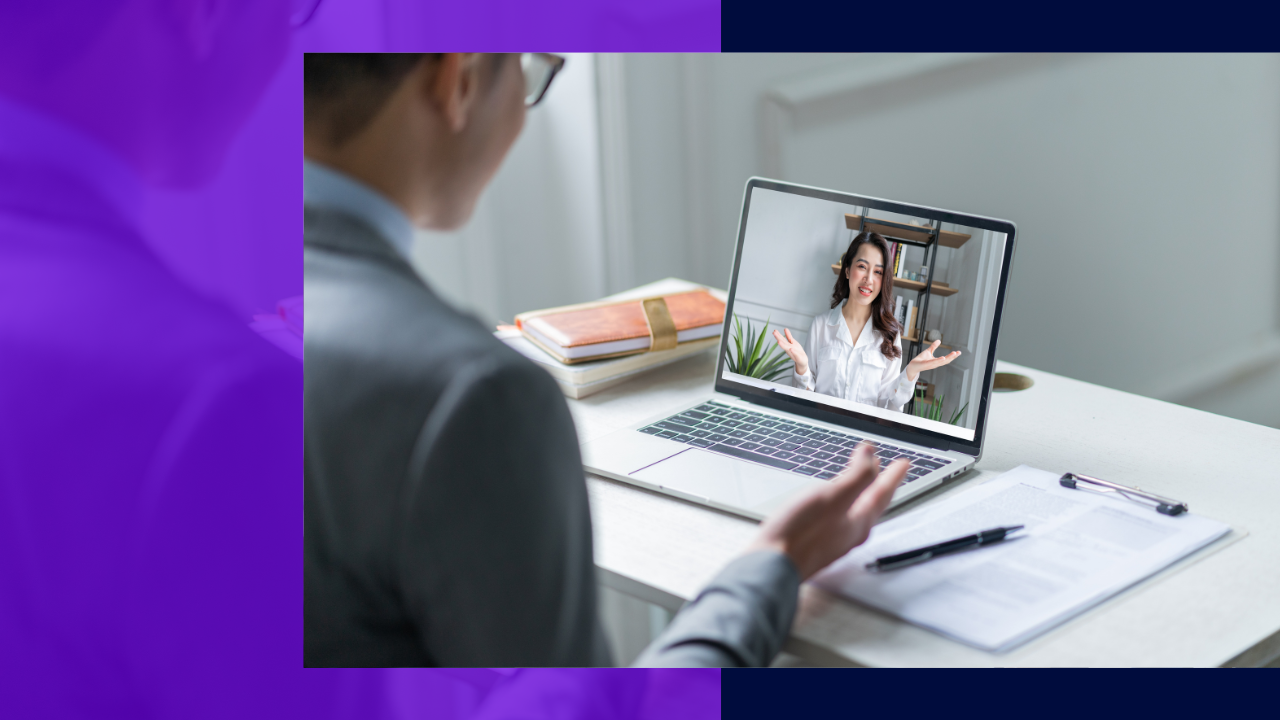 Remote work is more popular than ever. It's not a trend but a massive change in how companies handle their operations.
According to a survey from Gallup, an estimated 70 million workers in the US can do their job remotely. Additionally, current statistics show that around 80% of remote-capable workers are doing either hybrid or remote work. 
Remote work is here to stay, and many companies should look at their business models to see which roles can be adjusted to fit. 
Going one step further is outsourcing to firms like Remote Employee. Remote work opens opportunities for organizations to access global talent at more affordable costs. 
Why should companies consider remote workers?
Employers turn to remote work as a great way to cut overhead costs and gain access to top talent from anywhere in the world.
This work setup also offers other benefits, such as improved employee productivity and retention rates, leading to substantial savings over time.
New technologies and tools have made it easier than ever for people to work remotely. Communication platforms like Slack, office platforms like Google Docs, and project management software allow employees to collaborate regardless of where they are. 
There is a large potential in the remote work environment. To find the best workers for the jobs they need to be filled, companies can call on outsourcing providers like Remote Employee.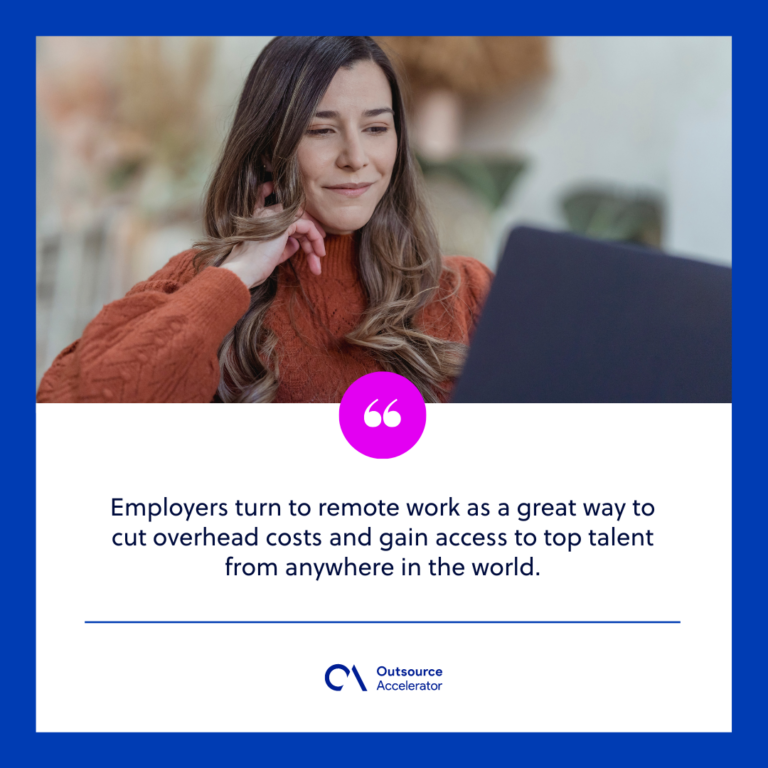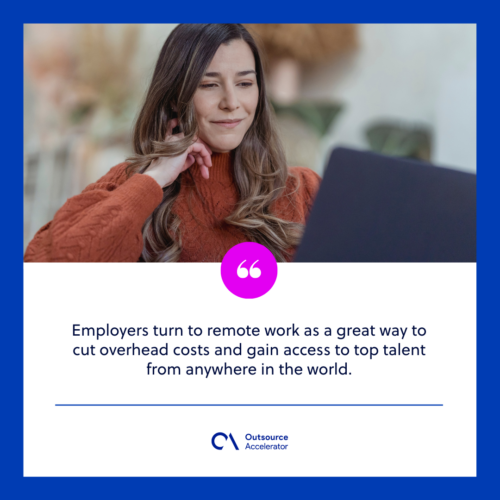 10 best remote work jobs 
Listed below are the ten best remote work jobs that companies can outsource: 
1. Customer service staff
A customer service staff helps customers with queries over the phone. Customer service jobs are available in a variety of industries – including retail, insurance, and banking. 
Customer service is one of the most critical roles in a business because the agents' efforts help keep customers returning for more. As it's done over the phone, this can easily be arranged for remote work.
The customer service industry is one of the largest in the world. A report by Fortune Business Insights shows that the global customer experience management market was worth $11.34 billion in 2022. 
The market value obtained a 12.2% increase from the previous year and is expected to increase to $32.53 billion by 2029.
2. Telemarketing
Telemarketing is one of the most common remote jobs that companies outsource. It requires minimal training; the only equipment needed is a computer and a phone. Telemarketers can work remotely as long as they have an internet connection. 
You can find telemarketing jobs in many industries, including financial services, healthcare, consumer goods, and technology. Even small businesses can make use of telemarketing. 
Telemarketing is a fast-growing industry for remote work, especially as more companies outsource their sales departments overseas or hire freelancers. 
3. Virtual assistance
Virtual assistants can greatly help your business, doing anything from data entry to research. They are also the perfect solution for small businesses that need help with administrative tasks. 
Virtual assistance is a popular remote job. While many companies seek them for general tasks, you can also find VAs with specialized skills in areas like marketing or design to help you grow your business.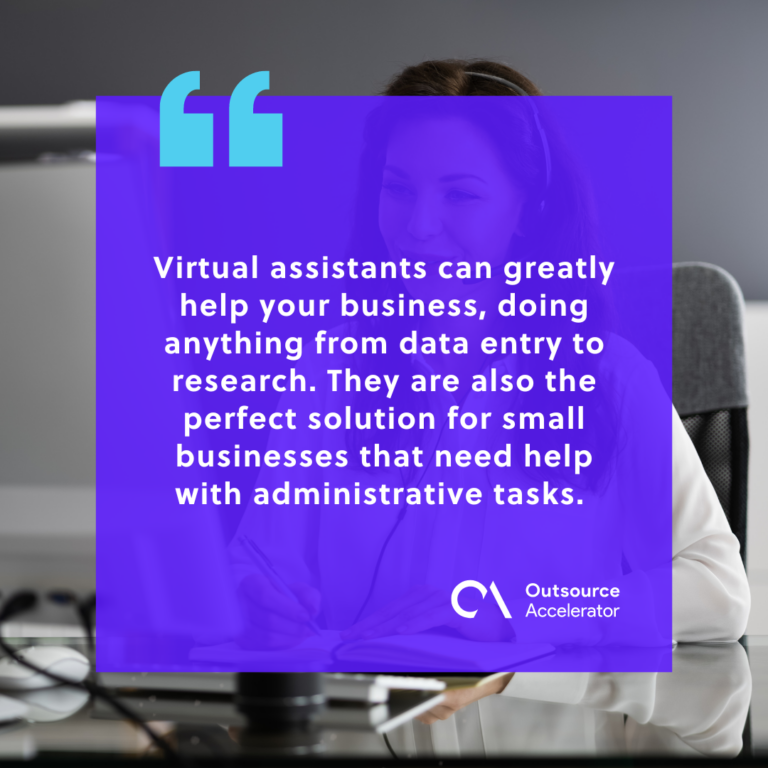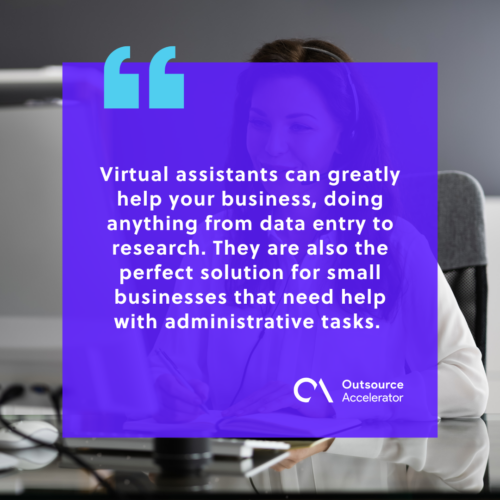 4. Web development  
Web developers design and build websites primarily for businesses. They are responsible for making sure the site functions correctly and looks good across different browsers and devices. 
Web developers also build tools that help others create websites. For example, they might develop a tool that generates code to make a website more visually appealing or functional. 
Even if your company already has a team of web developers, consider hiring more to keep up with demand or take advantage of new technologies. Outsourcing firms specialize in this service. 
5. Software development
Software developers work closely with IT companies, usually part of teams developing products. They're required to have excellent problem-solving, collaboration, and communication skills. 
Software developers are the backbone of most IT companies. They can also work in other industries like healthcare, finance, and government agencies. 
Because they're mostly situated at a computer and their work can be sent over a network, developers can adjust smoothly to remote work. 
6. Digital marketing
With their knowledge of the digital space, digital marketers help improve your company's online visibility and develop new strategies for marketing. The role of digital marketing is essential for any business looking to grow. 
Companies are increasingly turning to digital marketing because it's easier than ever to reach customers online. The industry is among the fastest-growing and most in-demand in the world. 
As more businesses embrace digital marketing strategies, the demand for digital marketers will only grow. 
7. Graphic design
Graphic designers are among the best remote work jobs for companies that want to hire freelancers. 
They create the designs seen in advertisements, packaging, and other media. They can also be in charge of logo creation and other images to represent your brand. 
Many graphic designers are freelancers, but you may also find them through outsourcing firms. You can get access to professionals with knowledge about the latest graphic design trends to offer customized solutions for your company's needs.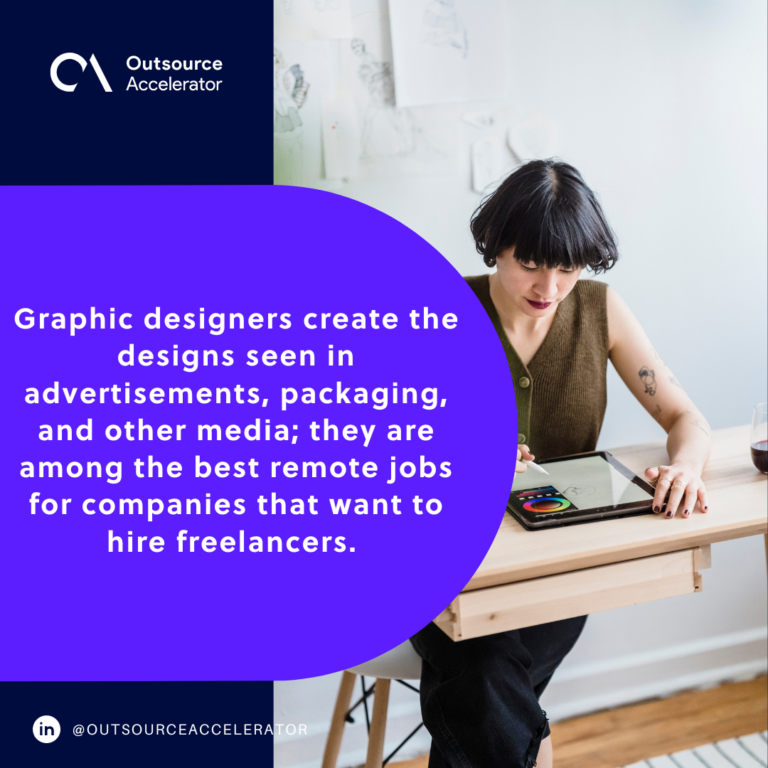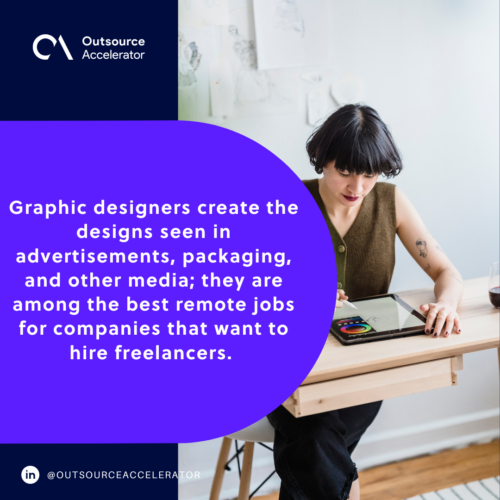 8. Project management
Project management is a central, essential function of many remote teams. It's a job that requires collaboration and communication with internal staff and external clients, which means a lot of time spent on the phone or in meetings.
Project managers are responsible for overseeing projects from start to finish. They ensure project goals are met, deadlines are hit, and everything runs smoothly. You can outsource project managers to oversee the progress and success of your in-house teams. 
9. Accounting
As businesses grow and expand, they need help with their financial records, which is why accountants are necessary. This job can be done remotely as long as the accountants have access to the organization's financial information.
Accountants properly document financial activities and create reports of all transactions. These pieces of information then help the management make further business decisions.  
10. Human resources  
Human resources (HR) manage employee records, benefits, and payroll while ensuring satisfactory working conditions. An HR employee generally works at the company's main office, but nowadays, other companies employ remote HR staff. 
Even with automated HR technology, many organizations prefer human workers to handle administrative tasks. Additionally, many small businesses without an in-house HR department can also use remote, outsourced HR staff. 
Find excellent remote workers through Remote Employee
All the jobs mentioned above are services that Remote Employee staff specialize in. This allows you to build a solid remote team regardless of your company's industry. 
Remote Employee helps reduce operating costs, free up key staff members, and improve customer satisfaction. By sourcing workers from the Philippines, you get access to a highly-educated workforce with strong English skills. 
Get started with Remote Employee now!