Top 20 tech companies in Florida to hire in 2024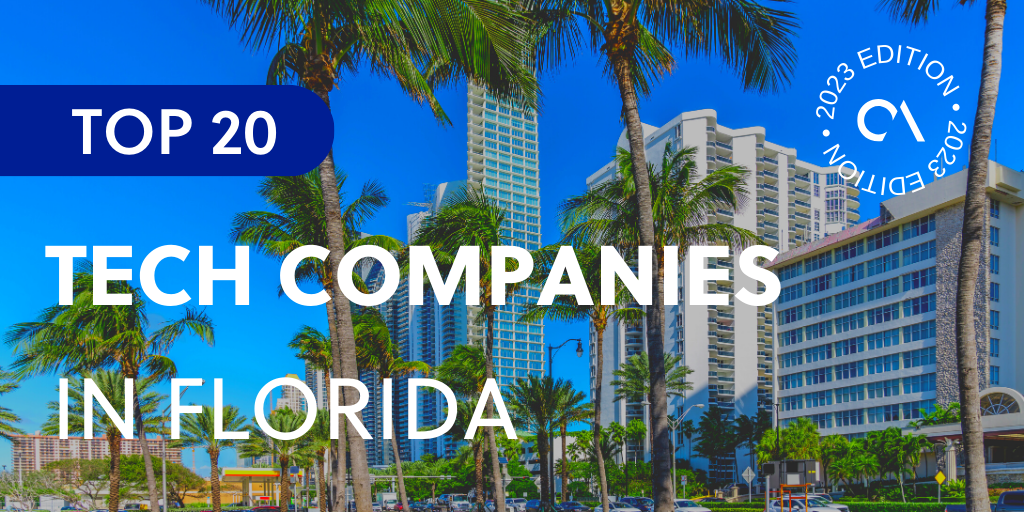 List of tech companies in Florida
Florida is now carving a name to become a top destination for tech companies. 
The state is becoming popular in the tech scene because of its ability to attract a variety of technology firms, ranging from start-ups to established tech industry giants. 
The largest concentration of top tech companies in Florida can be found in the central and southern parts of the state, where the emergence of tech hubs is accelerating.
The collaborative efforts of universities, research institutes, and tech experts to organize programs related to the tech industry are becoming more rampant in the state.
This article will provide an overview of the top tech companies in Florida and their impact and relationship to the state's overall economic development.

Understanding the work of tech companies in Florida
Florida takes its standing as a national tech hub into a new level by welcoming more new companies in the said sector than any other state.
The report from the trade group CompTIA further supports the idea. Its data determined that Florida added 2,715 tech businesses last year, ahead of other states, including Texas and California.
With a record of more than 310,000 IT professionals and staff working in Florida, the state was placed at the 4th rank for tech industry employment in the United States.
Employment opportunities in different companies span from the communications equipment manufacturing, telecommunications, and computer systems design industries. 
These tech companies provide job opportunities to residents and workers from other countries through outsourcing.
Emerging sectors supported by tech companies in Florida 
The work of technology has significantly impacted the overall economic development of Florida. New job opportunities that attract international investors help recognize the State's tech industry.
Here are some of the emerging sectors supported by Florida's tech industry:
Telecommunications and computer products 
Telecommunication and computer products are part of the list of top services to look for in the tech industry. 
From internet providers to manufacturing computer parts, Florida has supported many businesses offering this service, from start-ups to giant companies. The State welcomed these companies for the world to recognize these brands and manufacturers.
Digital media 
Since marketing and advertising play a vital role in the success of any business, tech companies in Florida support this industry by integrating digital media as part of their services. 
Many firms from different industries are investing in digital media, where concepts and ideas led to increased sales generation and attracting more investors to operate in the State.

Software and computer systems design and integration
As part of process automation, most of the top tech companies in Florida focus on providing software customization and Software-as-a-Service (SaaS) products. They help businesses to cut costs and streamline operations.
Organizations invest in up-to-date website design and navigation backed with a unique social media presence to acquire higher reach and lead generation.
Top global outsourcing list
Outsource Accelerator is the world's leading outsourcing marketplace and advisory. We list over 3,000 BPO firms located across the globe in our global directory, and we provide detailed information, price guides, and reviews.

Whether you're a solopreneur, SME owner, or corporate executive, we can help you find the most suitable outsourcing provider for your business.

Explore our outsourcing directory now. You may also check out our Top BPO Outsourcing lists per country here:
Top 20 tech companies in Florida 
Here we have today's top tech companies in Florida your businesses can collaborate with:
Location: Orlando, Florida 
Founded in: 1990
JHT Incorporated is known for producing military training solutions. Its success is rooted in its initiative to embrace multimedia technologies, integrating 2D/3D graphics, animations, and simulations.
The company designs engaging training solutions with high memory retention. 
In 2013, JHT Incorporated performed as a support contractor for the Multipurpose Reconfigurable Training System (MRTS). It provided training solutions for sailors on submarine maintenance and operator tasks.
Located: Clearwater, Florida
Founded in: 1974
As one of the leading tech companies in Florida, TD SYNNEX performs as a global distributor and solution aggregator for the IT industry. It has a record of about 150,000 partners in over 100 countries for technology investments.
Dedicated to innovative IT products, services, and solutions, TD SYNNEX works with over 1,500 world-class technology providers. Its portfolio consists of services for the fastest-growing tech segments, including the following:
Cloud and Cybersecurity

Big data/analytics

Internet of Things (IoT)

Mobility
Location: Melbourne, Florida
Founded in: 1895
This company is a contractor for defense and information technology headquartered in Melbourne, Florida, but has satellite operations across different countries.
L3Harris' industry experts include technicians, engineers, and IT specialists, creating hardware and software with a wide range of military and civilian applications. It covers surveillance, satellites, and commercial aviation products.

Location: Fort Lauderdale, Florida
Founded in: 1989
Citrix is one of the top tech companies in Florida that provides services on digital workspace technology that helps many organizations work remotely. It offers services on analytics software, collaboration tools, and cloud management programs. 
The company also hires specialists to create and sell new digital products, manage solutions, and perform a career development training ladder for their customers. 
Location: Tallahassee, Florida
Founded in: 1991
Datamaxx's services are designed for security firms, government organizations, and law enforcement agencies. It controls data collection and sharing, stores private information, and secure systems using its product suite. 
The organization also programs for electronic citations, allowing customers to pay tickets online. It is composed of team experts, such as software programmers, client relationship managers, and technical support specialists. 
Location: St. Petersburg, Florida
Founded in: 1966
Jabil is one of the leading tech companies in Florida that has grown over the years. This manufacturing service caters to a variety of industries, which includes the following:
Defense and aerospace

Computing and clean technology

Life sciences and healthcare

Consumer products and technology
Jabil has approximately 100 plants in at least 30 countries worldwide, with over 260,000 employees. The current CEO of the company is Mark T. Mondello.
Location: Jacksonville, Florida
Founded in: 1968
FIS is a well-recognized company in Florida known as a prominent FinTech (financial technology) service provider. It is composed of experts in developing solutions for merchants, banks, and capital markets.
They develop a wide variety of financial services and products. In 2019, FIS was recognized as the biggest processing and payment organization in the market, making it one of the top tech companies in Florida for technology providers.
Location: Sarasota, Florida
Founded in: 1890
Roper Technologies is a constituent of the S&P 500 and Fortune 1000. It has demonstrated a successful history of increasing shareholder value and cash flow. 
The company caters to leading businesses, designing and conceptualizing software and technology-based products for various defensible niche markets. It conforms with discipline, analytical, and process-driven approaches for its partners.
Location: Miami, Florida
Founded in: 1995
United Data Technologies Inc (UDT) forms part of the 50 fastest-growing IT firms in the U.S., as assessed by Everything Channel. It is a leading provider of high-performance technology solutions in the Southeast and Midwest United States. 
UDT is determined to help partners maximize their investment potential, reducing the risks, costs, and complexity of next-generation technologies. 
It creates relationships with leaders in the industry, providing personal computing, audiovisual infrastructure, and customized solutions.
Location: Tallahassee, Florida
Founded in: 1989
Using hardware and software solutions installed on-premises and in the cloud, Mainline Information Systems assists customers in leveraging data-driven insights. 
Its Enterprise IT Solutions helps businesses to become more effective. It has featured services, such as:
Enterprise Systems and hybrid cloud

Networking & Security

DevSecOps & Automation

Cyber Storage and enterprise IT services

Data & Analytics
Location: Weston Florida
Founded in: 1990
Ultimate Software offers a cloud solution for HR management services like payroll and talent acquisition called the UltiPro cloud solution. Powered by Xander, it helps organizations to ensure workforces are highly productive and satisfied.
With UltiPro's customized recruiting and onboarding process, client partners can make approaches and establish long-term relationships with employees. UltiPro makes it convenient for HR practitioners to manage employee needs.
Location: Brandon, Florida
Founded in: 2003
DataCorps Technology solutions, Inc started maintaining the IT infrastructure of Wachovia Insurance Services (WIS) to prevent challenges and possible threats it may face.
It prompted the company to pioneer a study of small to medium-sized businesses and their technology requirements. DataCorps Technology Solutions, Inc became a service provider for many partners by offering the following services: 
Cloud computing

Outsourced IT services

Data backup and recovery

Help desk
Located: Springhill, Florida
Founded in: 2005
Prodigy Information Technologies is included among the leading tech companies in Florida, providing medical imaging solutions, healthcare software, and business IT support.
Its 100% web-based electronic medical record platform focuses on the "one patient, one record" philosophy of data sharing. 
In 2008, It began programming software and specialized hardware for managing and distributing diagnostic images, such as CT, MRI, and X-RAY.
Located: Orlando, Florida
Founded in: 2007
Crunchy Tech offers audiovisual solutions to assist businesses in maximizing the potential of their physical locations with the right technology, configuration, and technical support.
The company is an expert in bringing vision to life and is dedicated to supporting partners to ensure consistent market performance through interactive marketing installations.
Location: Tampa, Florida
Founded in: 1997
Site Tech Services is backed by over 25 years of solid experience. It serves as the sole and trusted in-house tech solution provider and learning partner for clients' existing IT staff, helping businesses achieve more.
Site Tech Services is a one-stop-shop IT management service provider. It has collaborated with some of the industry's biggest names, such as Dell, Cisco, Microsoft, Watchguard, and 3CX, to name a few.
Located: Orlando, Florida
Founded in : 1991
Quest Technology Group offers partnerships for technology, tools, knowledge, and hands-on services that help businesses with their technology requirements. 
Centered on the belief that companies can think like their customers, Quest helps businesses create a culture of customer success through its managed services, including:
Microsoft Windows servers

Wireless infrastructure

IP video surveillance systems

Network security and structured cable 

Fiber optics and VMWare server virtualization

Security and software audits
Location: Ocala, Florida
Founded in: 2002
Technology Concepts of Central Florida, LLC provides IT Support, including helpdesk service, network support, and consultancy. 
The objective is to provide small businesses with dependable, controllable solutions to maximize technological investment. It collaborates with many types of businesses and strives to eliminate IT issues to sustain its operations.
Location: Tallahassee, Florida
Founded in: 2002
Inspired Technologies is one of the leading tech companies in Florida, serving the dynamic technological requirements of its customers. It specializes in developing complete and comprehensive solutions with the highest return on investment.
These solutions are delivered by a highly skilled consulting team well-known for professional expertise and industry knowledge. Its services focus on the following core areas:
Managed services

Wireless services

Cloud Services 

Infrastructure services
Located: Brooksville, Florida
Founded in: 2012
COAST Systems is determined to help manufacturers across industries establish total control of their mold assets to achieve higher business opportunities and continuity. It provides vital solutions to keep track of molds situated at multiple locations.
It offers one-stop-shop mold management services, including life cycle and project management, engineering consultancy, and procurement capabilities.

Located: Lake Mary, Florida
Founded in: 2003
MKB Technology is an HP brand independent distribution partner of Proliant server and server options. It provides customers with solutions in stocking retired products, HP renews,  HP factory sealed spares, refurbished, and even used parts.
The company offers attractive solutions to resellers buying HP servers and server options. It has  cost-effective solutions, quick and up-front competitive pricing, state-of-the-art configuration facility, and integration services.