Top 30 tech companies in Colorado you should know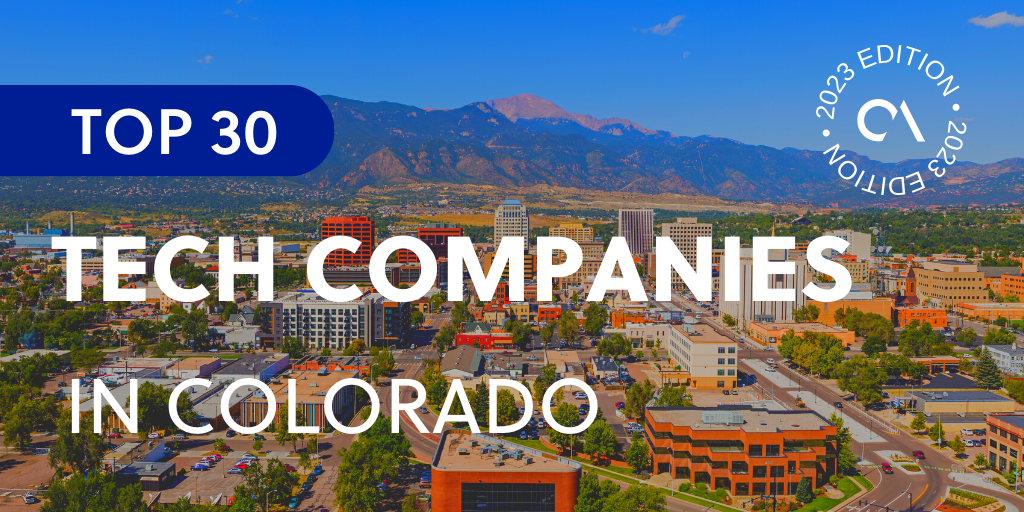 List of tech companies in Colorado 
From startups to well-established technology corporations with big brands, Colorado is now a perfect destination for technology companies to expand operations.
According to CompTIA's annual State of the Tech Workforce report, the net tech employment in the state increased by 10,173 net new jobs in 2022. It had a 4.3% growth rate, ranking seventh among all states in tech job growth.
Colorado has an ideal cost of living. Apart from that, many experts also highlight the support from the government and independent organizations to promote the tech industry, including the Colorado Technology Association. 
It is no wonder the tech industry in the State is becoming more operational and advanced over the years. 
In this article, discover the top tech companies in Colorado global businesses can partner with. 
Colorado as a hotspot for the tech industry
Almost all categories of services for the tech industry can now be found in Colorado because of its innovations and entrepreneurial support initiatives. The state has indeed become a new hotspot for the tech industry.
Many international companies with names in the industry chose to expand operations in Colorado and startups that saw the state's potential. 
More than 248,000 employees work in the tech industry of Colorado, some hired by tech companies and professionals who work remotely in other countries.
The active participation of independent organizations and the government made top tech companies in Colorado contribute to its overall economic progress.
3 major categories of tech companies in Colorado
Colorado's growing tech sector opens a variety of services that are now available in the market.
The following are the main categories of tech businesses in Colorado:
1. Software application and web development services
Most businesses aim to automate systems and procedures to provide ease of operations. The top tech companies in Colorado offer services that cater to this requirement. 
Services under this category include software development using cloud computing and architecting websites to attract more clients and higher sales generation.
2. Technology consulting services
There are many technological advancements that can help businesses unleash their full potential. Tech companies in Colorado ensure that they can offer services that best suit your company's requirements through consulting services.
They guide their clients by assessing their challenges and helping them improve these areas through software and application solutions, web engineering, and other tech services.

3. Telecommunication and real estate services
In almost every part of the world today, telecommunication and real estate services are very important. The presence of established telecommunication and real estate services gives an impression of the economic development of the place.
It drives businesses and individuals to explore opportunities. Telecommunication gives access to lead generation in many forms and real estate services as a platform to attract visitors and locals who can be residents of a particular place.
Top global outsourcing list
Outsource Accelerator is the world's leading outsourcing marketplace and advisory. We list over 3,000 BPO firms located across the globe in our global directory, and we provide detailed information, price guides, and reviews.

Whether you're a solopreneur, SME owner, or corporate executive, we can help you find the most suitable outsourcing provider for your business.

Explore our outsourcing directory now. You may also check out our Top BPO Outsourcing lists per country here:
Top 30 tech companies in Colorado
The following list will provide you with an overview of the top tech companies in Colorado you should know:
Location: Colorado Springs, Colorado
Founded in: 2015
Quantum Metric is a digital intelligence platform that enables Continuous Product Design (CPD), giving cross-functional teams real-time and out-of-the-box insights.
It gives a clear interpretation of data and information to correctly and proactively identify appropriate solutions and what to prioritize. It helps in maximizing the business impact of your web and native apps. 
Located: Greenwood Village, Colorado
Founded in: 2010
As one of the top tech companies in Colorado, Engrain aims to transform how people search, lease, and supervise property. It works with almost 700 property management companies with over 10,000 active properties.
It is also a recognized leader in next-generation touring technology and map-based data visualization software. These software products offres unique integrations and capabilities, providing solutions for any real-estate technology stack.
Location: Broomfield, Colorado
Founded in: 1880
Ball Aerospace pioneers discoveries that create innovative space solutions. It drives more accurate weather forecasts and reliable insights into our planet and delivers actionable data and intelligence.
The company ensures the safety of those who defend our freedom bravely. With experts in the organization, Ball Aerospace supports work that matters and a culture based on collaboration, transparency, and integrity.

Location: Boulder, Colorado 
Founded in: 2007
Zayo is a leading global provider of communications infrastructure with a range of services, including fiber and transit, packet, and managed edge services. 
The firm fosters ideas that revolutionize society by offering this mission-critical bandwidth to its category-leading clients in the wireless, hyper-scale, media, tech, and finance sectors.
Location: Denver, Colorado
Founded in: 2012
Choozle lives by its mission to make digital advertising unique and competent for its client partners.
It provides a digital advertising software platform, leveraging consumer data to create effective advertising campaigns across display, video, mobile, and other mediums to a central interface.
Location: Denver, Colorado
Founded in: 2008
Workiva provides the world's leading connected reporting and compliance platform. It transforms the way people manage and report business data. 
Workiva has various collaborators, data sources, documents, and spreadsheets. Businesses use this platform to easily integrate data among systems and applications for transparent reporting and compliance.
Location: Denver, Colorado
Founded in: 2007
Trustpilot has the vision to build an independent currency of trust and create a digital platform that binds businesses and consumers to foster trust and collaboration built on transparency.
Trustpilot hosts reviews to help consumers and deliver rich insights to help businesses improve service offers. The more consumers use the platform and share opinions, the richer the insights it offers its partners.

Location: Louisville, Colorado
Founded in: 2009
Duda is one of the leading tech companies in Colorado that offers web design services to startups and small businesses. It caters to all clients, from freelance web and digital experts to the largest hosting companies. 
With great teamwork and client management tools, the Duda platform equips users to build unique features and responsive websites at scale. Websites transform to automatically optimized for fast loading and out-of-the-box Search Engine Optimization (SEO).
Location: Denver, Colorado
Founded in: 2011
Evolve co-founders Brian Egan and Adam Sherry venture into the vacation rental industry. It's services center property management to avoid overpricing, set standards and support to customers, and lessen the challenges of property owners.
The growing team has become the vacation rental solution for guests, owners, and service partners. Evolve redefines the vacation rental experience to thousands of homes across North America.
Location: Boulder, Colorado
Founded in: 2014
Since its establishment, Sovn built dynamic but easy-to-use tools and technologies that help companies increase revenue and remain independent. It delivers advertising, affiliate marketing, and data products across 40,000 websites.
The company is also a leader in online publisher technology and is recognized for its contribution to combating fraud and promoting pro-transparency initiatives.
Location: Lafayette, Colorado
Founded in: 2018
Orbit Fab aims to eliminate the single-use spacecraft paradigm with in-space refueling. The organization focuses on spacecraft with limited fuel, which limits flexibility and poses long-term risks to the space environment.
Orbit Fab considers spacecraft refueling an important element of a thriving and sustainable in-space economy. Addressing this in collaboration with global industry, academia, and government will benefit future generations.
Location: Centennial, Colorado
Founded in: 1935
Arrow Electronics is part of the Fortune 500 companies, guiding innovation forward for over 220,000 leading technology manufacturers and service providers. 
The firm's broad portfolio that spans the entire technology landscape helps customers design, create, and manage future-ready products. Arrow Electronics makes the benefits of technology more accessible to users.
Located: Englewood, Colorado
Founded in: 1994
CSG is top-notch in innovative customer engagement, revenue management, and payment solutions, making ordinary customer experiences extraordinary. 
The organization offers cloud-first architecture and customer-obsessed strategies. It helps companies worldwide to launch new digital services, expand new markets, and establish dynamic experiences that capture new customers and build brand loyalty. 
Located: Denver, Colorado
Founded in: 1986
NICE is an Israel-based company specializing in telephone voice recording, data security, surveillance, and systems that analyze and interpret recorded data. 
The company has established itself as a great place to work in Colorado and is included on Zippia's list of Best Companies to Work for in Denver. It supports clients by sharing comprehensive approaches to CX Analytics, AI, and domain expertise.
Location: Greenwood Village, Colorado
Founded in: 1999
Catalyst Solutions centers on helping clients upgrade and enhance the core and ancillary systems and processes of their daily operations. It offers major services for innovation, including:
Configuration and contact center 

Health plan operations and technical consulting 

Core administration system

Quality assurance and testing
The company decided not to partner with product vendors to ensure recommendations are unbiased and directions are leading to where they should be with their clients. 
Located: Boulder, Colorado
Founded in : 2003
Denovo is a full-service application and technology consulting firm committed to making clients operate steadily. The company expanded its technology and business solutions to include Outsourcing and Cloud Computing. 
It combines world-class enterprise system implementation, integration, and cloud services expertise. Denovo has an intelligent understanding of business processes and industry best practices to build better solutions.
Location: Englewood, Colorado
Founded in: 1934
Jeppesen is listed as one of the top tech companies in Colorado. It provides the most comprehensive, accurate, and timely navigational information that can address transportation needs.
The organization is a proud member of the One Boeing community. It is focused on the needs of global defense, space, and aviation customers from all sectors, regardless of their equipment's original manufacturer. 
Location: Denver, Colorado
Founded in: 1998
Vendavo is a price management and optimization software provider for business-to-business (B2B) companies in the global market. It works with the world's biggest companies in chemicals, industrial manufacturing, consumer products, and distribution.
The Vendavo Enterprise Pricing Suite helps solve pricing problems by giving businesses enterprise-wide control of their pricing process.
Located: Englewood, Colorado
Founded in: 2014
Enavate is a Microsoft gold partner that promotes business consulting and industry-focused enterprise software solutions based on Microsoft Dynamics 365 and Microsoft Dynamics AX. 
It has a full range of services, including implementation, migration, maintenance, support, and development for Microsoft Dynamics enterprise clients, independent software vendors (ISVs), and value-added resellers (VARs)  worldwide.
Located: Denver, Colorado
Founded in: 1911
Gates Industrial is a global manufacturer of innovative and highly engineered power transmission and fluid power solutions. It offers products to diverse replacement channel customers and original equipment manufacturers as specified components.
Its products are used in applications across numerous end markets, which include the following sectors: 
Construction

Agriculture and energy

Automotive and transportation 

General industrial and consumer products
Located: Boulder, Colorado
Founded in: 1911
IBM is focused on transforming ways to make the world work better through technology and infrastructure, software, and consulting.

Its flagship products range from enterprise hybrid cloud infrastructure to next-generation AI, security, and storage, which includes other core services:
Cloud and experience design

Consulting, security, and research analytics 

Internet of Things (IoT) and technology solutions 

Systems and resiliency services

Financing and IT infrastructure
Located: Boulder, Colorado
Founded: 1985
Qualcomm's powerful connectivity solutions provide steady connections even in remote areas. It has 5G and AI innovations that power its connected and intelligent edge.  
The company also creates smart technology products, including 5G-enabled smartphones that double as pro-level cameras, gaming devices, and revolutionized vehicles.
Location: Boulder, Colorado
Founded in: 1998
Google is an American multinational technology company focusing on the following core services:
Artificial intelligence 

Online advertising

Search engine technology and computer software

Cloud and quantum computing

E-commerce and consumer electronics
It is recognized as the most powerful company and one of the world's most valuable brands due to its market dominance and technological advantages in the field of artificial intelligence.
Located: Denver, Colorado 
Founded in: 1994
Amazon is on the list of leading tech companies in Colorado, composed of teams of experts and company processes governed by the following four principles:
Customer obsession rather than competitor focus

Passion for invention

Commitment to operational excellence

Long-term thinking
The organization is driven by the its goal of building technologies, inventing products, and providing services that transform the way customers live their lives and run businesses.
Located: Denver, Colorado
Founded in: 1975
Microsoft Corporation is a well-recognized tech company with satellite operations in Colorado. It conceptualized the following game-changing software and hardware products:
Windows line of operating systems

Microsoft 365 suite of productivity applications

Edge web browser 

Xbox video game consoles

Microsoft Surface for personal computers
Microsoft has remarkable contributions and efforts supporting the tech industry. It earned the No. 14 spot in the 2022 Fortune 500 for the largest United States corporations and the world's largest software provider by revenue.
Located: Colorado Springs, Colorado 
Founded in: 1977
Oracle is the world's leading provider of business software, with offices in over 175 countries, and is one of the biggest technology companies on the global market. 
The firm uses emerging technologies like AI, machine learning, and blockchain to solve critical real-world tech problems.
From advancing energy efficiency to reimagining online commerce, Oracle transforms businesses and helps government and nonprofit organizations make a difference.
Located: Denver, Colorado 
Founded in: 1968
Tata Consultancy Services is an IT services, consulting, and business solutions organization that has collaborated with the world's largest businesses for over 50 years. 
It has an integrated portfolio of solution projects for business, technology, and engineering services with a comprehensive consulting-led and cognitive-powered approach.
Located: Boulder, Colorado 
Founded in: 1976
Apple is an American multinational technology company. It is the world's largest technology company by revenue and largest company by market capitalization as of March 2023.
It is recognized globally and listed as one of the five biggest American companies for information technology, together with Amazon, Microsoft, Meta Platforms, and Alphabet, a parent company of Google.
Located: Colorado Springs, Colorado 
Founded in: 1930
Lumen empowers organizations to unlock the full potential of their data and quickly adopt future-ready technologies that will revolutionize their business operations.
The company integrates network assets, cloud connectivity, security solutions, and voice collaboration tools into one platform. It enables businesses to leverage their data and adopt next-generation technologies.
Located: Englewood, Colorado 
Founded in: 1980
For over 40 years, Dish has challenged the status quo and evolved to anticipate opportunities for business growth, industry innovation, and greater customer choice.
Today, its brands include DISH TV, Sling TV, Boost Mobile, DISH Wireless, OnTech, and Gen Mobile. With expanded business reach, the company can deliver the following services:
Satellite television service

Live-streaming and on-demand programming

Mobile plans and products

smart home installation services