Remote assistants and other lucrative remote jobs in 2021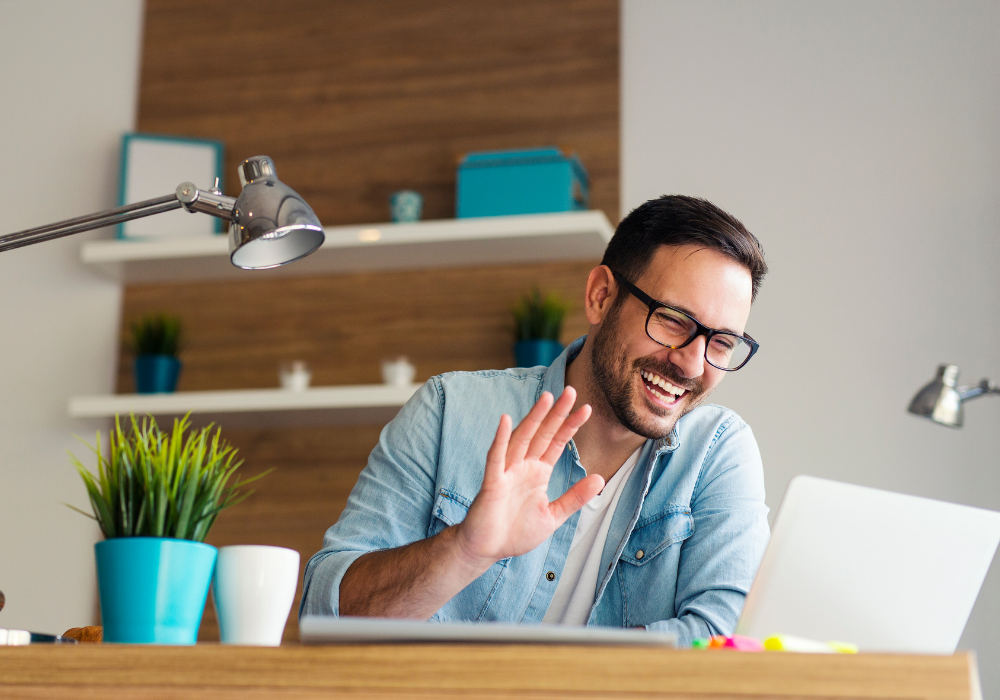 There seems to be a flux of jobs that offers 100% remote (or at least flexible) arrangements. With almost everyone wanting to stay and work at home, this seems to be a feasible solution. One of the benefits of working remotely is that you could do a lot more things given your freedom. No more hassle with commuting and driving and no more extra expenses.
The gig economy—with the likes of remote assistants and freelancers—has seen exponential growth throughout the years.  Who's to say that working in an office from 9-to-5 is more lucrative than being a remote employee? If they have the skills (and the equipment), they'd be doing the same responsibilities for a better pay cut.
Some of the most lucrative jobs out there are done virtually, so let's take a look into some of them.
How to find remote jobs
Finding a remote job isn't as easy as going on a job board. Most of the time, people have to market themselves, especially if you're a freelancer. If they're just starting out, there are a handful of opportunities for them to consider.
Being familiar with freelancing sites such as Fiverr, PeoplePerHour, OnlineJobs.ph, would be helpful as most employers find independent contractors on these platforms.
The market isn't as saturated as they say, aspiring freelancers just have to acquire the right kind of skills to give themselves an edge. From a job as simple as data entry, they still have to rise above the other applicants.
Data entry
The process of taking paperwork and digitizing it by inputting data into a word processor is called data entry. A non-voice and non-customer-facing job, data entry is one of the most prolific remote jobs out there. 
Starting with a simple skill of fast typing and attention to detail, almost everyone can hack it out with this job. Often seen as a back-office job, data entry is an important part of any department in any company.
Content producing
One of the perks of being in the creative field is that projects run all year. There is no shortage of projects involving graphics, artistry, production, and content creation. From social media banners to landing pages and blogs, it seems like they can pick up terms they want to work on.
Tip for freelancers: If you find yourself gravitated towards the creative side of things, make sure to curate your portfolio. Chances are, prospective employers would like to see your past outputs and work.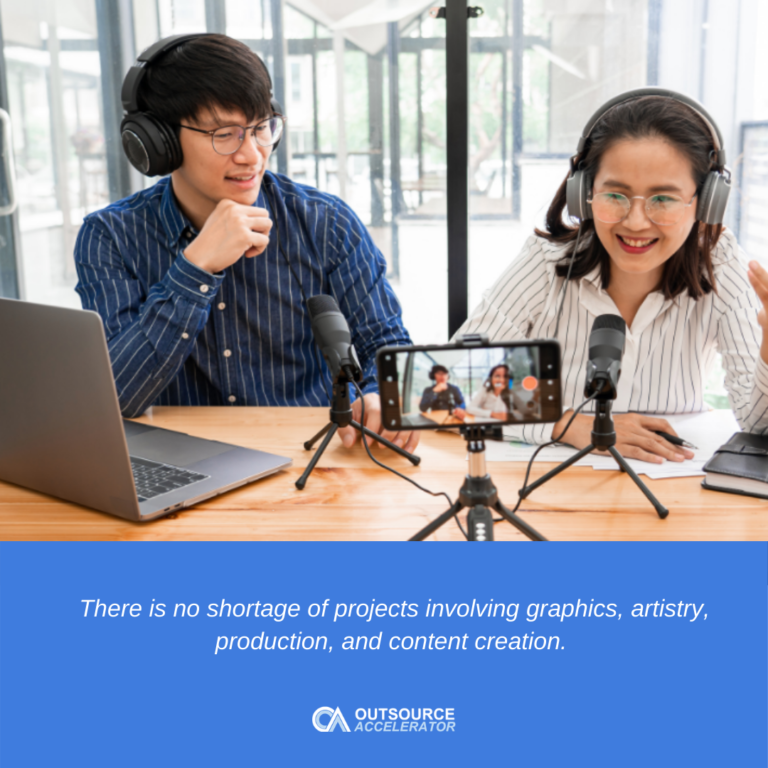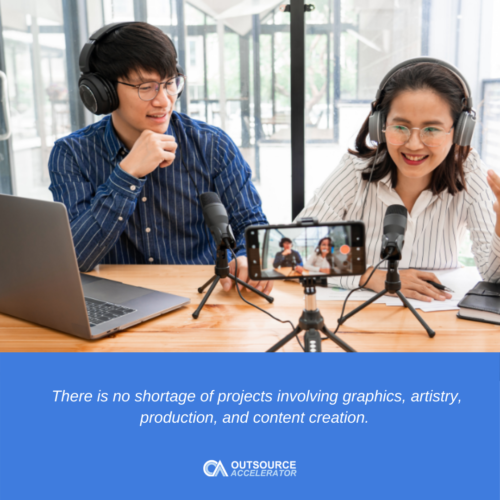 Virtual (remote) assistance
The "we don't have the same 24 hours" adage rings true for people who have to juggle tasks and responsibilities on a daily. This is why most people would rather have remote assistants to take care of non-core projects and tasks for them.
For the uninitiated, virtual assistants often take the role of assisting their clients on a day-to-day basis. Most of them do administrative tasks of taking messages, creating reports and doing presentations. In short, VAs take upon different tasks to ease their client's workday.
What is a remote assistant?
A remote assistant – also known as a virtual assistant ("VA") – is a professional that assists in the company's various tasks. They perform their jobs in a virtual environment, and they often do work that often takes up your time, such as administrative and clerical tasks.
Remote assistants also wear different hats in order to serve their job's purpose.
Being a VA usually spans across different practices—we have creative VAs, real estate assistance, data entry VAs, and more. That being said, being a virtual assistant is more than meets the eye.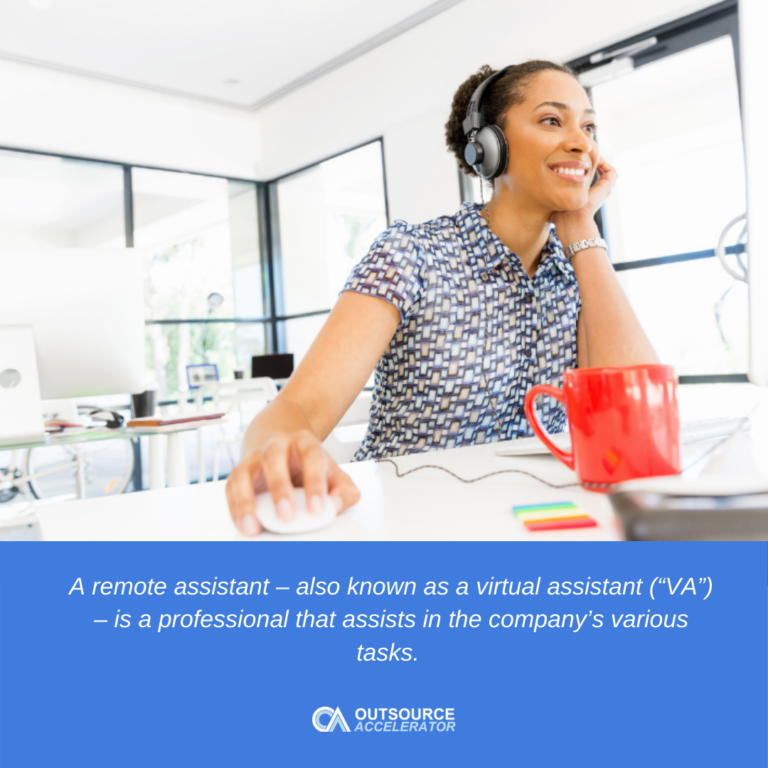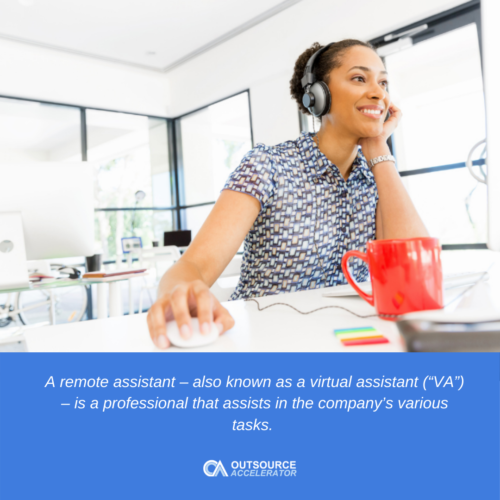 The difference between remote executive assistants and personal assistants
Just like their traditional counterparts, remote executive and personal assistants have their own differences. The word "assistant" rings "coffee runs, presentations, and meeting minutes" but the role is so much more than that.
Remote executive assistants work with higher-ups and senior executives, so to say. They often take on heavier workloads than those of personal assistants. Remote EAs usually liaise with clients and vendors too, scheduling meetings with them and their clients.