Top 20 telemarketing companies in Mexico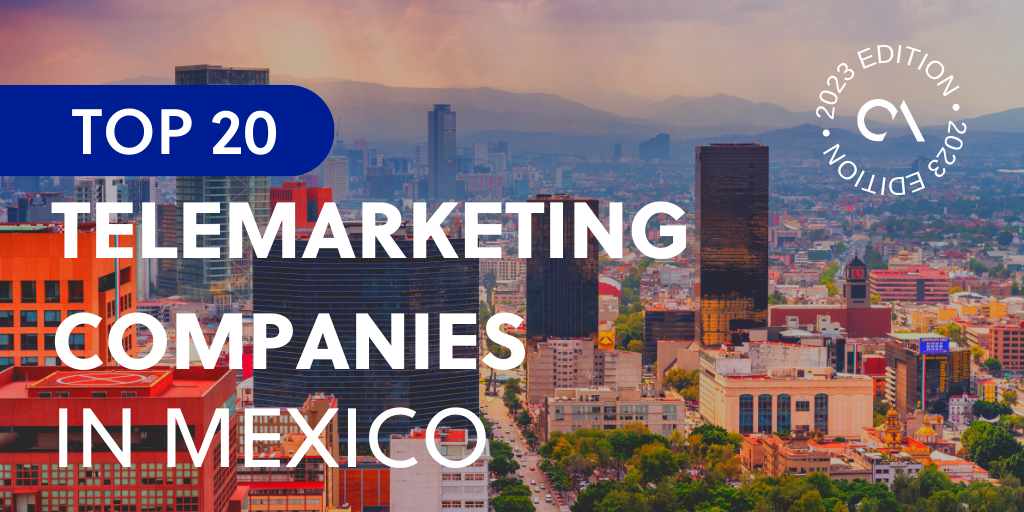 List of top telemarketing companies in Mexico
Mexico has a vibrant business process outsourcing (BPO) industry. Telemarketing is a vital and dynamic sector among its prominent services. 
As the global demand for customer engagement and lead generation services continues to surge, Mexico has emerged as a top destination for telemarketing excellence. 
Mexican companies boast a competitive edge in bilingualism, technical infrastructure, and cost-effectiveness. 
In this guide, we'll explore the leaders in this field and what sets them apart in the realm of telemarketing. 

Types of telemarketing services 
Telemarketing services encompass a range of strategies and approaches to promote products, services, or causes over the phone. 
Here are the most common types of telemarketing services: 
Outbound telemarketing 
Outbound telemarketing is a proactive method where businesses initiate calls to potential customers or clients through unsolicited phone calls. 
It's often used for appointment setting, sales pitches, and market research. Outbound telemarketers aim to engage prospects, convey information, and persuade them to take specific action.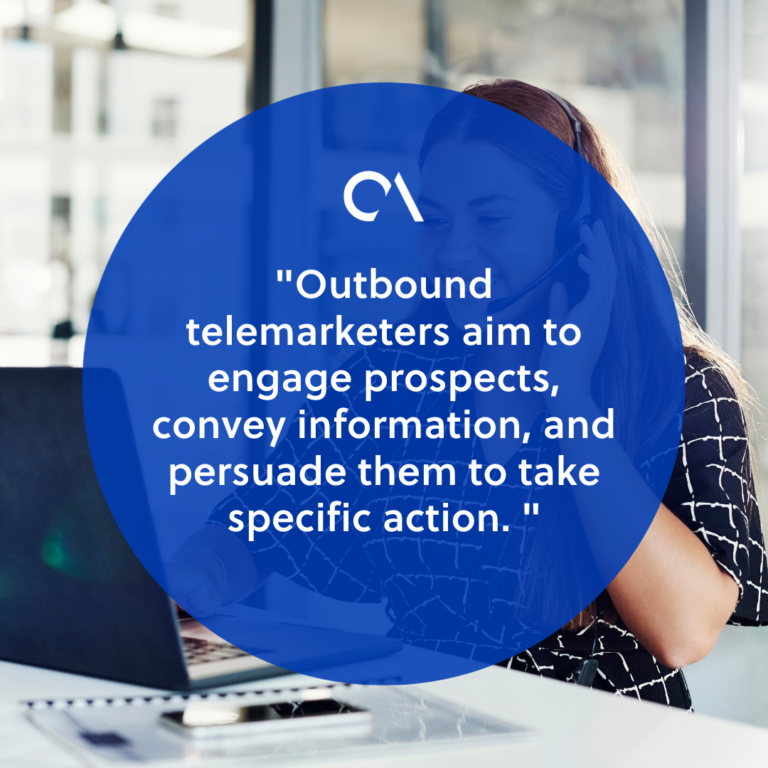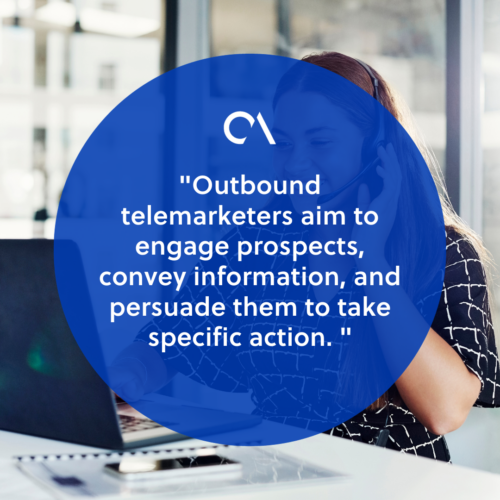 Inbound telemarketing 
Inbound telemarketing focuses on handling incoming calls from customers who initiate contact with the business. Agents answer questions, provide information, and assist with purchases. 
It's commonly used for customer support, order processing, and handling product inquiries. 
Lead generation
Lead generation telemarketing aims to identify and qualify potential customers who have shown interest in a product or service. These people are referred to as "leads."
Telemarketers reach out to prospects, gauge their interest level, and gather relevant information that sales teams can use to convert leads into customers. 
Sales calls
Telesales involves promoting and selling products or services directly to customers. Agents may also engage in cross-selling and upselling. 
Telemarketers follow scripted or personalized sales pitches to close deals and generate revenue. 
Businesses need to choose the type of telemarketing service that aligns with their specific goals and objectives. Depending on their target market and industry, some companies may opt for a combination of these services.
Why outsource your telemarketing to Mexico?
Outsourcing telemarketing to Mexico offers several advantages for businesses seeking cost-effective and efficient solutions. 
Here are some reasons why you should choose to outsource telemarketing operations to Mexico: 
Cost savings 
One of the primary reasons to outsource to Mexico is the cost savings. Labor and operational costs in Mexico are generally lower than in many Western countries. 
This makes the country a cost-effective option for telemarketing services. Companies can achieve significant savings on labor, facility, and overhead expenses. 
Skilled workforce 
Mexico possesses a skilled and educated workforce, particularly in the customer service and telemarketing sectors. Many telemarketing professionals here have experience in sales, support, and lead generation, providing a qualified talent pool.  
Time zone compatibility 
Mexico's time zone proximity to North America, especially the United States, makes it a suitable choice for businesses targeting customers in the same time zone.  
This also allows for easier collaboration and communication between businesses and outsourced telemarketing partners. It also ensures that efforts can align with customers' schedules. 
Multilingual capabilities 
Mexico's proximity to the United States has led to a bilingual and multilingual workforce. Their strength is providing telemarketing services in English and Spanish. 
This language proficiency is advantageous for businesses with a multilingual customer base or those targeting Spanish-speaking markets. 
Strategic location and infrastructure
Mexico's strategic location enables easy access to the North American market. For companies that prefer to have some level of onsite engagement with their outsourcing partner, this allows for easy travel and site visits. 
The country also possesses advanced technological infrastructure and robust telecommunications networks.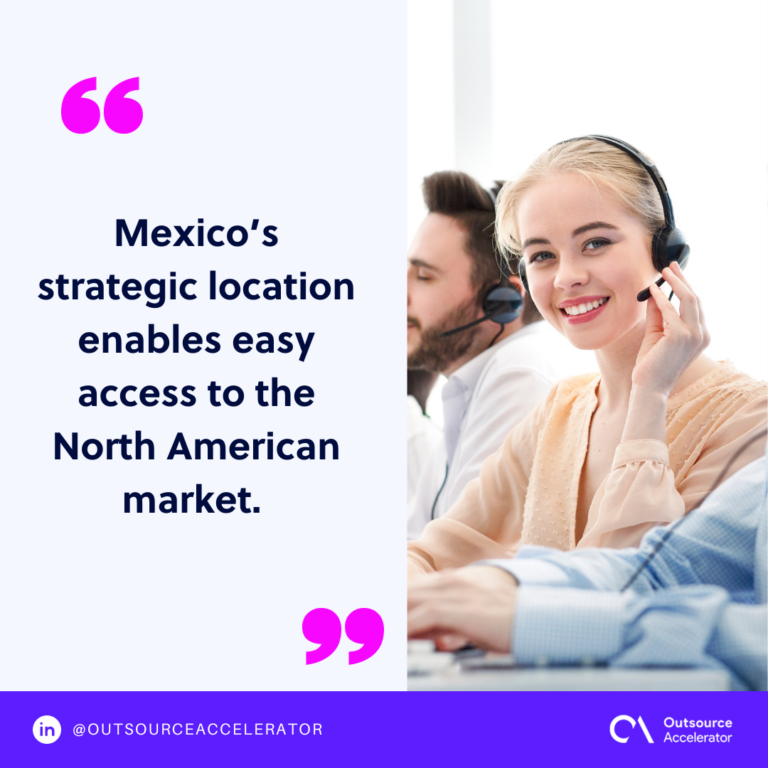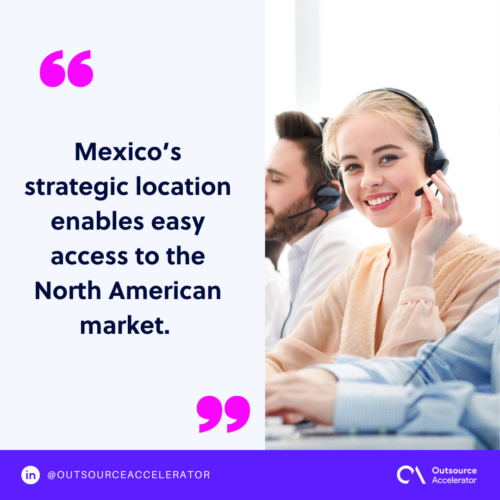 Top global outsourcing lists 
Outsource Accelerator is the world's leading outsourcing marketplace and advisory. We list over 3,000 BPO firms located across the globe in our global directory, and we provide detailed information, price guides, and reviews.
Whether you're a solopreneur, SME owner, or a corporate executive, we can help you find the most suitable outsourcing provider for your business.
Explore our outsourcing directory now. You may also check out our Top telemarketing companies lists per country here:
Top 20 telemarketing companies in Mexico
Here's a list of the leading telemarketing companies operating in Mexico:
Location: Guadalajara, MX
Helpware is a telemarketing company that offers a wide range of business process outsourcing (BPO) services. It specializes in bringing digital customer experience solutions, back-office support, AI operations, content control, and verification. 
Helpware has a highly educated and scalable talent pool in Mexico, ensuring efficient customer support and technical assistance. 
With its focus on serving high-growth companies and technology disruptors, Helpware aims to deliver amazing customer experience through people-driven services. 
You may also visit its page on our website here. 
Location: Guadalajara, MX; Hermosillo, MX; Mexico City, MS
Anexa BPO is a telemarketing company that delivers a range of enterprise BPO services and customer-centric solutions. It specializes in improving customer interactions and providing tailored omnichannel solutions. 
With its cutting-edge operation centers strategically located close to major US cities, it's able to efficiently serve both Mexican and international clients. 
You may also visit its page on our website here. 
Location: Monterrey, MX
Callcom specializes in providing telemarketing, customer service, and collections services for businesses. It offers top solutions, including an autodialer, market analysis, and customization. 
Callcom has helped a variety of businesses reduce their past-due portfolio nationwide, generating better development opportunities and increasing the number of potential customers. 
It strives to provide high-quality services by being in touch and closer to its customers. 
You may also visit its page on our website here. 
Location: Monterrey, MX
Nectus is a telemarketing company with more than 18 years of experience in customer service and sales. It focuses on providing direct and personalized attention to its clients' final users. 
Nectus offers the following:

Inbound and outbound calls 

SMS reminders 

Personalized email marketing 

Chat support

WhatsApp tracking

Social media management
With state-of-the-art technology and contact center expertise, Nectus helps clients achieve greater operational efficiency. 
You may also visit its page on our website here.

Location: Monterrey, MX
Gelsa is a telemarketing company with 17 years of experience in the industry. It offers multiple services, including debt collection, SMS and broadcast, customer service, and sales. 
Gelsa focuses on delivering results and strives to be a valuable partner to its clients. With its expert team and dedication to bringing value, Gelsa aims to ensure a profitable partnership. 
Location: Mexico City, MX
Phonex offers contact center services, specializing in providing multichannel solutions to help businesses optimize customer contact. 
The company prides itself on its highly skilled and specialized human talent, flexible operational capabilities, and state-of-the-art infrastructure. 
Phonex delivers the following services:

Customer support

Help desk

Campaign management 

Data cleansing and updating

Contact center applications

Back-office support 
You may also visit its page on our website here. 
Location: Mexico City, MX
TPS Contact Center offers a range of telemarketing and contact center solutions aligned with businesses' processes. It focuses on providing adaptable solutions tailored to the specific needs of its clients. 
TPS Contact Center also emphasizes the importance of technology in its operations. It utilizes various channels like phone, email, and chat. It takes pride in its client relationships, having worked with various well-known companies. 
You may also visit its page on our website here.

Location: Tijuana, MX
Voxcentrix is a premier full-service BPO call center and telemarketing company. It specializes in delivering exceptional outsourcing solutions tailored to the unique needs of both large and small businesses. 
Voxcentrix takes advantage of its strategic location in Tijuana. It offers accessibility to businesses across different time zones, a robust talent pool, and cost-effective operational efficiencies. 
With Voxcentrix as a partner, businesses can expect to propel their success forward. 
You may also visit its page on our website here. 
Location: Monterrey, MX
SecreWeb is a telemarketing company that provides virtual executive secretarial services. Its primary focus lies in delivering solutions that help businesses save time and costs, enabling them to focus on revenue-generating tasks. 
SecreWeb emphasizes the need for uninterrupted service and prides itself on its experience, expertise, and excellent customer care. 
You may also visit its page on our website here. 
Location: Tijuana, MX
CallTree's unique telemarketing model allows businesses to build remote teams, providing an efficient and cost-effective solution for nearshoring. 
It offers a range of BPO solutions, including inbound and outbound call center services. 
CallTree aims to simplify nearshoring by providing concierge-level outsourcing with remote oversight and management. Businesses can focus on their core fundamentals while letting CallTree handle the rest. 
Location: Guadalajara, MX
CIENCE is a B2B lead generation platform and telemarketing company. It leverages data intelligence and AI tools to empower sales and marketing teams to build predictable pipelines and optimize impact. 
CIENCE offers a comprehensive suite of solutions, including different platforms. It focuses on delivering the right message to the right contact, using multichannel touchpoints and targeted campaigns. 
You may also visit its page on our website here. 
Location: La Laguna, MX
Remote Team Solutions is a telemarketing company specializing in building remote teams for its clients. The company prides itself on delivering highly qualified and dedicated individuals to meet every client's telemarketing needs. 
Remote Team Solutions' services are transparent, and it offers a simple pricing model with no binding contracts or upfront commitments. 
You may also visit its page on our website here. 
Location: Tijuana, MX
Tri Source International, also called TSI Outsourcing, is a telemarketing company that offers a range of customer service and sales solutions. With multiple strategic locations, TSI provides the best-in-class customer experience through omni-channel solutions. 
Tri Source International boasts expertise in customer experience, back-office tasks, and sales, helping to elevate brands and drive results. 
Location: Mexico City, MX
Cyberideas' founders have been in the business since 1989 and have a wealth of experience in technology. It is a telemarketing and technology company providing marketing and customer service solutions through call centers and various software tools. 
The company offers flexible options for its clients, including renting stations for clients to operate their own call centers. 
You may also visit its page on our website here. 
Location: Tijuana, MX
Redial BPO is a telemarketing company that delivers a collection of call center services. Its experienced agents and advanced technology infrastructure allow it to support various industries. 
It specializes in solutions in:

Inbound and outbound calls

Customer service 

Tech support 

Lead generation 

Debt collection 

Appointment setting
Redial BPO also emphasizes its alignment with North American markets to deliver a seamless customer experience. 
You may also visit its page on our website here. 
Location: Tijuana, MX
1Click Contact Center is a reputable telemarketing company with over 10 years of experience. It offers reliable nearshore contact center solutions to small businesses and Fortune 500 companies alike. 
The company takes pride in building solid, long-term relationships with clients and understands the importance of quality and consistency. 1Click has established itself as a go-to nearshore call center for outsourcing services. 
You may also visit its page on our website here. 
Location: Santa Catarina, MX
One Contact is a prominent telemarketing company with over 12 years of experience. Its team of over 300 employees includes bilingual agents who excel in customer service and sales. 
One Contact retains high standards in its operations, integrating quality and security protocols to ensure ethical and private data collection. As part of the MIGESA Group, it also benefits from the former's over 40 years of experience in the IT sector.
You may also visit its page on our website here. 
Location: Tijuana, MX
LM Call Center is a reliable and fast-growing telemarketing company. With a bilingual workforce fluent in both Spanish and English, it caters to a diverse range of industries. 
LM Call Center works with a team of dedicated agents and a customer-centric approach. It aims to empower businesses by offering affordable and effective remote extensions to their operations. 
You may also visit its page on our website here. 
Location: Mexico City, MX
Pentafon is a well-established telemarketing company in Mexico, known for its expertise in call center solutions and business process outsourcing. As part of the Neikos Group, Pentafon brings over 18 years of experience. 
The company operates seven contact centers across Mexico and Latin America. It values its human resources while offering AI-based personnel selection and management services to assist its clients with maintaining a skilled workforce. 
Location: Hermosillo, MX
ListenTrust is a call center company that focuses on making the human connection 24/7, 365 days a year. 
It offers a range of services including:

Customer service

Sales 

Virtual receptionist 

Donation intake 

Transcription 

Email campaigns 
ListenTrust also demonstrates a commitment to social responsibility by supporting various charity organizations. 
You may also visit its page on our website here.