Top 20 telemarketing companies in India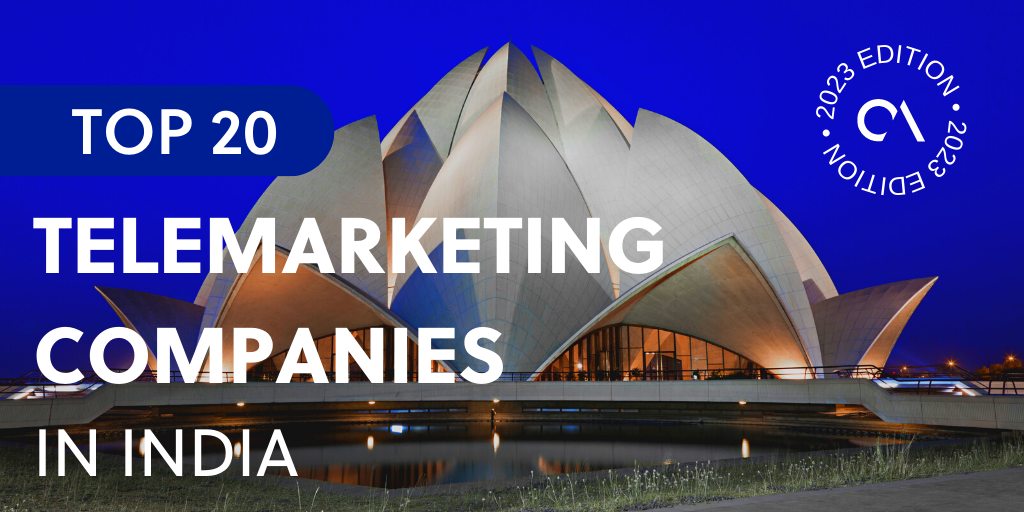 List of 20 telemarketing companies in India
The spectacular growth of the call center industry is not a "one-or-two-countries-only" phenomenon. It happened across different countries and continents due to the advances in technology.  
For instance, call centers in India have been one of the fastest-growing industries. McKinsey estimated that 70% of the country's Business Process Outsourcing (BPO) industry's revenue came from these call centers. That is a significant figure.  
Part of the call center work is telemarketing. It is a direct marketing approach to reach prospects to try a service or product. 
This article shows the top 20 telemarketing companies in India today. As the call center industry continues to reach new heights, India's telemarketing service is here to stay. 
How India's telemarketing services contribute to business growth
Typing "telemarketing companies in India" in your search bar would generate thousands of results. This is because the country has become an outsourcing destination for many businesses.
The availability of a skilled workforce, scalability, and round-the-clock support made India a go-to hub for outsourcing services and providers. Another reason why India's telemarketing industry has been thriving is because of the benefits it brings to businesses. 
For instance, instead of hiring a whole department to handle calls or reach out to prospects, you can outsource your needs to a call center provider. There is no need to train the representative for months or provide the benefit packages an in-house employee usually receives. 
If you want to boost sales and promote product awareness at a low cost, outsourcing telemarketing services in India is one solution. This includes lead generation, market research and surveys, database cleaning, third-party verification, and more.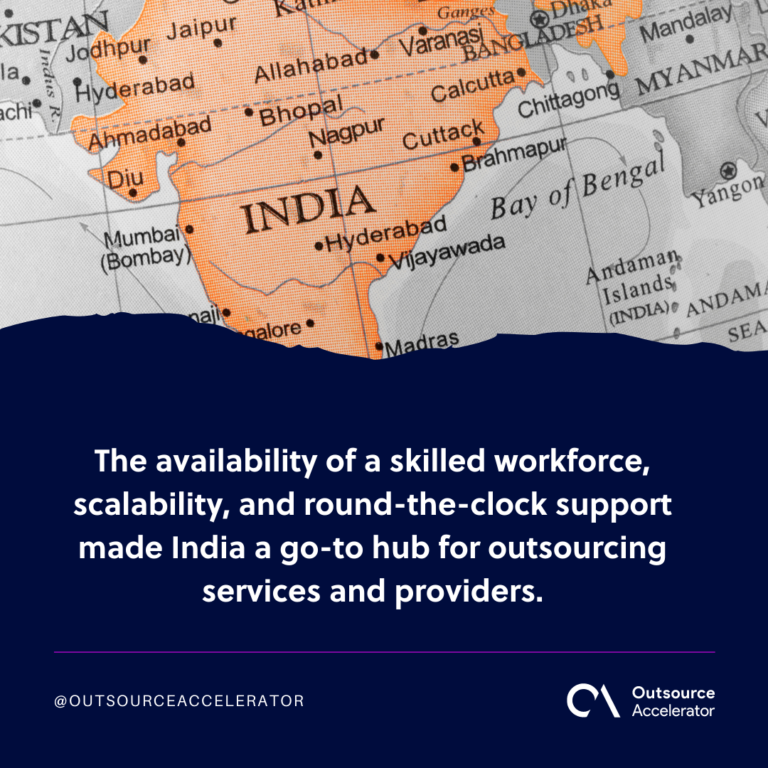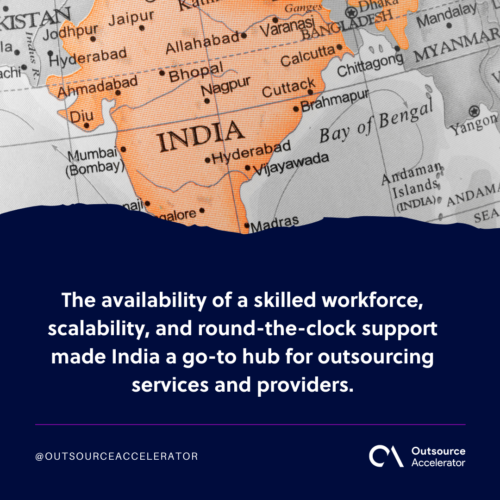 Top Global Outsourcing List
Outsource Accelerator is the world's leading outsourcing marketplace and advisory. We list over 3,000 BPO firms located across the globe in our global directory, and we provide detailed information, price guides, and reviews.

Whether you're a solopreneur, SME owner, or corporate executive, we can help you find the most suitable outsourcing provider for your business.

Explore our outsourcing directory now. You may also check out our Top telemarketing companies lists per country here:
Top 20 telemarketing companies in India
As telemarketing grows, many companies built versions of call center solutions portfolios to help other brands outsource such services. 
Check these top 20 telemarketing companies below:
Excellis IT is one of the top IT solutions providers, focusing on mobile and web app development, digital marketing, social media marketing, BPO, and CAD services. The company aims to help its partners build a brand and establish a stronger digital presence. 
The five-year journey of Excellis IT has helped them gain a deep experience in different sectors. For instance, they understand that customer satisfaction can make or break a brand. This is why they devise solutions to improve client engagements to help their partners succeed. 
Excellis IT has representatives who are experts in outbound call center services. They gear up, look for potential customers, and spread the word about the offered product or service. 
Under outbound strategies are appointment scheduling, customer surveys, telemarketing, lead generation, and third-party verification.  
Fusion BPO prioritizes human experience. Their interactions with the customers resonate with empathy. When you add it with the effective communication of the agents, that is the winning formula to create new revenue streams across different services and products. 
The company supports omnichannel customer support solutions for different industries. This includes cold calling, appointment scheduling, telemarketing, lead generation, technical support, marketing support, and more. These services help streamline customer support functions and expenses.   
The idea behind Flatworld Solutions started when CEO Jacob William found convenience during his Mega Shopping Centers visit in the 90s. 
How convenient is it to find multiple services on one platform? This is what Flatworld Solutions has been solving since 2002.
The company started offering a Data Processing Solution. Later on, they added specialized services that cater to several businesses across the globe. One vital addition to the list is the call center solutions. 
Under this service offering are telemarketing, inbound and outbound, call center monitoring, technical support outsourcing, lead generation, customer support, and virtual assistance. 
The professionals behind DK Business Patron understand that every sector and business is different. This difference does not change how the company does things–delivering the best customer experience. 
DK Business Patron propagates sales and elevates customer care. They do this by offering marketing and sales solutions, including telemarketing, outbound and inbound call center functions, multi-channel support, and market research. 
VSynergize wants to be a market leader in digital transformation by adding real value to its partners' businesses. 
One of VSynergize Outsourcing's solutions to help businesses boost their sales and reach a wider audience is through telemarketing. The company's well-trained agents do this by reaching out to potential customers, preparing a leads list, and devising customer acquisition solutions.
Moreover, the company ensures continuous training and development for its agents. Doing this enhances the quality of service that VSynergize delivers. 
StraightSource has been running for over 18 years and has helped over 9,036 companies in 45 countries. Do you know what StraightSource's clients love the most?
It helped them realize that outsourcing virtually can help their business gain a competitive advantage in their respective industries. With more than 90 services, the company's talented people want to achieve three goals–scale faster, save time, and increase profit.  
StraightSource offers services that add long-term value propositions to businesses. This includes data collection, telemarketing, call center, data entry, mortgage, tax processing, video production, and more.  
Go4customer greatly impacted the growth of six Fortune 500 clients. It made a meaningful difference and helped its partners achieve strategic growth by matching them with the right solutions to satisfy their operational needs. 
To do this, Go4customer dives into different services to improve business processes, ensure customer interactivity, and help partners digitize their brands. 
Some specific services include research and analytics, inbound and outbound call centers, customer support, market research, debt collection, lead generation, and telemarketing. 
Octopus Tech is a call center outsourcing company with multiple global partners. Aside from streamlining workflows, OctopusTech knows how to drive actionable insights to help its partners. 
Outsourcing service to OctopusTech gives your business an opportunity toward digital transformation. It offers web design, e-commerce development, voice and non-voice support, virtual assistance, and e-surveillance. 
The people behind VRTeleMarketers connect their passion with purpose. Working in the industry for more than ten years has made the company become one of India's leading cloud-based telemarketing service providers. 
The list of VRTeleMarketer's clients includes small and medium enterprises and startups. The company has helped them reduce capital and operational expenses while delivering high-standard services. 
VRTeleMarketer's telemarketing services are for cold calling, lead generation, appointment setting, market research, custom profiling, database cleansing, telesales, multilingual approach, and customer feedback. 
The company has skilled staff who understands your business and relates to prospects. 
The founders of MattsenKumar started the business to help startups, medium businesses, and large enterprises grow. As years passed, its mission went beyond business growth. 
MattsenKumar helps its partners achieve the maximum return on investment through innovation and advanced technologies. 
They do this by providing inbound and outbound call center outsourcing services, data management, transcription services, and document management.  
The company's 12 years of experience have transformed customer experience into something bigger for its partners. 
The expert callers from ExpertCallers understand that making sales and providing better service win customers. A happy customer leads to an empowered business. 
ExpertCallers offers inbound and outbound call center outsourcing services to more than a thousand satisfied clients across the globe. This involves appointment setting, lead generation, order placement, issue resolution, virtual assistance, and more. 
Do you know what sets Noidaexim apart as an outsourcing partner? The company prides itself on being unconventional and exceptional. 
Noida Exim Private Limited offers personalized call center outsourcing solutions to bridge the gap between its business partners and customers. The range of services includes web services, inbound, outbound, back office, and interactive voice response (IVR). 
With the right people and solutions, Noidaexim can handle critical business operations to help its partners reach new heights. 
Some of Noidaexim's served industries include telecommerce, education, healthcare, automotive, retail, and tourism. 
AscentBPO is a data entry outsourcing company that has experienced rapid growth. The company's approach is not only customer-centric but client-centered as well. This means that Ascent BPO appreciates open communication to deliver quality services. 
While Ascent BPO focuses on data entry services, it also provides IT-enabled solutions and services involving digital marketing, call center, BPOs, and software development. 
LiveHelp India has served more than 3,000 global clients since 2003. No matter the business size, the company's competent employees are flexible and adaptable. 
Aside from this, LiveHelp India adheres to Quality Management Processes and industry standards to continuously provide excellent service to its clients. 
As an outsourcing service and offshore staff provider, LiveHelp India has dedicated virtual assistants who know the twists and turns of doing digital marketing, customer support, back office support, technical support, lead generation, and more.    
Logica Infotech is your partner in creating better value for your brand. The company comprises IT consultants, machine learning specialists, and market research professionals. 
Having this team back Logica Infotech up made the company a go-to IT consulting firm for businesses in India. 
Aside from IT consulting services, Logica Infotech provides free consultations for different services. This includes call center, BPO, mobile app development, market research, and automated survey reports. 
Call2Customers has expanded its horizon since 2011. It is one of the most sought-after outsourced call centers in India. The company equipped itself with innovative and latest technologies to address the inevitable changes in customer service. 
Working with cloud call center technology has streamlined operations and allowed Call2Customer to cater to multiple clients. This enabled the team to enjoy progressive dialing, outbound predictive dialing, call recording, inbound IVR, cloud computing, and skill-based routing.  
Call2Service offers inbound and outbound call center services, such as appointment setting, telemarketing, phone answering, order taking, technical support, and lead generation. 
BPO, KPO, and white-label services are also available. 
WinBizSolutionsIndia is another BPO service provider operating in different time zones and serving over 20 industries. The company's motto focuses on letting its partners experience steady growth and unlocking their potential to satisfy customers.
To achieve this, it is vital to check WinBizSolutionsIndia's flagship services. These include graphic design, digital conversion, call center solutions, and photo manipulation. 
Under call center services, the company's representatives provide uninterrupted support to businesses of different sizes. 
They reach out to prospects, handle customers' queries, schedule appointments, and conduct telemarketing efforts. They offer so much more, making them a leading provider of BPO services.  
Every call center service provider's mission is to boost a brand's performance through customer service. It is easier than done. 
However, having a partner who could identify and bridge the gap between prospects and your brand would do wonders for the business. 
This is what BestCallCenter wants to bring to your table–an advantage. BestCallCenter has expertise in inbound and outbound call center services, billing, ordering and processing, claim and reimbursement, data entry, document verification, and more. 
Outsourcing your service needs to BestCallCenter is an opportunity to improve customer experience and help you stay focused on core operations. 
Cimmons is a young company compared to other BPO and call center service providers in India. However, that doesn't mean the company is way behind the solutions, best practices, and technology to assist its partners. 
Cimmons can go head-to-head with its competition as it has previously serviced international clients. The company has a track record of implementing and developing solutions to improve customer experience. 
Its service offerings are telesales, inbound call center support, outbound call center support, email and chat support, and net promoter survey services. 
As a provider of BPO services, ICCS puts its people first. Whether it is employees, clients, and customers, the company believes in a "partnership approach." 
This value has put its partners on the map, developed loyal partnerships, and cultivated reactive and proactive customer interaction. Outsourcing call center operations to ICCS allows you to deliver an enhanced client experience and increased bottom line. 
It offers inbound and outbound call center services, finance and accounting solutions, around-the-clock email and chat support, and market research.