Outsourcing telemarketing: Is it worth it?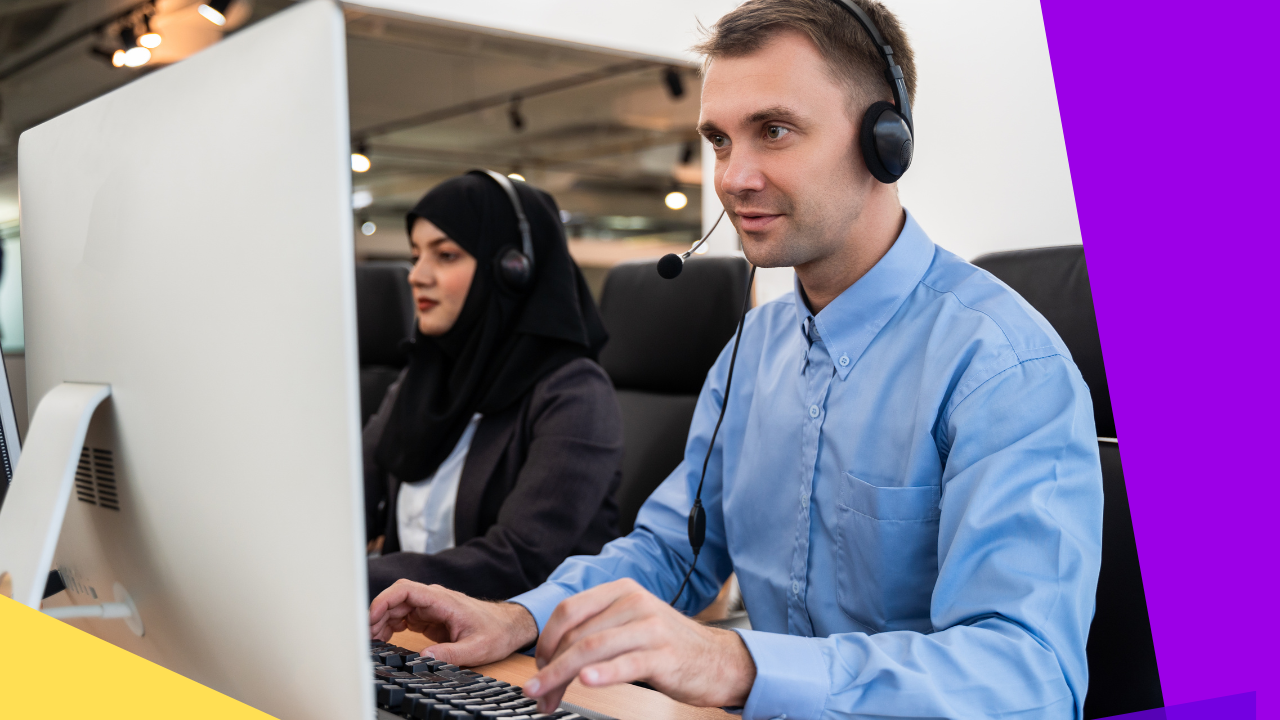 Telemarketing has been around for about as long as outsourcing has been.
This practice of reaching out to people – who may or may not have any previous dealings with a business or company – is among the forerunners of the modern call center industry as we know it.
Today, telemarketing has gone a long way from using rotary phones and phone directories.
The increase in business process outsourcing (BPO) companies like 123Employee gave businesses that utilize telemarketing another avenue to explore – outsourcing telemarketing operations.
What is telemarketing?
Telemarketing is the direct selling or marketing of products and services through calls.
As mentioned, telemarketing agents direct these calls to people who've had previous transactions with a company, or even those with no prior records, as long as they fit the criteria of a potential customer.
While telemarketing traditionally used actual telephones — hence the term — advances in technology eventually led to the practice's migration to computers and software.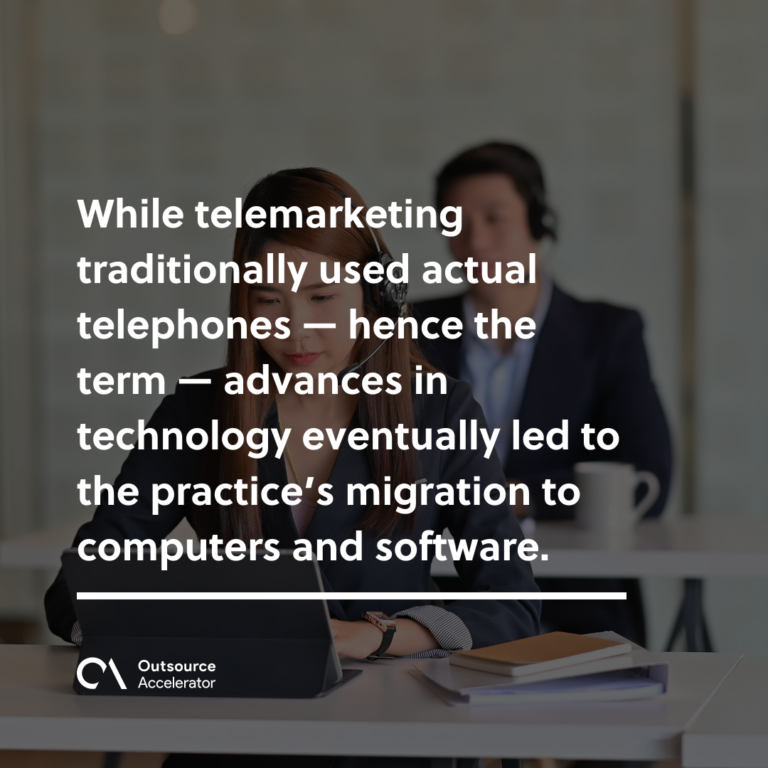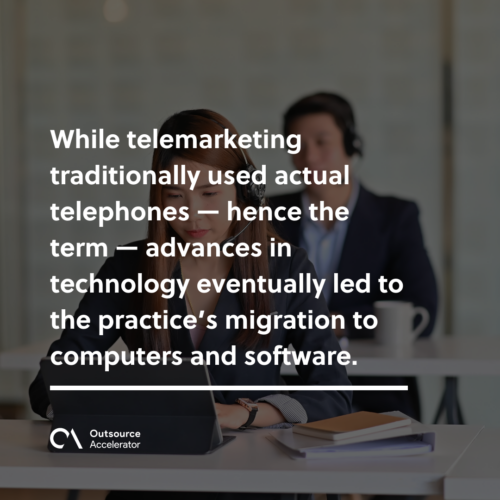 Modern telemarketing agencies now make these directed calls using various telemarketing software that comes with powerful functionalities. These allow agents to reach out to more than a hundred prospects daily and significantly increase lead generation.
Due to its rather unsolicited nature, telemarketing earned a negative reputation in the past. Some individuals weren't receptive to such calls, and countries like the US and Canada have enacted measures to protect their rights to privacy.
In the US and Canada, individuals can opt to register in national "Do Not Call" (DNC) registries to prohibit telemarketing companies from calling them.
DNC-registered individuals can lodge legal complaints against telemarketing companies if these companies call them. However, the DNC prohibition exempts calls from charities, political organizations, and businesses calling individuals with whom they have an existing relationship.
Telemarketing vs cold calling
People often use telemarketing and cold calling interchangeably.
While these terms indeed share some similarities, saying they are one and the same is like saying all cats are lions because all lions are cats.
Outbound telemarketing calls are classified as cold calls. Therefore, cold calling is a subcategory of telemarketing.
However, not all telemarketing calls are cold calls, as there are other types of telemarketing.
Types of telemarketing
Telemarketing is categorized into four different types, depending on the nature of the call.
Inbound telemarketing.

These are calls based on inbound customer inquiries about products or services. Inbound calls are considered "warm" calls as their recipient has already shown interest or familiarity with a business or company.

Outbound telemarketing.

Outbound calls are considered "cold" calls as agents actively initiate these without prior communication with the customer, as opposed to client-initiated "warm" calls.

Lead generation.

Telemarketers make these calls to collect customer profiles, interests, and demographic data.

Sales.

Sales calls aim to close transactions with potential and existing customers.
Is outsourcing telemarketing a practical move?
Outsourcing telemarketing services is a sound business move for most companies.
It has become common knowledge how beneficial outsourcing is to companies wanting to expand their operations. Even well-established companies choose to outsource because of the many advantages it brings.
Below are just a few of the benefits that outsourcing telemarketing operations can bring your business. 
Overhead cost reduction
Outsourcing companies typically base their operation in developing countries, such as the Philippines [1] .
Compared to developed countries, where most outsourcers are from, living costs in developing nations are significantly lower.
Thus, outsourcing telemarketing operations to BPO companies in these countries can save outsourcers as much as 70% in salary costs, not to mention other overhead expenses such as rent for facilities and office equipment.
Increased productivity
Outsourcing telemarketing takes away a significant amount of workload from the outsourcer's in-house employees and allows them to focus on other core aspects of their jobs.
Outsourcing also spares companies the effort and expenses of end-to-end recruitment and training for telemarketing agents.
This allows their in-house human resource department to focus on recruiting and onboarding for other critical positions.
Access to skilled agents
Outsourcing companies like 123Employee ensure they employ only the top talents for their clients.
Moreover, the agents employed by these companies undergo extensive training before deployment into the field.
Companies that partner with outsourcing companies in the Philippines also have the added benefit of having English-proficient agents with neutral accents – highly sought-after traits in the telemarketing industry.
Outsourcing telemarketing with 123Employee
With 16 years of outsourcing industry experience, 123Employee knows the ins and outs of the business.
Outsourcing telemarketing services through 123Employee not only gains outsourcers the benefits discussed above and more, but they'll also get these at a highly competitive price.
Moreover, 123Employee gives its clients assurance of quality service by providing them complete in-depth oversight.
Clients receive reports of the entire day's transactions after the end of each shift. They can also request call recordings via email for further quality assurance.
For quality services at an affordable price, choose 123Employee as your partner for outsourcing telemarketing services and other business functions. Contact them today.
Reference:
1. Thompson, M. (2022) "Business process outsourcing industry in the Philippines," in COVID-19 in Southeast Asia: Insights for a post-pandemic world. LSE Press, pp. 86–96.