Top 30 telemarketing companies in South Africa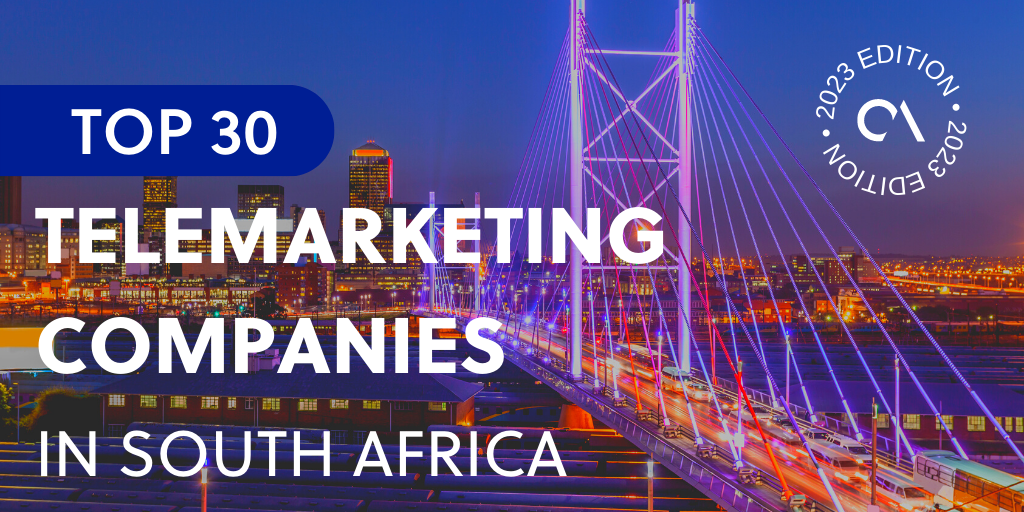 List of top telemarketing companies in South Africa
There are so many marketing strategies to increase your sales, but telemarketing is one of the most effective techniques.
By calling prospective leads, telemarketing allows a direct connection with businesses or customers. It instantly scores feedback and improves the efficiency of a business's marketing efforts.
Telemarketing has become more dynamic in different countries because of tech innovations. Phone calling and video teleconferencing are now part of practices, useful for both Business to Business (B2B) and Business to Customer (B2C) approaches. 
South Africa is among the emerging countries that are becoming known in terms of telemarketing services. 
This article outlines the top 30 telemarketing companies in South Africa. Let's have a sneak peek at how these companies can help your business grow on a more personal approach.
Types of telemarketing 
There are different ways to conduct telemarketing. Nowadays, companies hire expert telemarketing agents to do the job for them. 
Hence, telemarketing has become one of the guaranteed services of the outsourcing industry. Below we have the different classifications of telemarketing:
Inbound telemarketing 
This process handles incoming calls from the collective efforts in advertising, emails, and other online communications. It is commonly related to taking orders from different product lines where prospects initiate the first consultation with the business.
Outbound telemarketing 
With a proactive approach, telemarketers of this type jump-start a call to their identified market leads to sell products or services.
It requires businesses to conduct unsolicited phone calls to introduce products and services in detail. It involves setting scheduled meetings for b2b generation, queries or feedback, and assessment through market research.
B2B telemarketing 
B2b is a cost-efficient strategy in telemarketing, dealing from one business to another, usually by unsolicited calls or cold calling. 
The focus usually includes qualifying prospects, lead generation, and customized follow-up emails. It is very effective in telemarketing as it builds firm connections to communicate with heads of offices.
B2C telemarketing 
The process includes agents reaching out to consumers via phone to offer products or services. The approach is more personal and emotionally driven as the end user is the general public compared to B2B, that deals with another business.
South Africa's telemarketing industry: An overview
As per Statista, the revenue of South Africa in the telecommunication industry is calculated to continuously escalate this 2023, with an approximate amount of 28.7 billion U.S. Dollars.
Along with millions of mobile users, it's no wonder that telemarketing continues to prove so successful in the country, together with its emerging outsourcing industry.
The business process outsourcing (BPO) industry in South Africa is expected to grow continuously, attributed to technological innovations and mobile services. This makes the country an ideal outsourcing destination alongside the Philippines and India.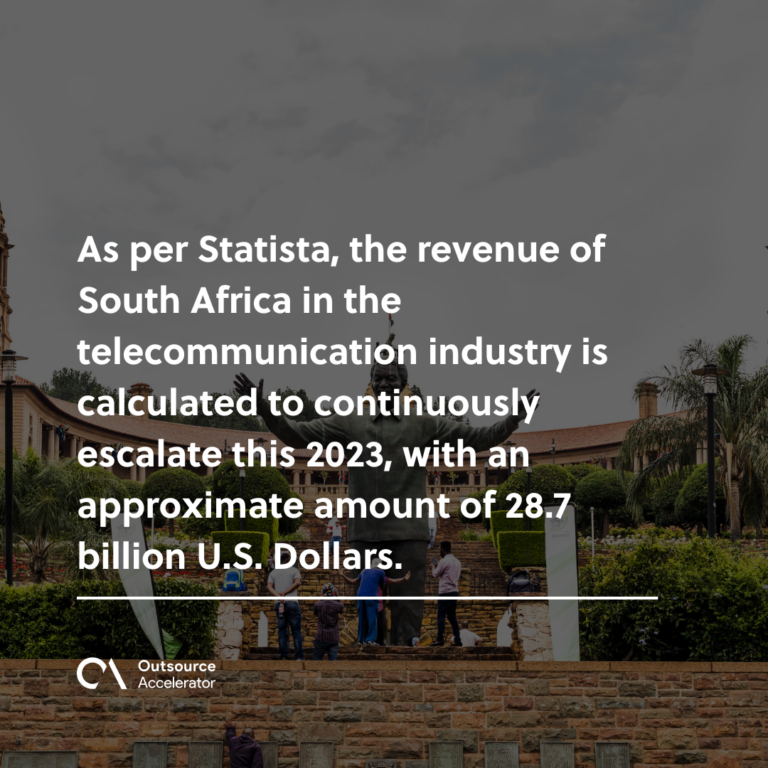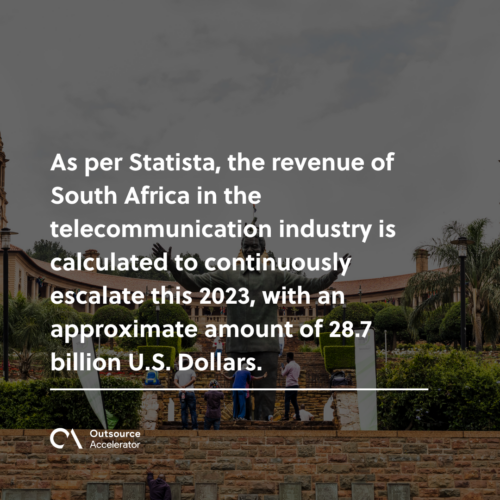 Top global outsourcing list
Outsource Accelerator is the world's leading outsourcing marketplace and advisory. We list over 3,000 BPO firms located across the globe in our global directory, and we provide detailed information, price guides, and reviews.
Whether you're a solopreneur, SME owner, or a corporate executive, we can help you find the most suitable outsourcing provider for your business.
Explore our outsourcing directory now. You may also check out our Top telemarketing companies lists per country here:
30 leading telemarketing companies in South Africa
Wing Assistant is home to expert virtual assistants that businesses worldwide can hire. They are well-trained to help small and medium-sized businesses (SMBs) and entrepreneurs by delegating tasks for a flat monthly rate. 
The agency has a satellite office in South Africa and designated virtual assistants. They are supervised by a Customer Success Manager, ensuring quality support services. 
As a well-known BPO service provider, 4R Digital was able to reach connections and activate services in the United States. Most of its employees are professional and multi-talented, capable of speaking English with a neutral accent.
South Africa also invested in first-world connectivity and infrastructure to achieve a highly competitive environment.
This company offers a wide range of services committed to providing excellent experiences and partnerships to its clients. Here are the main services offered: 
Full service partnership 

Telemarketing 

Events and RSVP management

Full outsourced call center seat 

Compliments and complaints logging 
CareCall offers all-in solutions to every business's communication and outsourcing requirements. With over 25 years in the service, its significant milestones make it a true leader in the industry.
Founded in 2003, this BPO company specializes in lead generation and customer support services. As one of the oldest contact centers in the country, it has established a name as an expert in the outsourcing industry. 
3iSolutions ensures exceptional industry experience and pulls off an award-winning in-house technology to help operate the complex business processes of its clients.
The company has excelled beyond expectation since its founding in 1992. Composed of over 150 employees, it works to provide outstanding BPO client services and is now a trusted brand performing in the FMCG market in South Africa.
Today, it is considered a market leader on the African continent and has earned respect in the industry. It is no wonder that its capability in recalibrating services led to attracting more clients with high demands in customer service.
Boomerang Marketing in South Africa is a contact center and an authorized financial service provider. It offers performance-based telemarketing and contact support services, including:
Telemarketing and telesales

Lead generation 

Appointment setting 
The company is also a certified financial service provider licensed to offer short and long-term insurance products. 
Tactical Business Services (TBS) is an Australian outsourcing company. It started in 2004, providing financial services solutions but was able to expand in mitigating cost and operational challenges involved with businesses' in-house operations. 
TBS now has operation centers in the Philippines and South Africa. It has achieved expansion through collaboration with other company leaders in the industry including, Transpacific Communication, ANZ bank, and Ericson IPX, Tactical Business Services.
Shapiro Shaik Defries and Associates (SSDA) is a top-class collections and recoveries business with operations in Johannesburg and Cape Town, South Africa, since 2004. It champions many operation services in the following industries:
Financial services

Retailing companies 

Telecommunication providers 

Government institutions 

Health care providers
SSDA promotes advanced collection technology, processes, and training techniques to effectively collect high-volume, multi-stage outstanding debt in South Africa and international markets.
Phungela is a South African-based Business Technology and Digital Transformation Firm with expertise in providing digital solutions using software and technology. 
As an innovative player, this privately-owned company crafted its name in the technology industry, creating sustainable business value for its clients. Its competitive advantage is anchored in a three-legged business model, namely:
Strategy (Digital Transformation, Digital Marketing, and ICT Policy)​

Consulting (IT Project Management & Implementation Partner, IT Audits, and IT Governance)​

Technology (Software, Cybersecurity, Digital Platforms & Applications, and Tech Support)
As an owner-operated company, Ec3 has been committed and passionate about providing service excellence for the past ten years. 
It is no question that the company was named the best-outsourced contact center in the world for three consecutive years by ContactCenterWorld.
Ec3 is a trusted agency offering quality solutions and partnerships on the following products and services:
Specialist call center solutions

Retentions/reactivations

Customer services and collections

Back of the office

Product development 

Webchat/WhatsApp chat and social media response
ABC Telecommunications is a leading and distinguished contracting service provider based in Durban, South Africa. Established in 2019, the company started with a small team specializing in call center services and corporate training.
Today, the company has grown with its comprehensive approach to project management. It provides competitive services to deliver its clients' needs. Its services focus on telemarketing, call center management, and staff training. 
As part of the Blake Group Company, Centrevo is top-notch in the BPO industry, with over three decades of expertise. From its head office in Durban, South Africa, it expanded services to the United Kingdom.
Centervo's services are associated with three major areas with specific targets:
Sales

– origination, upsell, cross-sell, and Retention 

Quality assurance

– call recording, mystery shopping, scorecards, and trend analysis

Customer support

– voice and non-voice, customer service seat, omnichannel approach, email response service, and customer surveys
VirtuCall is known for its quality service in the call center outsourcing industry. They provide and develop custom solutions for clients steered to bring uniqueness and attend to their specific needs, particularly on the following services: 
Telemarketing 

Internet and SMS marketing 

Inbound and outbound call services 
The superior technology, proven analytical methodologies, and an expert team helps VirtuCall to record successful and high returns of investment to their clients and partners.
IAC is a BPO company that specializes in providing services online, SMS, AVM, and call center marketing solutions. It also offers outsourced call center solutions for inbound/outbound and international campaigns. 
Its services deliver campaigns that include data, leads, agents' recruitment, management and reporting. IAC champions the demands of technological advancement. Its in-depth expertise in digital technology enables them to entice hard-to-find talent.
ARC Business Process Outsourcing offers both outsourcing and offshoring solutions in South Africa and other countries, mainly in:
United States

Canada

United Kingdom

Germany

Belgium

France
Its outsourcing services mainly focused on outbound & inbound sales, virtual assistance, and emails up to T3 Technical Support. It provides services in different languages, including English, German, Portuguese, and French.
This outsourcing company offers a network of expert professionals, innovative solutions, and advanced software. It helps clients achieve a wider reach and showcase their full potential in a more manageable and cost-effective way.
The agency is situated in Durban, South Africa, with a dedicated team of 200 personnel.  They are trained to deliver services in inbound and outbound solutions, quality assurance, office solutions, customer service, retention, and customer lifecycle management.
Quantanite binds human skills, resources, and technology to empower and help businesses improve their operations and make the best in customer service.
This agency has operation centers in Bangladesh and South Africa with dedicated account management locations across Europe and the United States. It assists businesses with day-to-day support and building long-term relationships.
Khaltsha Call Centre is a contact center company established in 2018 in Khayelitsha, Western Cape, South Africa. The core services are to offer inbound, outbound, sales, research, and additional BPO and IT support services.
Khaltsha Call Centre aims to contribute to helping South African businesses to become customer service centric and professional as possible.
Mutual Financial Analysts (MFA) is a highly competent BPO call center company founded in 2008. It is considered a global leader in the industry stationed in the Western and Eastern Cape provinces of the Republic of South Africa.
The agency now has 200 members with national offices and current capabilities that can cater to 5 different languages. With ultramodern infrastructure and unique strategic management, MFA aims to house 2000 call center seats as part of their medium-term goal.
Integreon is a credible service provider of award-winning legal, document, business, and research support solutions to leading law firms, corporate legal departments, financial institutions, and professional services firms.
Internationally, this agency of 2,400 Associates supports more than 250 companies in different areas of business operations, including: 
Market and competitive intelligence

Discovery

Legal process outsourcing (LPO)

Operating model transformation 

Back office design 
Persuade is one of the top b2b lead generation agencies in Cape Town, South Africa, with services in appointment setting, lead generation, market research, and business databases. 
The agency quickly transformed into a dynamic company offering personalized outreach campaigns. It also empowers businesses' sales teams with updated tools and strategies to close more deals and achieve long-term success.
Sidqcon is call center outsourcing company based in South Africa. It assists insurance professionals in B2B lead generation through effective target marketing services.
It is also known as a fast-growing offshore call center company for its adaptability and quality service outcomes. It envisions becoming the world's market leader in career and workforce development, providing outstanding customer service support to clients.
YMS Contact Centre offers a full range of contact center solutions located in Durban, South Africa. Its services include delivery of advanced outbound and inbound functions like: 
Help desks

Telemarketing and telesales

Customer retention services

Customer care solutions
The agency is also an FSB licensed Financial Services Provider focused on delivering value-based services. It is made possible through a strict focus on client KPI management, Quality Assurance, and Operational excellence.
Talksure is an award-winning sales outsourcing solution established in 2010 in Durban, South Africa. It is an independent financial services provider for African and International markets specializing in customer engagement solutions.
With quality services in BPO solutions, Talksure helps businesses by offering forthright solutions. It has highly competent sales specialists capable of building up the company's revenue and market share.
This ROI-centered consulting and digital marketing agency in South Africa specializes in services that help businesses and brands with revenue through marketing.
It has established its name in e-commerce marketing and lead generation services, making them one of the most well-known marketing agencies in the country.
CubicICE offers all-inclusive services in digital marketing, public relations, and creative design. It helps businesses execute advanced marketing strategies based on the requirements of each business operation. 
The agency specializes in content that engages engineers, manufacturers, procurement officials, and distributors through effective marketing channels. 
CubicICE transforms the technical details of business products and services through powerful marketing campaigns.
Real Promotions is a progressive and creative organization specializing in sales, marketing, brand activations, training, and development. Its operation started in South Africa in December 2004. 
It offers a wide range of services to businesses to help increase brand awareness, convert more prospects in sales, and improve staff's skills. It offers following services:
Sales training and brand activations

Roadshows and door-to-door business sales

Call center and telemarketing

Mall activations and in-store promotions
With 15 years of experience in the marketing industry, IconAF endeavors to provide effective communication between businesses and their clients, focusing on the following services: 
Lead generation and nurturing 

Telemarketing 

Web development and SEO

Data analysis and SMS marketing 
The dedicated team of IconAF helps in developing custom campaigns for lead generation. It builds a multi-level approach using digital marketing and is committed to service quality.
Enav8 Marketing Group provides a full range of customized brand services through innovative marketing solutions. It develops and provides solutions in field marketing, promotions, and reward systems.
With over 30 years in the industry, Enav8 provides efficient and cost-effective services to businesses to increase service levels and brand awareness and affect consumer behavior. 
iTalk is a contact center management company that offers IP telephony products, connectivity solutions, software development, financial services, and call center solutions.
With years of experience, it provides expert assistance across various areas such as sales, collections, data management, BPO, IT services, support, project management, and quality assurance to help your business thrive.