Why outsourcing virtual telemarketers is good for your business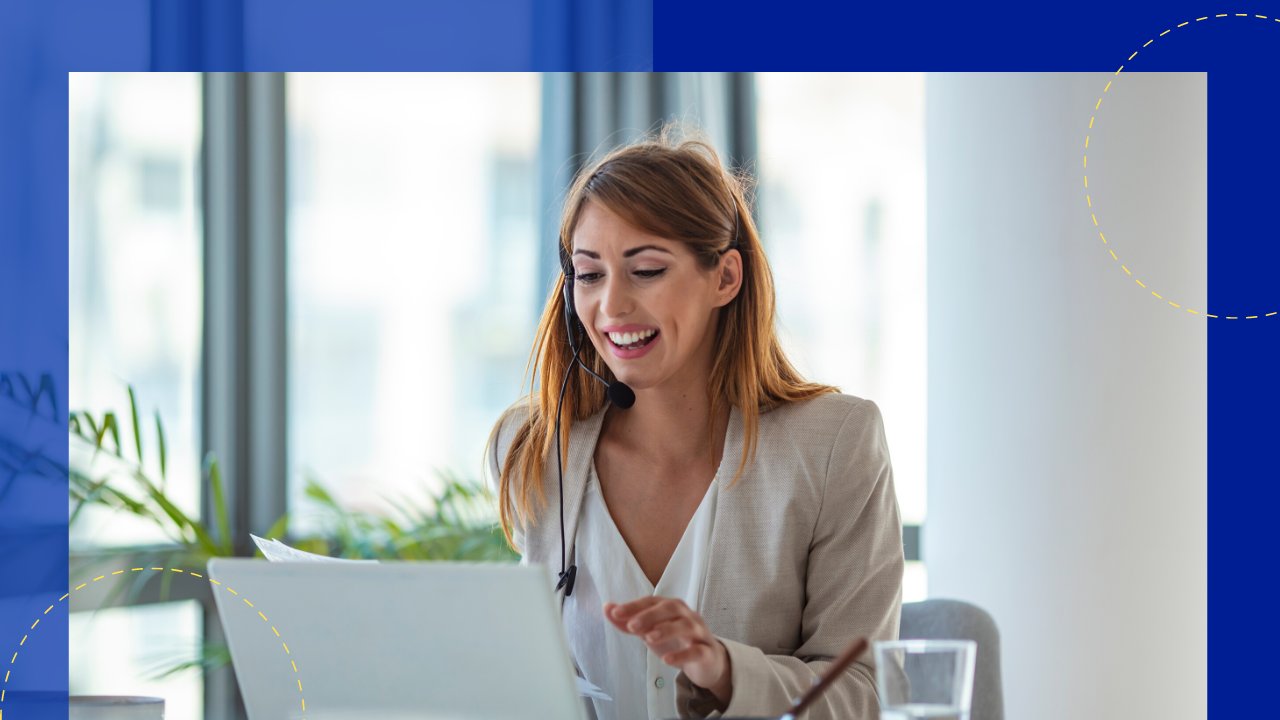 Why outsourcing virtual telemarketers is good for your business
While employees can be self-sufficient and work independently, outsourcing can help firms complete different tasks faster and more efficiently. 
Outsourcing has become so prevalent, especially because companies can save time, money, and energy by outsourcing their work. Contracting out services can be done in various roles, including virtual telemarketers. 
Although the idea is not new, business-to-business (B2B) telemarketing has given rise to a far more systematic approach to problem-solving. 
Nowadays, companies engage with virtual telemarketers, and here's why. 
What is virtual telemarketing?
Virtual telemarketing, or remote telemarketing, simply allows telemarketers to operate remotely from any location with an internet connection rather than from a real call center. 
Virtual telemarketing often involves using Voice over Internet Protocol (VoIP) systems to make calls and engage with prospects. 
This technology allows for cost-effective and efficient communication with potential customers. It can record calls, track performance metrics, and integrate with customer relationship management (CRM) software.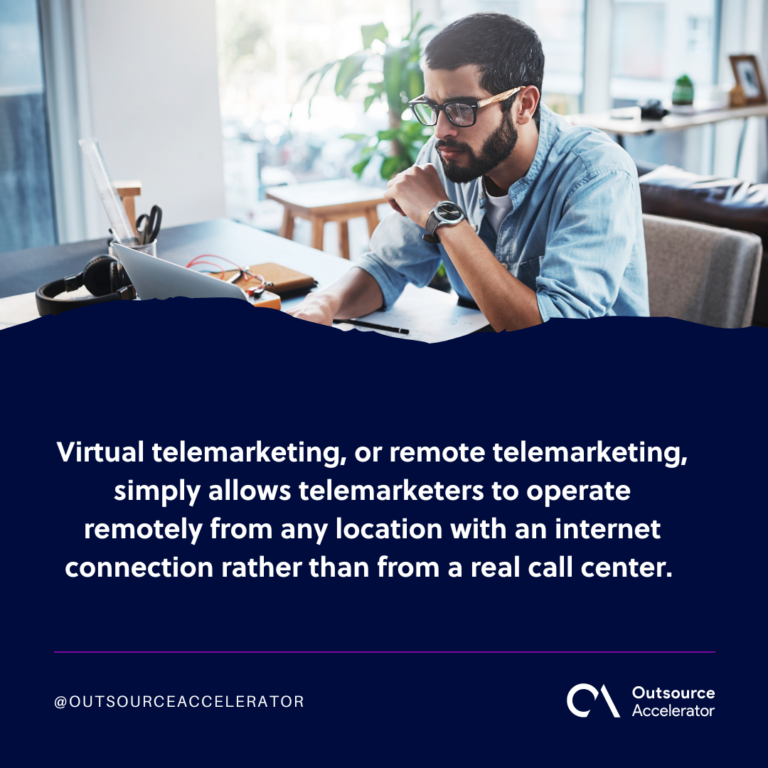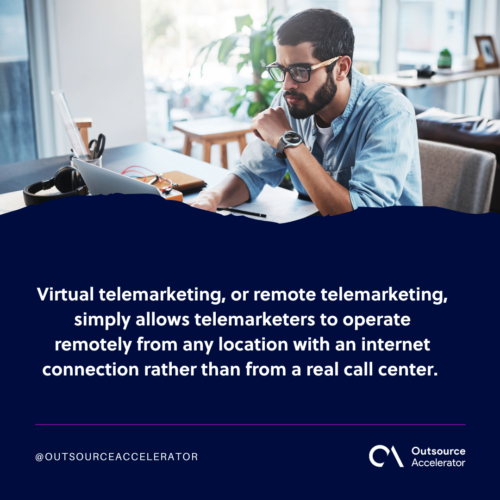 Advantages of outsourcing virtual telemarketers
In today's digital age, one of the most effective ways to connect with potential customers and generate more sales is through telemarketing. 
However, building and managing in-house telemarketing teams can be costly, time-consuming, and complex. 
Outsourcing virtual telemarketers can be a game-changer for business. Here are some of its advantages:
Pay less for telemarketing
For companies of all sizes, outsourcing virtual telemarketers can be a cost-effective solution. Virtual telemarketing can help organizations save on staff salaries, benefits, office costs, equipment, and other related expenses. 
Also, outsourcing companies frequently offer flexible pricing structures that let clients pay only for their services, simplifying spending and cash flow management.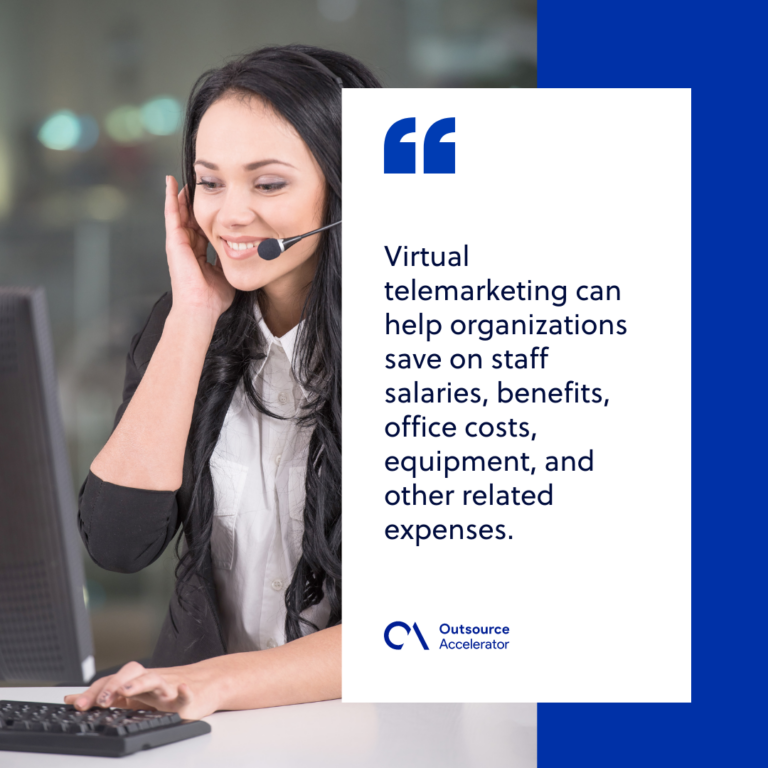 Access to professional telemarketers
Outsourcing virtual telemarketing gives organizations access to a pool of highly skilled and knowledgeable telemarketers without investing in hiring, training, and managing them.
Companies can benefit from the experience and insights of experts with a strong grasp of telemarketing and can provide outcomes more efficiently and effectively.
Saves a lot of time
Businesses can save a lot of time by outsourcing virtual telemarketers compared to hiring, managing, and training an internal team. By outsourcing this service; organizations can focus on their core capabilities and leave the telemarketing job to the specialists. 
Furthermore, outsourcing companies frequently have cutting-edge tools and technology that automate and optimize telemarketing procedures.
Work within legal and data protection guidelines
Virtual telemarketing outsourcing also can assist companies in adhering to legal and data protection regulations. 
Outsourcing firms are generally well-versed in telemarketing legislation and standards, such as:
General Data Protection Regulation (GDPR)
This implies that companies can lower their chances of facing legal and regulatory problems and avoid exorbitant fines and penalties.
Improved customer experience
A better customer experience can result from outsourcing virtual telemarketing. Professional telemarketers have the knowledge and expertise to interact with clients in a way that is interesting, educational, and non-intrusive. 
By outsourcing telemarketing, businesses can guarantee that their clients are treated with respect and courtesy, increasing client satisfaction and loyalty.
Tips for successfully outsourcing virtual telemarketers
Outsourcing virtual telemarketers brings a plethora of benefits to businesses. However, like any outsourcing arrangement, it requires careful planning and management to succeed.
Here are some tips for successfully outsourcing virtual telemarketers:
Clearly identify business goals and objectives
Businesses should specify their goals and objectives in detail before outsourcing virtual telemarketing. 
This includes the target audience, the message to be delivered, the expected results, and the time frame for accomplishing them. 
By having a clear understanding of their goals and objectives, businesses can communicate them effectively to their outsourcing partner. This ensures that the telemarketing campaigns are aligned with their overall business strategy.
Choose the right outsourcing partner
Choosing the right outsourcing partner is vital to the success of any outsourcing deal. Businesses should seek out outsourcing partners with:
A track record of providing high-quality telemarketing services

A thorough understanding of the market and the industry

The ability to tailor their services to the particular requirements of the firm
It is also important to search for outsourcing partners who are open, communicative, and have a solid track record of dependability and response.
Develop a clear communication plan
A strong communication process must be established before outsourcing virtual telemarketers. This includes determining the channels, frequency, forms of communication, and escalation processes in the event of problems or concerns.
It is also crucial to create regular check-ins with the outsourced partner. This ensures that the telemarketing campaigns are on track and can handle any problems or worries that may emerge.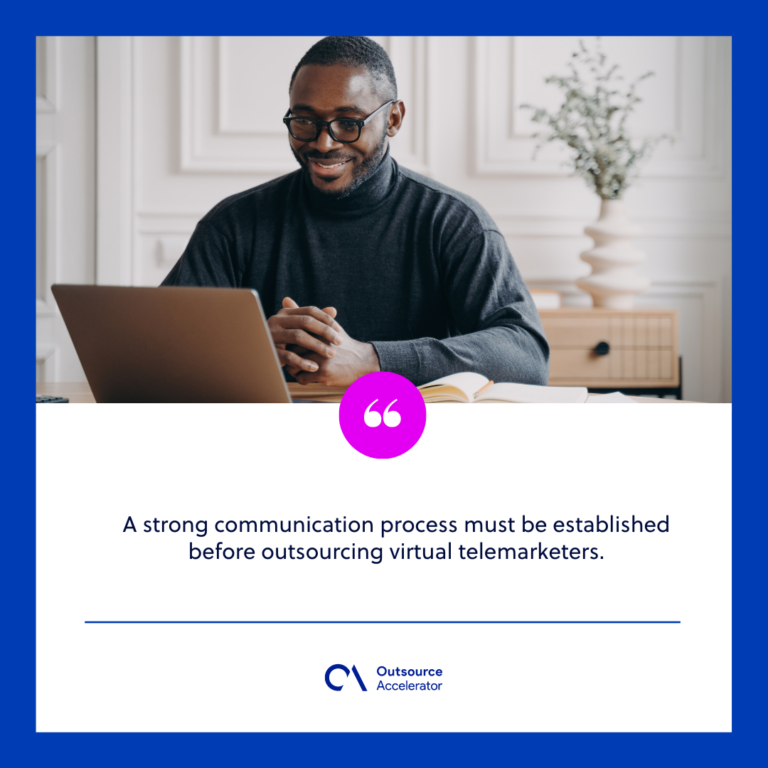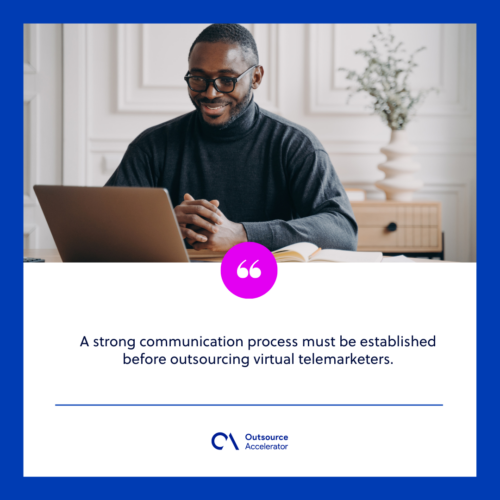 Monitor and evaluate the outsourcing arrangement
The outsourcing agreement must also be monitored and evaluated to be successful. Establish key performance indicators (KPIs) to gauge the telemarketing operations' success and routinely monitor them. 
A feedback mechanism is also essential for gathering client input and using it to enhance the effectiveness of telemarketing operations. Through this, businesses can also discover areas for improvement and make the necessary adjustments.  
Monitoring and assessing the outsourcing agreement guarantees that the business goals and objectives are accomplished.
Consider outsourcing virtual telemarketing services
Telemarketing is no doubt an excellent way for businesses to boost their sales and connect with potential customers. 
Since it can be a lot of work and potentially costly, outsourcing virtual marketers is always an excellent option. Outsourcing proves to be extremely beneficial to businesses. 
It provides access to highly qualified telemarketers who deliver excellent customer service while adhering to legal and data protection guidelines. This helps businesses to focus on their core competencies and achieve their goals more effectively. 
Companies need to make sure to choose the right outsourcing partner. By doing so, they can rest assured that their outsourcing arrangement is successful and aligned with their overall strategies. 
In the end, businesses will reap the benefits of outsourcing and achieve their desired outcomes.