Call center telemarketing and its best practices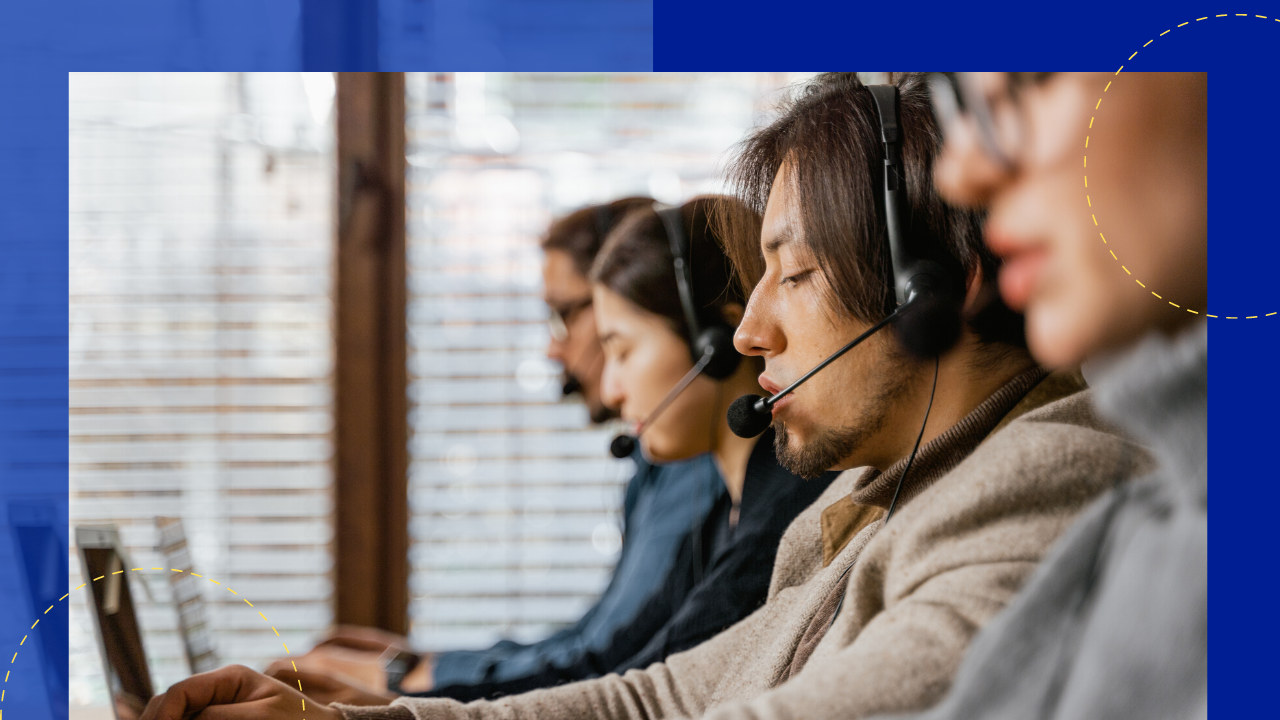 Call center telemarketing and its best practices
Call center telemarketing is not a dying practice, contrary to popular belief. It's under constant improvement to lessen outdated practices and to implement new ones.
With telemarketing's negative connotation with the public, it may be met with hesitance at first. Not knowing that the process is so much more than picking up a name and a number to call.
Today, people are hesitant to pick up their phones when a telemarketing call comes through because they think that it's a scam. It's a sad thing to see that scammers have taken over the origin of telemarketing, bending their version of the truth.
Defining call centers
Call centers are entities that are set up to handle a large number of calls from customers, clients, and the public. Call center agents can be acquired directly by the company (in-house hiring) or outsourced by a third-party service provider.
Just like their employees, call centers are most often outsourced by bigger companies to handle their customer service hotlines. 
These companies mostly handle customer service, support, and acquisition. Some call centers may venture into order processing and fulfillment, travel booking, and over-the-phone technical support. Another service that they provide is call center telemarketing and telesales.
Most people confuse call centers and Business Process Outsourcing (BPO) firms together—it's an understandable mistake as both sectors have been collaborating with each other. 
Call centers vs business process outsourcing companies
More often than not, call centers and BPO companies are intertwined with each other.
While some of their core services and processes overlap, call centers and BPOs aren't quite the same
For instance, call centers are exclusively taking and making calls for their clients. They don't take on administrative or "non-voice" tasks such as accounting, chat support, and email marketing like regular BPOs do.
Like the name suggests, BPOs are companies that take on several business processes—not limited to providing top-notch customer service.
BPO organizations venture into marketing (both digital and traditional), logistics, content moderation, billing, and insurances. Providing these services makes them different from call centers.
To put it simply, call centers cater to phone services while BPOs provide outsourced services to other companies.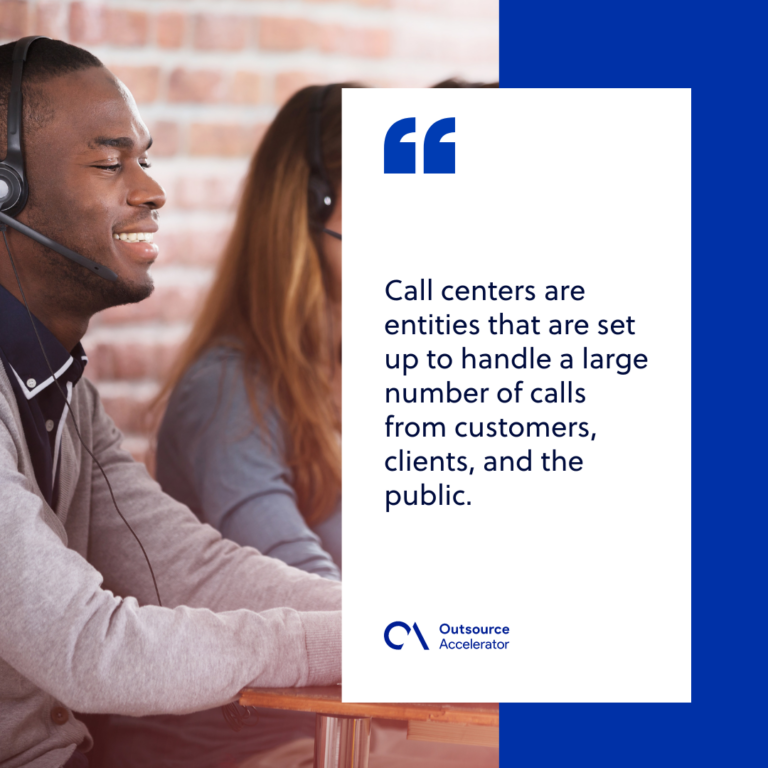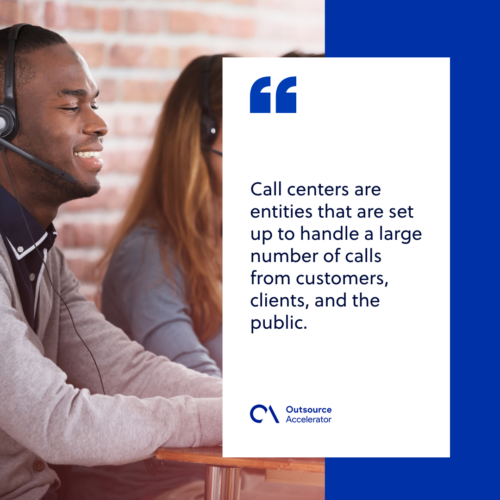 What is telemarketing?
Telemarketing is the process of gauging the public's interest in products and services that companies produce.
In other senses of the word, telemarketing can be used as a tool for surveys and solicitation drives by nonprofit organizations or public entities.
Since there are a plethora of cases where some customers opt out of telemarketing, there are laws and regulations in place that prevent agencies from contacting these individuals. 
In a handful of countries, there's a national Do Not Call list, residents of the country can sign up for this and never be contacted again—except for calls from NGOs or public entities such as political parties.
The difference between telemarketing and telesales
Since both telemarketing and telesales are done via phone calls, some people may interchange them a bit.
As mentioned above, telemarketing is the process of judging the public's interest in a product or a service. Telesales is the process of actively selling a product or service to warm leads. Most often resulting in a closed deal for the telesales agent.
Telemarketing and telesales support each other—as with lead generation support the telemarketing department with a list of potential clients and prospects.
These units, when run successfully, can be the powerhouse of the compny—generating revenue, achieving KPIs, and milestones all within a short period of time.
Best practices of call center telemarketing
Best practices are put into place for employees and management to adhere to. They serve as the benchmark for doing the best service possible. Each and every workplace has best practices that they internalize to become a successful unit.
As expected, even telemarketing companies have best practices. Some of them share the same values that call centers have. 
Since some of their work processes overlap with each other, it's already obvious that their best practices will too.
Most, if not all, best practices are put through a series of trial and error. Each point of it went through phases to achieve their maximum potential.
In other words, best practices are simply the most tested way to do things in a work environment.
Retaining soft skills
Soft skills determine someone's character in and out of the workplace. Developed early in schools and at home, soft skills are a great way to gauge someone's emotional capabilities while working.
They are just as important as hard skills such as technological knowledge and multilingualism. These can be taught by trainers and mentors but a person's character is already as permanent as it is.
While some aspects of it can be developed over time, companies want an employee that embodies their core philosophies. Someone who values hard work and integrity, per se.
Empathy
Call center agents and telemarketing people have to deal with clients and customers from all walks of life. In order to connect with them, agents have to exude empathy towards their cases.
Both employees have to exercise compassion to create a rapport with their customers—ensuring 100% compliance without any hassle on both ends.
For instance, a telemarketing call may go awry due to an irate customer, just like in a normal call center environment. For it to de-escalate, the agent must show patience and empathy towards the customer.
Of course, it's a two-way street—the more empathetic the customer is, e.g calm and collected, the more successful the call will be. Communication is at play here, since the agent would be asking questions and following up on the concern.
Communication
Open communication in the workplace is important for two reasons: to maintain orderliness and to combat misunderstandings.
Being able to communicate well with a customer is a sign that an employee is putting their best foot forward every single time.
We expect call center agents and telemarketing experts to say and tell their messages well enough over the phone. As hard as it is to talk to someone with facial expressions and cues, these workers have this skill down to a T.
Communication is more than the skill of sending and receiving messages across different channels. One sector of communication that's underutilized is brevity. The concise way of communicating what you want in a few words.
Team player
Being a team player in a call center telemarketing firm is more than mingling with your coworkers. It means being reliable, trustworthy, and understanding.
Establishing a professional relationship with your colleagues, managers, and bosses are a part of being a team player. If your help is needed by a coworker, being a team player means that you would help them to an extent.
What being a team player means is not dropping your responsibilities to help others, it means that your teammates and leaders can rely on you.
Even if you tend to keep mostly to yourself, being a team player calls for working with others as well. Ask questions, help your teammates, voice out your opinions and concerns—being active in a group is as important as tending to your responsibilities.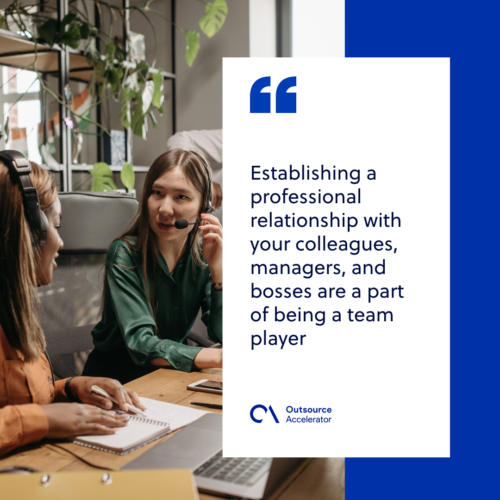 Active listening
It's important to evoke active listening to both call center agents and telemarketers. It's a technique in which the listener processes the message almost immediately after hearing it.
Active listening is key to de-escalating conflicts, creating a meaningful connection, and a productive conversation.
Another key to active listening is to give appropriate answers and feedback according to the conversation. Try not to segue into another topic without acknowledging the present conversation.
Customer-centric approach
Having a customer-centric culture and approach is a surefire way to retain buyers and clients in the long run.
Call center telemarketing agencies hold value over their retention and acquisition rates. These numbers count up to their KPIs—whether it's on sales and revenue or the number of leads they had for a period of time.
Putting on customer concerns first is how companies and businesses create multifaceted solutions to problems and everyday nuisances. Having a specific product or service that will eliminate the said problem is a surefire way to rack up sales in a short period of time.
Giving solutions to consumer problems
The best practice of giving solutions to problems is one of the oldest and most effective ways to serve the public; provide services to stay relevant.
Products and services should make the consumer's everyday life easier and more manageable. This is why telemarketing experts often highlight the importance and the benefits of acquiring the product or service that they're calling about.
How does call center telemarketing remain in the 21st century?
Telemarketing started as a small venture that started in the early 50s. It started when housewives called people who were looking for cookies and magazine subscriptions. 
Now, call center telemarketing has evolved with the times.
Digital marketing has come into existence and changed most of the processes that traditional telemarketers were used to.
People developed technology to cater to call center telemarketing firms—agents nowadays use telephones, IVR systems, and lead generation tools to function well at their jobs.
Telemarketing remains in the 21st century as the practice keeps evolving with the times—keeping up with the technological advancement that this day and age has.
With our modern-age technology, marketing and sales strategies are developed to keep up with the trends.
The market often dictates what they want and when they want it—companies try to keep up with the demand in order to stay ahead of the game.
Partner with SixEleven today for your telemarketing needs! This Davao based contact center solutions provider is backed with over 25 years of industry experience. Get access to a rich pool of telemarketing specialists who will guide and support your overall business growth!