What is content moderation?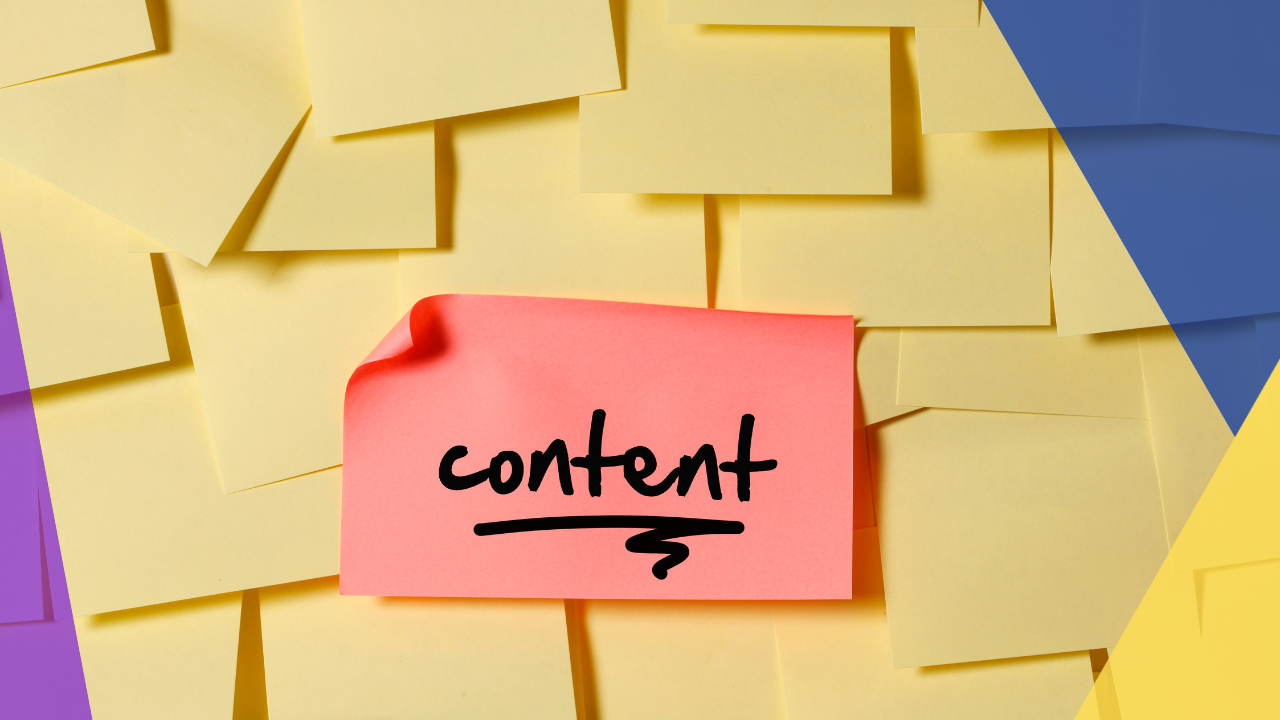 With most successful online businesses, content moderation is vital. If there is a public forum of any kind, whether that's a comment section or the ability to make posts, content moderation is vital. Even though your users may be the ones posting content, what you allow to stay on your website is a reflection of who you are as a business. 
So what is content moderation? Before we can discuss it in more depth, we need to define it.
The basics: Defining content moderation
The overall focus of content moderation has been moving away from redacting certain words and now focuses on harmful ideas instead. If you've been reading about the deletion of Facebook posts by moderators, that's content moderation in action. Regardless of the platform, whenever something highly inappropriate, inaccurate, or offensive is posted by users, it's up to content moderators to identify it as such and take it down.  
For example, when two users begin arguing to the point that one posts vulgar threats or obscene imagery, a content moderator will remove that content, so it cannot do any damage by offending others, thereby protecting the platform's reputation. This is a vital process for businesses in the age of digital marketing.
How content moderation shapes the customer experience
Content moderation does more than filter out false information or offensive content. It shapes the customer experience on any given platform. Think of it this way―if you're trying out a new platform for the first time, and you're bombarded with false information constantly and find that it's littered with offensive messages, would you continue using that platform? For most people, the answer would be an emphatic no! 
Conversely, if you're trying out a new platform and find that it's rich with high-quality, factual information and engaging content, would you continue to use it? Most people would and if they didn't, it would be for the reason that is unrelated to the content featured on the platform. 
This means that by investing in content moderation, businesses are investing in a superior customer experience. That's the kind of investment that will pay off big time every time.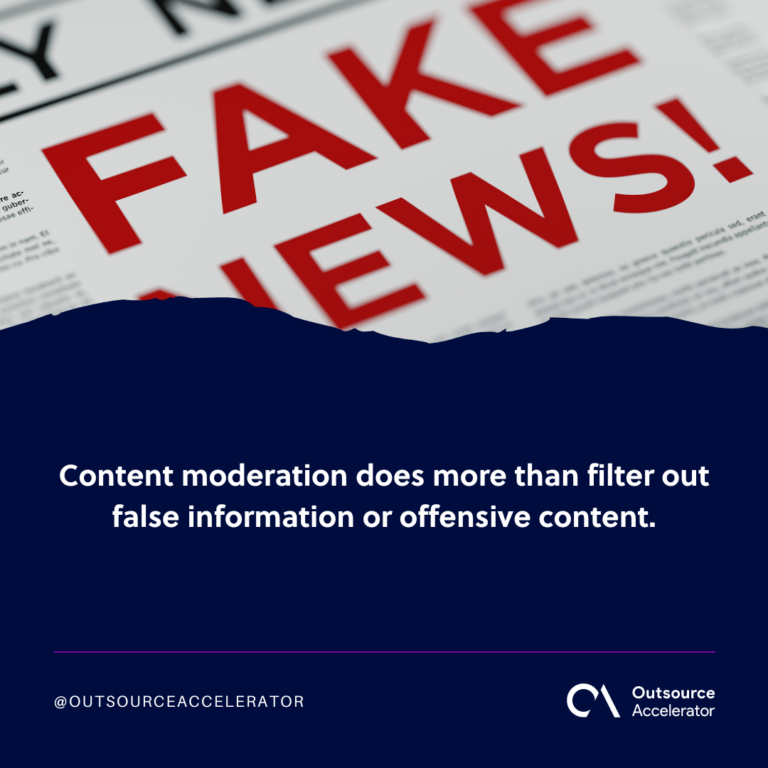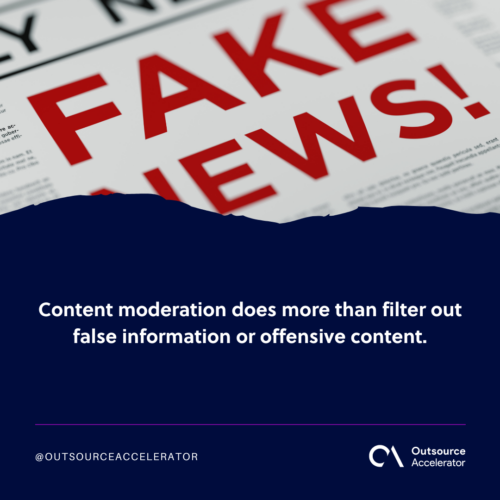 Why content moderation matters
If you're still wondering why content moderation matters so much, consider this. How much does your company's reputation matter to you? How much do the opinions of your customers matter to you? Finally, how much does word-of-mouth advertising matter to you?
If you think that any of the factors mentioned above are critical to success, then content moderation matters. That's because content moderation, or the lack thereof, has a significant impact on all of those things. 
Think about it―the content on your platform has a direct and inescapable relationship with your company's reputation. If, for example, a bunch of white supremacist content was allowed to flood over your platform unchecked, one could argue that your company sympathizes with racists, which would effectively destroy your reputation.
The opinions of your customers matter because, in the end, your customers are the reason for your company's existence. You can't run a successful business without them. The bottom line is, if your customers have a negative opinion of your company, it's all over.
This is why content moderation is so incredibly important. One content moderation definition shows that it helps protect businesses from these problems and ensures that users won't have anything to complain about in terms of content. Everyone knows the saying that "content is king," but without content moderators, you could lose your throne.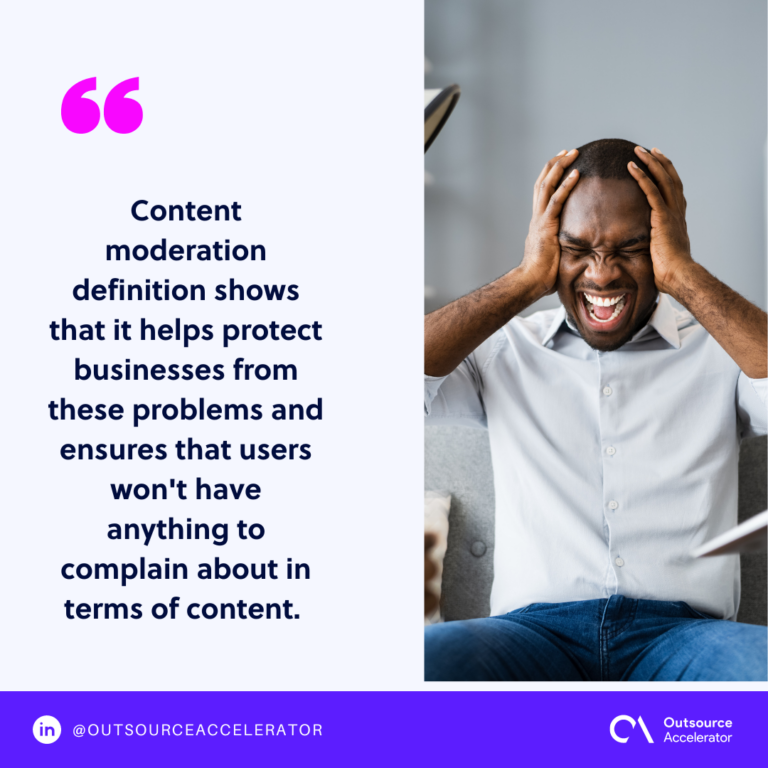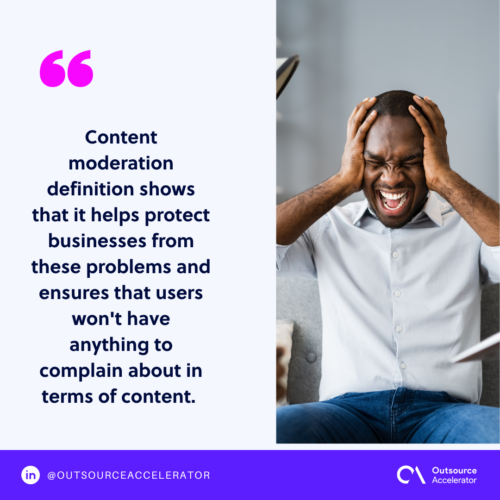 The best way to facilitate content moderation for your platform
You've learned about what content moderation is, how it shapes the customer experience, and why it's important. Now, you'll want to know the best way to implement it. When it comes to content moderation, businesses have three primary options from which to choose. 
Firstly, they could choose to employ a team of in-house content moderators. The second choice would be to outsource content moderation to a specialized team. Otherwise, you can employ software to do the work for you. However, since this software is still developing and often does a poor job of identifying things like hate speech, it's not a good option.
So, which of the first two options is better and why?
It might sound like a good idea to keep everything in-house. However, it's also important to remember that content moderation is a vital part of a larger set of operations. Companies have always had to be careful about managing their budgets, which is more important than ever in today's economy. That means you have to be both careful and selective with the number of in-house employees and services you choose to pay for. 
As important as content moderation can be, is it worth paying a whole team of in-house content moderators a salary and providing them the necessary perks as full-time employees? Probably not. The comparatively low cost is one of the strongest and most compelling reasons why outsourcing content moderation is preferable. 
Outsource content moderation today
By outsourcing content moderation, you'll get all of the benefits at a fraction of the cost. The biggest concern most companies have when outsourcing anything from content moderation to information technology (IT) services is quality.
Businesses want to know if they can get the same level of quality with outsourced content moderation services instead of employing an in-house team. The answer is yes. Outsourcing providers like Helpware take pride in their highly skilled content moderators and strategies that deliver uncompromising quality.