Definition
What is redaction?
Redaction is a form of active document editing that involves censoring, but not necessarily removing, specific words, phrases, or entire paragraphs. The sections that must be redacted are simply blacked out, making them unreadable. 
Documents are generally created in a program like Microsoft Word or PowerPoint and then converted to PDF for official distribution. Redaction, like many other publishing processes, is best done in the authoring application. 
Redaction is frequently done in court or government papers. This is performed if specific sections of documents are distributed to organizations or individuals who don't have the privilege to know about particular sensitive pieces of information.
However, when applied to electronic documents, redaction means the permanent elimination of information rather than the concealing of it.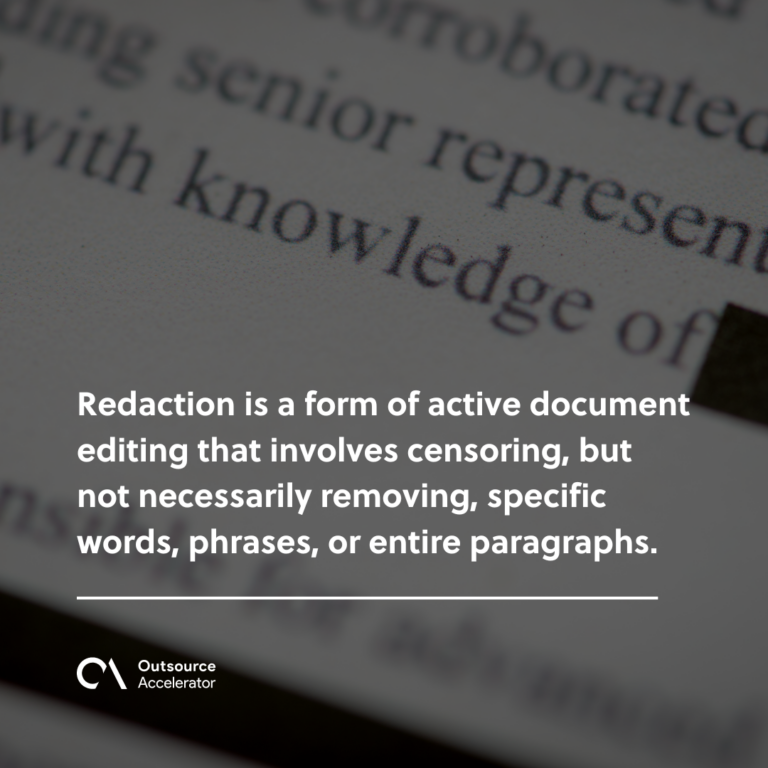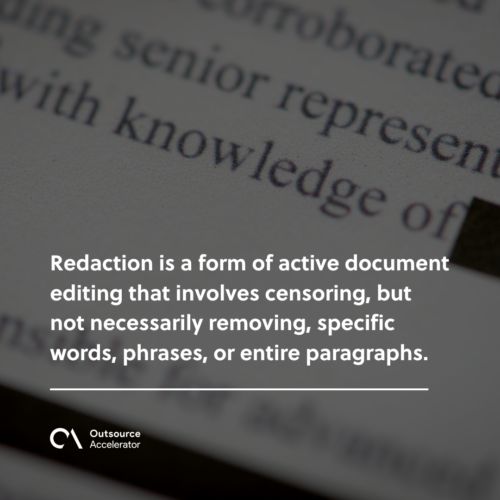 What is the purpose of redaction?
Redaction, which is common in legal documents and within the government, is the concealing or removal of confidential sections of a text before publishing or distributing.
It is crucial since it can protect an individual's data – such as social security numbers, names of minor children, and financial account numbers – by removing them from public legal documents.
Redaction is a common practice among government organizations, particularly those dealing with confidential documents and legal papers that must preserve certain information. This is known to prevent tampering with the original material.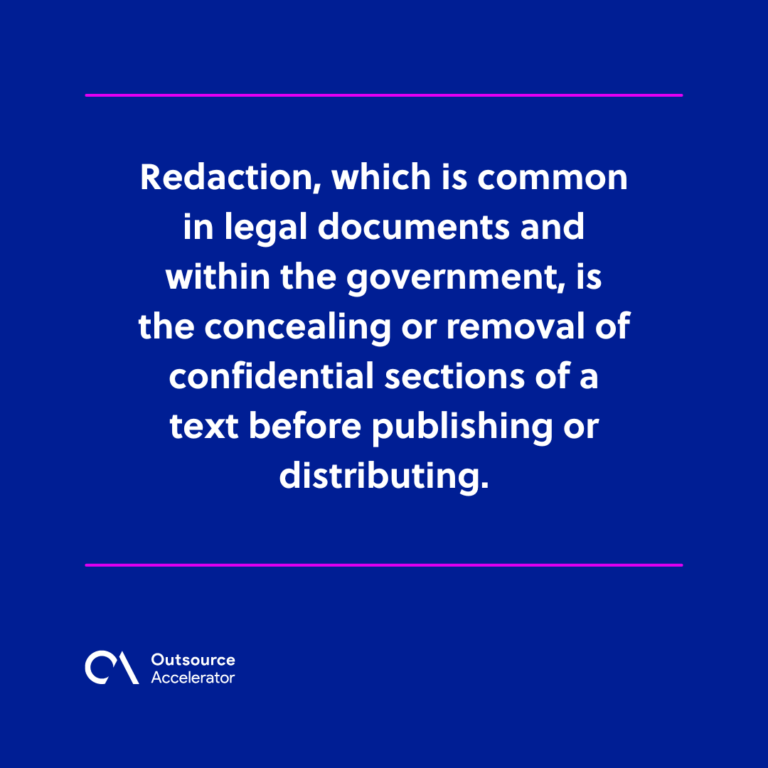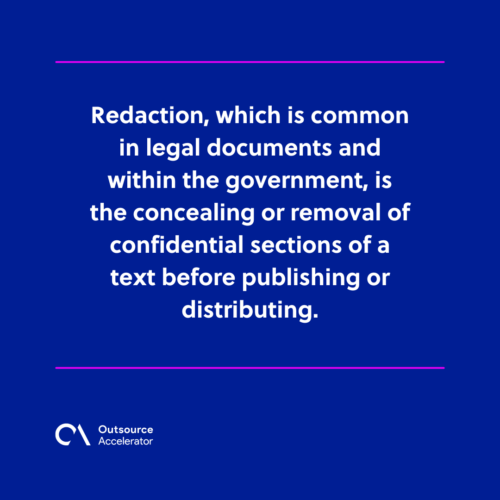 Typical causes of redaction problems 
There are two main reasons why confidential information is not removed from a document:
Attempting to hide confidential content by concealing
Editors may attempt to conceal critical information by highlighting words in black. However, this method is not suitable for electronic documents since there are methods of removing information from the generated PDF document.
It is also possible that important information may be covered by a non-sensitive image, either purposefully or unintentionally. The reason for redaction may not be evident to the editor since it was unintentional.
Being unaware of document metadata
Metadata information about the document, such as the author, subject, keywords, and title, maybe carried by Word and PDF documents. The author may be unaware of metadata created by the program, and it may be hidden until the user knows where to check.
What are the inappropriate ways to redact?  
Here are a few ways not to redact documents:
Changing the font to white 
Since users use the white background on a PC or white paper, converting the relevant text to white makes the words appear to disappear. However, this isn't always the case. Anybody can read the censored content if you change the font back to black or blue. 
Utilizing comment tools to blackout 
There are tools accessible on various product suites. A user can make adjustments that blackout, cover over, or delete text portions.
However, this is not secure, and the alteration may still be undone to reveal the text beneath.  
Generating changes on the file
Metadata can show almost anything that was in the file at any point in time, including content that had previously been deleted or altered, and even if the file has been resaved.
This metadata can be quite useful for tracking changes. However, if it is not removed from the document, anybody with access to it even after it has been converted to PDF can read the removed information. 
Ways to ensure that your documents are redacted accurately
If you need more information, various consulting and software resources specialize in data redaction. Here are some examples of how to guarantee that your documents are redacted as you intended, as listed by the United States District Court:
Redacting a word-processing file
To begin, the best approach to redact your document is to ensure that the source contains no unnecessary words or data. One method is to generate the final censored version of the document using a basic text editor.
Redacting a scanned file
This is a little difficult since you're changing a photo of a file, and the data that the image contains may not be completely removed or destroyed using standard software tools.
Examine the support documentation for the program you use to modify graphics such as Photoshop, and Paint to see if its features are enough for redacting a document.
Redacting a PDF file (scanned or converted)
This is the most sensitive and challenging to get properly. Adobe Acrobat cannot redact a document by itself using any of the built-in capabilities. There are Adobe plug-ins or add-on software that can be used to achieve this. 
Redacting a paper document
You can cut out all of the text to be redacted before scanning the document and appropriately dispose of the cuttings. This approach is always completely successful.
In addition, cover the areas to be redacted with paper. A plain paper should not be used since the scanner may pick up pictures through the paper. Even dark paper may allow some light reflection, so use precautionary measures.